The Mews Blog > What is Mews Analytics? The business intelligence for the modern hotelier
Data is the new gold. At least, that's been the mantra of businesses around the world for the last few years. We actually think it's true, but the problem is that data, like gold, isn't just something that falls into your lap. Yes, it has value, but in order to unlock that value, you need to extrapolate it somehow – to understand it and then apply that knowledge to your business. That's where Mews Analytics comes in.
Think of Mews as your gold mine. It's where all your data is gathered, from operational to financial to customer details. You've always had all of this data, but until now it's been more difficult to transform it into valuable insights. Perhaps you use a mountain of Excel sheets, spend hours customizing reports and scheduling exports, or plug into a third-party tool. Mews Analytics gives hoteliers like you a new way of working – a way where you can easily control and understand your data without the need for tedious, time-consuming admin.
What is Mews Analytics?
Mews Analytics was developed with leading Power BI technology and is built into the Mews Property Management System. Available for all Enterprise customers, it's accessed via the main navigation menu, meaning any user with the relevant access rights can use it. Mews Analytics automatically loads new data every four hours and supports multi-property views, using the accurate data from Mews reporting to provide even better performance insights.
In short, Mews Analytics is designed to help hoteliers answer questions about performance, ultimately helping to maximize revenue and even improve the guest experience. Matt Welle, CEO at Mews, explains the thinking:
"We're the most data-rich PMS solution that you find in hotels. No PMS in the market has ever really inter-connected all of this data into really powerful dashboards that let hoteliers very quickly drill down into finding answers to some of the questions that we've lost over time. I come from hotels and there are so many questions I used to have, anything from where are our customers booking from to are we giving upgrades away for too little money.
"It was a multi-week project to find the right answers because you needed all kinds of data exported into an Excel format, and then you had to figure out a way to combine it so that it makes sense and tells you something useful. That shouldn't be necessary in 2020. There are so many questions that hoteliers should be asking themselves to improve their operations, but can't because there's no way to get answers from a data point of view. That's what we're solving with Mews Analytics."
Why use Mews Analytics?
There are a few compelling reasons to use Mews Analytics, the first of which is that it's practical. As an in-platform solution, you don't need to load up another piece of software, and because it uses data captured by Mews, you know it's accurate and up to date. It's also intuitive and easy to use – if you're already familiar with the Mews interface, you'll find it natural to explore this new area.
This simplicity was key when it came to development. Vojta Kopal is the Head of Data Science at Mews and has been instrumental in developing Mews Analytics: "It's quite intuitive to begin with, and as you get more into using the tool, you'll start discovering more complex options. It's a natural progression from the reporting that we already have. Suddenly we give our customers this interactive, visual way to explore their data – they don't need to export anything or consolidate data, they can really just look at it and immediately see what's there."
Another huge benefit is that you can upload up to three years of historical data into the system. Not only that, but you can also upload targets or estimations for the current and following year. Data is at its most valuable when you have lots of it, so you don't have to start from nothing when you begin with Mews Analytics. This makes it easy to compare month-on-month and year-on-year performance, and, if you're changing your PMS to Mews, means you don't have to lose any valuable data. Meanwhile, uploading your target data makes budgeting and forecasting much easier as you'll be able to see past performance, current data and your target numbers side by side.
"One of the biggest worries that hoteliers have when changing PMS is what happens to their historic data," says Matt. "This actually opened that door for us and lets hotels easily import historic data from another platform for the first time, all because we're using this really powerful tool."
It's also important to note that this is only the beginning. We have big things planned for Mews Analytics, and will continue to develop the solution in the coming months and years so that it becomes even more powerful and can deliver even greater insights.
Who is Mews Analytics for?
Mews Analytics is for everyone. The only real requirement is that you have an inquisitive mind and want to harness data to improve your business. If you need to answer a basic question like how many check-ins did you have, you can get that from standard reports in Mews. But maybe you sometimes wonder, for example, how many males between 20–35 booked yesterday from booking.com? The moment you start asking these kinds of questions it's very exciting because Mews Analytics has the power to answer them quickly.
Although there's no reason why any property wouldn't benefit from the solution, the fact that it's built with Power BI and easily handles multi-property analysis makes it particularly suited to larger groups with big pools of data. "The bigger the volume is, the richer the data gets and the more exciting it is to draw conclusions from it," says Matt. "But it works for any property type because we're not just looking at pickup reporting – there's financial analysis reports as well to let you know how many of your bills are overdue and by how much, for example."
Vojta believes one of the exciting things about the solution is its flexibility: "The variety isn't just in the different types of properties, but also in the potential users. The flexibility of the tool means that it's for everyone in the business – you can just log in and find the data and the insight that you want. It's a really exploratory tool for you to find your answers."
This variety is one of the tool's great strengths, meaning it can benefit multiple departments across your business. As Matt says, this is something that was always factored into the design: "We really thought about the different user roles in the hotel and how they would use the data in their day-to-day role. We worked with a number of hoteliers while we were developing this, so we didn't just build something that we thought was right – we built something to help hoteliers discover the kind of insights that they need."
The five key Mews Analytics dashboards
There are five interactive dashboards, each of which will bring value to particular users, from the GM to marketing to finance.
1. Manager Analytics
Assess KPIs across revenue, occupancy, RevPAR and ADR
Compare the current year's data with the previous year and against your forecast
Compare properties within your chain or group
Discover marketing insights about your guest demographic
Dive into booking information such as lead time and booking window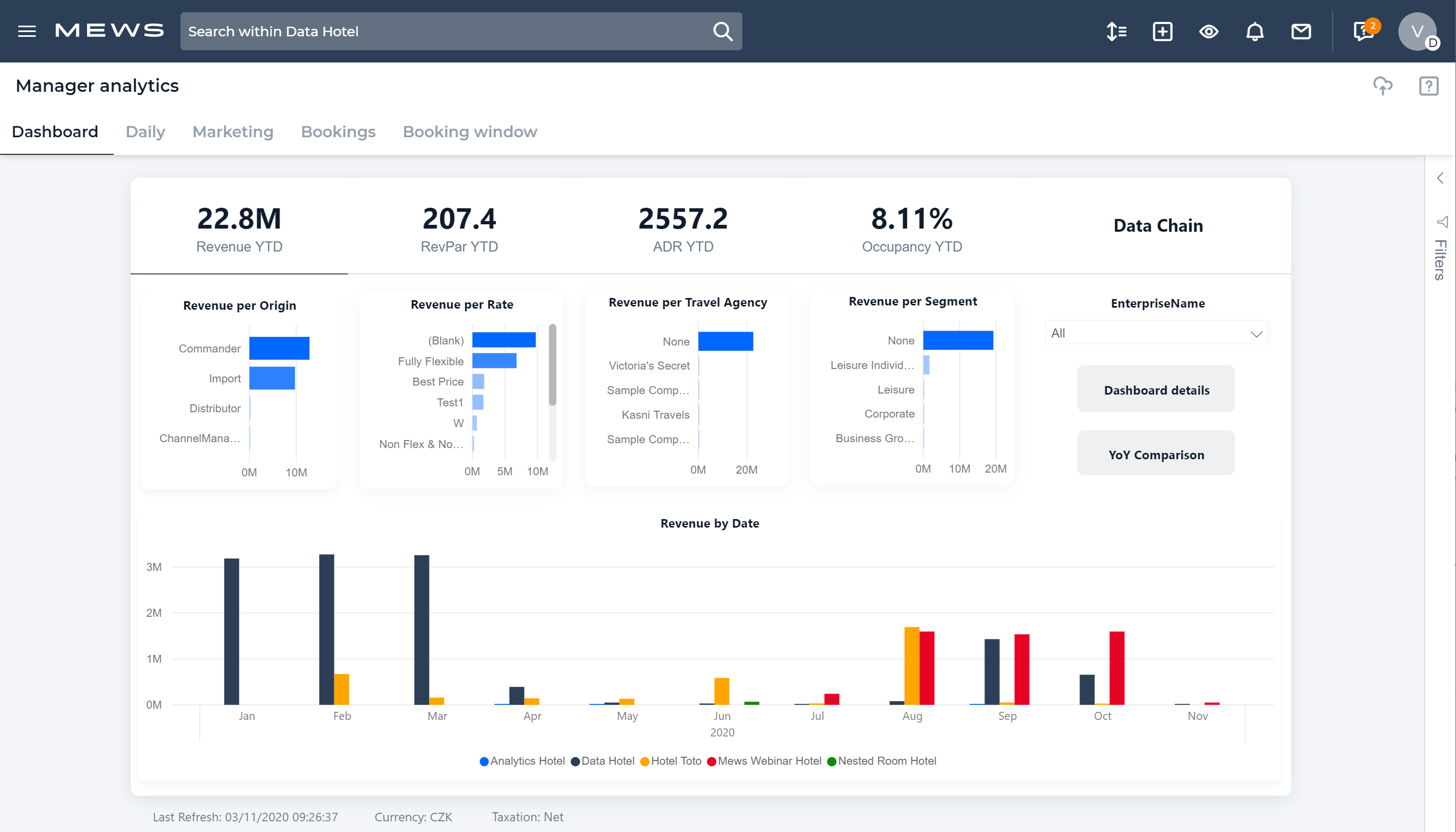 2. Outlet Analytics
Get insights into reported revenue and payments from your outlets
See how your various outlets perform over time
Get additional understanding of your outlets' accounting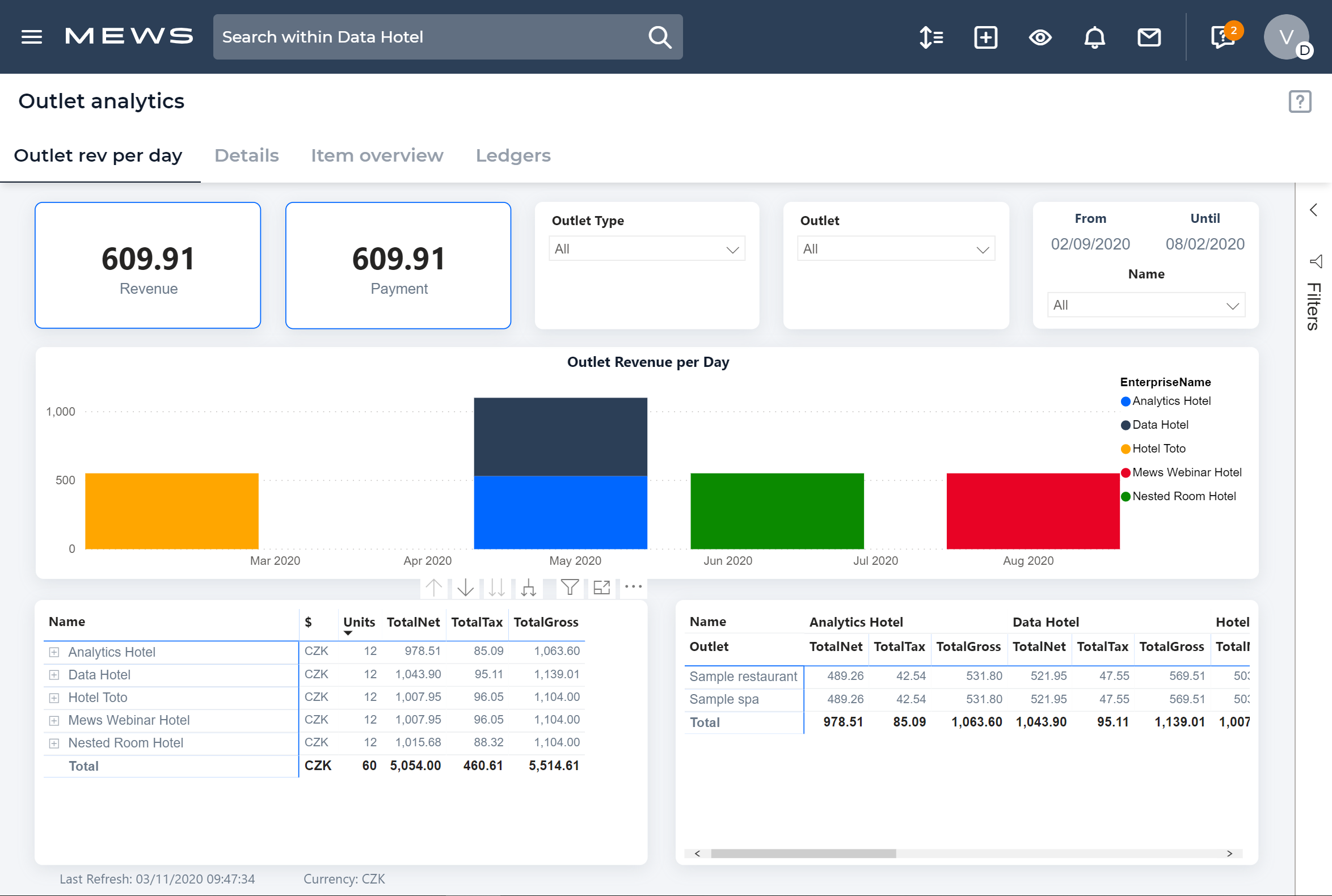 3. Pickup Analytics
See revenue and bookings per created date and booking curve
Learn about your pace / pickups in more detail
Use the data to more effectively plan your staff shifts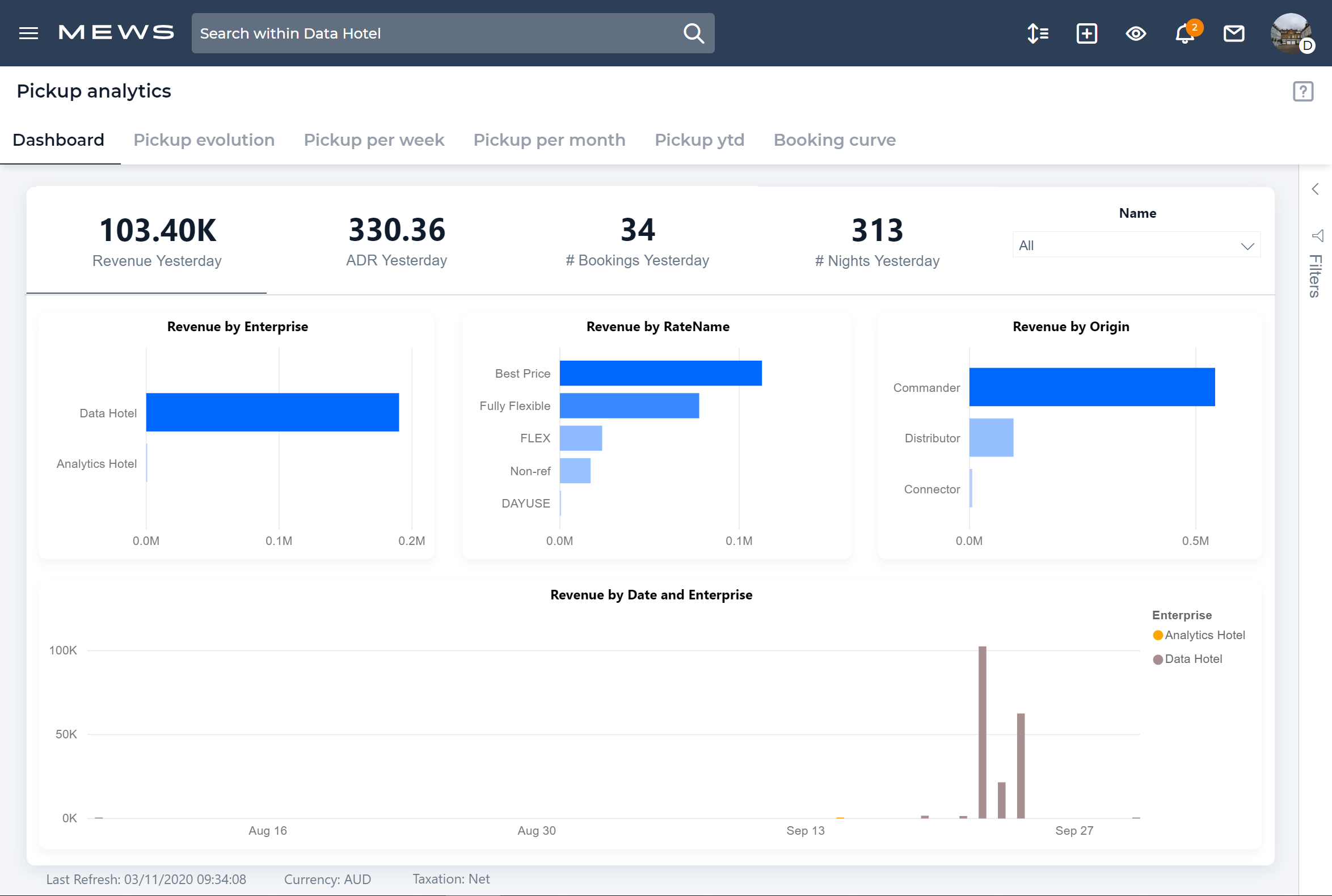 4 and 5. Financial Analytics and Ledger Analytics
Analyze your open bills and credit card transactions
Resolve your aging invoices
Consolidate your ledger across multiple properties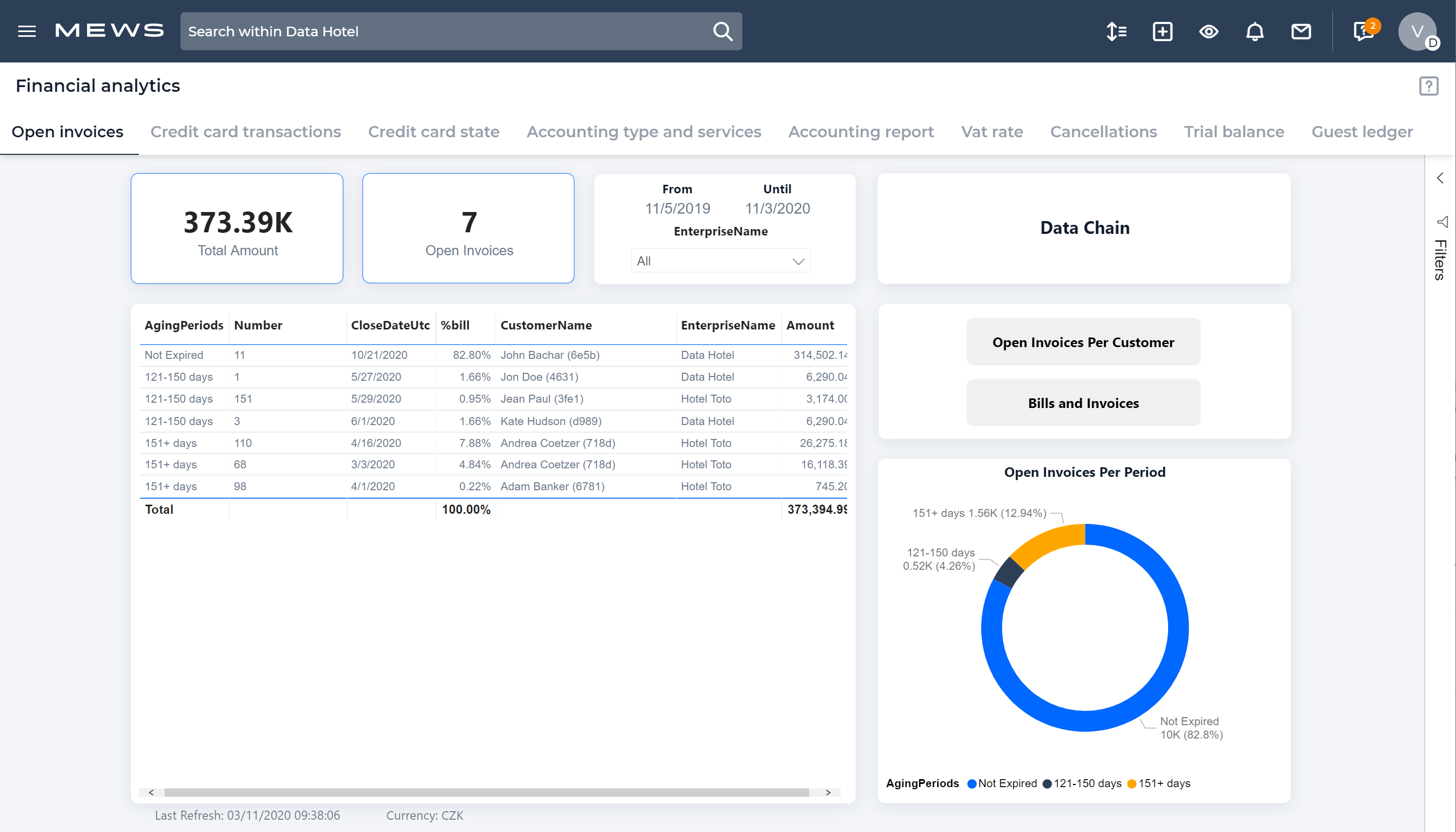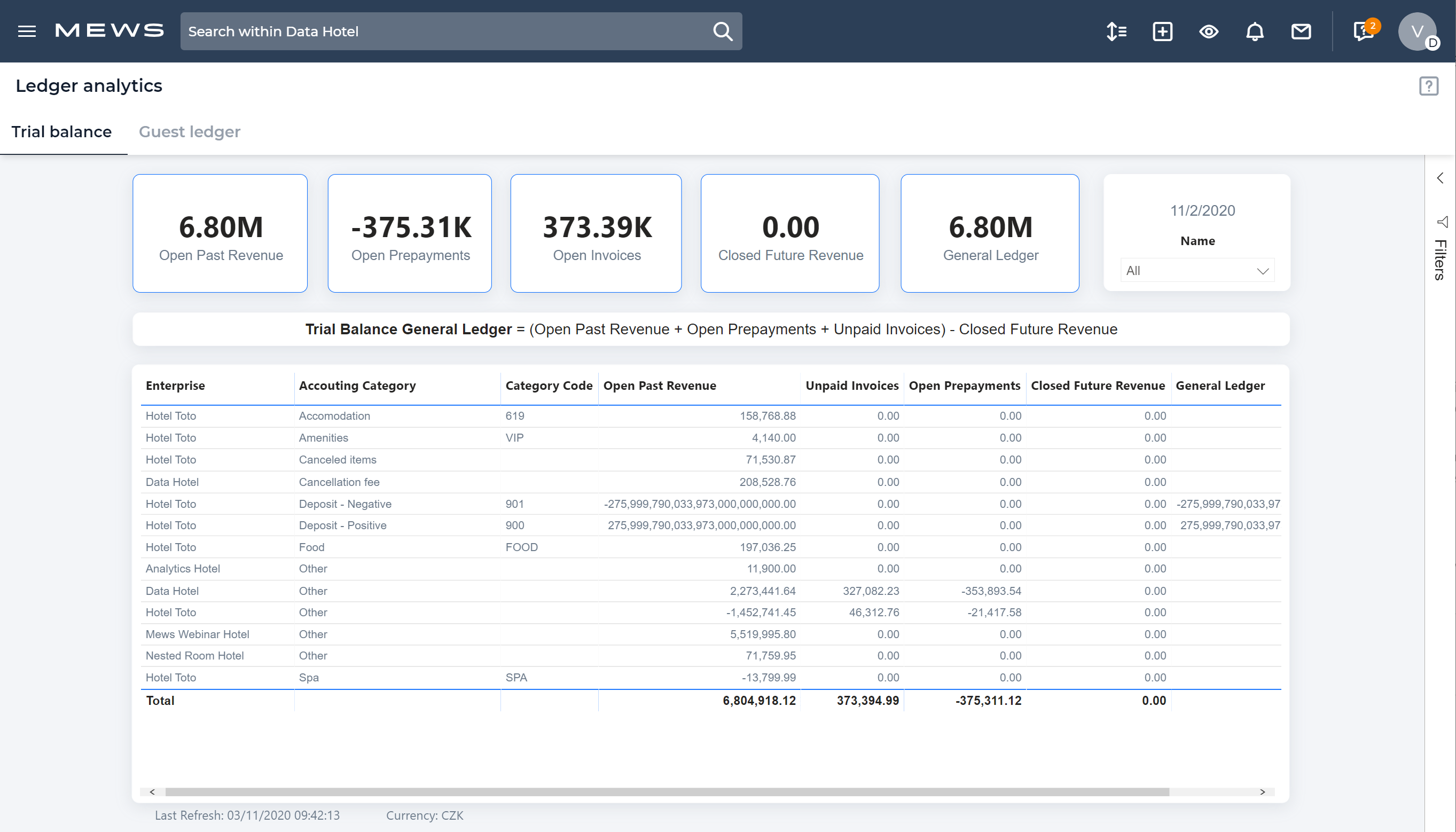 A new era for hotel data
If you're already a Mews customer on the Enterprise package, log into Mews and you'll find Mews Analytics already in your main navigation menu. If you're not on the Enterprise package – or not yet a Mews customer at all – there's never been a better time to consider the switch.
Mews Analytics lets you analyze your business in more detail than ever before, and you can use these insights to adjust your strategy in a way that drives more revenue. If used smartly, this data can give you a unique advantage in a time where even marginal gains are hugely important – we can't wait to see what gold you discover.
For more detail about Mews Analytics, including video tutorials, head to our What is Mews Analytics help section.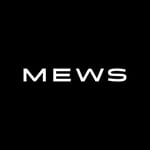 Hospitality hot takes straight to your inbox
Sign up to our monthly newsletter for industry insights, product news, partner updates and more.