The Mews Blog > Talking points from the Managing staffing shortages webinar
There's no silver bullet when it comes to handling staff shortages. But there are plenty of relatively simple actions you can take that, in combination, will make it easier to run on a reduced staff as well as attract and retain more motivated employees.
We recently ran a webinar about Managing staffing shortages, which contains an hour and a half of excellent thinking and advice from hospitality experts. We didn't bring this up just to make you feel like you missed out; you can watch the webinar recording here.
If you prefer the written word, this blog post covers some of the key talking points from the session.
Hospitality must give employees a feeling of belonging
Long gone are the days where employers could expect their staff to turn up and feel grateful just for having a job. Workplace culture has changed, and people want to feel like they're a part of something that makes a difference, and that they're valued by their bosses and colleagues.
Involve your team in your overall company vision. They're the ground troops and it's more than likely they'll have great ideas about what the brand means to guests, as well as ways to improve operational efficiency.
As Del Ross, CRO for Hotel Effectiveness Solutions, said during the webinar: "Let's start to tie people's jobs in hospitality to how they make other people's lives better."
As well as involving your staff in your brand's vision, you need to make it clear that you also have a vision for their own careers. Discuss their short-term and long-term ambition and plan what their career path might look like with your company. And loyalty programs aren't only for guests. Invest in your employees with loyalty programs and you'll let them know you care and thus improve retention.
We need better recruitment
One of the problems with staffing shortages is that, once someone leaves hospitality, they often realize they have more appealing options. As Del said, "When people leave the hospitality sector, they realise there are easier jobs with better hours. Everyone in the industry needs to get away from selling the jobs. We need to sell the purpose."
There are proper commercial careers to be had in hospitality. Even entry level roles can be sold in a more aspirational manner. This requires better advertising and also looking outside of our own industry to hire. Experience with hospitality technology shouldn't be a prerequisite. As Jane Pendlebury, CEO at HOSPA, said in the webinar: "Few people in hospitality have joined because they are technology specialists. We mustn't lose sight of the fact that we are a people business."
Most brands have a marketing team – or at least a person keeping things running. They have great experience in selling your brand to customers, so let them do the same but for potential employees.
Invest some time in creating a careers microsite where candidates can get an understanding of your values and the benefits of working for you. Yes, they have a huge marketing team, but the Marriott careers site is a great example. "Improving employer image is absolutely key," Jane advised. "Active marketing and social media is essential to attract and retain staff as well as creating loyalty."
Improving retention is most important
Half of all housekeepers leave within the first three weeks of being hired. There are a myriad of reasons for this, some of the most obvious of which are the long hours, hard labor and low pay. Better salaries is key to improving retention, but so is becoming more agile with your staffing so that there's less pressure on employees. "We have incredible volatility in stay and demand patterns, so we need a dynamic staffing model," Del commented. "Only about 10% of hotels are embracing a true dynamic staffing model."
Improving your staff retention means less time and energy spent training new employees. It also reduces the risk of any drop in service standards while new team members get used to how you work.
We've already spoken about how the feeling of belonging is a powerful motivator when it comes to loyalty. Another worthwhile idea is investing a little resource into staff training. No one wants to feel like they're stuck doing the same job with no opportunity to improve, so relevant role or career-based training sessions can make a big difference.
One other interesting approach is to create hybrid roles. Rather than employing someone who'd dedicated to manning reception, why not job share that role with a concierge and barperson? As long as you've got a modern hospitality cloud that relieves many of the time-consuming administration, there's no reason why your team's day-to-day can't be more varied.
As Del said, "We have to recognize that the time our staff sit behind a desk on technology is the worst part of their day – it takes them away from their guests." More guest engagement means happier staff.
Want more tips? Watch our Managing staffing shortages webinar now.
10 Ways to Manage Staff Shortages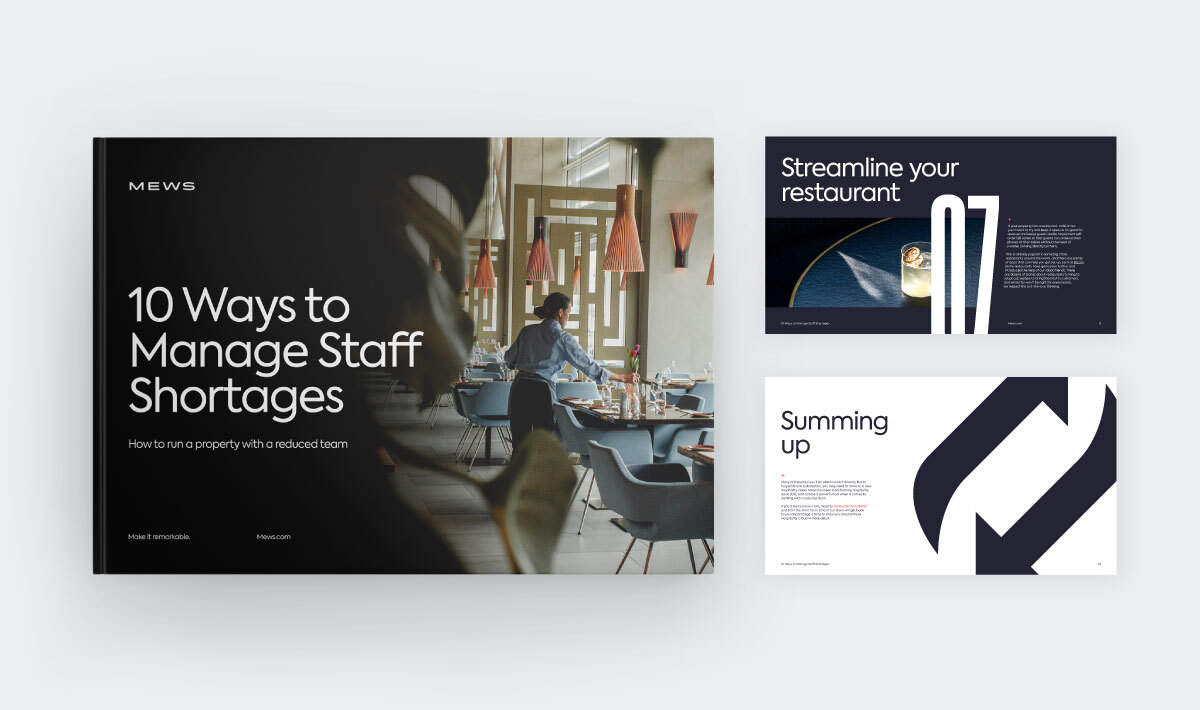 Because we're the hospitality cloud that keeps on giving, we also put together a guide about 10 Ways to Manage Staff Shortages.
Get tips on how to provide great service even with a reduced headcount, how to use hospitality tech to reduce your workload, and how to better retain your team. Plus, success stories from hoteliers who are already seeing successes with smaller teams.
Hospitality hot takes straight to your inbox
Sign up to our monthly newsletter for industry insights, product news, partner updates and more.