The Mews Blog > Rethinking Hotel Payments: key learnings from the webinar
Payments are an integral part of your operations. A great payments solution can elevate your hotel and transform both how your team and how your guests engage with transactions. So what's the current state of hospitality and what should we be aiming for when it comes to evolving payment solutions?
These are the questions we answered during our Rethinking Hotel Payments webinar, which you can catch up on as live.
If you don't have the time to watch the recording, we've got your covered. In this article, we'll pick out some of the highlights and key talking points that our panel discussed.
Alongside our very own Richard Valtr and Jelle Kaat, our Fintech Product Director, we assembled an enviable team of hospitality payment experts:
Gaston Aussems, Fintech Advisor and ex CEO of Mollie
Annemarie Graham, Amadeus
Edward Moore, Head of EMEA SaaS Platforms Revenue & Growth, Stripe
Mariusz Siwkowski, Digital Manager, MOA Group
The benefits of rethinking hotel payments
Payments are a two-way street. It's not only about how efficiently and securely your property can process them; it's also about how easily guests can make payments, from wherever they are with their preferred provider.
Here's why hotels should rethink payments:
Improve how your hotel operates
Embrace online and digital and move away from (dying out) cash payments
Provide guest authentication and seamless experiences
Increase revenue opportunities
Heighten security and prevent fraud
It's an opportunity for your team to develop new skills
There's a lot of overlap here in terms of guest benefits, the most notable of which are:
Changing the queue mindset
Paying across your property's difference spaces and services with a choice of payments
Improved convenience so the guest spends more with you
Secure payments so your guests feel safe
Building loyalty with your brand (including subscription models)
Enjoying more exceptional experiences because your team has more time to create them
Guest expectations and hotel payments
Think about how often you use instant, automated payments throughout your everyday life. It could be tapping in to get on the subway or ordering a Subway through a delivery app. Getting another month of your favorite music subscription service or jumping into an Uber.
Hotels need to follow suit. If you can switch the guest mindset so that payments become almost invisible, you'll create a better guest experience as well as encouraging more spending.
"The idea that you can pay across the property with your choice of payment has to be a mindset," said Richard. "It has to be so convenient that the guest stops the mental accounting of every payment and it moves from being a point of friction to a moment of enabling."
Payment inspiration from other industries
We've already mentioned transport, food and entertainment, but there are plenty more places that hospitality can take inspiration from. You may know that we're fond of talking about airlines, particularly when it comes to maximizing the use of space and upselling throughout the entire journey.
But in the webinar, Edward brought up an equally great example: the fitness industry. The interesting thing is that it's not only about creating pain-free payments – it's about creating a culture or a community that customers buy into. In the same way that a gym can become a focal point for a community of fitness enthusiasts, your hotel can become a hub for the local neighborhood.
"The fitness industry is a great example combining online and offline and creating a community and connection," said Edward. "Through subscription they have removed the friction point of payment and created a plethora of upselling opportunities."
Where to start with hotel payments?
This is all well and good, you may be thinking, but how on earth do I get started with making changes to our payments? Before you begin introducing new payment methods and make changes to your payments journey, spend some time analyzing your existing guests.
Annemarie had some sage advice on this topic: "Where should hotels start? Get the basics right: know your guest. We should be thinking about where travelers are coming from and what payment types they are comfortable with."
In other words, there's no point spending time implementing a new alternative payment method if no one is interested in using it. Fortunately, there are great payment solutions out there that do most of the hard work for you. And there's more flexibility than ever when it comes to connecting these solutions with your hospitality cloud. Mews Payments, for example, is part of Mews Hospitality Cloud and is a fully connected and integrated to everything from room reservations to F&B POS to online check-in.
"Trying to build a payment system yourself is almost the definition of insanity – that is not your core," explained Edward. "Leverage those with expertise so you can focus on delighting your customers."
This is only scratching the surface when it comes to hotel payments. Watch our Rethinking Hotel Payments webinar if you'd like to go deeper.
Your guide to hotel payments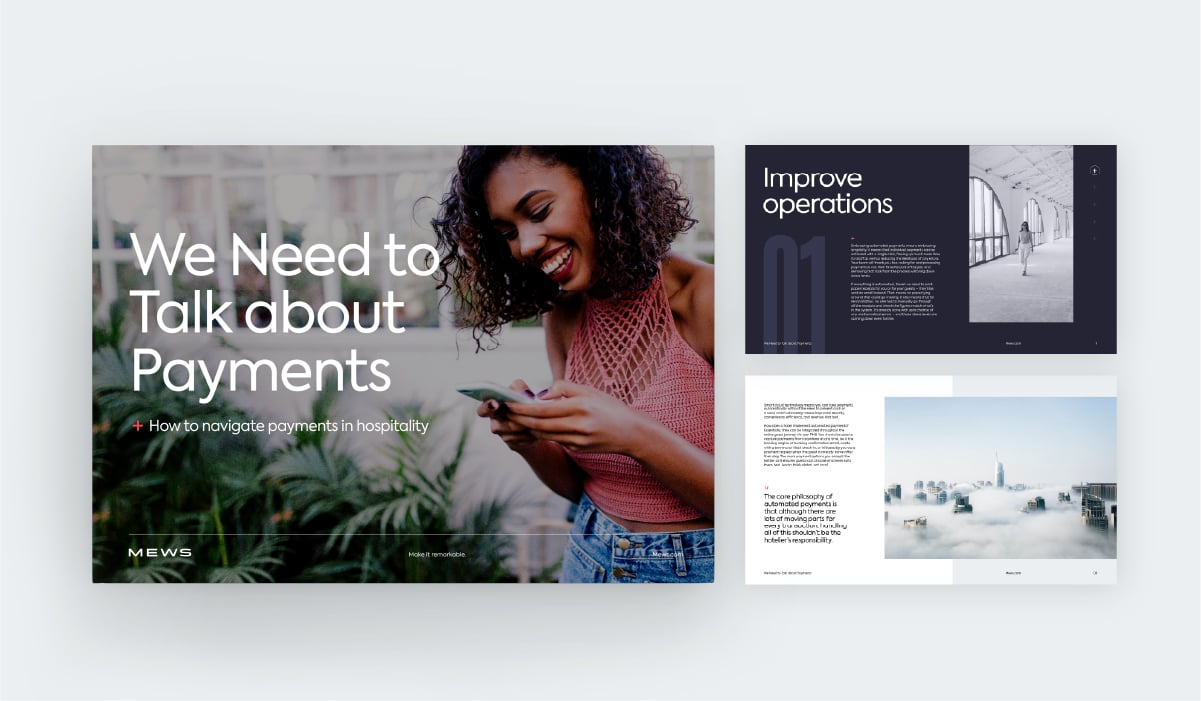 We Need to Talk About Payments is a guide to navigating the world of payments in hospitality. Featuring an overview of today's payment landscape, a look into the future, and a deep dive into the benefits of automation, it's a must-read for any hotelier who wants to save time, boost revenues, and please guests.
Hospitality hot takes straight to your inbox
Sign up to our monthly newsletter for industry insights, product news, partner updates and more.