The Mews Blog > Understanding revenue management in hostels
Hostel revenue management is all about selling as many rooms and spaces as possible at the highest possible price. To achieve this, the hostel must effectively manage room availability and sell for the best price through the appropriate channels. Just like in hotels, yield management is an excellent technique for maximizing both revenue and profit.
Revenue in hostels can be improved using customer segmentation, yield management, dynamic pricing, mastering distribution, and having clear objectives laid out. Let's see why revenue management matters in hostels, how to improve it, and how it differs between hotels and hostels.
Why is revenue management important in hostels?
Revenue management in hostels is necessary to maximize profit from room or bed bookings. It helps sell a room (or a bed) at the right price, to the right customer, through the right channel. That way, hostels can attract more customers and gain a larger market share. Use revenue management to maximize revenue by perfecting pricing, inventory, and distribution strategies.
Hostels can use different management strategies to analyze market trends and predict demand. Accurately forecasting demand will enable hostels to better plan their inventory and pricing strategies, leading to more efficient resource use and higher revenue. Revenue management provides hostels with the tools necessary to adjust prices and inventory to maximize profits in real-time, leading to reduced costs and increased profitability.
What are the differences between hotel and hostel revenue management?
Revenue management in hostels focuses on maximizing revenue per bed by effectively managing inventory. Hostels cater to budget-conscious demographics, so they must use a mix of distribution channels and technology to optimize profits. In contrast, hotels have a more varied customer mix and rely more on direct bookings and corporate contracts.
Pricing strategy
Since hostels generally have a lower price point than hotels, they focus on maximizing revenue per bed instead of per room. Using robust and dynamic pricing strategies helps them make the most out of each bed, depending on demand and seasonality. While hotels focus on RevPAR, hostels are concerned with RevPAB (revenue per available bed).
Inventory management
Inventory for a hostel differs from a hotel one – hostels have bunk beds, private rooms, ensuite, and single beds, all affecting inventory management. Plus, they might have shared amenities like bathrooms and kitchens, while hotels manage private rooms.
Demographics
Hostels generally target budget-conscious travelers, while hotels cater to a wider range of clients. Since hostels may attract younger guests, including backpackers and students, their strategies must adapt to reflect this demographic.
Technology
Due to budget constraints, hostels may use less advanced management systems than hotels. However, innovative technologies such as Hostel revenue management software and other tools are becoming more accessible to hostels. They're designed to meet the needs of modern hostel owners who want to leverage technology to improve profitability.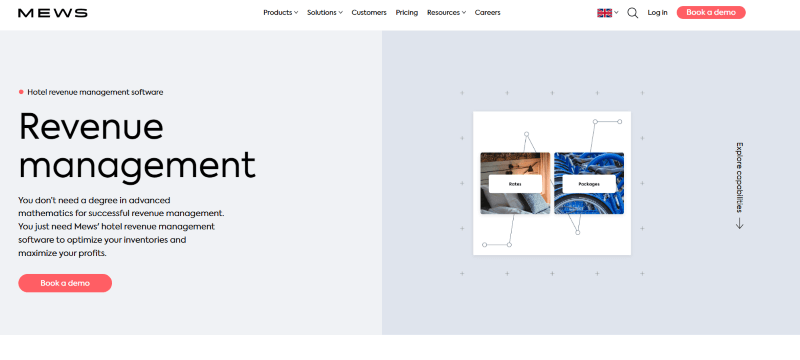 How to improve revenue management in hostels?
Let's look at the best ways to improve the ways hostels manage revenue.
Set measurable objectives
Hostels should focus on yield management, a variable pricing strategy that seeks to understand, predict and influence customer behavior to increase profitability. No yield management strategy is complete without KPIs (key performance indicators). Setting measurable goals will help you understand where you are and what you need to do to achieve your goals.
You want to track the number of people who stayed each night, bed occupancy and the occupancy rate (number of beds used divided by available bed nights), the average bed price, RevPAB and TRevPAB. Once you've set goals for each of these KPIs, you can measure your hostel's health to improve revenue.
Discover the 7 most important KPIs for the hotel industry.
Have a suitable distribution strategy
Inventory management can be complex in a hostel – you're selling individual beds rather than rooms. Depending on your distribution channels, you may have different rates or restrictions. Technology like Mews lets you skip this time-consuming process while maximizing your revenue. Distribution partnerships will help grow demand until you can eventually rely more on direct channels.
Practice segmentation
You've probably heard about customer and product segmentation. Customer segmentation varies from hotel to hostel. When segmenting, consider behavioral patterns. Hostel customers are willing to pay less for a bed than a hotel room and may not book as far ahead because backpackers tend to book on the go.
Hostels have more products available to segment. For example, mixed dorms are priced differently from all-male / all-female dorms. The same goes for a private ensuite vs. a shared bathroom. When practicing managing revenue, you must consider all these demand-driven patterns to generate a pricing structure that yields positive results in terms of profitability.
Pricing strategies
Hostel owners may want to play with different pricing strategies to see what works best for them. A dynamic pricing strategy can help improve revenue by adjusting the prices in real-time based on market fluctuations. This is an excellent strategy to boost sales when demand is low by offering lower prices and raising them when demand is high.
Conclusion
Revenue management is an essential part of running a hostel. It involves understanding market demand and optimizing prices and inventory to maximize profits. Hostel managers can rely on dynamic pricing, forecasting and distribution to achieve their goals. The key is to constantly monitor and adjust to market changes. That's how hostels stay competitive, maximize revenue and improve their bottom line.

Author
Eva has over a decade of international experience in marketing, communication, events and digital marketing. When she's not at work, she's probably surfing, dancing, or exploring the world.
Hospitality hot takes straight to your inbox
Sign up to our monthly newsletter for industry insights, product news, partner updates and more.