The Mews Blog > Spring product plan – a look ahead
Say hello to spring at Mews, with loads of product releases, updates and more as we work to make the Mews Hospitality Cloud even more powerful, creating better experiences for properties and guests.
Across the next few months, we're focused on 15 major (and exciting) initiatives across our product teams. This article will give you the highlights of what you can expect to come your way in the next few months and, in some cases, beyond.
Daily product pricing
The next step in our evolution toward age-based and attribute-based pricing is to allow revenue managers to manage products on a day-to-day basis, and, in turn, be able to respond to demand and change prices dynamically.
For us, this is a prerequisite to enable the pricing of products and rates by age-categories, but we're also confident that this enhancement will generate an uplift in revenue by allowing users to adjust the price of different products for different days.
The new functionality will be available through not only Mews Operations but also via the Mews API collection with integrations such as SynXis, TravelClick, D-Edge and SiteMinder benefiting from the update alongside our Channel Manager API. This means that the ability to revenue manage products will not be limited to Mews Operations only but will also be available for most distribution channels.
2. Automatic product additions from channel reservations `
We've noticed many of our customers find themselves needing to add products manually for reservations received from distributions channels via SynXis, SiteMinder and Reservit, so we've found a way to solve for this and save you valuable time. We'll now ensure that these are added automatically so you can map products within Mews more effectively.
Also, as part of this initiative, we're tackling the issue of users having to manage prices outside of Mews due to the lack of child pricing functionality. By enabling reservations first, we will allow for better data flow for guest count by age and avoid users having to update reservations during the check in process.
3. Improved corporate reservations and profiles
Mews prides itself on developing a property management system that truly puts the guest at the center, making guest profiles easy to find, easy to manage and central to the hotel's operations. This same advantage will now extend to the company level. Thanks to improved handling of corporate reservations, Mews users will be able to capture more granular company information, making profiles more actionable. By linking guest profiles to company profiles and improving reporting capabilities, hoteliers will be able to easily find and act on valuable information about partner companies.
4. Streamlined housekeeping communication flow
As you know, Mews offers housekeeping and operational capabilities that streamline communication between the front desk and the facilities and housekeeping staff. But to really optimize the process, the intended recipient needs to be alerted when a new task comes in. That's why we're implementing a solution that will directly notify the right people when a new task needs their attention.
We also realized that with the ever-growing expansion of SpaceTime, different types of spaces need different specialists overseeing them. Our new assignment functionality will ensure that you can seamlessly manage this allocation. At the same time, we're also making it easier to filter and navigate spaces so that you have full control over who's doing what and where for accurate housekeeping updates even when third-party services are involved.
5. Serving long stay guests even better
As part of SpaceTime, we continue to improve on the functionality for booking in monthly time units. In 2021, we added the ability to group invoices by month, making it easier to generate monthly bills for long stay guests. The next phase will allow you to price different types of spaces in monthly intervals — from accommodations for long stay guests to renting out parking spaces to local businesses by the month to generating monthly subscriptions for services. While we don't anticipate a wide release for this initiative in the next few months, we're always on the lookout for early users and would love to welcome you into our beta program.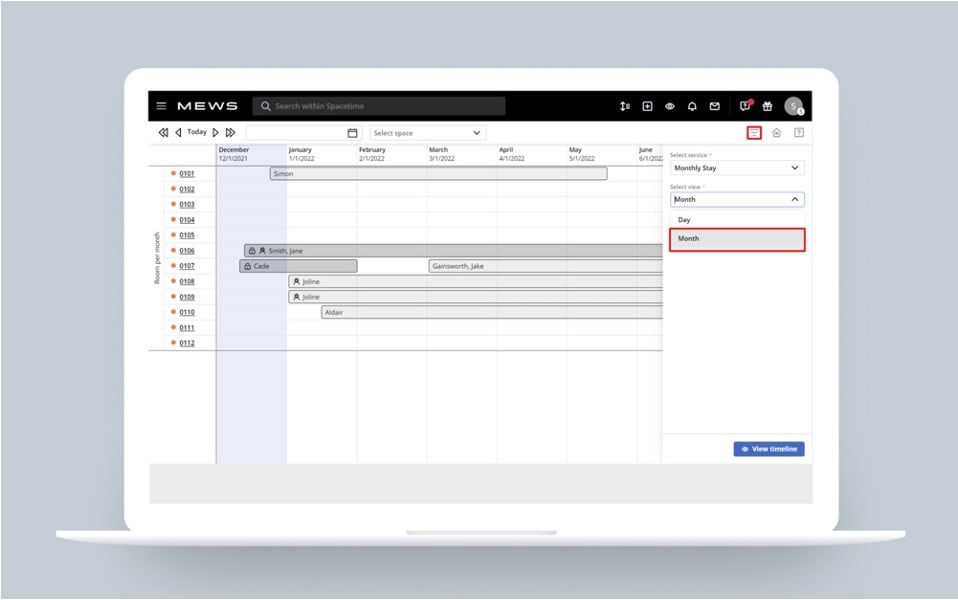 You'll soon be able to assign prices to spaces in monthly intervals.
And keep watching for more SpaceTime updates. With an average €25k additional revenue per hotel per month, this will continue to be one of our ground-breaking areas of focus throughout 2022.
6. Faster booking flows
With an eye on the booking flow from the guest's perspective, our teams are working in the background to speed up the booking module by up to 50%.
This work also means that we will be able to expand the booking module functionality in the future, including greater flexibility in the ability to change booking states.
7. Improved availability blocks
With the success of availability blocks in late 2021, we continue to invest into this area. Already this year we released the ability to contract and block stays for long stay guests (those who stay longer than 90 days). Watch for more improvements in how availability blocks are priced and distributed, again ensuring that your sales teams can quickly agree and set new agreements in Mews.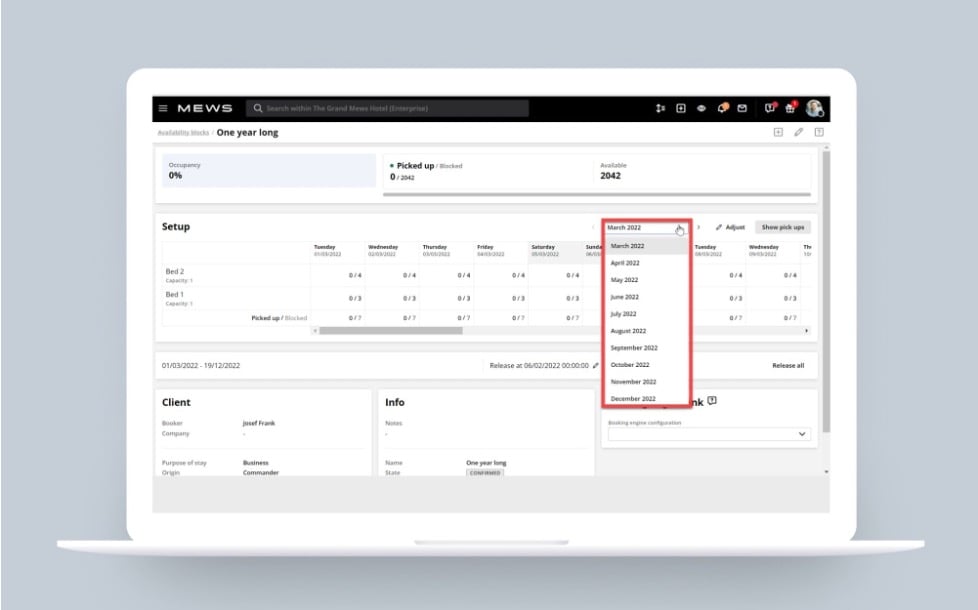 8. Addressing accounting accuracy
We're taking important steps in T1 to improve accounting accuracy by reducing discrepancies between Mews and your chosen accounting software. More specifically we'll be addressing the rebate flow so front-line staff can more seamlessly correct mistakes on closed bills. We anticipate this will translate into less time spent by staff trying to understand rebate reasons, rebated items and ultimately be confident in how they handle invoices.
As for our new customers in the US, we're improving invoice layouts with a focus on how taxes are grouped and displayed to guests, reducing the time (and confusion) spent trying to understand bills and invoices.
9. Enhance communication with guests via third-party apps
As we continue to improve staff communications, we're also going to help you take guest messaging to the next level. With new Messaging API endpoints, your custom development or chosen integration partner will be able to send messages directly into Mews. Your staff won't need to leave the Mews platform to receive and respond to guest messages regardless of which integrated application it comes from.

10. More user-friendly Mews Marketplace
As we continue to grow the offerings from third-party application and service partners in Mews Marketplace, we also realize that it may be hard to find the applications you want, need and can use. So we're improving the usability of the marketplace and introducing templated "tech stacks" for different segments of hoteliers along with tagging country specific applications. Your search for that next best app to power your property will soon be much simpler and faster.
11. Increase in meaningful reservations
We're working to ensure that we reduce the number of no-shows and double bookings that come through the booking engine with an update that will require a payment to be processed before a confirmed reservation is issued.
Additionally, guests will be able to see a breakdown of price, fees and taxes in the booking engine so they can be confident in the total amount before they submit their payment.
12. Increase revenue from existing customers
You will soon have another path to cross-sell bookable services to existing guests – and increase revenue – thanks to changes coming to the online check-in flow.
Similarly, we're exploring different ways to engage with guests, including using SMS invitation as another channel for online check in.
And finally, we'll be experimenting with cross-selling parking services with a long-range plan to eventually extend this functionality across all services in Mews.
13. Optimize cost for French-issued cards
Given that more than 90% of all French-issued cards are Carte Bancaire cards, our payments team is working to optimize this integration with our payment providers for an overall reduction of fees and a higher rate of successful transactions. At the same time, we expect fewer chargebacks after this optimization, which will increase revenue, reduce costs, and lead to lower overhead in managing disputes, ultimately boosting profitability.
14. Uplifting pre-authorization capabilities
Managing pre-authorizations can be time-consuming to manage, frustrating to guests who want their funds released, and extra complex considering that every hotel has their own way to handle them. That's why we're working on a way to give properties more flexibility and a better way to manage pre-authorizations. This new solution will allow properties to automatically release pre-authorizations based on pre-determined timelines and settings that they manage and control.
Next to that, we're looking at the pre-authorization flow and new functionality that will allow properties to update the amount of the payment if the estimated cost of reservation changes, for example if new products are added.
15. Smart card holder data detection
In an effort to reduce some of the challenges, costs and risks associated with card holder data protection, we're working on a "smart card holder data detection" in our systems that will no longer allow card holder data to be filled in within our system. The result will be increased security around sensitive guest data and a decrease in the risk of data being exposed. This change will also ensure that we get a renewed Attestation of Compliance around PCI DSS, which means Mews customers can be comfortable knowing our platform is secure, compliant and scalable.
We hope you're as excited as we are about all of these new features, enhancements and updates planned for Mews over the next few months. If you haven't signed up yet, be sure to subscribe to take part in our beta testers program and be the first to try out the newest features.
Hospitality hot takes straight to your inbox
Sign up to our monthly newsletter for industry insights, product news, partner updates and more.