The Mews Blog > Why Oracle Must Hate Oracle Hospitality
Richard Valtr, Founder of Mews Systems, writes about why he feels that software giant Oracle's hospitality division contradicts its technology competency, operational excellence and efficient customer support.
---
After a nail-biting few weeks working frantically to close our Series A fundraising round (we closed a round with an awesome group of investors in case you missed it…), I finally managed to take some time off over the summer and got stuck into a backlog of books that had been gathering dust on my desk.
Some of my favourite reads were 'Measure What Matters', 'Messy' and 'Algorithms to Live By', all of which I can't recommend highly enough to anyone who enjoys tech / management literature. However, the book that I enjoyed the most was a recommendation from John Collison at Stripe (thanks John!). His ears pricked up during a conversation of ours when I started enthusiastically recounting how fun it is to compete with Oracle Software, and he recommended I read 'Softwar: An Intimate Portrait of Larry Ellison and Oracle' by Matthew Symonds.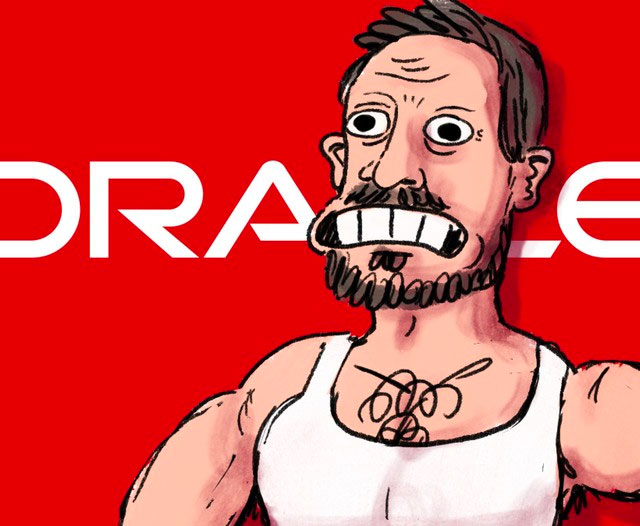 Larry Ellison: an inspirational character!
The book may be a little dated — it was written in 2003 — but it still gives a great account of one of the less-celebrated titans of the software industry: Larry Ellison and the company that he built. It was such a fun read that I immediately bought copies for our leadership team (enjoy, Matt, Greg, Scott, Honza and Jirka!) as it's brimming with lessons on the perils of B2B sales.
Yet while I was reading and learning about the company, a glaring realisation hit me - Larry Ellison and his team must absolutely despise the relatively new Oracle Hospitality division of the company (formed after Oracle bought Micros back in 2014)! Ok fine, how could someone hate a company that they spent over $5 billion buying and, by all accounts, are still pumping cash into? I appreciate that I'm speculating and that I'm inclined to be biased against any rivals, but hear me out:
First, Oracle famously despises all things Microsoft and Opera remains, to its bones, built around the notorious client-server architecture Bill Gates' company used to champion. It would take a herculean effort to get anywhere near the Network Computer model that Larry prefers in the book. To pour salt on that particular wound, design-wise, he must hate that even the newest Opera iteration still looks remarkably similar to Windows 98...
Second, the success of Oracle has always stemmed from Larry's passion for finding great programmers to fix fundamental issues. Oracle Hospitality and its adherence to legacy rules suggests they are interested in none of the above. I'm uncertain whether Larry is as passionate about design as we are, but we've never built a product according to some arbitrary industry standard without questioning the relevance of it to modern requirements. Instead, we've built products from the bottom up and around what we believe the correct processes should be.
For example, we decided to ignore antiquated processes such as 'night audits' after realising they were just technological workarounds of a bygone age. We also refused to conform to outdated frameworks like the HTNG or FIAS protocols, preferring to allow a clear data structure dictate things instead.
Much like Oracle's original mission to build perfect databases was key to its success, we believe that real data, rather than the associated frameworks and protocols, are essential to software interoperability. It's great to see that new startups in the hospitality space, such as Impala, have also adopted the same way of thinking and to great effect.
Third, Larry's Oracle has always done one thing amazingly well - maintain a ruthless focus on performance and speed at the expense of the more intangible parts. Once again, Oracle Hospitality goes against company principles: it offers functionality at the expense of speed and performance. To compound things further, and ironically for such a service-oriented industry, customer service is an afterthought at best. It doesn't even offer performance for the processes that truly matter, such as customer check-in speeds, report creation or those painfully slow night audits. On all the key hospitality benchmarks we've been able to track (more on that in a post coming later), Oracle is nowhere near the top.
Fourth, he can barely disguise his hatred for system integrators and has always preferred an all-in-one solution to an ecosystem of connected apps and software. With Oracle Hospitality lacking what the current market demands in so many different ways, the company has been forced to work closely with the old hospitality tech guards such as Sabre, TravelClick, Amadeus, Duetto and IDEAS, as well as newer entrants including Expedia's AliceApp and TinkLabs. The result is a product lacking proper interfaces to standard functionalities, let alone the conveyor belt of new must-have integrations (TripTease and HotelChamp to name a couple), which also suffer on account of Opera's six month minimum integration lead time.
Lastly, although Oracle has always had a good consultancy division, Larry doesn't hide the fact that he thinks consulting is not a great business to be in. The problem with property management systems, and the hotel tech landscape in general, is that they are innately consultative. For example, there is no definitively correct way to check someone in or out, nor is there a set-in-stone rubric on how best to run a hotel. Why? I believe it's because hotels are inherently human and complex machines. Unlike a POS, for example, a hotel's PMS is a de facto processor and analyser of human behaviours rather than just pure robotic tech. The POS, on the other hand, simply serves as a general system of record with an external point of contact for transactional security.
So why did Oracle acquire Micros in the first place? I believe the real prize was the POS and not the PMS. Unfortunately for Larry (but fortunately for us), PMS systems are a far cry from their core business. Unlike a POS, a PMS is not simply about the speed of execution. They involve developing deep knowledge around a number of processes connected to unique human behaviours and then managing those processes efficiently.
My theory aside, I was amused to learn of Larry's ultra-macho dislike of pink tank tops (I disagree, I think pink is an underrated colour...) and I admire his relentless passion for enjoying life to the fullest (which is something we have tried to instill at Mews with policies such as unlimited holiday time and encouraging flexible working hours). The fact that he was one of the first corporate titans to show how decentralised leadership could work should serve as an inspiration to any young founder. Remarkably, he was able to imbue his own company with all of these free-spirited principles.
The man is one of the best business brains of the past century and, despite the vitriol that his competitors spout at him, he should be placed in the same pantheon as Steve Jobs and Bill Gates. For a company like ours, it is soothing to think just how anathema Micros Fidelio and Opera must actually be to Larry and his principles. Just the thought puts a spring in our step as we continue our march to become the industry's number one PMS provider.
---
Hospitality hot takes straight to your inbox
Sign up to our monthly newsletter for industry insights, product news, partner updates and more.