The Mews Blog > What are the benefits of working for a hotel chain?
There are many benefits of working for a hotel chain, such as the ability to grow within the company, location flexibility, tips, competitive wages and many more. For those who want to work in the hospitality industry, a chain hotel provides a clear structure through which employees can grow and learn, and seeing as there is high demand within the sector for capable professionals, it can be an excellent career path.
In this article, we'll look at the main benefits so that you can get a better idea if a chain hotel is the right choice for you. So, let's take a look.
11 Main benefits of working for a hotel chain
As we mentioned, there are many benefits of working for a hotel chain. More than 11, for sure. But we have to start somewhere, so these are perhaps the most important.
1. Professional growth
Working at a hotel chain, there are many possibilities for professional growth, especially if you want to grow within the same chain. They offer more chances and have more resources for training, and it's easier to design your own career path because once you start with a chain, it's in the hotel's best interests that you stay and grow within the company instead of going elsewhere. Read more about how hotels build a path for career development.
As the work within a chain hotel will be similar across properties, once you find the property that is willing to support your professional growth and gives you a clear path towards this growth, it's a no-brainer growing within the company. Chains also have the time to invest in improving employee satisfaction, which also helps improve employee retention rates. Happy employees are productive employees.
2. Location flexibility
For those looking to live a season in one area and another season in a different area, chain hotels are a great option. They usually have a network of hotels and multiple properties across the globe, which makes an international lifestyle possible. Especially, managers are often given the option to relocate because it provides a great opportunity for cross-cultural exchange and for talent exchange.
3. Tips and competitive wages
Tips and competitive wages are a great advantage to working in the hotel industry, and especially at a chain hotel. Depending on the job you have and what country you are in, tips and wages may vary, but one of the great things about working in hospitality is that in countries like the USA it is customary to leave a tip for room service, at hotel restaurants, for the bellboys and concierge, and even sometimes for the front desk.
Working for a chain, you have the benefit of good compensation packages and competitive salaries because being larger they work with more volume and are able to better pay staff. And yes, this is party because they're particularly keen to avoid turnover.
4. Better benefits
Benefits could come in the form of mental health coverage, health insurance, retirement planning, life insurance or more. Thanks to more resources and the high competition between capturing talent, chain hotels are likely to offer competitive benefit packages to support their competitive wages.
5. Good for your CV
When it comes time to change jobs, it will be easier to find another job quickly if you've worked in a chain hotel with a good reputation. You're also able to enjoy some on-the-job training that's only possible when working at a hotel that has a high volume of check-ins and check-outs. Being able to work well under stress, problem-solving and multitasking are all skills you can acquire while working for a chain hotel and will help make your CV shine.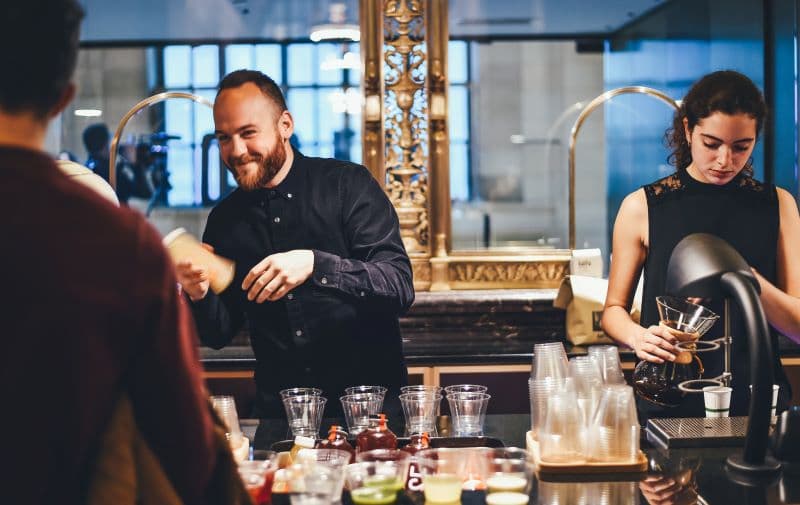 6. Human interactions
Whether it be your guests or your co-workers, human interactions are one of the best parts of working in the hospitality industry. And, in the case of chain hotels, due to their sheer size you have more chances of meeting interesting people and forming lasting bonds. If you're a people person, there's perhaps no better industry to be in. Plus, you have the chance of positively impacting the guest experience.
7. Clear structure to follow
When working at a small or independent hotel, some job roles might not be so defined as they tend to hire fewer staff, and hope that whoever they hire will be multi-skilled. In the case of chains, roles are more clearly defined and there is a clear protocol and structure to follow, which makes it easier to know and do what is expected of you, especially for those who are newly starting out in the industry.
8. More resources
Chains are working with higher profit margins, so it means they also have more resources to invest in tools that will make your job easier. For example, with a solution like Mews Operations, you can be sure that your job will be less manual and more focused on providing the best guest experiences possible.
9. Discounts
More resources also mean that there are more perks for staff working at chains. You may have access to room discounts or staff rates at other hotels within the chain, or be able to give a friend and family discount, which is also a great promotional opportunity for the hotel you work at.
10. Scheduling flexibility
With a larger staff, there is more scheduling flexibility to take days off or switch shifts with other colleagues. This means that even during high season, there can be some wiggle room to get your shift covered if something comes up. This can create a great work-life balance knowing that you can change shifts or get them covered if you need to, unlike a traditional 9-5 job.
11. Special events
Chain hotels have bigger budgets, so they have more to invest in staff development, team building and other events, which are also great opportunities for networking. Some chains also offer regular events, whether that be monthly, quarterly or yearly.
Conclusion
In this article, we've looked at the array of benefits of working for a chain hotel. From professional growth, to human interaction, location flexibility, competitive wages and more, chain hotels provide a great environment to make a career in. No matter which chain you work at, you can be sure there is an incentive to be the best employee you can be, and you will be compensated accordingly.

Author
Eva has over a decade of international experience in marketing, communication, events and digital marketing. When she's not at work, she's probably surfing, dancing, or exploring the world.
Hospitality hot takes straight to your inbox
Sign up to our monthly newsletter for industry insights, product news, partner updates and more.