The Mews Blog > Climate action at Mews
We want to make the world a fairer, safer, and greener place to live in. Not just within our industry, but globally. The only way to get there is through meaningful action, which is why we've set up committees to tackle the three causes most important to us.
These three causes are:
Helping the homeless and displaced
Furthering knowledge and education
Climate justice
Each committee has its own dedicated team to research and create plans for how Mews can tackle these problems, both on a personal level and as a business. To make sure that our teams have the time to actively work on this project, we've pledged 1% of our time and 1% of our product development towards these causes. It may not sound like a lot, but that's over 6,000 hours every year.
So let's take a look at what our climate justice team are working on.
Taking climate action at Mews
The environment is a huge topic to tackle. We've broken it down into three areas where we believe we can make a difference:
Empowering hotels and their guests to combat climate change
Becoming a more environmentally friendly business
Acting more sustainably on a personal level
Across each of these areas, we plan to take real action – after all, the last thing the planet needs is more hot air. Martin Andrýsek is a Mews Product Expansion Manager, but his environmental experience made him perfect for a climate team coordinator role: "I used to collaborate with environmental NGOs and I wanted to avoid the same mistakes that many companies make, which is basically just greenwashing. We're not interested in using the topic to look good but not actually having solid initiatives behind it."
Empowering hotels and their guests to combat climate change
One of the first questions our climate team asked themselves was how to reach the thousands of hotels and millions of guests that use Mews. The solution? We partnered with Hotels for Trees.
Hotels for Trees partner with hotels to encourage guests to skip housekeeping – one of the biggest energy drains for properties. For every night that guests forgo room cleaning, a tree gets planted instead. It offsets some of the carbon from their stay, as well as cutting down on energy, water and chemical usage, reducing costs.
The scheme has only been running since July 2021, but 15,000 trees have already been planted. Of that number, Mews alone contributed 2,300 – that's before you start counting trees planted by Mews hotels.
It's also on our product roadmap to build a direct Hotels for Trees integration into the Mews platform. This would make it possible for guests to choose this option during booking or check-in, increasing uptake even further.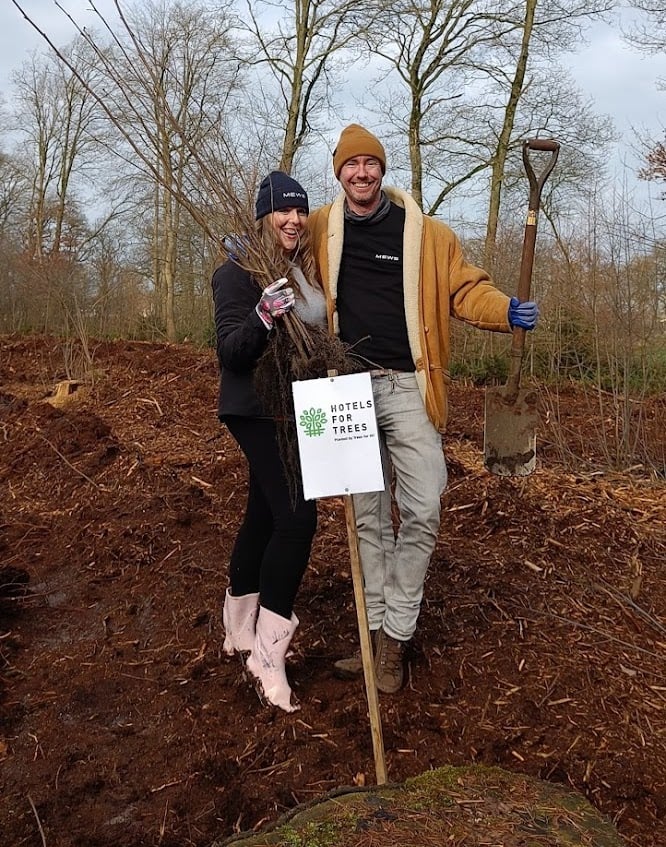 Two Mewsers take part in a planting day to see our work take root
As part of our efforts to raise environmental awareness within our industry, we released a guide called The Green Hotel of the Future, which gives practical advice for hoteliers looking to embrace sustainability throughout their property.
We continue to talk to hoteliers around the world to identify best green practices in hotels. We're lucky enough to have a platform where we can share this information, and we think we have a responsibility to use it.
Becoming a more environmentally friendly business
Our ultimate goal is to become a completely carbon neutral company, not just by offsetting our carbon emissions, but by making significant reductions.
Our shift to a remote first workplace has helped to reduce Mews emissions, both as a business and individually. Working from home means no commuting required, and the number of in-person meetings has been cut significantly. That said, travel is sometimes beneficial and necessary – particularly in our industry – and we will start to offset every flight taken for work purposes.
Wherever possible, we are transferring our office energy plans to renewable policies, and running initiatives whereby we'll donate to more tree planting. We want to become an industry leader when it comes to climate action, encouraging hoteliers and hotel tech partners to join us in making a difference. Of course, we can't just demand this; we have to earn it through our actions.
Sara Arzan works on the Mews Marketing team, but is more than happy to spend some time helping with climate justice: "My master's thesis was on sustainability and in Romania where I'm from, it's such a big problem that I feel like it's my duty to help. A big part of the problem is education, so anything we can do to raise awareness could make a big difference."
Acting more sustainably on a personal level
Meaningful change it most effective when it's holistic. Our climate action team recently sent a survey to the whole company to see how much carbon dioxide we consume and share tips on how to reduce the amount.
We can analyze the data we gather (any excuse for a bit of data analysis) to come up with ideas for how to act more sustainably. "The plan is to understand where our carbon as a company is coming from, and then how can we build the most effective reduction plan," said Charlie Delamare, Solutions Architect and part of the climate team. "For instance, we may find out that it will actually have a much bigger impact if we can get everyone to do a meat-free Monday compared to if we just offset all of our flights."
All of this is only the start when it comes to climate action at Mews. In the wake of the most recent Intergovernmental Panel on Climate Change report, it's clear that there's no time to waste. If we all work together, we can solve this problem.
If you're a hotelier who's interested in Hotel for Trees, you can find everything you need to know on their website.
Hospitality hot takes straight to your inbox
Sign up to our monthly newsletter for industry insights, product news, partner updates and more.