The Mews Blog > What is the future for POS systems in the hospitality industry?
The future of POS systems is unpredictable, but one thing's for sure: slowly, legacy or traditional POS solutions will go obsolete as we move from a digital-first to a digital-only business model. Moving towards cloud-based digital solutions will allow you to set up your hotel for success by giving your hotel a competitive edge over those late adopters.
In this article, we'll look at the main trends in terms of point of sale systems and what the future might hold for this kind of payment method. By keeping ahead of the technology trends, you can be sure to leverage technology to stand out from the competition. Read more about the 15 most important technology trends for this year.
What are the main POS trends and what does the future of POS systems look like?
The digital world is evolving rapidly and as a modern hotelier you must be ahead of these changes in order to stay relevant in the market. This can apply both to your actual hotel installations, by integrating technology to improve the guest experience, but also in terms of your payment journey. A fundamental part of this payment journey is ensuring that your payment system is up-to-date with the latest trends.
Keep reading to discover the main trends and the future of hotel restaurant POS systems.
Cross-channel purchasing
More and more, the line becomes blurred between services and the channel they are purchased on. With so many channels available, your hotel must be ready to accommodate these cross-channel purchases. This means that your services, beyond just rooms, should be available for purchase no matter where the guest books and pays, whether that be online at your website, at the check-in kiosk or with the virtual concierge from their room.
Read more about the benefits of a digital concierge.
Whether your guest is on-site at the restaurant ordering digitally from a mobile device, or if they're in their room ordering room service, they should be able to order and pay from anywhere thanks to an electronic point of sale, even paying directly from their room. Cross-channel purchasing makes it easier to accommodate non-linear purchasing patterns.
Artificial intelligence integration
AI technology will be used by point of sales systems to support the ever-changing digital environment. With the integration of AI to payment devices, hotels will be able to more easily manage inventory with little or no effort, better understand product trends, know what promotions to leverage based on customer insights, and help manage employees' productivity by making logging in to the device easier with the help of facial recognition.
Find out how artificial intelligence is changing the hospitality industry.
Contactless
Contactless technology uses smart tech to leverage automated activities like facial, palm or voice recognition to streamline payments from your point of sale device. This makes payments faster and more convenient, as well as improves the check-in and check-out process by making it faster to settle the bill. In the case of loyalty programs, using contactless technology tied to your POS's loyalty program management, makes it so guests don't have to carry their loyalty cards with them.
Loyalty programs
With the help of technology, beyond just being able to easily find loyalty members without them having to carry their card with them, point of sale technology will make it easier to customize offers to your loyalty program members based on their guest profiles. Furthermore, your POS will be able to store these rewards, discounts and offers so that the system can also track which are the most cashed in rewards.
Data
While data privacy is an important matter, it goes without saying that customers are more willing to share their data and profiles if they know it means they can check in and check out faster from their rooms, especially if they are loyalty members. This also helps you better customize offers for each guest and increase the possibilities of upselling.
Guest profiles are an important part of improving targeted marketing campaigns, and with the real-time data provided by point of sale systems, this will become even easier. The data will continue to improve, making these devices fundamental for informing pricing decisions and increasing sales based on guest behavior. Customization will continue to be key in the future for a businesses' success. Learn how to create guest profiles.
All around flexibility
Flexibility is another important trend. Hotels are a dynamic business and need dynamic payment systems to be able to modernize the guest journey. In other words, with a mobile POS, you can have tablets, mobiles or fixed terminals dispersed throughout your hotel for your guests' convenience. This way they can make payments no matter where they are in the hotel, increasing guest engagement.
Mobile point of sales lets you take orders for your hotel's restaurant from anywhere and guests can choose to pick up at the restaurant or have the food delivered to their room, carrying out all payments from their mobile, or even charging to their rooms. The same can be done from a self-service kiosk that is integrated into your payment system. This flexibility will continue to improve, serving as a vital part of the payment journey.
More payment methods available
Current payment trends seem to be moving us towards cash-free hotels, which means that guests have an array of possible digital payments available to them, whether that be ApplePay, Amazon Pay, PayPal, VenMo or cryptocurrency. With an ePOS it will be even easier to accept these different payment methods, and no longer only rely on credit card or cash payments at your hotel.
Digital payments also make it easier to cash in on gift cards and loyalty rewards stored in their payment profile. It will no longer be a problem to charge $1 on your credit card; it will become more swipe and go, making boosting ancillary revenue more convenient and easy than ever.
Augmented reality and virtual reality
As augmented reality and virtual reality permeate the digital landscape, your point of sale must be ready to tap into this rising technology, offering new ways to pay that could involve AR or VR technology. Hotels may be able to leverage this trend to provide AR-powered tours of hotel rooms when potential customers are shopping online, and enable them to purchase the room they are seeing through the POS.
Find out more about using VR technology in the hospitality industry.
Conclusion
In this article, we've looked at some of the most important payment trends and the future of POS systems. Understanding these trends will help your hotel better optimize the use of its point of sale to improve efficiency and to better recognize customer behavior to generate better business results. The advancement in technology related to point of sales is without a doubt the most notable trend to date.
Six Benefits of Combining Your PMS and POS
Discover why choosing a hospitality cloud with a built-in POS creates a more seamless guest experience and streamlines processes for your teams.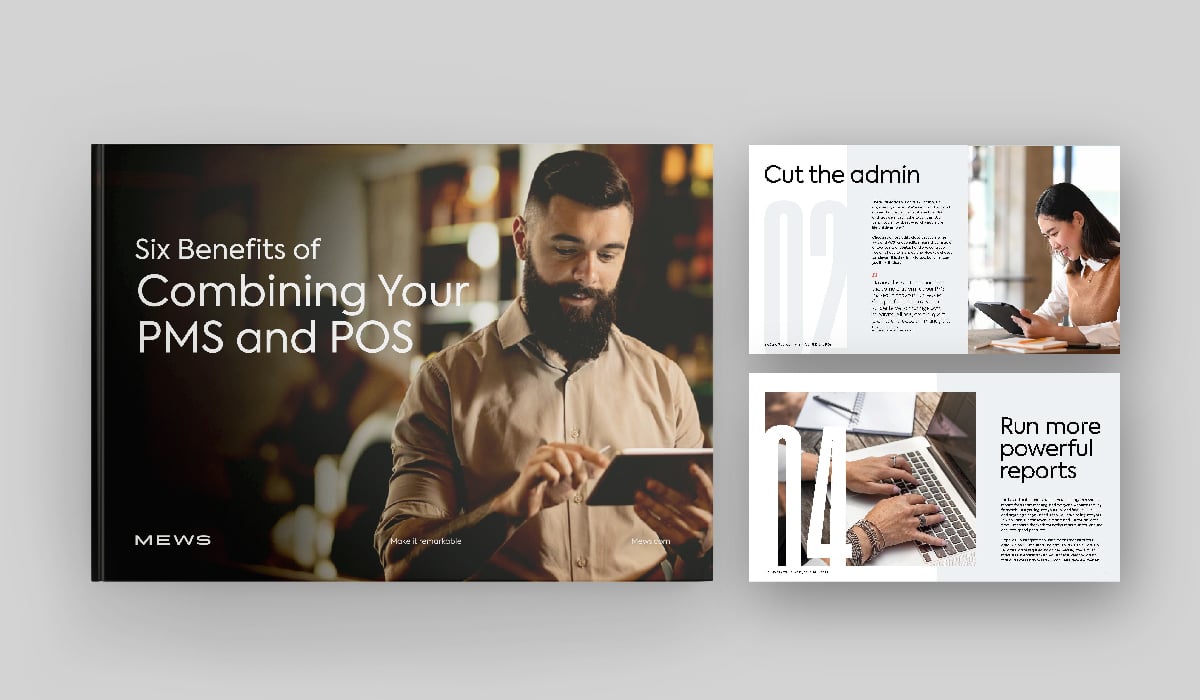 Author
Eva has over a decade of international experience in marketing, communication, events and digital marketing. When she's not at work, she's probably surfing, dancing, or exploring the world.
Hospitality hot takes straight to your inbox
Sign up to our monthly newsletter for industry insights, product news, partner updates and more.