The Mews Blog > How to get guest feedback and why it is important for your hotel?
Having a guest feedback system in place is crucial for your hotel and for your guests. For you, feedback can provide a pulse on how well your hotel is performing so you can make informed decisions and improvements. For guests, a feedback system encourages satisfaction and loyalty. Giving guests control over their experience is key to boosting satisfaction during their whole stay.
After all, who's better to tell you what's working and what's not working than the very people who are consuming your services? Keep reading to find out why guest feedback is so important in a hotel, how to manage it, the best strategies to implement it, and how Mews can help collect guest feedback.
Why is guest feedback important in a hotel?
Guest satisfaction levels directly impact loyalty and can help turn guests into ambassadors for your brand. Guests who have had a positive experience are more likely to recommend your hotel, thus contributing to word-of-mouth referrals, which reduces your marketing spend.
Also, unhappy guests can have a negative ripple effect because they can lead to negative reviews, which can damage your reputation. The good news is that there are ways to embrace negative feedback. Getting feedback from your guests can also help you identify and mitigate any issues before they become big problems, allowing you to save your hotel from negative reviews in the first place.
How to manage guest feedback in your hotel?
Putting into place a system for getting feedback starts by listening to your guests and being sure that you have the right tools to monitor guest satisfaction levels. Once the feedback has been received, you want to make sure your staff knows what to do should there be any action needed. Make sure you have a smooth and quick resolution to the problem to keep it from recurring and turning into a negative review.
Once you've gotten a review, whether it be positive or negative, make sure to respond quickly, and let the reviewer know how important their feedback is for you. You may even consider giving them a discount or an incentive to leave a review. Make sure the process is quantifiable, setting objectives across departments, to monitor how well your team is progressing over time. The easiest way to manage the whole process is through software that can help with guest engagement.
Best strategies to get guest feedback
Now that you know why getting feedback is so important and the best way to manage it, let's look at some strategies that can help increase guest satisfaction and loyalty.
Don't be afraid to ask
Reviews play an increasingly important role in a customer's buying decision. Ultimately, what other people think will have a significant impact on whether someone decides to book at your property or not. Therefore, it's key to have a system in place to ask for feedback.
Whether it's a quick in-room survey during the stay to ask how you're performing, or a post-stay request for a review, make sure you're specific in your request. Being proactive about asking for feedback or reviews will do wonders for guest satisfaction and will create trust in your brand.
Focus on the positive
Be sure to share positive reviews and kudos with your staff. While it's easy to focus on what went wrong, it's also important to emphasize what went right. Letting staff know they're doing a good job and having the reviews to back it up is great for staff satisfaction and encourages them to keep doing what they're doing.
Diversify your channels
In a perfect world, you would have rave reviews across all your channels, including OTAs, Google, TripAdvisor, and your own site. Get permission from your guests to share reviews on your social channels and encourage them to leave reviews in several places but make it easy to do so. Using a PMS like Mews you will have at your fingertips different tools to make reputation management easy.
Personalize your messages
Respond to all reviews whether they be positive or negative. Even if you have a negative review, by responding and telling the guest how important their feedback is and what you are doing to mitigate the problem, you minimize the chances that the negative review will affect your property. Be sure to thank guests for reviews and personalize each message you respond to; nobody wants a copy and pasted response. Personalization is key.
In-stay surveys are key
There's never a more important time to ask for feedback than when guests are on-site. Be sure to have your staff keep a careful eye on guest satisfaction levels so that they catch any potential problems. Don't be afraid to send a quick in-stay questionnaire to ask how you're doing, watching for negative responses and being sure to have an action plan in place.
When in doubt reach out to guests
When you spot a potentially damaging review, don't be afraid to reach out to the guest, whether by phone or email. Showing that you care and taking a personal approach to their concerns may help shift their view of their experience.
How can Mews systems tools help you to collect guest feedback?
Mews offers different features that can help you maximize your guest feedback system. For starters, Mews offers integrations with multiple reputation management applications, that can connect crucial KPI-related feedback such as net promoter scores and guest satisfaction scores directly into your PMS. This means that reviews are automatically pushed to Mews and reviews are added into the customer profile notes.
This information is invaluable in helping your staff better communicate with customers to show them the changes you have put in place in response to their feedback. Mews also offers functionality to simplify direct communications with guests so that their questions are addressed quickly and easily.
How can guest feedback be seen directly in a PMS dashboard?
A PMS is essential for all aspects of your property management. Using a unique two-way integration like GuestRevu, hotels can see guest reviews directly in their dashboards. A PMS can help you improve the whole revenue management process by helping to streamline front desk operations. Automatic reminders and guest profiles will help you deliver a tailored experience.
Plus, Mews and GuestRevu users will know exactly who that returning guest is who complained about the broken air conditioning the last time they visited, affording hoteliers a crucial opportunity to win any disgruntled guests back over. GuestRevu has launched a unique two-way integration that pushes crucial feedback KPIs such as net promoter scores (NPS) and guest satisfaction scores immediately into the Mews property management system.
How GuestRevu works?
When a guest completes a questionnaire form, GuestRevu immediately pushes the feedback - in the form of KPIs such as NPS and guest satisfaction scores - back into Mews and the property's dashboard. Within each guest profile in the Mews PMS there is a handy customer classification field that receives the data from GuestRevu and allocates a 'Previous complaint' pictogram (a little flame icon) to your customer record so that a receptionist or general manager can easily see if a person has made complaints in the past and they can delve into what that person said about their last visit. Here's the science:
GuestRevu automatically pushes reviews into Mews.

These reviews are added to the customer profile under the' Guest profile notes' field and assigned as 'Previous complaint' in the 'Classification' field.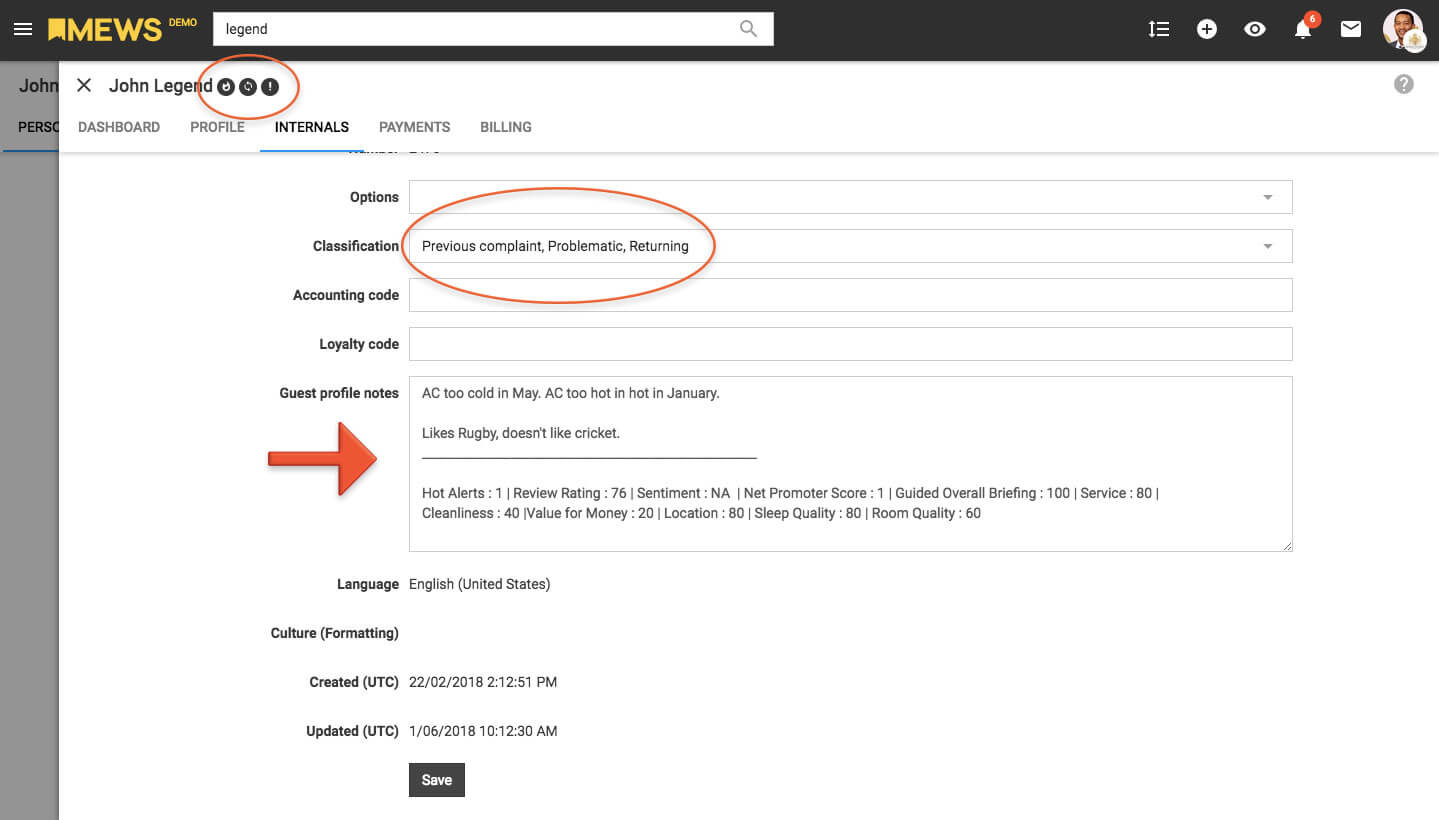 3. These notes and classifications are also visible in the reservations report.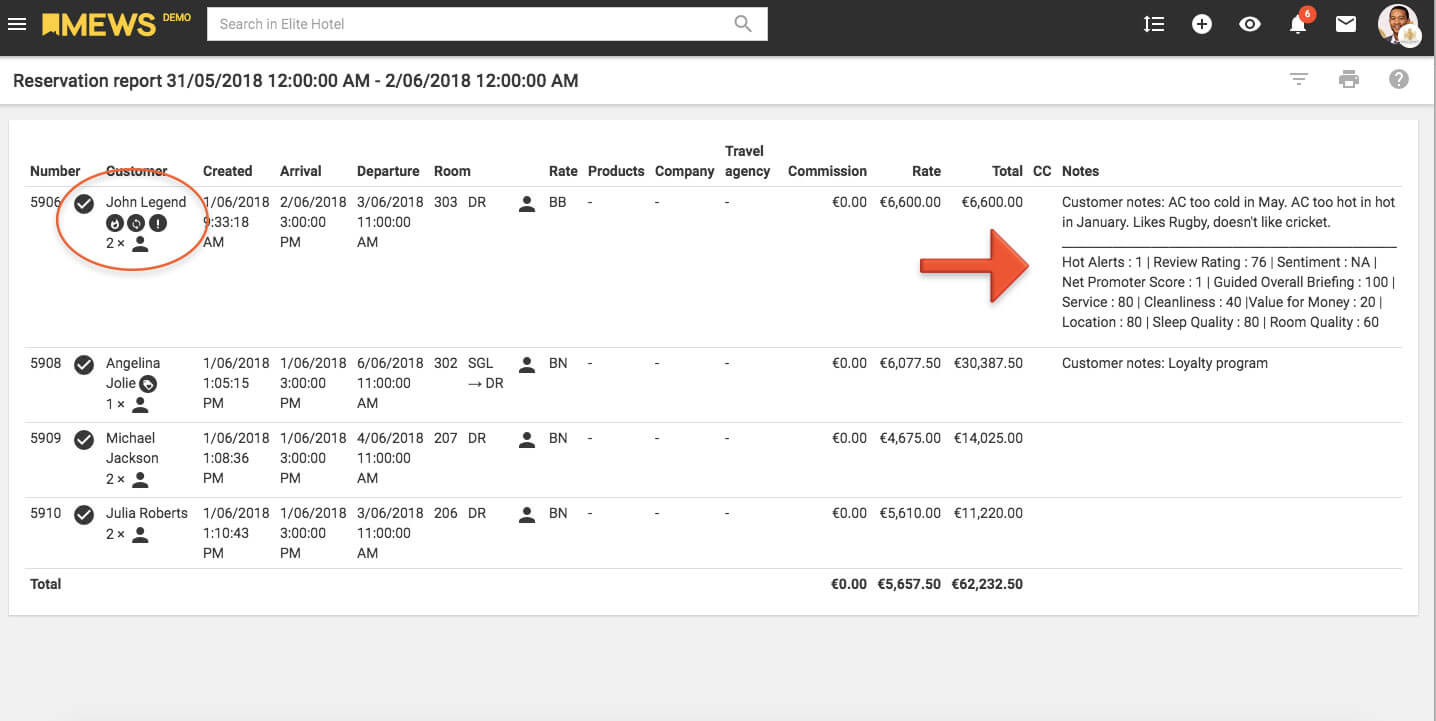 "A two-way link is the ultimate goal for our integrations, as it means the hotelier gets access to a proper 360 degree application. GuestRevu is leading the charge and the information they have about a guest's experience can be priceless for hoteliers," says Adam Britton, head of integrations at Mews.
Conclusion
We've looked at the importance of having a guest feedback system in place, how you can use Mews to collect it, as well as the best strategies to get feedback. While the process can be tedious, it is incredibly important to have an agile system in place so that you can constantly improve the process and work on making your hotel the best it can be.
Understanding the Modern Guest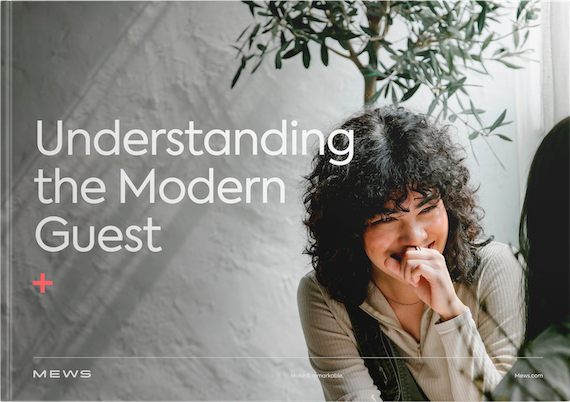 Check out our guide and get to know the best way to maximize your property's revenue potential and set up a memorable guest experience by knowing today's travelers.

Author
Eva has over a decade of international experience in marketing, communication, events and digital marketing. When she's not at work, she's probably surfing, dancing, or exploring the world.
Hospitality hot takes straight to your inbox
Sign up to our monthly newsletter for industry insights, product news, partner updates and more.