The Mews Blog > Inspiring independents: what you can learn from our new guide
Independent hotels occupy a special space in the lodging industry. Why? Because every property is different – or should be – and can provide unique experiences for guests.
Our new guide, Inspiring Independents, goes under the hood of the world's finest independent hotels to see what makes them so special, including their operational set-up, guest experience and ethos.
In case you didn't know, Mews was named Best PMS for Independent Hotels at the 2022 World Travel Tech Awards, so it's fair to say we know a thing or two about independents.
If you are an independent hotelier, this is the perfect place to get inspiration for how to elevate your own hotel. In fact, even if you're part of a chain, there's no reason why you can't take some valuable tips from these brands that are leading the way in our industry.
What's in the guide?
Explore eight inspiring independent hotels from around the world. Find out how operational efficiency feeds into brand ethos, see how unique spaces become part of the stay experience, and discover the tech stacks that make them tick.
The guide covers:
Sustainability at The Dylan
Operational excellence at Wilmina
User-friendly connectivity at Finn Lough
Embracing automation at Villas Foch
Perfecting payments at Ebb Dunedin
Risk-free reservations at Les Lodges Sainte Victoire
Integrated POS at LEVEN
Benefits of booking direct at Hotel Oderberger
Read an extract
Let's take a moment to study one of our featured properties: the stunning Finn Lough.
Finn Lough is a unique and beautiful lakeside haven in Northern Ireland with a selection of suites, lakeside villas, and bubble domes. The transparent domes give guests uninterrupted views of nature and the stars, immersing them in the sights and sounds of their surroundings.
Stays at Finn Lough are intended to be holistic and restorative. In addition to accommodation, a restaurant and lakeside bar serve up local and seasonal flavors while a luxury spa provides a variety of treatments. There are a whole host of activities to explore the great outdoors, from kayaking and fishing on the lough, to outdoor yoga and surfing.
User-friendly connectivity
Finn Lough has an impressive tech ecosystem, with over a dozen connected integrations. But that doesn't mean that their system is complicated to use. Whether new hands or old hires, the Finn Lough team benefits from optimized, automated operations that enable them to provide remarkable hospitality every day.
Thanks to a modern payments system, every single card transaction is secure, adhering to industry protocols such as PCI DSS compliance and 3D Secure authentication. Not only is this time saving for the front desk team, it also means they can be better engaged in the most important part of their role: interacting with guests.
They've seen:
59% increase in RevPAR from 2020 to 2021
100% of card transactions automated
Zero chargebacks


Automated guest touchpoints
A smooth guest experience is vital for guests at Finn Lough, otherwise their immersion in nature will feel disjointed. As such, they needed a hospitality cloud that enabled an unintrusive stay, from booking to check-in to check-out.
Through a combination of Mews Guest Journey and the GuestJoy integration, Finn Lough provides a seamless, connected experience. Guests are sent an automated email after booking that encourages them to check-in online, saving time upon arrival and boosting engagement. They're also able to book add-on experiences when making their reservation (or at a later date), such as a spa experience or bottle of wine upon arrival.
They've seen:
43% of guests check in online
Guests spend an average of €54 on add-ons and upsells


Download the guide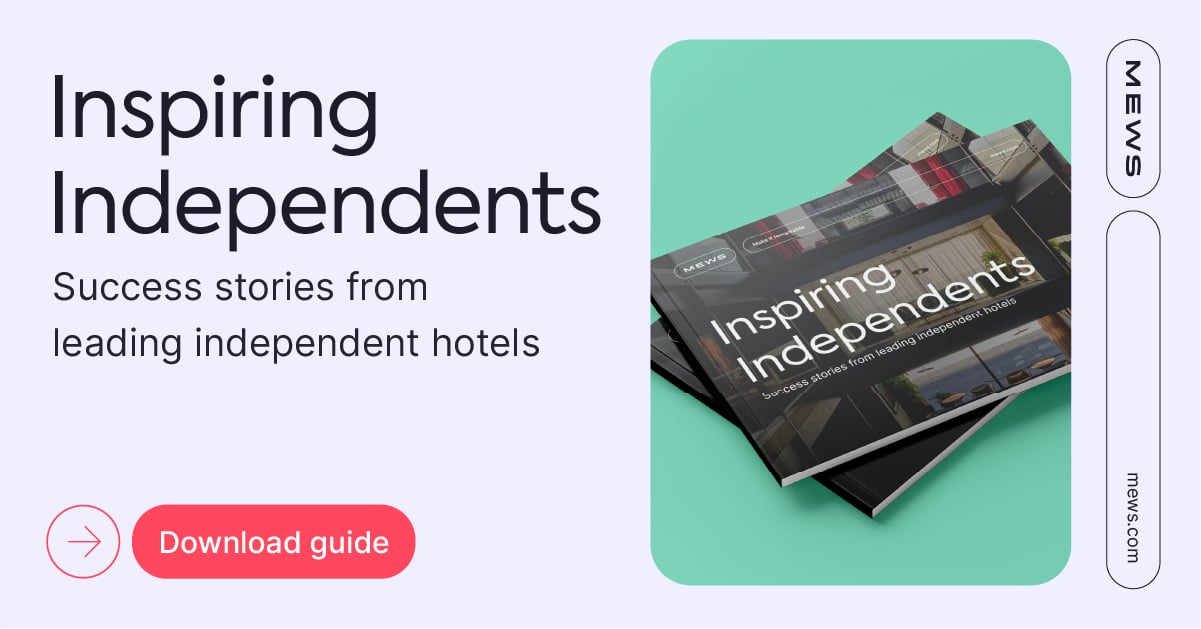 There are seven more remarkable independent hotels for you to discover. Begin your journey now.
Hospitality hot takes straight to your inbox
Sign up to our monthly newsletter for industry insights, product news, partner updates and more.