The Mews Blog > Knowledge is power: giving the unemployed a path into hospitality
At Mews, we have three CSR (corporate social responsibility) goals. One of them is helping the homeless and displaced, and we've already written about tackling climate action. Today, we're talking about furthering knowledge and education.
Obviously, this is a pretty broad goal. We're not all about to drop tools and apply for teacher training. But there is one area that we are very knowledgeable in: hospitality. Helping to educate people to give them the tools to pursue a career in hospitality is something we can – and should – be involved in. And that's where our friends at Good Hotel come in.
Good Training Program
100% of Good Hotel's profits go towards helping people. In particular, towards educational projects. "Everything the Good Group does is oriented towards creating human value, for the long term," says their mission. "What is important to us is that people are at the heart of all we do, every day. It is an opportunity to give the unemployed a fair chance to discover, not just the ins and outs of hospitality, but to discover themselves, change their lives and sustain their livelihoods."
The Good Training Program helps long-term unemployed locals gain skills to enter or re-enter the workforce. The program is a bespoke hospitality training course that includes one month of classroom study followed by three consecutive months of paid work experience. It allows its participants to learn practical hospitality in a real environment, better preparing them for entry into the industry.
"Trainees have the opportunity to discover that hospitality comes from within each one of us," said Toni Simpson, the program manager. "Through self-awareness, learning about team dynamics and what good hospitality entails, trainees discover their strengths and skills and how this can benefit their future job opportunities. It is about building confidence, self-esteem, motivation and teamwork."
Once graduated, students have the chance to work full-time at Good Hotel or one of their partner hotels.
Where does Mews fit in?
As part of the Good Training Program, trainees undertake a work placement at the hotel's front office. And because Good Hotel is keen to provide remarkable hospitality, they're with Mews. This means that trainees get an introduction to Mews Hospitality Cloud, and we're all too happy to help out with this training.
Some of our Mewsers recently took the trip to East London to do exactly that. After a quick overview about who we are, our Mews rep, Charlie, talked through the recent and upcoming changes to the hospitality industry.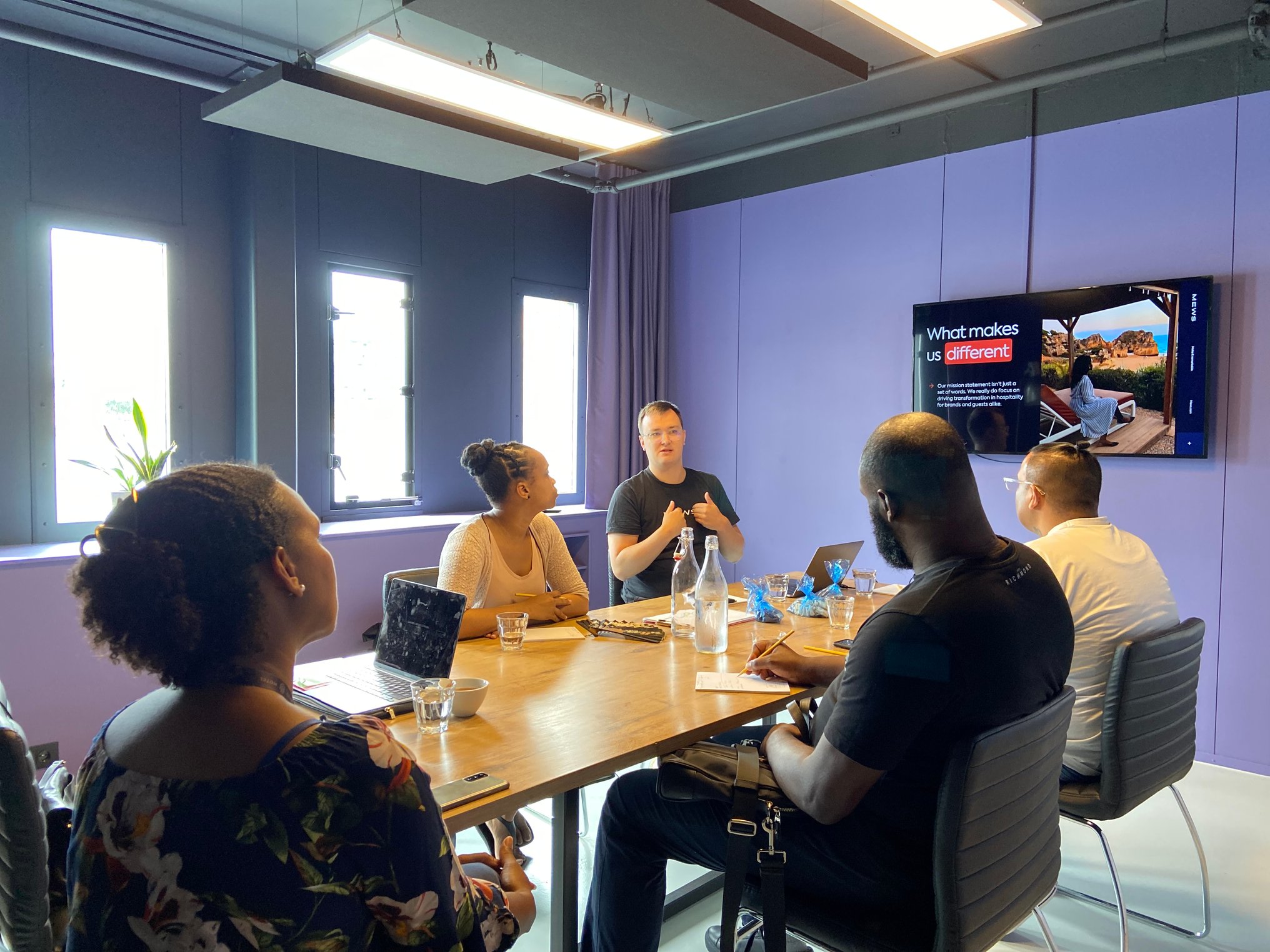 Mews rep Charlie Delamare mid-session
From our perspective, it's important to train and prepare newcomers to hospitality for the modern version of property management – not the legacy version of ungainly data entry that will soon become extinct. This will ultimately give the trainees a better chance of success, and there was plenty of excitement in the room about what the future of our industry will look like and how they can play a part.
Working together for better futures
So far, Good Hotel has retrained more than 300 employees, 70% of who have a hospitality job 12 months after graduating. 300 may sound like a small number in the grand scheme of things, but that's 300 lives with a much better chance at succeeding.
During the pandemic, the program had to temporarily close, but we're pleased to say that since March 2022 everything is back up and running, with the 12th group currently being trained.
At Mews, we're also building more tools to help those enrolled in the program. Our Knowledge Management team have committed to creating a dedicated leaning module for these candidates to use – just as we have role-based learning modules for all new Mews users. The course will cover general hospitality and PMS knowledge, as well as core functional skills needed for new employees to hit the ground running in a front of house position.
We'd proud to support Good Hotel and are always on the lookout for other opportunities to further knowledge and education within hospitality. If you know of any such opportunities, please reach out so we can explore how we could help.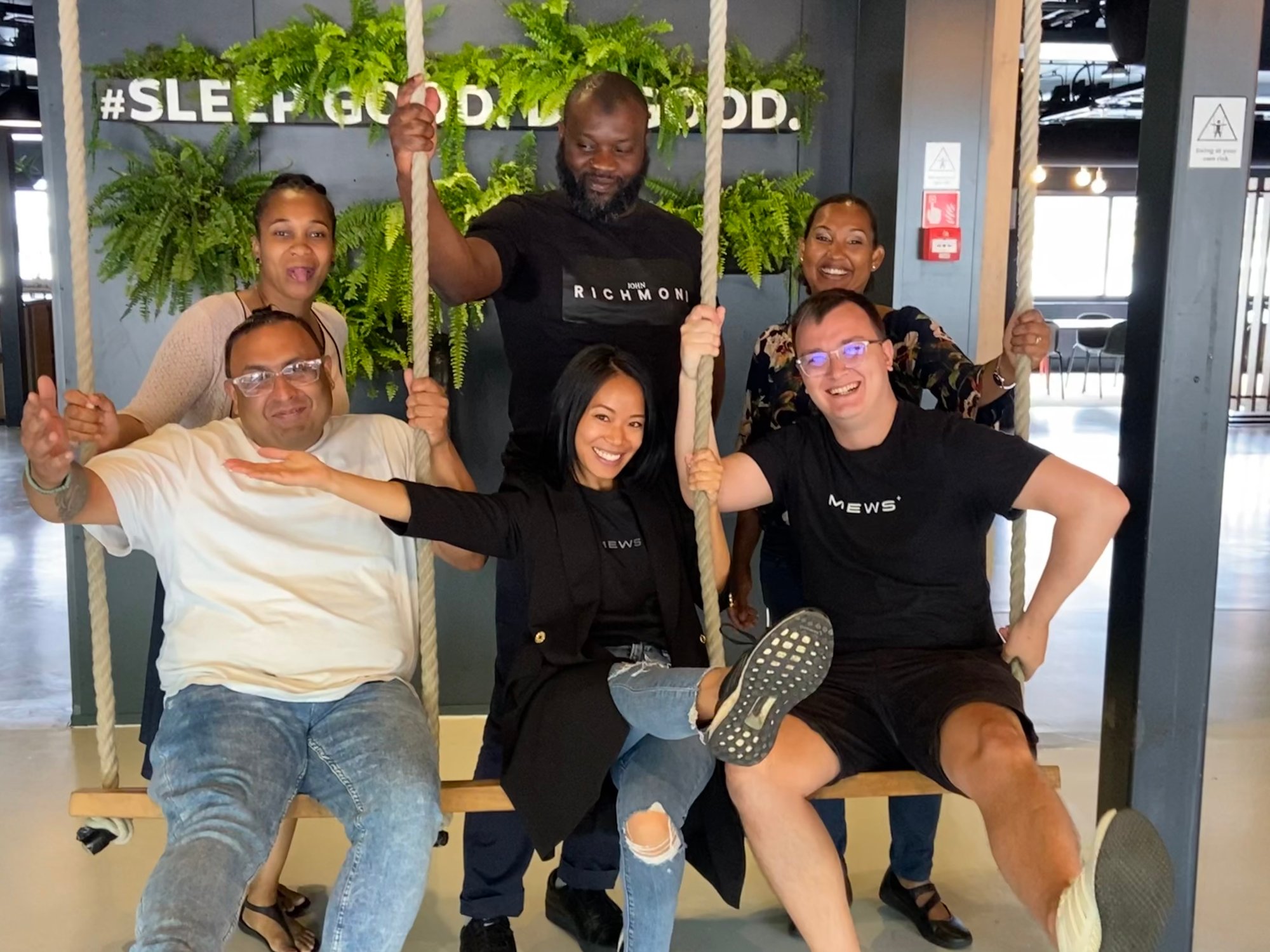 Swinging into action at Good Hotel
Success stories
Following some of the training sessions we spoke about above, we had some amazing news. Toni from Good Hotel sent us this update:
"I am happy to share with you that our current Front Office Trainees Paul and Oumar, who benefitted from the Mews training session during the first week of their work placement, have been offered jobs here at Good Hotel! This is a great testament of the benefit of having that in depth training of how your system works and the wonderful job that Liz and Josef the rest of the team did."

Paul and Oumar both have families to feed and the opportunity sets them on track to careers in hospitality. Big congratulations to Paul and Oumar – we look forward to checking in with them soon.
Hospitality hot takes straight to your inbox
Sign up to our monthly newsletter for industry insights, product news, partner updates and more.