The Mews Blog > Pride 2022: snapshots from Mews' Pride Community
It's Pride month 2022, which, as always, is a time for both celebration and reflection. In many places around the world, the LGBTQIA+ community is winning access to greater rights and freedoms. Mews has offices in London, Amsterdam and New York, three cities that are well represented by gender and sexual diversity. But it's not all plain sailing.
Our biggest office is in Prague, and in Czechia, gay marriage remains illegal. So although as a company we celebrated our CEO's wedding last week, the feeling was slightly clouded by the fact Matt had to travel to the Netherlands, his home country, in order to do so.
This is one snapshot of the realities of being a part of the LGBTQIA+ community – so let's look at some others. At Mews, we're lucky enough to be blessed with a strong Pride community, so we spent some quality time talking to them about a range of queer issues, from changing attitudes between geographies to how Mews encourages openness and diversity.
You'll hear from:
Albert, Senior Customer Onboarding Manager
Alexey, Senior Payment Operations Specialist
Flavia, Technical Partner Success Manager
Ilse, Senior Talent Acquisition Manager
Matt, CEO
Matthijs, Employer Branding Manager
Rosta, Sales Manager in the US
Why do we celebrate Pride?
Everyone should have the right to be themselves without fear of harm or prejudice. To us, this may seem obvious, but there's still lots of education needed about gender and sexuality.
Rosta: "There are still way too many people in this world who struggle because of who they are, or even face persecution for it. Pride is an opportunity to let our voices be heard and challenge the homophobia that so many people face today. It's a chance for every company to show that they stand up for equality, dignity and inclusivity – to let their current and future employees know that they are welcome regardless of who they love."
Matt: "I've always been extremely open. Normally within 10 seconds of meeting me, you'll probably know that I'm gay, because I'll share it. I think it's really important that people talk about it as a normal thing. At Mews we've really built around that complete transparency. Your background doesn't matter; you can be yourself and feel comfortable enough to talk about that.
Because of the position I'm in, it's really important for me to set the right tone so that when I meet someone, it's pretty clear that I'm incredibly open-minded – and therefore it's okay for you to be yourself in our organization as well."
Alexey: "Mews represents some of core values shared by the LGBTQIA+ community: be human, be open, be resilient, be ambitious and be curious. And we, as Mews, do it naturally, not because it's fashionable. We show the world that we're here for everyone, equally and respectfully, no matter the color of your skin or your gender or your sexuality."
Flavia: "Overall, I think that tech companies are making remarkable progress in regard to bringing more inclusion and diversity to their workspace. However, I still think that there's a lot of work to be done. As a member of the LGBTQIA+ community myself, I'm tired of seeing some companies add rainbows to their logos but not provide safe spaces and initiatives to their queer employees, especially for the transgender community. Every company should celebrate all gender identities and educate all their employees to be allies on gender equality."
How to avoid rainbow washing
As Flavia just mentioned, Celebrating Pride at a company level can raise some issues. Rainbow washing is becoming increasingly common – the practice where companies will post a supportive message, change their logos, and that's that. Naturally, this is something we're keen to avoid – just as our climate action plan aims aim to avoid green washing.
Matthijs: "It's very hard to judge whether rainbow washing is going on. You can only really make a good estimation on how inclusive and welcoming a company is when you're on the inside. Take Mews for example. I've been with the company for six months now, I've experienced the culture, the atmosphere, the attitude towards LGBTQIA+ and now I can make a sound judgement: the rainbow is really welcome within Mews. But from the outside, it's harder to make that estimation.
Mews is a community where LGBTQIA+ isn't merely accepted, it's an active topic. There are multiple dedicated Slack channels, there's a committee on LGBTQIA+, there has been participation in Pride events, and, on a smaller scale, I have the feeling I can openly chat about it with everyone in the company."
Alexey: "I really don't understand companies with the philosophy of, "Oh, it's June! A pride month! Let's do something just to show that we're supportive!" and then in July, it's like nothing happened. I believe this is not right because we're still fighting for our place in the world, for equal rights, and we don't do it once per year, for a month...
I'm very grateful Mews is not a company like that as we do celebrate pride and support LGBTQIA+ regularly: at work, at our events, among our colleagues, with our business partners. And we don't wait for "a special month" to do so as we have a clear statement: in Mews, you're welcomed, loved, supported and should not be afraid to be yourself. It's who we are and that's what we celebrate and why it's important."
Albert: "Most companies change their logo during Pride month to gain visibility, and we must not allow the LGTBQIA+ symbol to be used as propaganda to gain visibility and show an image of openness to the world.
There must be policies of inclusion and normality in all companies, applied in reality and backed by public laws. In the case of Mews, it's something we live naturally. We don't care about labels and this is the most important thing. I have never felt the need to show something that I am not or to try to avoid the subject of sexuality with colleagues or managers, and this makes it an inclusive company."
Matt: "You can't just assume that because you hire people with an LGBT background that you're inclusive. You have to talk about it. You have to engage with these people and create an environment where people are comfortable. It's not something where you can just tick off an Asana task and say: yep, we've dealt with diversity and we can move on.
This is a continuous education journey. I find myself on that journey right now. For instance, I find that it's hard for me to fully grasp the complexities of gender inclusion. So it's a topic that we've actually enlisted someone who comes from that space to talk to us about because we have to all get comfortable with it."
Differences between countries
Mews is a global company, with offices in multiple countries. Although where we live shouldn't have any bearing on our experiences when it comes to love, sexuality and gender, we know this isn't the case.
Flavia: "I grew up in a rural and extremely religious place in Portugal and I struggled to come to terms with my sexuality back then. But seeing now that my country is so open to gay marriage (since 2010) and joint adoption by same-sex couples (since 2016) makes me really proud.
On the other hand, living in Amsterdam for five years was really a game-changer. To me, it is the most inclusive, diverse and open-minded city in Europe. The fondest memory I have of my first Pride parade in Amsterdam (first Pride parade ever, really) back in 2014 was seeing a huge rainbow flag in a church. I remember the initial shock and then the emotion of knowing that I finally belonged somewhere.
Now in Barcelona, I have the exact same feeling. Not only there are many rights and laws protecting the community, but the city is buzzing with LGBTQIA+ initiatives and events and I'm very happy to live in such inclusive city."
Rosta: "I'm from the Czech Republic, which has a reputation of being progressive and liberal, but I don't think Czech society is ready to truly embrace the LGBT community – especially outside of Prague. In high school, my classmates used to point fingers at me when it was becoming clear I wasn't interested in girls. I've had similar experiences during my university years in Prague which left a bad taste in my mouth.
In America, my experience was very different. New York is arguably the gay capital of the world and I've had a chance to meet people of so many different backgrounds and beliefs that helped me feel less alone. I have male friends who know how to pull off a skirt, or who've had a baby through surrogacy. I love seeing this beautiful mix of people."
Albert: "In Europe and especially in the big cities in recent years, there has been a growing normality about same-sex relationships. For example, years ago when I travelled with my husband, we were given twin beds by default. Now, they usually assign a room with a double bed. That saves an uncomfortable conversation at the reception. This is the result of education, but also of the training that employees receive in hospitality establishments."
Alexey: "I recently moved from Prague to Amsterdam and although it's my first month and I'm still adapting and discovering, there's one thing I can say for sure: I'm going to feel way more comfortable to kiss my boyfriend on the streets and hold his hand in mine. Prague and Brno are doing great with building the LGBTQIA+ community and appreciation, but it's still not free or safe enough. And if you go to smaller towns, well... you might want to keep your feelings for your partner as hidden as possible."
Ilse: "I can honestly say I have never been so happy and proud to work for a company that is so open and supportive. However, as I am openly gay, I do feel that this sometimes causes a bit of friction when doing business externally. Not all countries that I travel to have an open mindset and in some countries being gay is prohibited. Although it doesn't stop me from travelling there, I hate the fact that I have to think about this and that I have to take care when talking about my partner (and not my girlfriend)."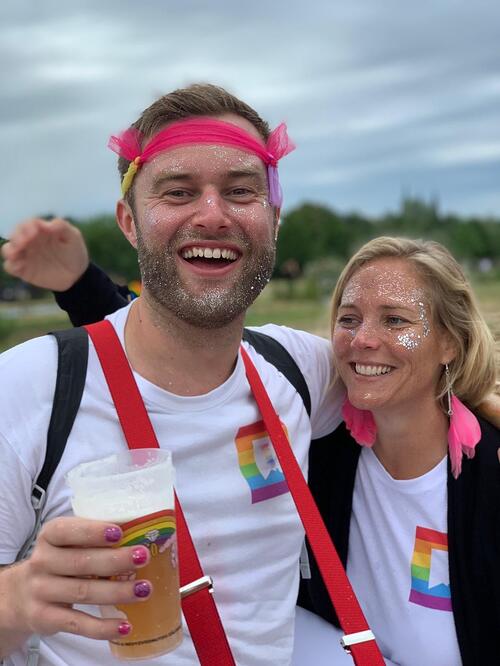 Pride at Mews
We've talked a lot about industry attitudes and how things vary from country to country – but what about Mews? What's life at work like for an LGBT Mewser?
Matthijs: "When I started my Mews career in December of 2021, I instantly noticed that Mews is a very LGBTQIA+ welcoming company. In fact, this impression began even before I started working. I could gather this from the type of language used on its own channels (inclusive, welcoming and forthright), from the many reviews I read on sites like Glassdoor, and from the content on social media – mainly Instagram. It didn't take long for me to check that mental box in my head: 'Yup, this feels like a safe company to work for.' When I started and turned out to be right, I was super happy."
Ilse: "When I first joined Mews, it was pretty apparent that this was a very open and pink/proud place to work. We were only a handful of employees at the time, but our CEO, CCO, myself and a few others were openly gay from the start. We even have a few employees who came out for the first time at work, which means a lot to me.
I don't think this attitude has changed that much from then until now, however, we are putting more emphasis on this in the months to come. We're launching a DE&I (diversity, equity and inclusion) initiative which focusses not only on providing a safe space for the LGBTQUIA+ community but for all underrepresented groups within Mews."
Alexey: "Last year, we hosted a session about LGBTQIA+ history as we found out that within Mews not everyone understood what it means and the importance of its values. It was an amazing event as a lot of people started to understand the culture, became more open and tolerant and more supportive.
However, as I'm openly gay and I never hide it, I still see that some people don't understand it or have a negative reaction. I don't blame them; it's the way they feel. LGBTQIA+ doesn't ask to be liked by everyone, but it makes me sad from time to time as we're humans with feelings and emotions. I'm old enough to walk away with a smile because I grew a thick skin, but I'm worried about the younger generation as they're still very vulnerable. Maybe if we could do more LGBTQIA+ events or blogs or education at work, that could help us all to be more tolerant and feel more secured and respectful."
Matt: "If you're leading an organization, people look up to you and they look for guidance. If I don't set the right example, I can't just tell our people departments or HR departments to go deal with diversity issues.
That's why I've become quite transparent in how my personal life impacts my work life. I try and always speak with a personal touch about how my being gay impacts my work, my workplace, or my ability to employ people so that people can really put it in perspective. So I always try and really set the right example and I'm a little bit more open than most people because I think we have more education to do."
If you'd like to contribute to organizations devoted to making the world a better place for the queer community, we created this list of excellent pride charities to donate to.
Hospitality hot takes straight to your inbox
Sign up to our monthly newsletter for industry insights, product news, partner updates and more.