Allow your guests to bid on unsold deluxe rooms and see an increase of revenues up to €10,000 per month
On average, the probability to up-sell successfully to existing customers is 60-70%
---
What problem(s) do you solve for hoteliers?
Most guests are price sensitive and book the cheapest room type possible. The difficulty in selling higher room categories often leads to overbooking lower room types and hotels offering free upgrades. As ex-hoteliers, we knew that this is a real problem in our industry – one that nobody was tackling in an exciting and engaging way. UpsellGuru offers an automated solution that improves revenue, prevents overbooking base category rooms and saves time.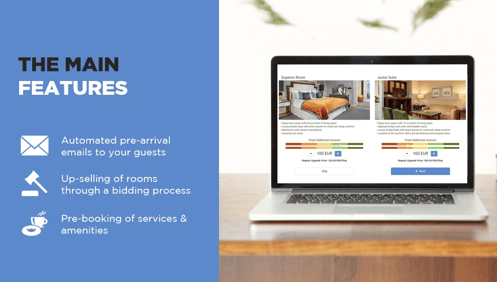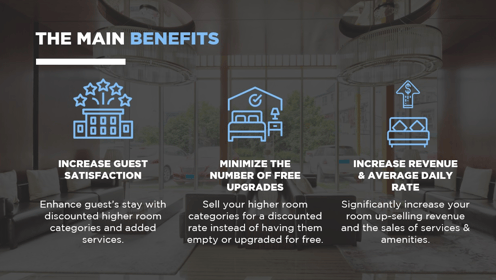 What do clients say?
David-Friedemann Henning (CEO at Hotel Big Mama) tells us:
"As a Mews user, we are very happy to have selected UpsellGuru as our up-selling system to offer our guests our amazing breakfast, a drink package, a parking spot or a room upgrade before of their arrivals. Mews and UpsellGuru work together in perfect harmony, without adding any additional work for my staff. Everything is fully automated. Their support team is wonderful to work with and they are never shy to make suggestions on how to improve our offers."
Your story so far...
UpsellGuru was launched in 2016 as the first and only system that enables hotel guests to bid on upgrades, an approach previously only known from the airline industry. Three years later, we surpassed 400 clients. They include hotels with 8 to 1,000 rooms – everything from budget hotels to luxury resorts, independent properties and several major chain hotels. UpsellGuru is based in Dortmund, Germany with offices in the UK and Singapore.
UpsellGuru is now available on the Mews Marketplace.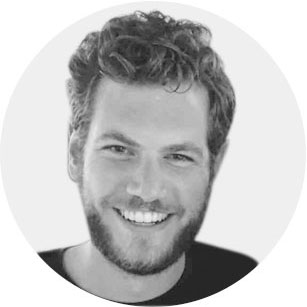 Author:
Ruben
19 December 2019
Check in with the latest in hospitality
Sign up to our monthly newsletter for industry insights, product news, partner offers and more.