The Mews Blog > What is an overbooking strategy in hotels and what are its advantages?
Overbooking in hotel management is widely practised in hospitality, despite being a divisive topic. It's often seen as a necessary evil in the fight against cancelled reservations, but it discomforts most managers, particularly during rush hour, if you have to turn away customers. Empty rooms thanks to cancellations will have a significant negative impact on your profit margin, yet overbooking will have the same effect on customer loyalty.
To minimize this, most hotel or revenue managers use an overbooking strategy to maximize their revenue. In this article, we'll discuss what overbooking means, why it's a major hotel management strategy, and suggest strategies to facilitate your overbooking practices in hotel revenue management.
What is a hotel overbooking strategy?
Overbooking occurs when a customers book more rooms than the actual number available in a hotel. The hotel allows this to happen, anticipating that some will cancel.
This means that instead of turning a potential guest away when the hotel is at 'capacity', you still offer them a booking so that if another customer fails to show up, there's someone ready to fill their position. It helps ensure you reach the maximum revenue and occupancy for your hotel.
Advantages of overbooking in hotels
Overbooking practices in hotel management can be a cost-effective strategy if applied correctly. Below are some of its potential benefits.
Mitigating losses
Overbooking minimizes losses by creating a backup plan for cancelled reservations. Turning away a potential customer at the booking stage because your hotel is at maximum capacity for those dates will not only cause direct losses if you have last minute cancellations, but it could also prevent you from acquiring new customers.
With a detailed estimate of anticipated cancellations, something we will drill down on later, the CFO, GM or Revenue Manager could make an informed decision on the number of overbookings required to minimize the risks and possible losses.
Achieving full occupancy
Overbooking, as its name indicates, means that guests will book more rooms than you have. This implies that no financial potential is wasted because all the rooms will always be occupied, allowing you to operate beyond your usual profit margin.
Compensation is cheaper than having empty rooms
When a guest discovers that their room is occupied, you can offer them alternative accommodation with a nearby hotel in the same star category. To ensure minimum inconvenience for your customers, you could pre-arrange this with the alternative hotel to make the process as smooth as possible.
You can also provide these unlucky customers with a means of transportation, and a way to communicate the change with their family and friends if need be. A discount for future reservations might help to retain their loyalty, all of which is covered by having 100% occupancy at your hotel.
Availability of prediction methods
Technology has brought many advantages to the hotel sector. Nowadays, it's not necessary to follow your intuition in order to create an overbooking strategy. Thanks to seamless connectivity between a property management system and a hotel booking engine, it's easy to develop an accurate overbooking strategy using analytics software.
You can use cumulative data to predict the ideal number of overbookings that make maximum profit. Consider seasonal variations in cancellations, customer loyalty and demographics, the average number of walk-in visits and even overstays. This will help to keep your estimates as close as possible to the actual figures, making it a minimal risk approach to maximizing your hotel revenues.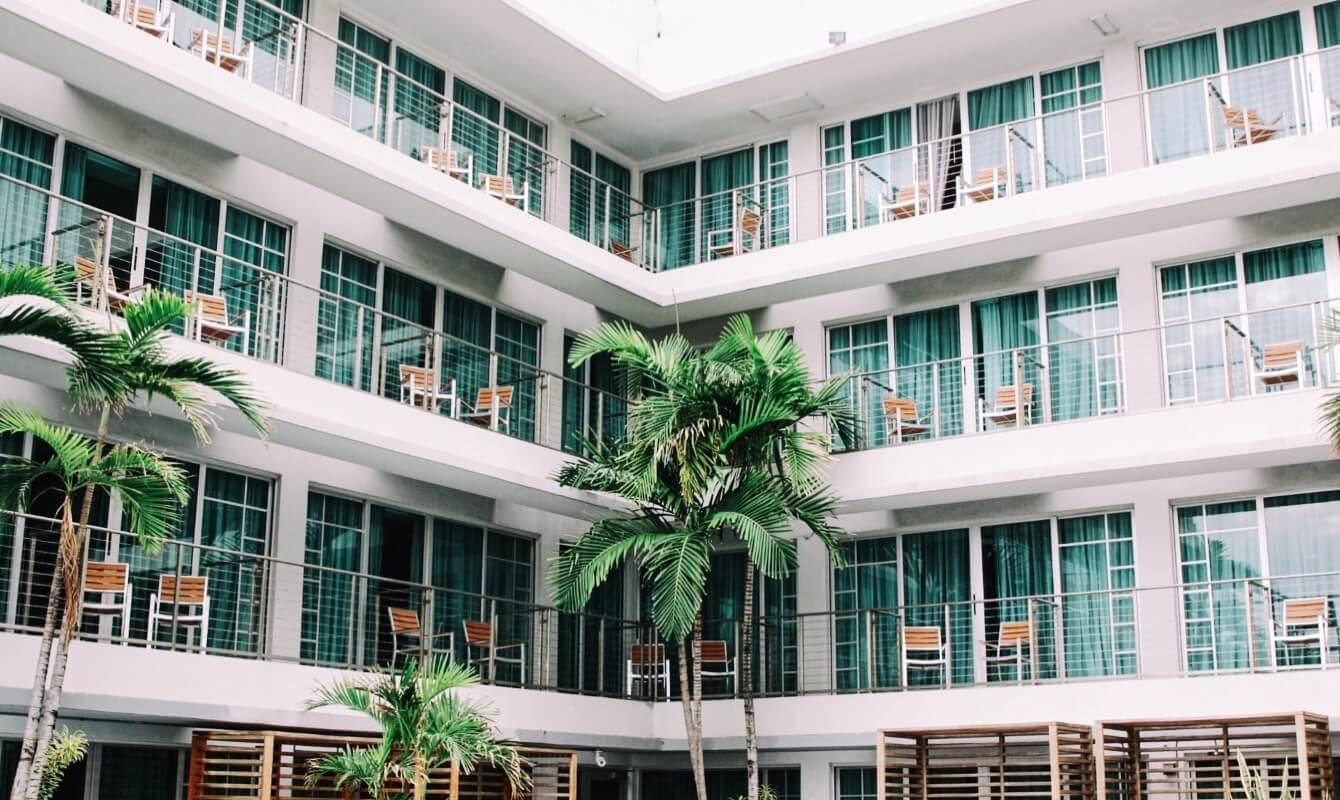 Disadvantages of hotel overbooking
There are definitely some advantages to be had when it comes to overbooking hotel rooms. But what about the other side of the coin?
Negative guest experience
In many ways, this point speaks for itself. Imagine a scenario where a customer makes a reservation, arrives at the hotel to find there's no room, and then has a terrible experience of getting alternative accommodation.
This can be a particularly bad scenario if it's a large family or a guest whose special needs will not be catered to by the alternative hotel. It could also be an irredeemable misstep if the customer you turn away is a loyal one, someone who has used your services for years.
Potential poor publicity
In today's world, a social media presence is critical to the success of a marketing plan. The Internet's power to connect service providers and consumers is one of its greatest contributions to businesses, but it can also be one of the biggest drawbacks.
If your hotel overbooking strategy fails, you could get bad reviews. Many potential visitors to your hotel will be sure to check reviews to know what people are saying about your hotel before they make reservations.
Fortunately for managers who are interested in implementing an overbooking strategy, the presence of a smart, cloud-based property management system makes it easy to organize guest bookings and cancellations, ensuring accuracy and minimizing hazards.
How to create an overbooking strategy?
As mentioned above, overbooking is a tricky task that should be carefully managed. Here are some ideas on how to cope with overbooking in a hotel to prevent loss of profits and guests.
Take advantage of big data to make informed predictions
Big data analysis is one of the best predictive methods you can use. By looking at all your reservations and customer activities, you may be able to accurately estimate the number of overbookings to allow. You can also determine the ideal compensation for guests you have to turn away or redirect to retain their loyalty.
You can easily look at how many average cancellations to expect in each season, and how many average walk-in clients you get, and thus how many overbookings you can safely make. This scientific approach makes overbooking more profitable by improving the accuracy of your predictions.
Have a detailed list of guests for the day you plan on overbooking
It's important to have a check-in list that shows all guests who have guaranteed their bookings. For those who aren't on the list, you need to remind them that their rooms are not assured as long as they do not guarantee their arrival. This can be automated using Mews Hospitality Cloud to ensure accuracy and minimize customer frustration.
Choose potential book-outs wisely
Bookings that you select for book-outs also need to be carefully reviewed. It's best not to include any guaranteed reservations if possible, nor those of long-time, loyal customers who may have even brought along guests for you in the past. This will give them the impression of being disposable and can lose you considerable lifetime revenue.
The highest-priced reservations also need to be kept. This is simply because having a guest paying top dollar for a room means that they have probably set their mind to enjoy the experience at your hotel, with the best you have to offer. Such clients are worth keeping close. Prioritize flagging the lowest-rated reservations and those that have not been guaranteed.
Have overbooking partnerships with neighboring hotels
This strategy allows you to always have a trustworthy alternative for any customer who has to be offered alternative accommodation. When you are partnering, preferably with hotels in the same star category, you will have the opportunity to ensure that they provide services that are in line with what your clients would have expected of you.
It also makes it easy for you to always be assured that there are other options, even on short notice.
Because the agreement will probably go both ways, you will also have the opportunity to take advantage of surplus reservations from your partners. It is a great win-win strategy to maximize revenue.
Train staff on how to handle overbookings professionally
Even though your staff may have received hospitality training, you need to ensure that they know how to handle this particular tricky situation. They should know the recommended alternatives and compensations, offer the client a means of communicating with relevant people if necessary, and also offer to have the transportation to their alternative accommodation paid.
Learning how to manage overbooking in a hotel is imperative to the success of the strategy.
Conclusion
Overbooking in hotel management is a confidence strategy which has maximized the occupancy rates and profits per room of hotels for decades. Nevertheless, it can be a double-edged sword, because if implemented without the right care, it can turn against you and lead to long-term economic and reputational losses, damaging your business.
With the right tools, such as Mews PMS software, hoteliers can easily keep their properties organized and implement successful overbooking practices in managing their hotel's revenue.
KPIs for the modern hotelier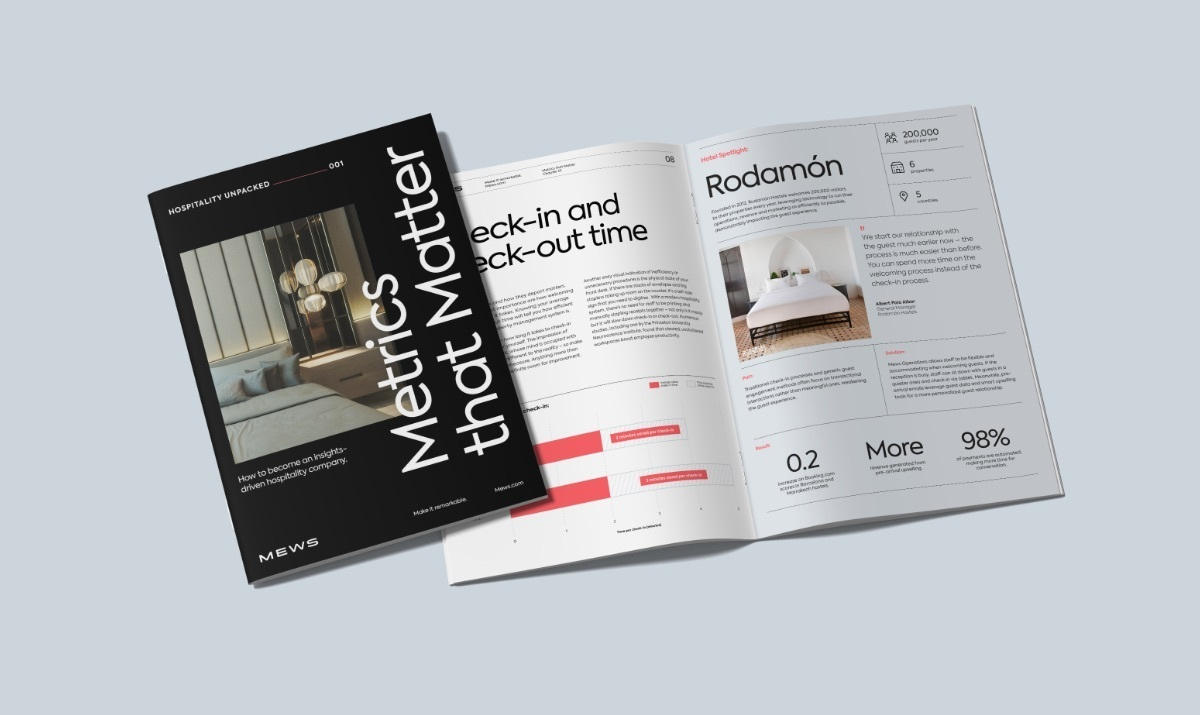 The metrics we've just explored are among the most common in hospitality, but that doesn't mean they're the best. We've put together a report, Metrics that Matter, that will help you to maximize revenue and boost the guest experience, all by tracking the right data. Click the button below to find out how you can be more efficient across operations, revenue and marketing:

Author
Eva has over a decade of international experience in marketing, communication, events and digital marketing. When she's not at work, she's probably surfing, dancing, or exploring the world.
Hospitality hot takes straight to your inbox
Sign up to our monthly newsletter for industry insights, product news, partner updates and more.