The Mews Blog > What is Zapier, and how does this online automation tool work?
You may be wondering what is Zapier and how this tool works. In layman's terms, Zapier is a virtual assistant which automates tasks using workflows called Zaps and is the glue that connects more than 1,000 web apps together for your needs.
In more technical parlance, it's an online automation tool that connects your favorite apps, such as Gmail, Slack, MailChimp and over 1,000 more. You can connect two or more apps to automate repetitive tasks without coding or relying on developers to build the integration. Automation is at the key of any successful hotel, which is why we'll take a look in more detail at this tool and how to use it to automate your property.
What is Zapier?
Zapier is an online platform designed to help automate workflows. It does this by allowing you to connect apps with services. This smart company has, over the last several years, quietly made itself an essential tool used in every single industry across the world and thousands of companies and teams have this service's intelligent plumbing automating huge swathes of their operations.
Learn more about hotel automation.
What is Zapier used for?
Zapier's automation saves hoteliers time and money while drastically improving the guest experience at the same time. Every hotel, hostel or apartment is unique with its own operational idiosyncrasies and, understandably, hoteliers tend to make plenty of feature requests from their software providers to try to tackle those specific issues.
Although the logic of building some product features may often appear simple - 'if this, then that' - the implementation by software developers is rarely straightforward. So, by using this tool, hoteliers can suddenly become their own developers without having to know any coding language. With a few clicks, they can connect the pipes that will answer their own questions and remove tension between hoteliers and their software providers.
How to start using Zapier?
In order to start using this tool, you must create an account. Once your account is created, you can start to automate workflows by creating "Zaps", which starts with a trigger and is followed by a series of one or more actions. This means that every time this event is triggered, it will run the actions you determine. Keep in mind that with a free account, you can create 100 tasks per month.
How can you automate your property with Zapier?
Let's be honest - the words 'automation' and 'integration' get blasted out way too much by almost all hotel software marketing departments across the world. Nonetheless, there is one company you should pay attention to: Zapier. For this extraordinarily useful tech company, the terms 'automation' and 'integration' are the only two words that can genuinely describe their service.
For properties that need something reliably powerful that is already integrated with the various apps, tools and services they use to help run and supercharge their operations, services such as Zapier are the gold standard. The further good news is that Zapier is now integrated directly into the Mews Property Management System so that you can set up workflows that suit your unique needs and that leverage off of your live data.
This tool can provide many opportunities to help automate your property. Let's take a look at how it can help.
Repetitive tasks
Let's put the concept of repetitive tasks into context with a simple example: the request hotel receptionists get asked for the most: the Wi-Fi password. If lucky, it's a memorable password that the receptionist can relay themselves but, more often than not, protocol dictates miniature cards need to be handed out or the password scribbled on a watermarked slip.
Now imagine a world where they could automatically send those Wi-Fi details by SMS as soon as they check in, or before they even arrive, and without the intervention of a human. In such a world, guests and hotel staff would breathe a collective sigh of relief and the number of glowing TripAdvisor reviews would, surely, only creep up.
To automate such an apparently menial but time-consuming task would require a kind of smart software or PMS that was able to recognize some trigger event - like a reservation being made or a guest checking-in - and which could then automatically send out an SMS or message to the guest with the Wi-Fi details. In techno babble, such automated plumbing is called 'if this then that' software. In this case, if a guest checks in, then an SMS is automatically sent containing specific details.
Arrival
Let's say a VIP guest, who has been flagged as such on your PMS, arrives at your hotel to check in. Wouldn't it be something if, the moment that VIP checks in, the general manager or owner could be automatically alerted of their arrival via SMS or Slack? They could then make sure to roll out the red carpet and greet them in person, avoiding the need for fumbled phone calls by staff or running the risk of that newly hired receptionist not even recognizing the guest.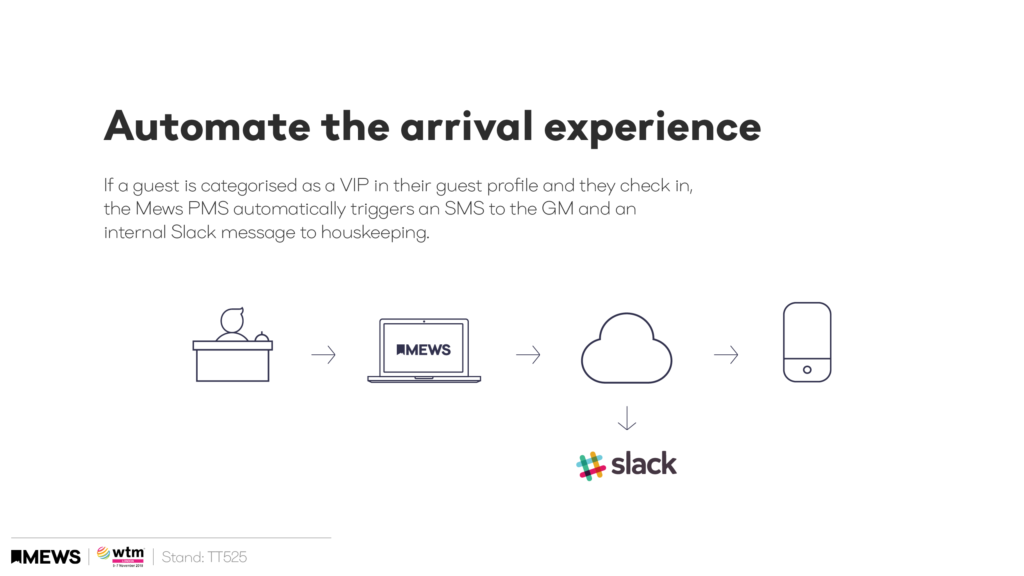 Email and reports
Zapier makes creating reports and managing emails easy. Imagine your manager reports being automatically dumped into a Google sheet for you. Or in the case of an email, you can decide what action you want to trigger when you star an email. Maybe you want to create a note in OneNote, or maybe you want to send a message to your reservation staff that a new reservation is waiting to be confirmed.
Automate your VIP treatment
Imagine a complimentary chilled wine being sent up to a room only when a guest actually arrives, and not suffering the fate of going lukewarm after being put out by housekeeping during the morning rounds. Having these little perks automated can also help amplify an effective loyalty program, making your loyal guests feel special with this VIP treatment.
Data management
Data management is an important part of any hotel operation. Zapier can integrate with Salesforce or your favorite CRM so that all your customer data is automatically pushed into it. This saves tremendous time and effort so that your front desk can focus on what really matters, providing the best service possible to guests. Learn more about what makes great customer service.
Conclusion
With a service like Zapier, the possibility for integrations for your property multiplies several folds. We are proud that Mews has won a reputation for being the most interconnected property management system on the market but, frankly, by switching on this smart plumbing the sky becomes the limit. With a PMS running this tool in the background, all that is left is for your hotel or hostel to decide on what workflows you want.
Automated workflows help take menial tasks out of the hands of your staff, improving their satisfaction levels and making their job more pleasant. This way, you can be sure that they have the time and energy to invest in creating the best customer experience. The better the experience, the more likely they are to come back, and loyal guests are key to the success of your hotel. The time to start automating is now.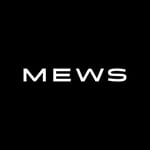 Hospitality hot takes straight to your inbox
Sign up to our monthly newsletter for industry insights, product news, partner updates and more.