Implementations
Mews onboarding plan
Switching to a new PMS shouldn't be scary. When you join Mews, we'll guide you every step of the way.
Online onboarding
Your time is precious. Opt for online onboarding and have your property running on Mews in as little as seven days.
Continual online support from an Implementation Manager
Typical online implementation timeline
Step 1: Get ready
Kick-off the onboarding process
Duration: 2 – 7 days
Get the tools and support you need to start setting up Mews.
Meet the Mews team during a welcome call
Discuss the implementation timeline
Start creating your property in the system
Get access to Mews University, our comprehensive online learning library
Step 2: Get set up
Learn how to use your new PMS
Duration: 3 – 7 days
Setting up your property is easy — just follow the simple steps in Mews University. It guides you through our PMS using short, easy to digest videos that help you get set up as quickly as possible.
Complete Mews University modules. Sections include:

PMS setup
Marketplace
Go-live preparation
PMS operations (reservations, front office operations, billing, housekeeping, management reports, etc.)
Mews products for guests (booking engine, virtual concierge, reception kiosk)
Analyzing your data and making insightful decisions with Power BI (Available for Enterprise Package only)

Set up your property as you learn
Q&A session with your Mews Implementation Manager

Session 1 — Fine-tune your system set-up and master manager reporting
Session 2 — Optimize your hotel operations

Final assessment with our Mews team
Step 3: Go live
Launch Mews with same-day remote support
Duration: 4 – 6 days
On go-live day, your Implementation Manager will be available remotely to support a smooth, successful transition.
We'll cover:
Module 1 — Q&A on set-up and management tasks
Module 2 — Q&A on operations tasks
Any other necessary remote go-live support
With you all the way
We take customer care seriously. When you're with Mews, you're in a partnership that's packed with ongoing support and continuous improvements.
Once onboarded, you'll enjoy:
24/7/365 best-in-class online support
Assistance from the Mews Account Management team to help you optimize your PMS
Continuous product and feature releases
Our service level agreement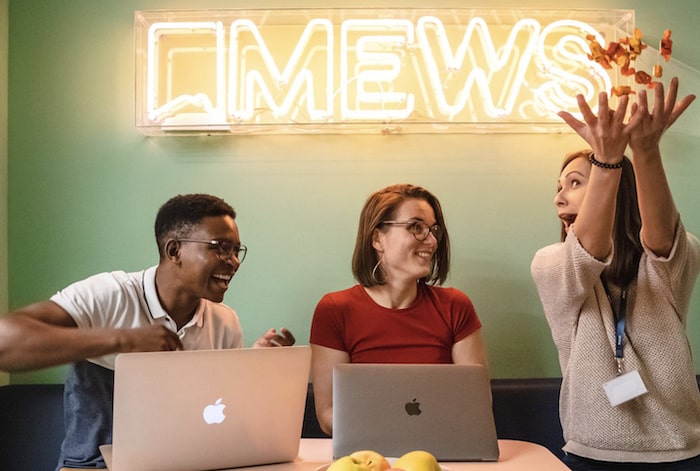 "We are really happy with the experience and the training was really helpful."
The Somos , Medellin, Colombia