The Mews Blog > What are the 6 best contactless check-in softwares for hotels in 2022?
Choosing the right hotel check-in software is without doubt one of the most important decisions your property can make. When doing so it's important to consider a contactless check-in software that allows guests to check themselves into their room through their smartphone via a link or an app, depending on the type of software. Once the process has been completed, they can either get their key from the front desk or, if the software allows it, get a digital key.
With the future of hospitality heading each day towards more technology-forward operations, it's important to take into consideration the different options that can help make your operations as smooth-running as possible. In this article we'll look at important things to consider when choosing hotel contactless check-in software as well as the six best options that will help take your hotel into the future. Let's get started.
What is important in a hotel contactless check-in software?
Thanks to technology, hotels can now offer a range of services that were inconceivable just under a decade ago. Now properties can provide contactless guest experiences, which help avoid lines at reception, improve guest satisfaction, and give guests a better first impression while at the same time increasing engagement opportunities. Furthermore, online check-in, and particularly contactless check-in, gives hotels a prime opportunity to upsell.
Learn more about upselling and cross-selling techniques.
Another important thing to consider when choosing your hotel contactless check-in software is whether there's the possibility for a self check-in kiosk where guests can scan a code and through an API can connect to the property management system, which provides an excellent opportunity for hotels to automate the check-in process. Find out about the advantages of a self-service check-in kiosk.
When choosing the software that's right for your structure, you may also want to keep in mind the types of integrations that are available with the tools. Whether that be a door lock integration allowing guests to enter their rooms without assistance, or a passport scanner that pre-fills guest details, these integrations will save time and hassle, which in the long-run improves guest satisfaction.
You may also like:
how better check in process increases revenue?
What list of services should your hotel virtual concierge offer?
6 best hotel contactless check-in software
Now that we've looked at the different elements to consider when choosing a contactless check-in software, let's take a look at the six best options. While many of the available solutions have similar features, the most important thing to keep in mind is that software should be easy to use and should easily integrate with your PMS in order to save time and automate operations.
Mews
Mews' PMS and virtual concierge helps take your hotel's contactless journey to the next level. With Mews, not only do you increase guest satisfaction by putting them in control of their experience, but also you can reduce the amount of paperwork by going digital. The virtual concierge service allows guests to avoid lines at the front desk by allowing them to check in from their tablets and mobile phones before they arrive.
Guests can easily check out from the comfort of the hotel room, allowing them to enjoy and consume more in-room services up until the last minute. By scheduling check-out time, housekeeping can better plan to turn around the room, opening up the possibility for early check-ins. Furthermore, with direct messaging, guests can contact your staff during their stay, and you can handle service requests more quickly and easily.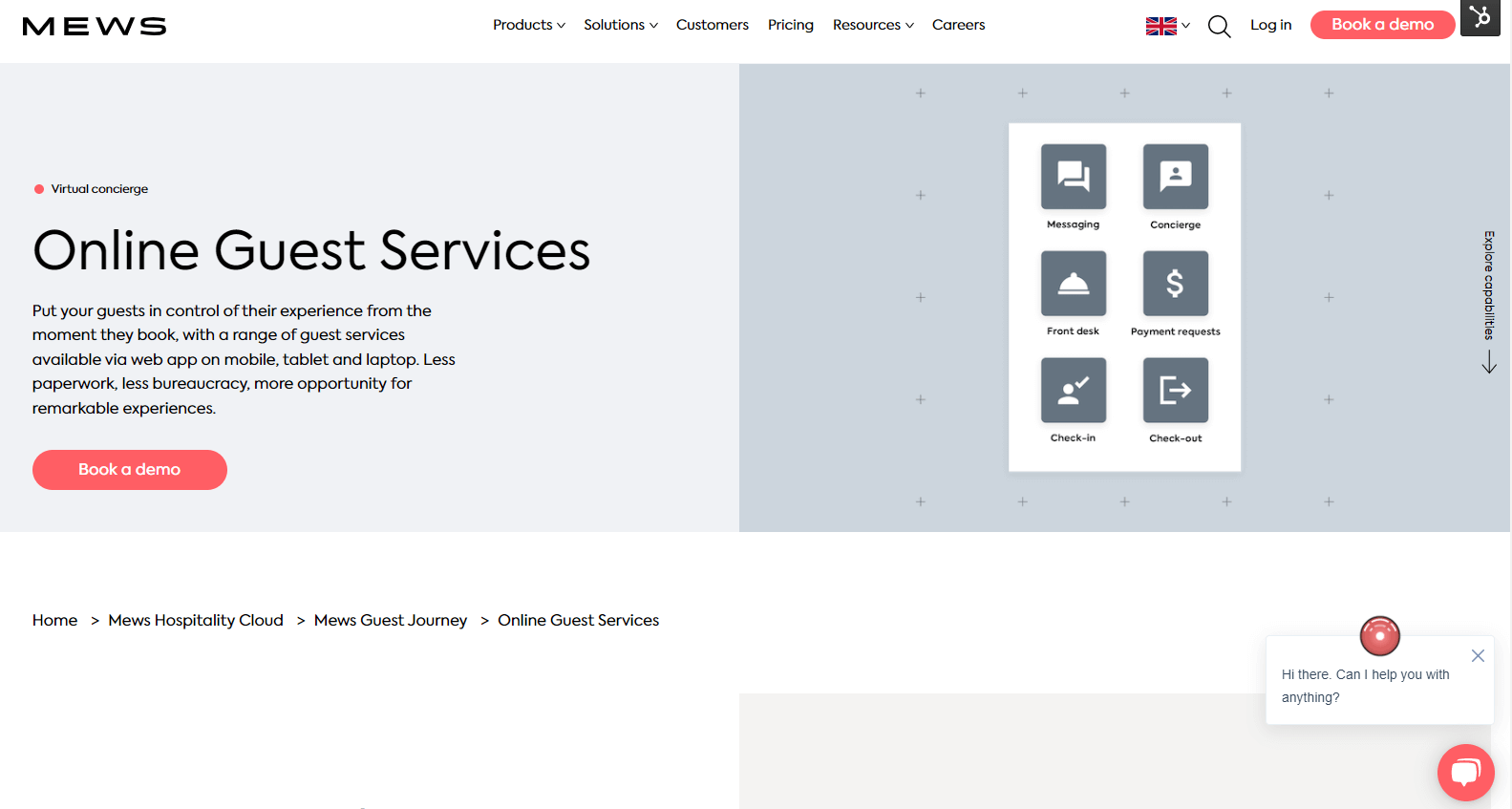 EasyWay
Personalize your service and improve conversion rates with EasyWay's advanced solution. This software provides a contactless platform with which you can create a digital guest journey that facilitates easy communication with guests thanks to its simple and functional design.
EasyWay, as the name implies, easily connects to your PMS and takes the manual processes away from staff so that they can focus on more important tasks like providing the best service possible. Furthermore, EasyWay has thought of the whole guest journey when creating the program, including pre-arrival messages, and automated messages that allow your guest service to function 24/7.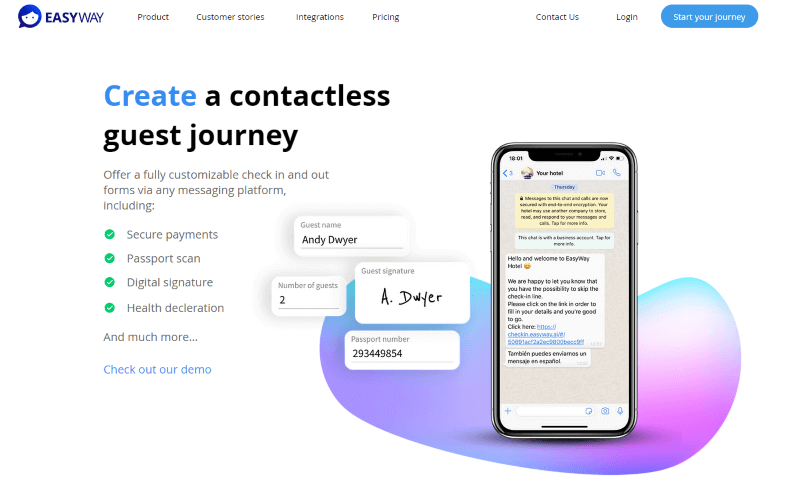 Duve
What could be better for a guest than to arrive and for the hotel to already have all their details? It's a win-win with Duve because thanks to the customizable pre-check-in wizard, not only is the workload for front desk staff reduced, but you also get more opportunities to upsell, process payments, provide digital keys, through a branded guest app, which facilitates ease of communication. A contactless guest experience was never easier.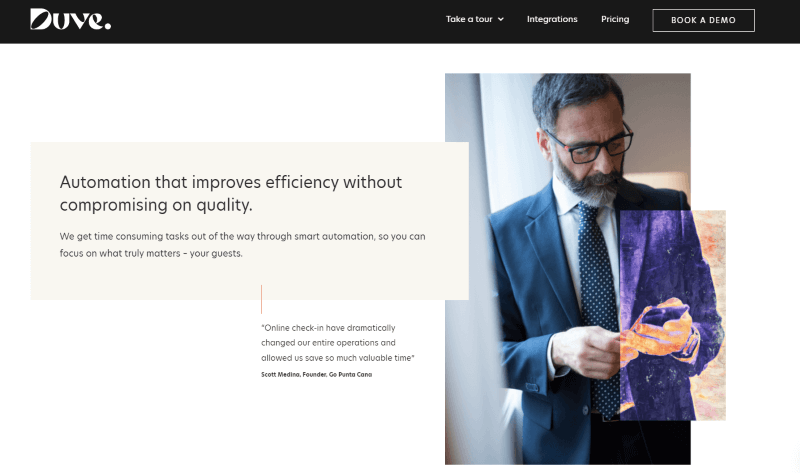 Straiv
A digital guest journey is a modern guest journey, and Straiv makes this possible. From online check-in and check-out to a mobile key and the option of a check-in kiosk, as well as the ability for guests to access online services without having to download an additional app, this tool offers features that will make your operations as smooth as possible.
Additionally, with Straiv, hoteliers also have at their disposal a digital guest directory that offers many options to streamline operations, which make internal processes incredibly efficient.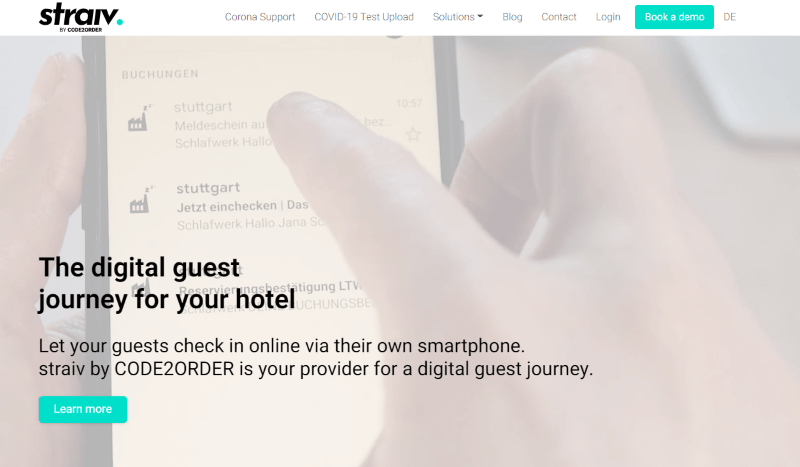 Canary Contactless
Canary Contactless is a great contactless tool that can easily integrate with your PMS thanks to its quick set-up process. This tool allows hoteliers to generate an easy-to-access link that allows guests to check in quickly and easily.
Going contactless is one of the easiest ways to increase customer satisfaction by minimizing paperwork and giving your hotel opportunities to offer add-ons and upsells. Digital authorizations are also safer and reduce fraud, ensuring that exchanging credit cards and IDs is traceless to potential frauders.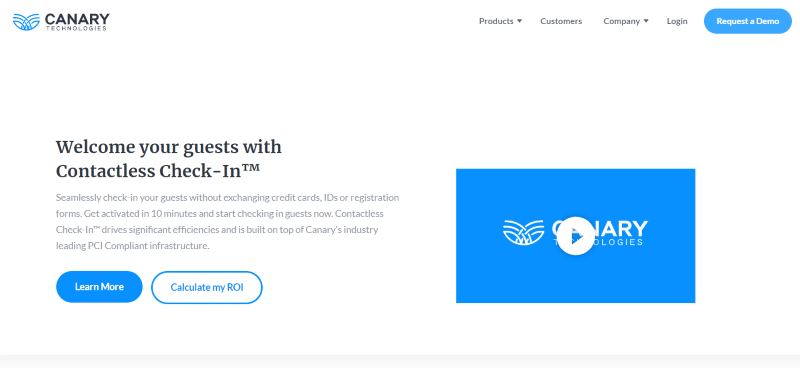 MyStay
One of the keys to happy guests is making operations as smooth as possible. With MyStay you can eliminate lines at the front desk with online check-in and check-out. MyStay allows you to customize the process according to the country of origin, and will send automatic messages throughout the guest journey.
Once guests arrive, they can use the MyStay Light Kiosk to scan the QR code they have generated in the process, and skip passing by the reception desk altogether. During check-out, guests can add their mini-bar consumption, consult the bill and split it with other guests on their reservation, and receive the invoice by email after departure. Use this service as a great way to engage with guests after their stay and ask them to leave a review.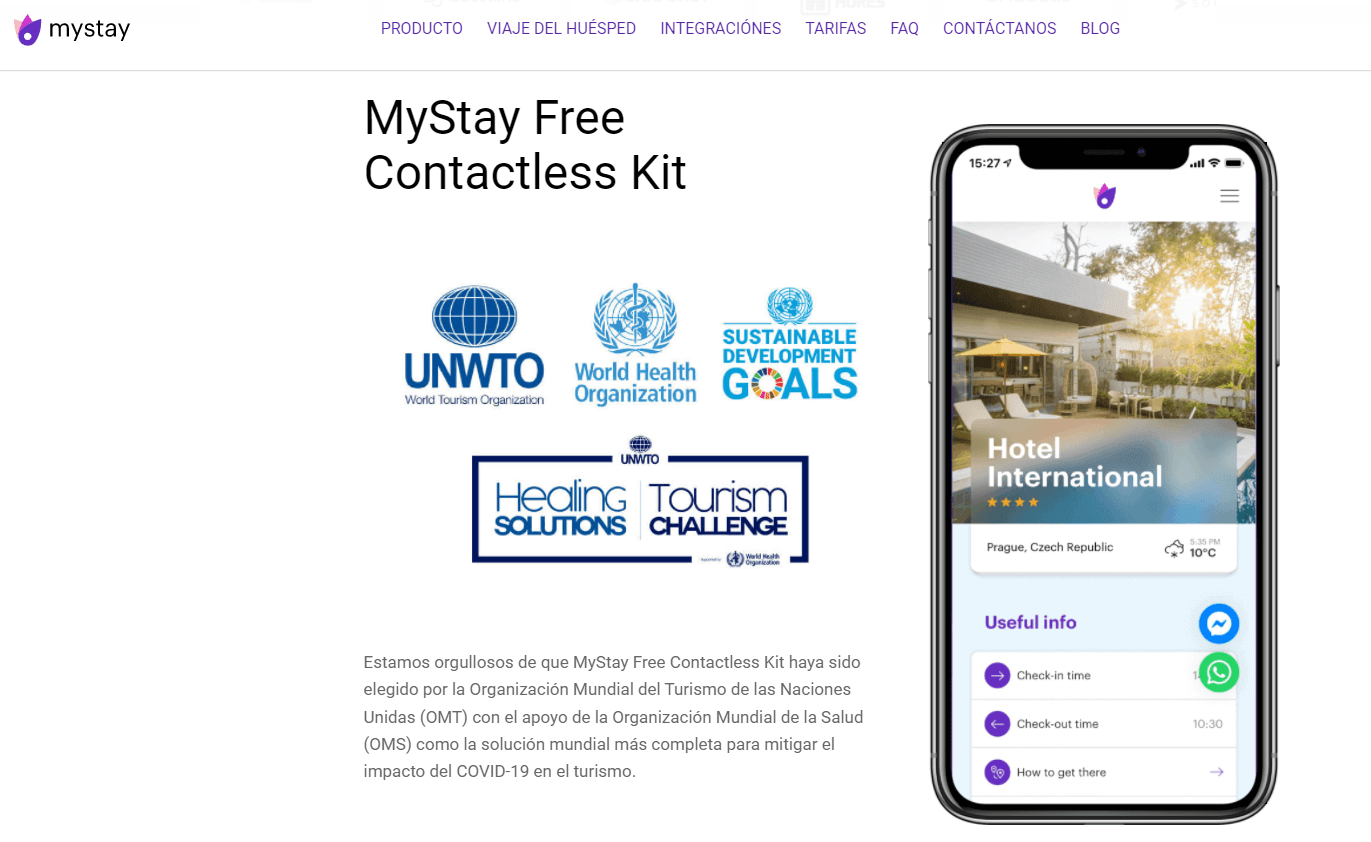 Conclusion
In this article, we've looked at what to look for when choosing a contactless software for your hotel, as well as the top six contactless check-in software choices.
This type of software is a must for hotels because it's more convenient, improves guest satisfaction, allows you to understand your users better by collecting data, and optimizes processes allowing hoteliers to focus on what's most important: providing an unforgettable experience that will drive engagement and keep guests coming back.

Author
Eva has over a decade of international experience in marketing, communication, events and digital marketing. When she's not at work, she's probably surfing, dancing, or exploring the world.
Hospitality hot takes straight to your inbox
Sign up to our monthly newsletter for industry insights, product news, partner updates and more.