The Mews Blog > 8 reasons why hotels should offer online check-in
Are you thinking about letting guests check in online? Hotels can ramp up their hotel experience by simplifying and optimizing processes through the use of technology.
According to a study by Statista on global hotel check-in and check/out tech preferences, 62% of guests preferred to use online check-in and check-out via some sort of app. This was especially amplified by the pandemic, where both guests and hotels have sought to limit contact as much as possible.
As guest preferences constantly adapt to a digital world, it will no longer be a question of whether hotels should offer online check-in, but rather a question of offering engaging services that allow hotels to streamline the customer experience. There are many reasons why hotels should offer this service, which we will discuss in further detail in this article.
Is online check-in essential for your hotel?
When people travel, they want the easiest, most hassle-free experience possible. This is why online check-in is essential for your hotel, because it allows you to offer optimal guest services that cater directly to a guest's needs.
Services like a virtual concierge enhance this experience by offering guests exactly what they want: a simplified user journey, reducing wait times, and putting them in control from the moment they book.
With a virtual concierge, questions and service requests can be answered quickly thanks to direct guest messaging. Furthermore, by allowing the possibility to check in and check-out, you can create a seamless hotel stay that will enhance brand loyalty, encouraging guests to keep coming back.
Why must your hotel offer online check-in?
There are many reasons why hotels should offer this online service, which we will discuss in more detail below. You can also read about the advantages of mobile check-in for hotels.
Reduce the price of overhead
One of the most important elements of running a successful hotel operation is controlling overhead costs, and human resources are without a doubt one of the most substantial fixed costs in the hospitality industry.
Often hotels are forced to hire more front desk staff to reduce wait times, especially during peak hours, but by taking out these manual tasks, your staff can focus on the more important matters like providing the best service possible.
Cater to guests' needs
After a long journey, there's nothing more that a guest wants than to go to their room and have a hot shower and rest. By allowing guests to take care of the process before they arrive, that's exactly what they'll do: as soon as they arrive, they can go right to their room instead of waiting in line to register. It is without a doubt one of the simplest ways to improve the guest experience.
Reduce contact
In a changing world, online check-in also presents the possibility to reduce contact, something that has become of supreme importance post Covid. It allows you to social distance and minimize contact so that guests feel safe to travel no matter what the conditions are.
During the online process, you can also use this opportunity to provide important health and safety updates, and request vaccination status or health certificates which front desk staff might be hesitant to ask for. This allows you to show that their safety is of utmost importance but without being invasive about such a delicate matter.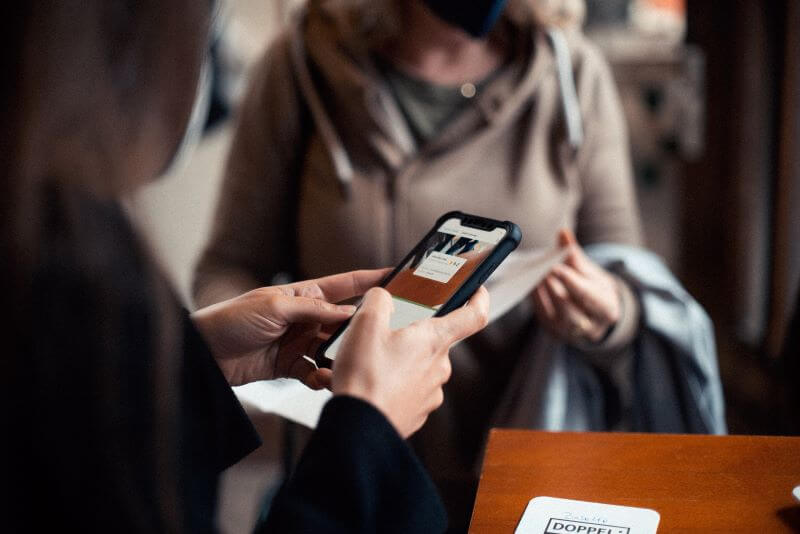 Reduce wait times
Improving front desk operations is at the heart of a smooth guest experience. Checking in online is one of the easiest ways to reduce wait times, especially during peak hours.
By moving this process to digital, you can avoid lines and thus improve customer satisfaction. Instead of waiting in line, they can go straight to their rooms and ask important questions after the fact when there is less of a rush at the front desk.
Read more about everything you ever wanted to know about hotel check-in timing and processes.
Convenience
Technology has helped make everything more convenient across the board, and allows your staff to focus on the tasks that most improve your client's stay. Instead of focusing on more automatic tasks, they can focus on providing the most top-notch experience possible.
Not only is taking this service online more convenient for guests, but going digital is also more convenient for your hotel.
Encourages traffic to your website
Checking in online is a great way to drive traffic to your website. You can open up new possibilities for search engine optimization, which will allow your website to position better organically by unlocking a new range of potential keywords like "check in online" "contactless" and other related keywords.
This will increase the chances that a potential client goes directly to your website to book instead of through a third party, which also increases potential revenue; it's a win-win.
Read more about how better check in process increases revenue
More opportunities for upselling
Upselling is key to boosting ancillary revenue and increasing the average spend per booking. By offering the ability to check in online, you can improve the chances of successfully upselling.
A front desk staff might forget or feel shy to offer spa or restaurant services to guests upon check-in, but by doing so online, you can make cross-selling a part of the process. Learn more about upselling.
Enhance the guest experience
The hotel experience starts well before a client arrives, and allowing check-in online creates the lasting impression you want to achieve in order to boost customer satisfaction. By compiling important information before guests arrive like whether they are traveling for a special occasion, their ideal room temperature, or music preferences, you can make them feel special from the moment they arrive.
The guest experience is highly impacted by the ability of your staff to provide a unique stay, and checking in online allows you to plan accordingly to make sure all these little extras are prepared in advance.
Conclusion
In this article, we've looked at the top eight reasons why offering this service is essential to unlocking the best possible hotel stay.
Check-in online for hotels is one of the easiest ways to improve guest satisfaction and ensure a streamlined customer experience. By taking this service online, you can cater to guest's needs and create meaningful interactions that lead to an excellent first impression even before they arrive at your hotel.
Furthermore, going digital allows your hotel staff to focus on the areas that most ensure a top-notch experience while leaving the more monotonous tasks to technology in order to more efficiently manage daily operations.
Guest satisfaction is the key to promoting your brand and standing out against the competition.

Author
Eva has over a decade of international experience in marketing, communication, events and digital marketing. When she's not at work, she's probably surfing, dancing, or exploring the world.
Hospitality hot takes straight to your inbox
Sign up to our monthly newsletter for industry insights, product news, partner updates and more.