The Mews Blog > The best self-service kiosk software for hotels
Not all self-service kiosks are built the same. That's why, when looking for the best kiosk software, it's important to keep in mind that the kiosk you choose is designed with software intended for the hotel industry. Kiosks should be able to accept payments, process check-ins and check-outs, and sync up with your hotel's PMS to facilitate a smoother operations process.
The right kiosks should be user-friendly, integrated, and help to improve the overall guest experience. Because there's a lot to keep in mind when choosing the right kiosk for your hotel, we've compiled a list of the best self-service kiosk software for hotels. So keep reading to find out our top eight choices.
Learn more about what is self service kiosk and the advantages of check in kiosk.
What is the best self-service kiosk software for hotels?
The best kiosk software for hotels is that which is designed with the hospitality industry in mind. It should be fast, reliable, and have the ability to offer key functionalities that will help relieve the front desk during peak hours, allow check-ins at off-hours and let guests who are in a rush check out at their convenience. Let's take a look one by one at the different software out there to help guide you towards the right decision.
Mews
Offering check-in and check-out capabilities, easy set-up and custom branding, Mews' check-in kiosk features some of the top functionalities you should look for: hassle-free set up, the ability to access multi-source bookings, and to custom brand your kiosk, which is key for a cohesive customer journey.
When guests check in from a Mews terminal, they can complete and sign their registration cards, scan their passports, pay for their entire stay with the integrated payment terminal, and generate their own keys. When it comes time to check out, no matter if they're in a rush or not, guests can have a contactless check-out experience that leaves a good lasting impression.
GuestJoy
GuestJoy is a great option for all kinds of hotels, from boutique and medium-sized to larger structures, thanks to its ease of use and strong data and reporting functionality, which helps hoteliers make the most out of the software. Furthermore, thanks to private surveys, understanding guest issues is easier, making it faster to solve any problems. The kiosk also integrates with Google and Tripadvisor, which makes it easier to leave reviews at the time of check-out.
During online check-in, key codes are distributed and upselling is made possible thanks to pre-arrival segmentation. Having targeted offers make it more likely that guests will decide to purchase the upgrade or added services. Read about five tools to increase upselling.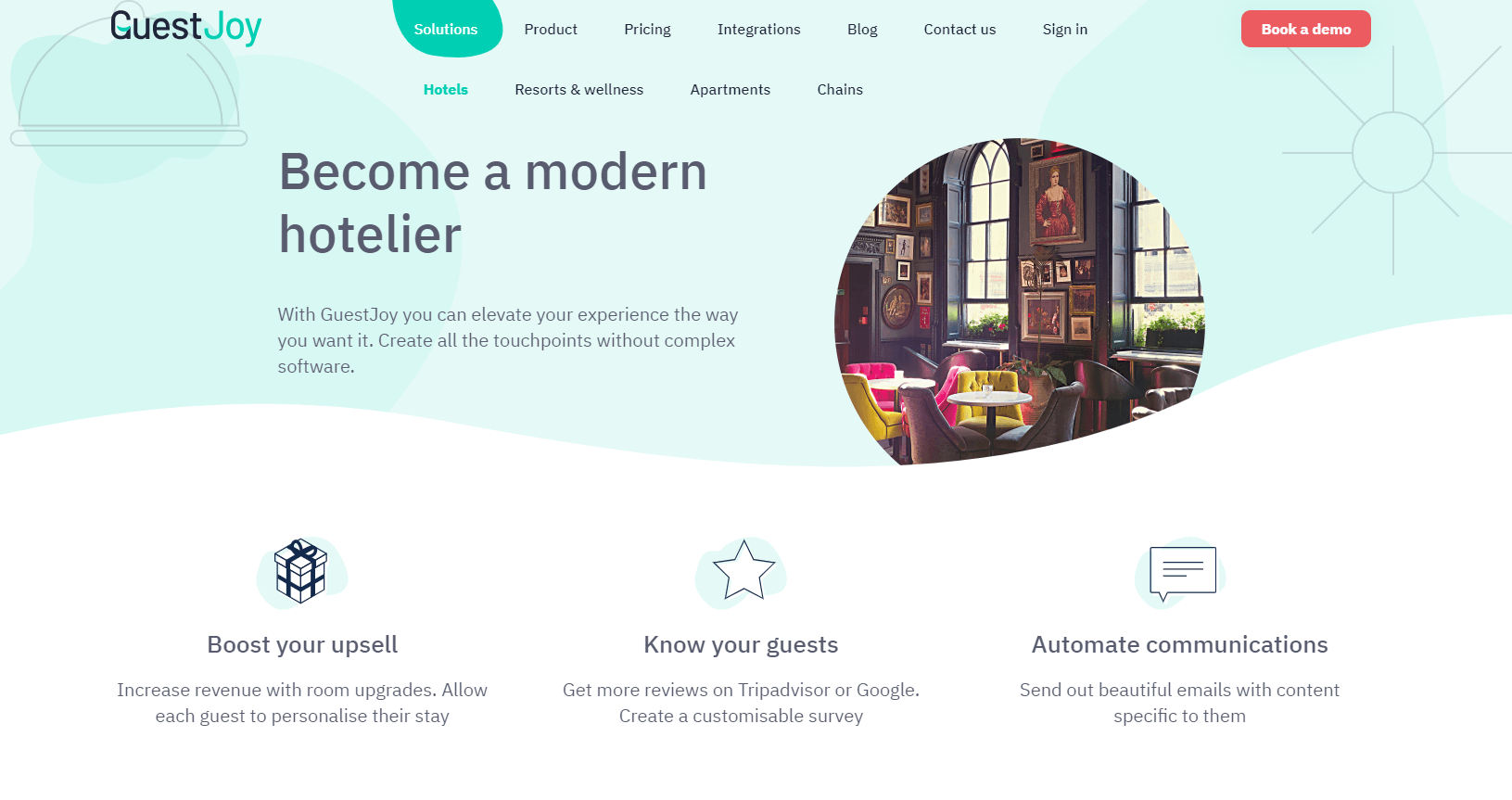 Altitude
Altitude helps to automate processes with self-service kiosks, great for making the check-in and check-out processes smoother during peak hours. Upon arrival, guests can generate their own keys, scan their own IDs, make payments, and they will even be offered room upgrades or upsells right from the automated arrival flow.
Likewise during check-out, guests can settle their bills, adding mini bar charges or additional charges, and even change the payment method they have on file. From the check-out flow, guests will be prompted to opt-in to marketing communications and loyalty prompts, as well as being prompted to give feedback.
Learn more about other hotel loyalty strategies.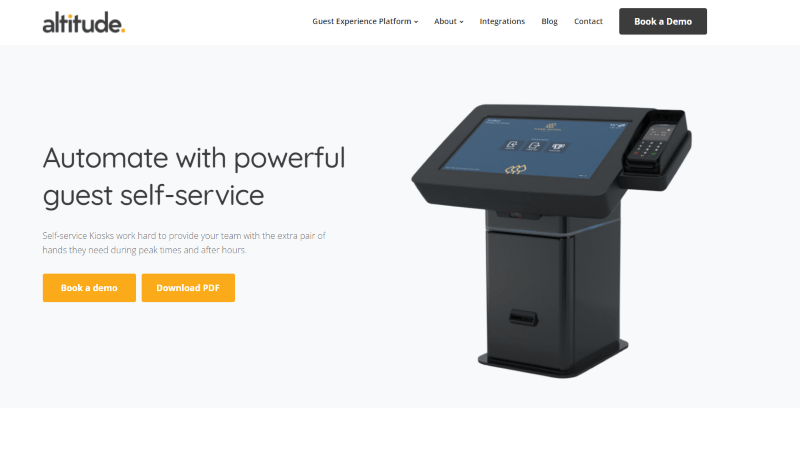 PARTTEAM & OEMKIOSKS
PARTTEAM & OEMKIOSKS is designed for the hotel industry to improve processes and services. Guests can easily check in and check out with the kiosk software. All guests need to do is scan their IDs in order to complete registration, follow check-in prompts, and then create their room keys. The touch screen display allows for easy navigation.
Another added feature of PARTTEAM & OEMKIOSKS is that it allows you to provide tourist maps, event calendars and other possibilities for upselling. This software provides an agile solution no matter what time of day guests arrive or check out.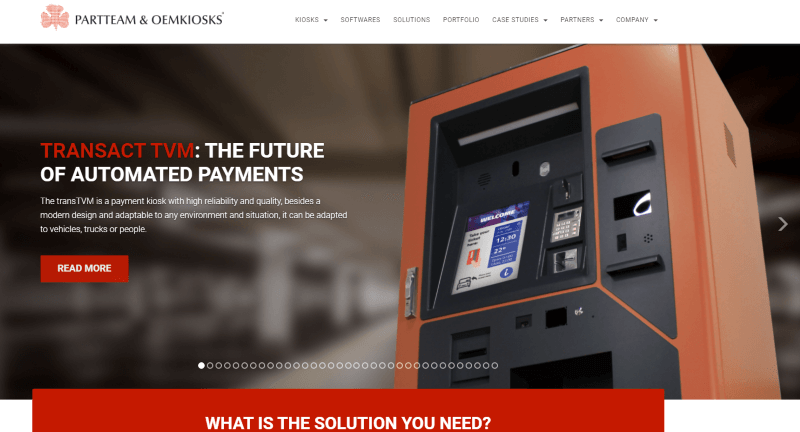 Roommatik
Roommatik can be connected to your existing PMS or channel manager to help streamline the check in and check out processes without having to manually sync reservations. It also automates upselling as part of the customer journey – guests will be offered options for upgrades or additional services, taking the pressure off your front desk staff to increase revenue.
Roommatik offers services in 15 different languages, allowing you to support customers from around the world without having to employ staff from 15 different countries. Additionally, the software allows you to gather important data and issue room keys directly from the kiosk.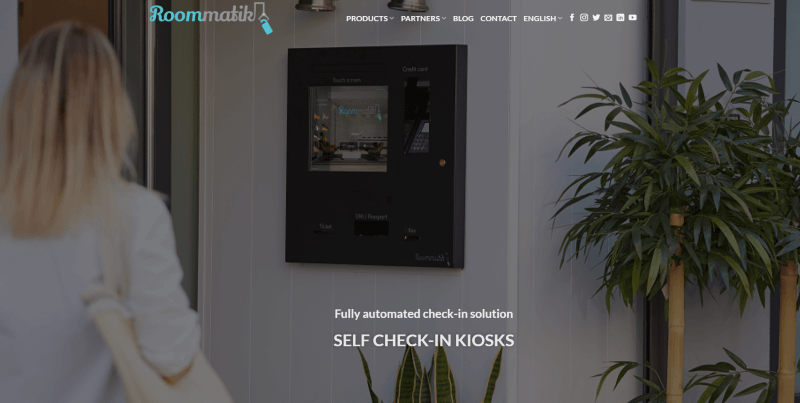 REDYREF
REDYREF kiosks, like the other kiosks mentioned in this article, offer the chance to automate processes by allowing guests to check themselves in and out. In the case of REDYREF, guests can also use the terminals to request room service and other services. This makes it easy for your customers to purchase additional items, which is key to boosting incremental revenue.
Metasphere
Metasphere contactless guest experience starts with their self-service kiosk software, which is quick and easy to deploy thanks to its tablet format. Unlike some other software, it doesn't require any PMS integration. It automatically dispenses keys after check-in is complete and guides guests easily through check-out. It even has a special service that supports walk-in guests.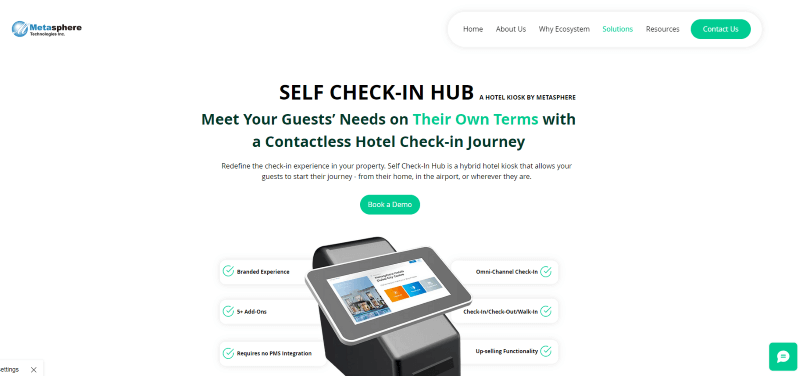 Abitari
Abitari software was intended for small and medium-sized hotels, allowing hoteliers to easily set up the kiosk with a tablet or a computer, and customize it as they see fit. This cloud software is affordable and it can integrate with any PMS without any high level technical skills necessary.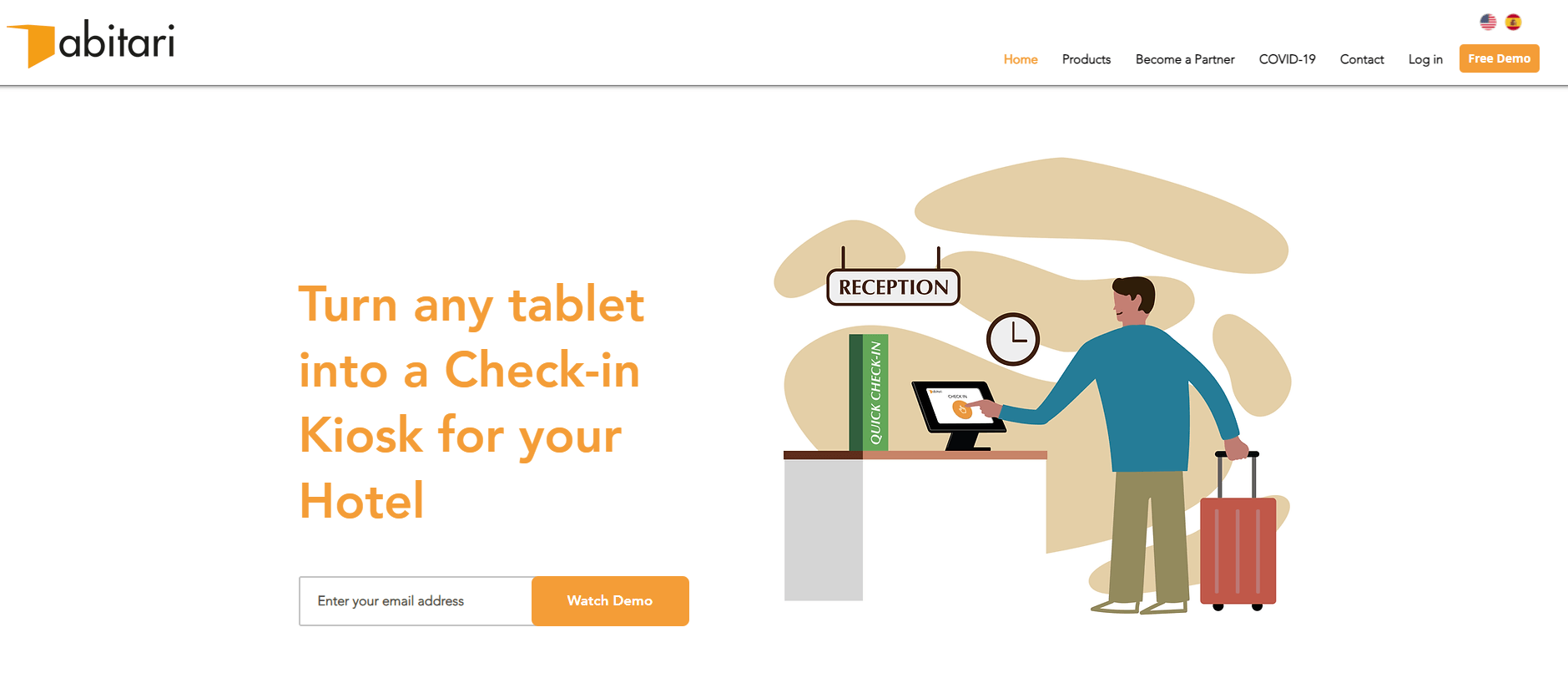 Conclusion
In this article, we've looked at the eight best kiosk software for hotels. When choosing the kiosk that's right for your structure, you want to ensure easy integration with your PMS, straightforward processes that require little human interaction, but always having your staff ready to help your less tech-savvy guests. The goal of the right kiosk software should be streamlining your operations in order to offer the best possible guest journey.
While there are many different software and terminals to choose from, the key is that the solution helps increase guest satisfaction and allows for incremental revenue thanks to built-in upselling tools. This innovative technology is helping to redefine the guest experience.

Author
Eva has over a decade of international experience in marketing, communication, events and digital marketing. When she's not at work, she's probably surfing, dancing, or exploring the world.
Hospitality hot takes straight to your inbox
Sign up to our monthly newsletter for industry insights, product news, partner updates and more.