The Mews Blog > Seven ways for hotels to prevent high energy costs
As prices soar across the globe, hoteliers must find ways to control hotel energy costs in order to stay competitive in a highly price-sensitive market. One of the most important things a hotel can do to counteract this price gouging is to find ways to purchase energy more competitively, relying on green energy when possible and more energy-efficient appliances.
In this article, we'll look at some of the best ways to prevent high power costs in a hotel and look at more in detail how the energy cost crisis is affecting the hotel industry. The best way to confront the crisis is without a doubt to be prepared and informed.
How is the energy cost crisis affecting the hotel industry?
While many hotels have already made efforts to reduce energy costs and consumption prior to the crisis by investing in greener technology and making their properties more energy-efficient, the current global situation has an important impact on the hotel industry. In a sector with such a huge demand on electricity, increasing costs mean many hospitality businesses are forced to raise prices to compensate for the rising rates, and some properties have even decided to close.
Increased prices
In order to survive, as electricity accounts for roughly 15% of the room cost, the hospitality industry will be forced to increase prices by at least 25%, which can have a direct impact on demand in a sector that is recently recovering from a pandemic. Plus, hoteliers may find it difficult to pass on added costs for energy to guests seeing as they are already paying above average prices, and with the overall rise in cost of living, disposable income may be limited.
The energy cost crisis will force hotels to have even more robust pricing strategies to be able to compete with your compset while reacting to market conditions by regularly updating rates. Higher rates mean more demanding guests, so hotels must provide a high level of service to cater to these guests and create value despite rising costs.
Redirect marketing efforts to the APAC region
While some governments are giving rebates to combat this crisis, the best solution may be to redirect marketing efforts towards the APAC region, which has an increasing middle-class with more disposable income. Seeing as their trips are less frequent and often shorter, the APAC market may be less price-sensitive than the West.
Compromised guest experience
In some countries like Spain, the government has mandated hotels to keep their thermostats at certain minimum levels for the coming year, meaning they can't go below 19 degrees Celsius (66 degrees Fahrenheit) and above 27 degrees Celsius (80 degrees Fahrenheit). These types of government mandates could negatively affect the guest experience, as guests may experience hotter or cooler temperatures at the hotel than they are accustomed to.
Discover 10 simple ways to improve the guest experience.
What are the best ways to prevent energy costs in a hotel?
As prices rise, it's important to know what you can do as a hotelier to prevent these energy costs. Let's take a look.
1. Lighting
Lighting is of course one of the most important matters to tackle. One way to reduce energy consumption is to install occupancy and daylight sensors in rooms and in the halls. This means lighting is only activated when needed or by installing a key-card controlled electricity system. Hotels can also replace regular light bulbs with LEDs, which consume considerably less energy, and reduce after-hours lighting not necessary for security reasons.
2. On-site renewables
On-site renewables like solar panels can be complicated due to the high operating demands of a hotel, but in the long term they can be super cost beneficial. By covering the facade and the roof of your hotel with solar panels, which can at first have expensive initial costs, you can ultimately save a lot of money in the long term. You can also install onsite renewables like elevators that are charged as they go down and reuse that same energy to go back up.
Learn more about other sustainable trends.
3. Purchase energy from different sources
Instead of relying on one electric company to serve the needs of your hotel, you can purchase energy from energy brokers who tend to have access to wholesale rates, allowing you to purchase energy more competitively and not just from one source. By choosing a flexible energy contract, you may be able to save as opposed to a fixed contract that provides reliable energy bills but may not be the best option with soaring prices.
Plus, in a volatile market where many people are looking to save money, it may be worth it to shop around for another supplier, because companies will try to sell you energy for cheaper prices to compete with the competition.
4. Voltage optimization
Voltage optimization is another effective strategy to combat rising prices. It is a way of supplying your property only with the voltage necessary based on demand. To do so a supplier must assess your hotel's energy use and then install a smart device designed to alter the voltage based on what is actually necessary. Seeing as many appliances don't necessarily need high voltage to operate, this can be a great strategy.
5. Living roof and green walls
Installing living green walls throughout your property, including on your rooftop, can do wonders for cooling your building naturally. Not only do vertical gardens purify the air, but they also absorb the moisture in the environment, creating a more pleasant temperature within the hotel, making you less-reliant on air conditioning.
Plus, living roofs can boost your hotel's thermal performance, reducing energy demand on space conditioning. They can help your hotel stay cooler by allowing less heat to flow into the building, keeping a more constant temperature throughout the year.
6. Retro-fit windows and glass doors
Retrofitting glass windows and doors is a great way to generate cost savings, especially over the long term. To do this you can install a window film that can cheaply reduce UV rays, solar heat gain and prevent heat from escaping, especially on windows that are directly in the sun's path.
7. Educate your staff
There's no better time to educate your staff on energy-saving practices like switching off the lights when staff areas are unoccupied, or after they go to the bathroom. By educating your staff, they are more likely to comply with energy-saving tactics and at the same time educate guests about these best practices. After all, saving energy is not only good for the environment, but also for your wallet.
Conclusion
In this article, we've looked at the effect of rising hotel energy costs on the hotel industry, as well as the best ways to mitigate the situation. Now more than ever, hotels must be up to the challenge to provide the best value proposition possible so that despite rising costs and prices, they continue to maintain their loyal guests. By implementing some of the actions outlined in this article, hotels can stave off the rising energy costs.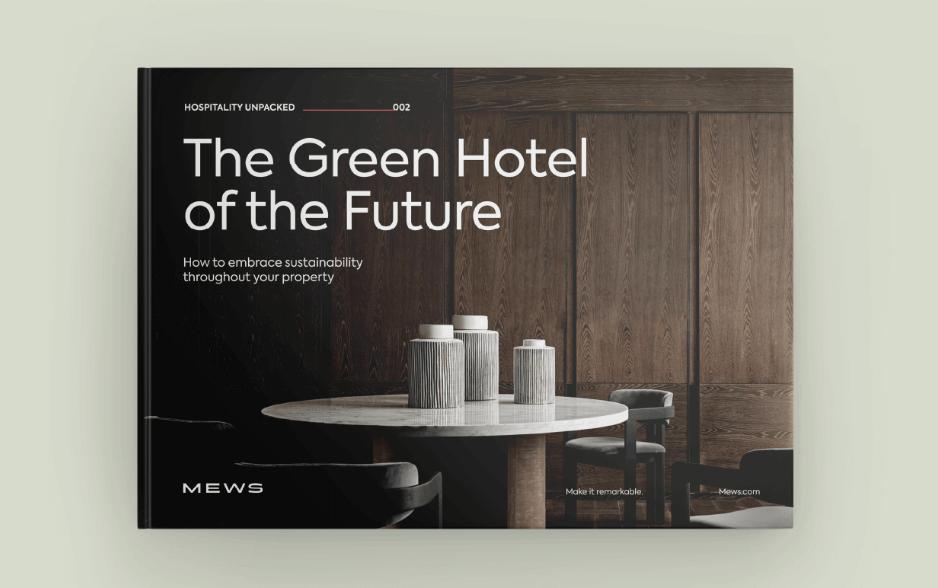 Want to know more about the benefits of going green? Download our special guide on sustainability, The Green Hotel of the Future.

Author
Eva has over a decade of international experience in marketing, communication, events and digital marketing. When she's not at work, she's probably surfing, dancing, or exploring the world.
Hospitality hot takes straight to your inbox
Sign up to our monthly newsletter for industry insights, product news, partner updates and more.