The Mews Blog > The best sustainability trends and initiatives for hotels
What do sustainability, hotels and green initiatives all have in common? Green initiatives are practices that hotels put into action in order to be more sustainable. The ultimate goal of sustainability is to minimize your hotel's impact on the region by reducing the unnecessary use of energy, supporting the use of alternative energy, and reducing greenhouse gases in an effort to change the course of global warming.
While no hotel can change the course of global warming on their own, every little bit helps. For this reason, sustainability should be more than just a trend but a way of operating for hotels in today's market.

Some of the 10 best sustainability trends and initiatives for hotels are relating to the following areas:
Energy conservation
Amenities
Waste reduction and efficiency
Promoting sustainable means of transportation
Choosing cleaning products wisely with minimum impact on the environment
Careful selection of local food products at the hotel restaurant
Encouraging guests to make sustainable decisions
Promoting ecotourism
Water conservation
Operational changes
For a more detailed look at sustainability, why not download our free Green Hotel of the Future guide? In the meantime, this article we will look at these different areas mentioned above, why sustainability is important in hotels, as well as the most common sustainability practices for hotels.
Why is sustainability important in hotels?
According to the United Nations World Tourism Organization, hotels are accountable for one percent of global emissions. This number will continue to rise as hotel demand increases, which is why implementing sustainability initiatives in hotels is so important to mitigate this negative impact.
Beyond the importance of hotels reducing their impact on the environment, sustainability measures also pose an important strategy for attracting new clients. Accordingly to a sustainability report by Booking.com, 68% of clients are interested in searching out eco-friendly hotels, and 87% of travelers worldwide state that they want to travel sustainably.
Furthermore, sustainability in the hotel sector is important to create a connection with the local population, while at the same time protecting the surrounding natural environment and biodiversity. Giving this local touch to a hotel experience helps distinguish a hotel from other hotels, providing high-quality experiences and contributing to creating an individual identity for a hotel.
What are the most common sustainability practices for hotels?
There are so many opportunities to improve energy, water, and waste efficiency in hotels but making choices around these elements aren't the only common practices. Other common practices for hotels include making operational changes by using utility benchmarking and temperature adjustments, as well as other technical updates like high-efficiency water fixtures or LED lighting. Let's take a look one by one at the most common sustainability practices for hotels.
Operational Changes
Hotels using a property management system have implemented changes using the reporting tools available from popular PMSs to benchmark utility use and provide setpoints for temperature adjustments. When the temperature is controlled and managed by the hotel it's a lot easier to manage usage. Other technical improvements that can be implemented on an operational level are the use of LED lighting, as well as implementing high-efficiency water fixtures to control the use of water.
Waste reduction
Hotels produce an excessive amount of waste. In fact, UK hotels produce 289,700 metric tons of waste each year. Because of this, some of the most common sustainability measures are related to waste management.
Many hotels have implemented recycling in common areas, reusable food service materials and have made newspapers available in common areas rather than delivering to each individual room. Hotels have also implemented the use of reusable water bottles by having filtered water stations and giving guests a reusable water bottle instead of using plastic bottles.
Energy conservation
Energy conservation is one of the most important areas of sustainability because it has been found that reducing energy consumption can have the same effect on revenue management as increasing average daily room rate.
Some of the most common energy efficiency practices are energy tracking, having digital thermostats in the guest rooms, and the use of LED light bulbs. Another popular way of contributing to energy conservation is to install a one-switch system for lights so that lights don't get left on accidentally, as well as the installation of solar panels to power water heating.
Another popular method is empowering guests to use sustainable means of transportation to get to the hotel by giving discounts or by having electric chargers for cars at the guests' disposal.
Water conservation
Water use for hotels is responsible for about 24 percent of total utility expenses. Bathroom fixtures, laundry, landscaping, and kitchens are the areas where the most water is used. Reducing water use not only helps reduce costs, but is also a fundamental sustainable practice.
The most common water conservation practices that hotels have implemented are regular water tracking and low-flow toilets, as well as putting in efficient faucets and showerheads. It is important to note that high-efficiency bathroom fixtures use at least 20 percent less water, representing an important method of saving for hotels.
Another common practice is encouraging travelers to take sustainability into their own hands through both energy and water conservation. For example, hotels can have guests forgo daily towel and bed linen changes, which helps to reduce the energy and water necessary for laundry.
Amenities and cleaning products
Choosing amenities and cleaning products that are more friendly to the environment is important to reduce a hotel's impact. Hotels have chosen to put soap and shampoo dispensers that are refillable instead of miniature amenities, which create excessive waste. While this method is more popular among mid-range hotels, high-range hotels have experimented with creating custom-formulated amenities in recyclable or compostable packages.
In terms of cleaning products, many hotels are choosing to shift away from abrasive cleaning products, towards organic or natural cleaners that are less harmful to both housekeeping and to the environment. This also helps move away from the use of products derived from petrochemicals.
Hotel restaurant
Hotel restaurants are taking sustainable initiatives to their restaurants, choosing to promote the use of local, organic food in their breakfast and meal choices. As well as promoting the careful and curated choice of ingredients at the hotel's restaurant. There is without a doubt a shift towards sustainably-sourced ingredients that also help contribute to the local economy of where the hotel is located.
Conclusion
Sustainability should be treated with a holistic approach across all sectors – from housekeeping to operations and the hotel restaurant. Guests should also be encouraged to be involved in the process so that they can take an active role and be encouraged to make sustainable choices within the hotel and within the local environment, choosing local tour operators, and investing in locally-produced goods.
There are more than 10 common sustainability practices in hotels which can be implemented hotel-wide and help contribute to reducing the carbon emissions from the hospitality sector. Understanding and embracing these initiatives will not only help hotels save money by being more energy-efficient and create less waste, but also help differentiate your hotel from the competition. As we move towards more conscious consumers, hotels must be able to adapt to this type of consumer, offering them the chance to travel more sustainably.


Your guide to going green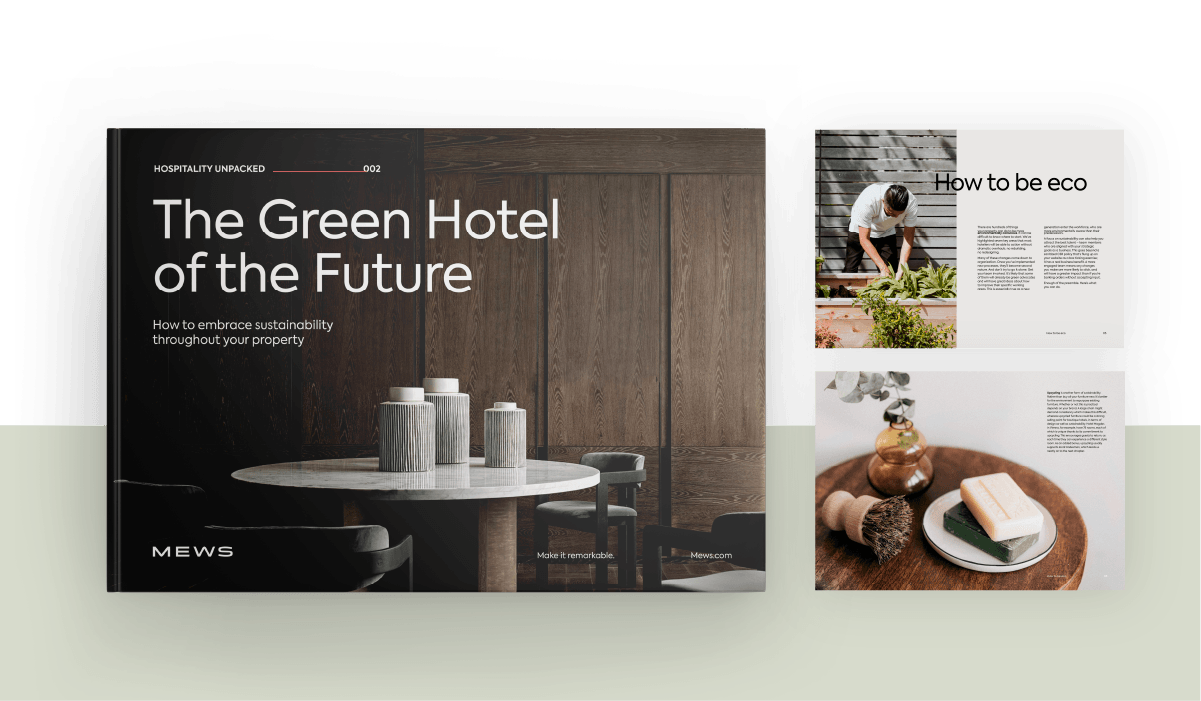 Sustainability should be at the heart of your property's operations, but it can be hard to know where to start. The Green Hotel of the Future will tell you how. Our guide will help you become more eco-conscious with practical advice and inspiration, which in turn should also help you cut costs.

Author
Eva has over a decade of international experience in marketing, communication, events and digital marketing. When she's not at work, she's probably surfing, dancing, or exploring the world.
Hospitality hot takes straight to your inbox
Sign up to our monthly newsletter for industry insights, product news, partner updates and more.