The Mews Blog > Six ways to improve hotel guest communication
Guest communication is essential to creating and supporting a positive interaction with your brand from the moment they turn from a potential client into a paying guest. Improving the way you communicate can help nurture guests throughout their journey with your brand, from when they decide to book, to pre-arrival, during their stay and long after they depart.
By effectively communicating, you can improve the experience with your brand, helping to turn one-time guests into loyal customers. In this article, we'll look in more detail about why good communication with your guests is paramount in the hospitality industry, and look at some tips to improve it.
Why is guest communication important in hospitality?
As it becomes easier and easier to communicate, there is more and more digital noise out there that you have to stand out from in order for your message to be delivered. With the competition actively trying to accomplish the same goal, it's important to find a way to reach your guests so that you can differentiate yourself, developing brand loyalty and positively influencing your revenue.
Providing consistent messaging throughout the buyer journey helps to not only set you apart, but also exceed expectations while at the same time creating a positive connection with your brand. The better you communicate, the more trust you can establish, and the more you can improve the guest experience starting from the first interaction with your brand.
6 best tips to improve hotel guest communication
Now that we've understood the importance of hotel guest communication, let's discover some of the best tips in order to improve the way you communicate.
1. Create a strategy
There is nothing more important to creating an efficient communication plan than putting a strategy in place. By creating a strategy, you can set up a cadence for how often you message, at what phases, and the purpose of your messaging. You can also make sure that should something go wrong, you're prepared for the worst, and know what to do to mitigate potential problems.
Of course, it's important to remember that just as Rome wasn't built in a day, your communication strategy won't be either. Investing the time and energy in creating a strategy, knowing the tone you want your messaging to follow, when to send your communication, and what channels to use is paramount to the success of your ability to effectively reach your clients.
2. Consistency is key
Consistency helps set expectations and create an emotional connection with your brand. By consistently contacting your guests with a similar and friendly tone, you help create expectations around what to expect when it comes time to stay with you. Setting expectations with your communication not only nudges your clients along the buyer journey, but also makes them feel connected with your brand.
Along with consistency, it's important to be personal with your messaging, making sure you present customers with relevant and friendly information along every phase of the buyer journey from when they book, before they arrive, while they stay with you, and after they check out.
3. Don't underestimate the importance of being flexible
Behind every plan, there should also be a back-up plan should things go wrong, which is where flexibility comes in. While planning is essential, you also need to be flexible enough to decide to change that plan should you deem it necessary. Maybe you got important press coverage, or your remodel is done before schedule; these are all important things to communicate that may not stick to a strict schedule, thus requiring flexibility.
4. Personalization is a no-brainer
Nothing says a brand cares about you more than when they take the time to personalize their messaging. Now it's easier than ever to do so, so it should be a no-brainer. Whether it's addressing the client by name, reminding them of the services they booked during their last stay, or suggesting services that they might like based on their past habits, personalization is the key to your communication strategy.
Personalization helps set you apart from the competition and gives an added touch that makes a guest feel special. Just like you should try to make them feel special during their stay, using personalization in your communication can enhance the perception of your brand.
Find out more about personalization and how it's the future of the hotel experience.
5. Good online communication should be backed up by good offline communication
Online communication such as emails, social media posts, website content and newsletters should be consistent, friendly, informative and personalized, but without a doubt should be backed up by good offline communication. No matter how good your communication is, if it's not backed up by stellar guest services, there will be a gap in your brand perception.
This is where the power of the human connection comes in. Make sure your staff is empowered to do everything within their possibilities to deliver an excellent guest experience by providing helpful information and tips, checking in with guests throughout their stay to see how it's going. By doing so, you can make sure to avoid any lapses in service before it turns into a problem or a negative review.
A problem-solving, friendly team is one of your most important tools when creating positive guest experiences. Learn more about developing the perfect staff.
6. Help contribute to positive reviews
Armed with well-trained and friendly staff who will help contribute to a positive experience with your brand, you have what it takes to encourage positive reviews. You can even consider sending a satisfaction survey (being sure not to make it too long) and inviting your guests to leave a review.
Reviews are an excellent referral and brand loyalty tool, which will do wonders for your online reputation. Discover tips to get positive reviews.
Conclusion
In this article, we've looked at the importance of guest communication, and the top six tips to improve it. By following these tips, starting with a strategy, being consistent, being flexible, personalizing, providing excellent service, and encouraging reviews, you can be sure to positively influence future bookings by creating a powerful connection with your brand.
The more powerful the emotional connection with your brand, the more power you have to influence purchasing decisions, making guests loyal to your brand and choosing you over the competition. An emotional connection is perhaps one of the most important deciding factors, so make sure that your guest communication is armed with personalized messaging that sets you apart from the competition.
Perfecting Guest Communication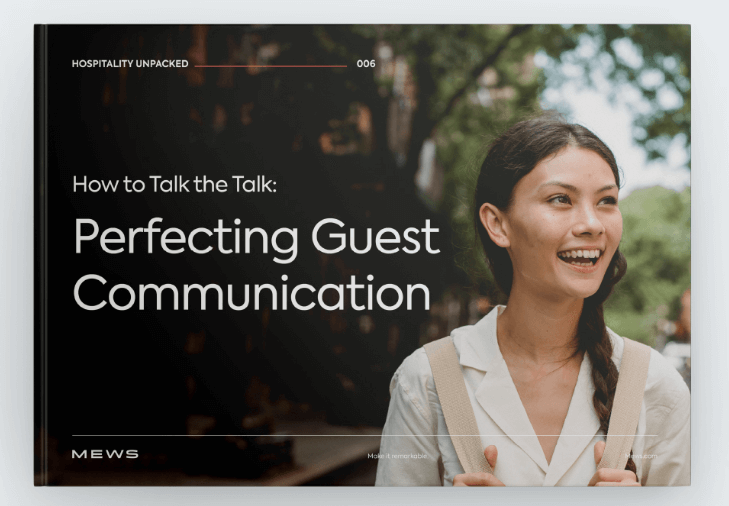 This is only the tip of how to communicate with your guests. We could write a whole guide about it. In fact, we have.
Read our guide to Perfecting Guest Communication and you'll learn how to perfect your guest messaging across multiple channels. The upshot? Increase loyalty, boost revenue, and ultimately achieve a higher lifetime value for guests.

Author
Eva has over a decade of international experience in marketing, communication, events and digital marketing. When she's not at work, she's probably surfing, dancing, or exploring the world.
Hospitality hot takes straight to your inbox
Sign up to our monthly newsletter for industry insights, product news, partner updates and more.