The Mews Blog > Top ways to improve hotel housekeeping efficiency
Housekeeping efficiency is crucial to your hotel's operational success. Rooms that get cleaned fast enable you to capitalize on early check-ins and other services that will improve your hotel's bottom line. On top of that, cleanliness is one of the key factors contributing to guest satisfaction.
There are many ways to enhance housekeeping efficiency in your hotel operations. Keep reading to explore the secrets to improving performance in one of the most essential departments in your hotel.
Understanding housekeeping efficiency
One of the first steps to improve housekeeping efficiency is to be able to know what metrics and KPIs can help you reach your goal of operational excellence.
Quality of service
Quality may seem like a vanity metric, but there's no guest satisfaction without it. Measuring quality can be done with a simple post-cleaning inspection. The easiest way to do this is to have housekeeping staff check off a list of their daily, weekly and monthly tasks – all easily manageable within a modern PMS.
Use analytics to see how well your housekeepers are performing and find ways to organize your housekeeping team. Ideally, they would meet a 98% quality rating because of the importance of cleanliness in the guest experience. Details matter, so be sure to move furniture, swipe your fingers over picture frames and look in the corners during the inspection.
The time needed to clean a room
Minimizing the time needed to clean a room while maximizing quality is essential. You need to know how long it takes for your quickest and slowest staff member to complete the cleaning to calculate the average time. You can then perform an inspection to ensure that the quality score for both is up to par.
Being aware of time constraints lets you balance your staff levels and your P&L to help ensure a positive bottom line. Always take efficiency into account – your staff should be thorough and detail-oriented.
The time from vacant room to cleaned
Want to ensure maximum efficiency? Look for any significant time lapses between check-out and a cleaned room. Understanding these lapses will help you to optimize the process and ensure there's as little room for mistakes as possible.
Find out how early check-ins and late check-outs can generate revenue.
5 ways to enhance housekeeping efficiency in your hotel
Enhancing housekeeping efficiency starts with implementing clear processes and protocols. Your goal is to have the optimal number of staff and ensure each team member fulfills their role.
Use technology to your favor
Switching to a PMS that supports automation for housekeeping will power up your productivity. The reduced time between check-out and cleaning, improved staff communication, and a complete overlook of tasks and people completing them – are just some of the benefits you can look forward to.
Train your staff
Nothing improves efficiency quite like training staff. An untrained team is slower and less productive. Training empowers each staff member to do a fantastic job regardless of their backgrounds. After a few months of room inspections, you can also identify weak points and provide specific training in areas that require improvement.
Solve an issue before it becomes a problem
Leveraging guest feedback helps you find sub-par areas in your cleaning process and address them before they become a problem. If there's a leaking toilet, you should review all the toilets to see if the pipes need maintenance. Or, why wait until guests complain about mosquitos when you can install a mosquito mesh?
Make sure each cart is organized
Empower your cleaning team to perform well by giving them the necessary tools. When they start their shift, their cart should have all the amenities – toilet paper, cleaning products, towels, sheets, and more. Support sustainability by equipping carts with multiple waste bins for proper recycling.
An organized cart saves time by keeping your staff from going to another floor to get what they need or asking a colleague for help. The more prepared and organized they are, the faster and better they'll be at their job.
Organize your laundry service
Laundry is a fundamental part of hotel housekeeping. Even a tiny hiccup can be a disaster for your hotel's operations, so have at least one dedicated person monitor the laundering process. Top-class, regularly maintained machines will also keep operations running smoothly. It also pays to stock your laundry department with quality products.
Conclusion
We've covered metrics and processes that will help you boost your hotel housekeeping efficiency. Improving the productivity of the housekeeping department is essential for operational success and meeting your hotel's bottom line.
The secret to improving performance is fine-tuning your processes across all levels of operations. The more efficient each department is, and the better they work together, the more confidently you can provide a superb guest experience that leads to loyalty.
Download our guide 10 Tips to Improve Your Housekeeping Operation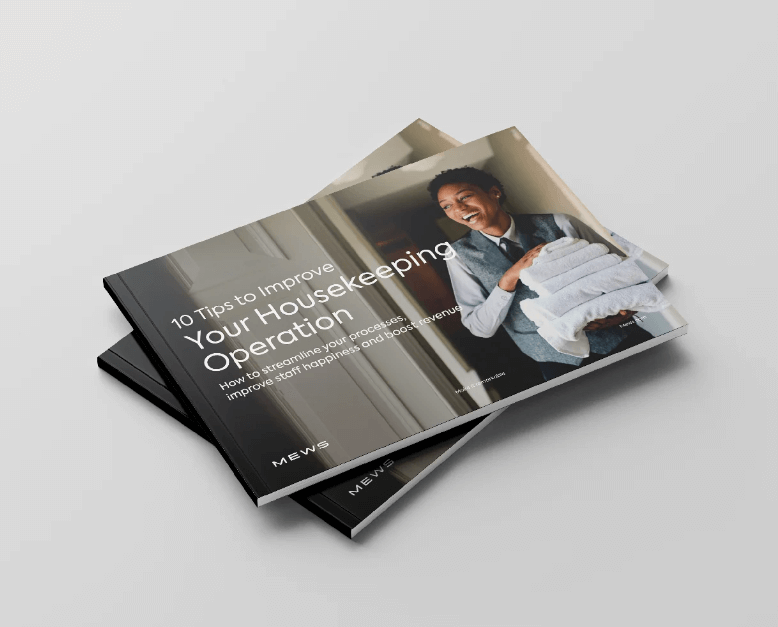 Author
Eva has over a decade of international experience in marketing, communication, events and digital marketing. When she's not at work, she's probably surfing, dancing, or exploring the world.
Hospitality hot takes straight to your inbox
Sign up to our monthly newsletter for industry insights, product news, partner updates and more.