The Mews Blog > Do hotels need OTAs in the post-pandemic world?
The pandemic has changed the world in many different ways. People started working from anywhere, which has positively impacted our industry, as they travel to work from places they dreamt of visiting in the past two years. But not all changes were so obviously positive.
Throughout the pandemic, OTAs had to think about alternative ways of keeping (a portion) of their revenue. At that time, with unprecedented low levels of occupancy it effectively meant they had to find more money from the few bookings that were left. Either from the guests or from hotels. Spoiler alert: they did both.
So what exactly have they done and how is that affecting hospitality businesses? What's their impact now that the industry has largely recovered, running on high occupancy with incredibly high rates?
After attending the Direct Booking Summit in Berlin, organized by Triptease, I see two big topics that are impacting the revenue of your property rather negatively: undercutting and virtual credit cards.
1. Undercutting
We've seen this trend even before the pandemic, but not as strong as it is today. It's even more visible as now everyone is looking into their costs in a much more forensic way. OTAs are now significantly undercutting the prices of hotels and hostels when offering their beds and rooms to guests, effectively breaking the rate parity they demand in their contracts.
Their goal here is quite clear: they want to get guests to book through them, rather than going through the hotel website. If the booking is cheaper on the website of the OTA that you know very well, the motivation to book through the hotel website has just vanished. When the guest is booking, the OTA is literally saying to the guests, "OTA.com pays €x".
Sounds like a fair deal…?
How OTAs are undercutting hotels
OTAs are obviously not donating the bookings, despite what it may look like from how they market this to the guests. Their goal still is to make money from the bookings. First and foremost, their commissions are high enough to cover the undercut, it just comes with a slightly worse margin. That's the only risk they are taking. They use a hotel's own money against the hotel.
Isabell Kunert from Meininger hotels says: "The OTA commission margin decreases, however, the hotel commission is staying the same for the original loaded rate. So the strategy of increasing rates to avoid undercutting doesn't really make sense."
On top of that, they have worked incredibly hard to build a conversion machine that pushes the guest to buy some extras on top of the booking, and that's (partially) where they compensate for the undercut. They offer the guest insurance, car rental, flight tickets, transfers from the airport...
The more the guest buys, the bigger the upside of the OTA and I am very sure that in total sum game, they make much more money on these bookings compared to bookings without any undercut. They really look at the lifetime value of the guest and build trust between them and the guest – if they paid for part of the booking, the guest is more likely to spend more with them.
Looking at data by Triptease, you can see the size of the undercut ranges from 1-40%, with 5% being the most frequent undercut. But it also varies by country and OTA significantly. You need to watch how the OTAs are selling you to be able to tell where your business falls. "This is only possible with a good rate parity tool and loads of manpower, which in the tourism industry is quite rare nowadays," adds Isabell Kunert from Meininger Hotels.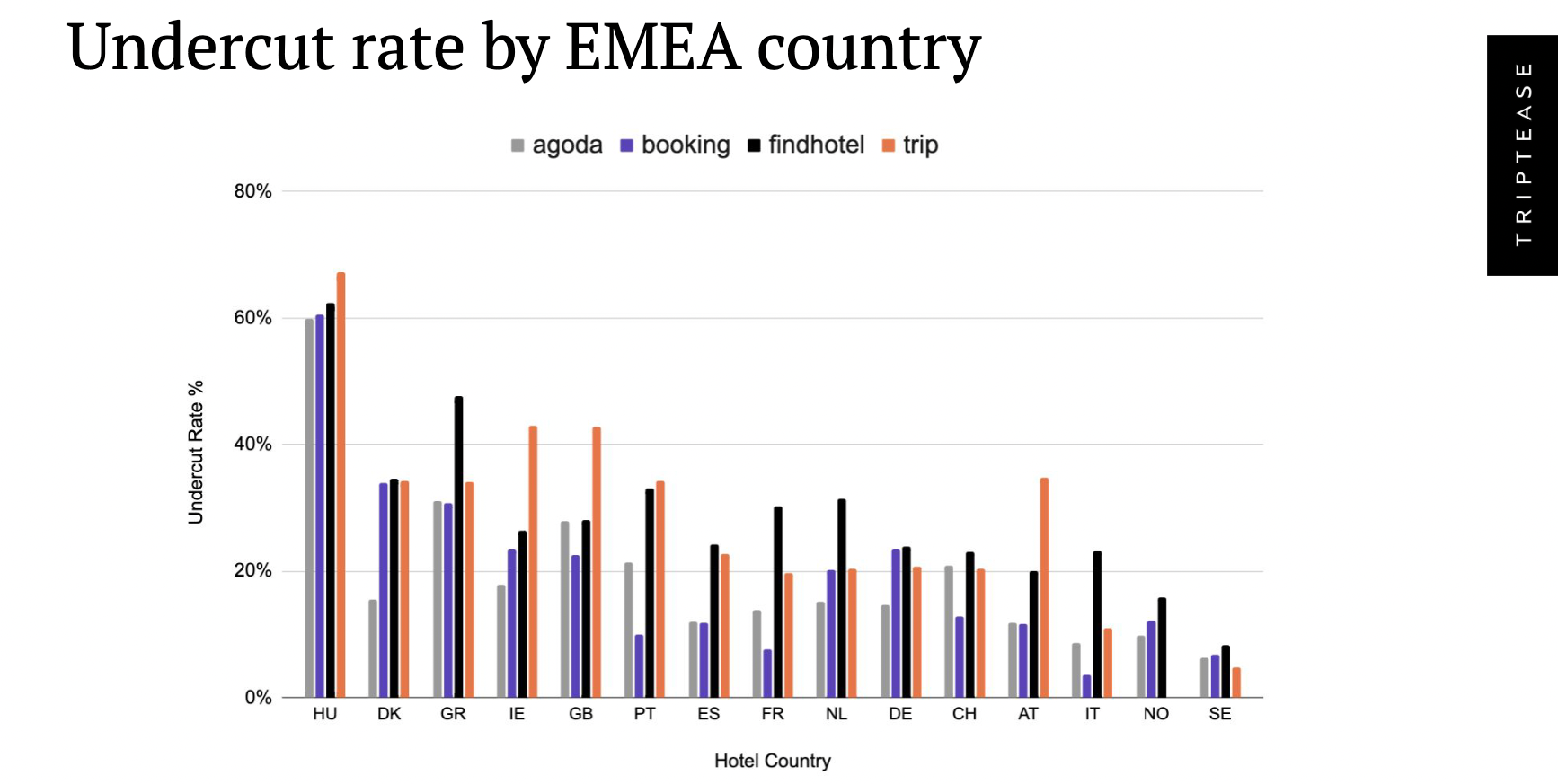 2. Virtual Credit Cards
In 2019, we published an article talking about PSD2 and the hidden cost of virtual credit cards. Coming out of the pandemic, this topic returns to the spotlight because of the high rates and high occupancy we're seeing. During the Direct Booking Summit, I was moderating a panel on this topic with Isabell Kunert & Céline Mamane from Meininger Hotels, who see a big impact of the hidden cost of Virtual Credit Cards on their business.
How virtual credit cards work
Just to recap very quickly, PSD2 should protect consumers from fraud through SCA (Strong Customer Authentication). That's why when you pay online, your bank is asking you to confirm the payment through their mobile app. While you can still process OTA bookings and walk-ins through MOTO (Mail Order / Telephone Order) mode, which allows you to literally type the 16-digit card number into a system or a payments terminal without any further authentication from the guest side, this option will soon be removed (and already actually has been removed in the case of AmEx).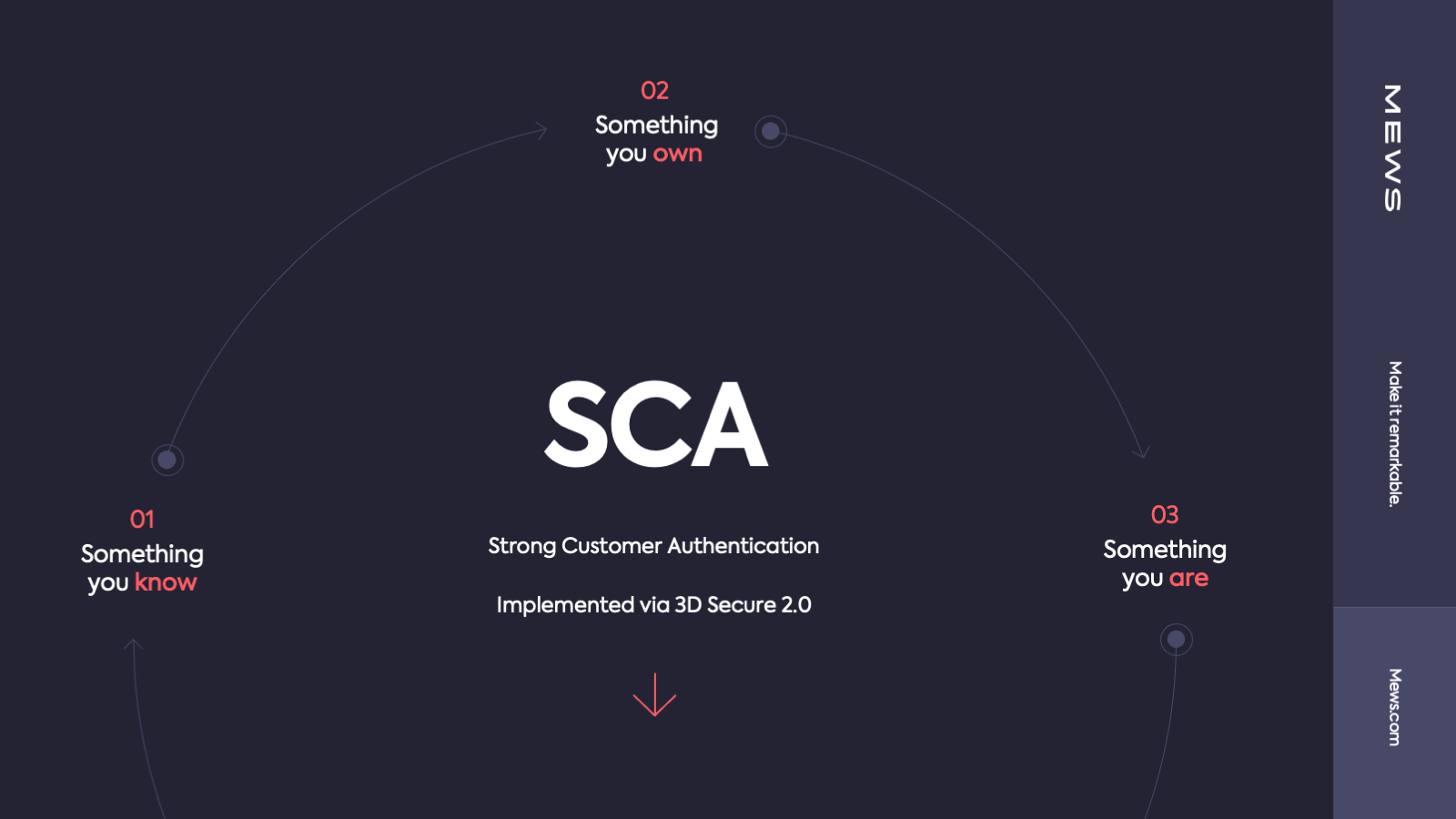 When booking through an OTA, the guest will provide their credit card data to the OTA. This poses an issue with the authentication, because the booking is delivered to your property management system after the guest has finished the booking process, and hence the authentication is missing.
"Multiple hours to days can pass between the booking and the actual charging, which makes it almost impossible to ask the guest for authentication." says Isabell Kunert from Meininger Hotels.
The problem with OTAs and Virtual Credit Cards
If you have an advanced Online Guest Journey, you can send the guest a payment link and effectively get them back into their browser to confirm the payment. But that's an additional and – from the guest's perspective – a disconnected action, which means not all guests will actually do this. Especially for non-refundable bookings, this creates a cashflow issue and you also risk a no-show and revenue loss.
Additionally, the OTAs are masking the guest's e-mail and blocking links in their messaging tools, so there's a high chance the guest will never get the payment link in the first place. Once again, if you have an advanced Online Guest Journey solution, like Mews, you can get the real e-mail address during online check-in, which makes the delivery of the payments link a bit easier.
By the way, did you know that Mews is working on getting guests to check in online through an SMS and/or WhatsApp message? This will increase the conversion rates of the online check-in and all related actions significantly.
Isabell Kunert stays concerned: "If you disable Virtual Credit Cards, capturing authentication from a guest booking through OTA for a non-refundable rate – where you depend on the charge immediately after the booking – is a real challenge even with advanced tooling. It simply does not happen immediately."
The second option is that you leave this to the OTAs and enable their hybrid payment options. Or to be more precise, you don't disable them, as most likely they get you on them automatically. The OTAs will then obtain the authentication when the guest is booking.
If they're following PSD2 to the letter, they should obtain the authentication from the guest, create an authorization token, and forward this token together with the card number and the booking to your property management system. You'll then be able to charge the common credit/debit card with no issues and no risk of chargeback.
However, the OTAs claim that the distribution networks and the property management systems are not ready for this. While this might be true for some companies on the market, this is not true for every technology on the market, yet OTAs leverage this excuse to generalize this problem and steer the landscape into their favor.
Instead, they charge the guest immediately (sometimes also for flexible bookings!) and issue a Virtual Credit Card that they would forward to your PMS. That's a commercial credit card, issued by a business and hence does not require SCA when being charged. But on top of it, that means that the Interchange fees that you pay to the issuing bank of that credit card are not at a maximum. This is 0.4% as regulated by EEA, but can be as high as 3%. And guess what? On average, we're seeing these fees to be 2.5%. One can only speculate where the difference in the Interchange fee is going.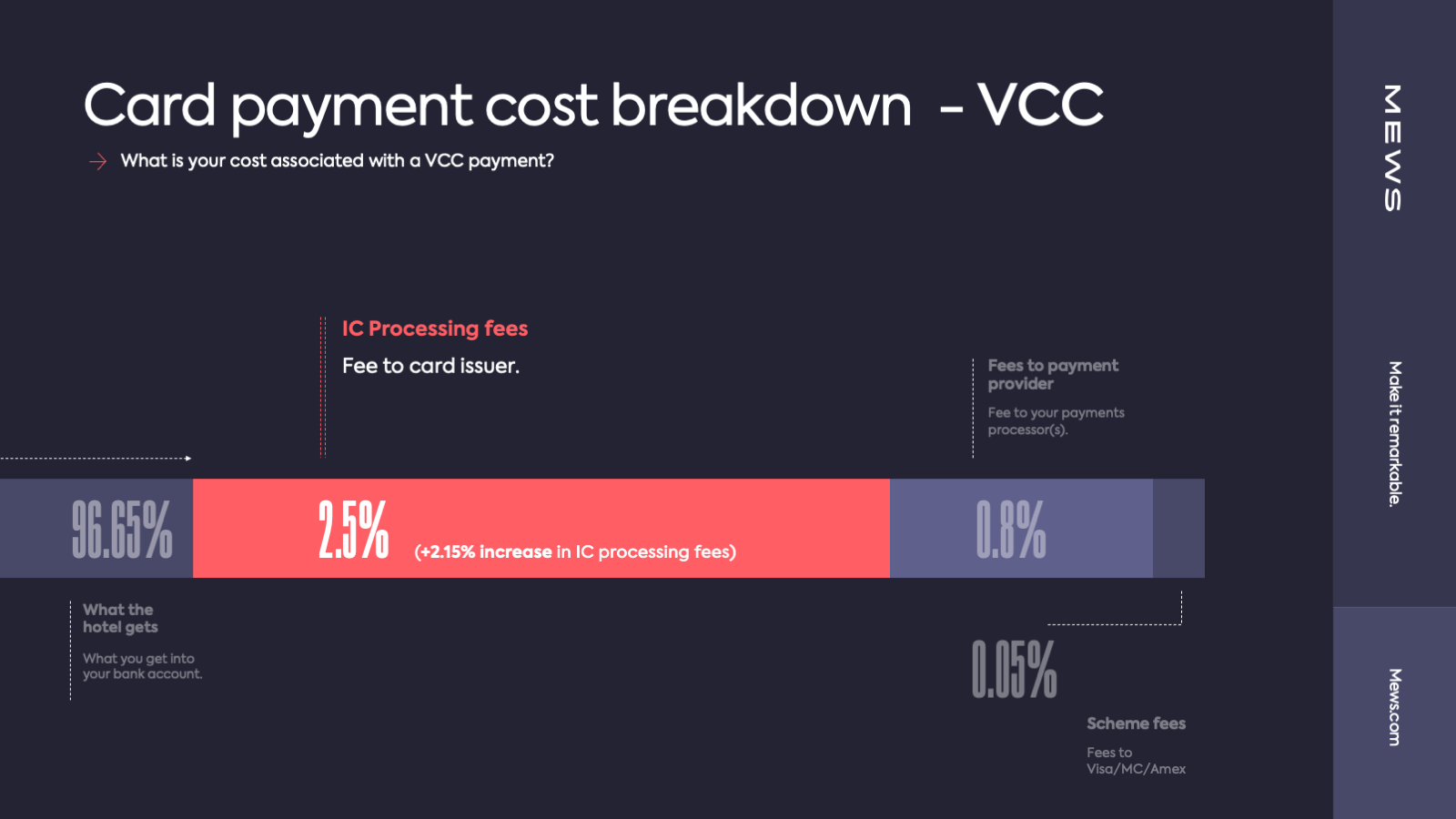 If you process €1m in payments, there's a vast difference in processing it through a physical card, or a virtual card.
Lately, we have also seen some news around OTAs sending a dummy Virtual Credit Card to the PMS. A card that cannot be charged. Instead, the OTA will process the card itself and pay out the hotels to their bank accounts. That's also not an operation free of charge, but on top of that it re-introduces the manual reconciliation of payments, and if not paid out continuously, introduces a cash-flow hurdle.
Do hotels need OTAs?
Combining the two major points above, it's clear to see that OTAs have been very creative in finding new ways to take more of your hotel's money. That leads me to a very controversial question: do hotels actually need OTAs?
Why are hotels feeding OTAs with inventory for free? An inventory that OTAs need to have something to offer to the guest. Hotels effectively give them more business, and then spend their lives fighting the effects of it Especially in the post-pandemic rebound, when hotels are overflowing with guests, running on rates that are higher than ever, what would happen if you simply switch off the OTA?
Isabell Kunert reacts: "Obviously ending a co-operation with an OTA is a big and sometimes scary step. Depending on the share it makes of your business it is a decision carefully taken. Allow yourself to question the value that OTAs bring to you. Evaluate the cost and benefits the OTA really gets to you. Do a deep dive analysis on your OTA cost (not only distribution but also VCC cost, cxl quota, fake bookings, chargebacks, undercutting, META bidding and interface/ connectivity cost) and the benefits (revenue, quality of bookings, etc.).
"If you see that your OTA is causing you more cost than benefits compared to your direct channel or direct offline, you should indeed consider shifting this business to either another OTA that is more valuable or turning it off altogether. As OTAs have taken more and more control of our rates, use your inventory to get your direct advantage. Via channel managers or RMS tools you can control your inventory to be the last room available only on direct channels.
"Or, and this is of course highly dependent on budget and IT infrastructure, use the perks that OTAs have to boost your direct channel. Implement alternative payment models and upselling, or even partner up with some other guest journey parts like rental cars or flights. Enhance the guest journey by partnering with local guides, museums or tours to offer as much of an experience as possible.
"Summing it up: cutting off an OTA might be the best decision you have ever made after careful consideration. Also, they most likely won't stop you reconnecting with them in case you see this is not working out after a couple of months."
It's clear that with these trends, hotels will need to become more competitive to their own listings on OTAs, and like OTAs, find ways how to break rate parity. That's why at Mews, we firmly believe in our multiple services and spaces project and attribute-based pricing, which allow hoteliers to create offerings that OTAs literally cannot distribute, making the hotel direct channel truly unique.
Rate parity is a term that does not make sense for these offers, as there really is no rate – you're selling a package custom-tailored for a given guest. And not just places to sleep in, but all assets you have in your properties.
Hospitality hot takes straight to your inbox
Sign up to our monthly newsletter for industry insights, product news, partner updates and more.