The Mews Blog > React, respond, recover: the highlights from Siteminder's webinar
Last week, Siteminder hosted a webinar about how hoteliers are coping with the continued fallout from COVID-19, and more importantly what can be done to ensure hotels are in as strong a position as possible when normality returns.
If you missed it you can watch the webinar in full here.
---
The current state of play
As you already know, the picture doesn't look good right now. Occupancy in the US is at 20%, while in Canada it's only 12%, and revPAR is down by an average of 84%. Although these numbers are tough to stomach, there are some signs that things may begin to turn after the summer.
In the graph below, you can see that net new reservations are on course to return to a positive trend in September and October. In a trend that may last some time, the average lead time for reservations has doubled from 30 days to 60 days, and according to Archie Winesett, Associate VP at Triptease, they're seeing an unprecedented amount of searches for 60+ bookings. The appetite is still there to travel, but it's tempered with a large amount of caution.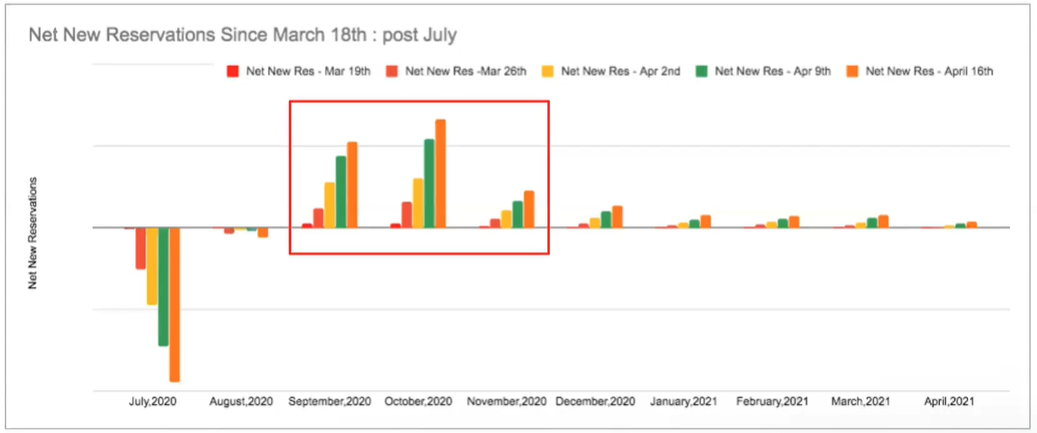 React: industry help and customer marketing
If you're an American hotelier, the AHLA (American Hotels and Lodging Association) are doing a lot of work on your behalf to try and secure government help for the crisis. They have a useful COVID-19 resource centre that provides plenty of information about what's going on at the moment.
As William 'Chip' Rogers, President of AHLA explained in the webinar: "Part of advocacy is not just working the relationships you have, it's making sure the messaging is out there. I can't stress enough how important media and communications is."
While this is true on a macro level of government awareness, it's also true that individual hotels and chains need to take their own customer comms very seriously.
Archie Winesett has already seen hotels react from a marketing perspective, with adaptation all the way through the funnel. This includes adjusting budget (digital ad spending like PPC is down) and a deeper look into long term and short term strategy, specifically by focusing on low cost, low barrier marketing like email and social media.
This is a cheap, effective way to reach your customers, but you should be mindful of the current climate and avoid the hard sell. You'll ensure your guests remember you by reaching out to tell them what you're doing to adjust and stay safe. If you're hosting virtual events like virtual concerts or cooking sessions with your renowned chef, tell them about it. If you're using paid digital advertising, you can even target it specifically to a domestic audience and people within a certain distance of your hotel.
Who are the guests most likely to travel?
While occupancy rates are low, they're not nonexistent. Some people still need hotel rooms, and it's important to think about who they are. If your hotel is still operating, you can try to bring them to your hotel – even if you're shut at present, it's important to think about who's most likely to travel when the upturn begins.
Shannon Knapp, founder and director of SKnapp Consulting, says the data tells us it's corporate and small SME conference segments that show small green shoots. These aren't big conferences, they're small meetings, typically from businesses with a longer outlook who still need rooms because they're planning things a year or more in advance.
Meanwhile, the postpone, don't cancel movement has been relatively successful, according to Jessica Aslanian, with group bookings still holding up relatively well for the fall. But more than anything, hotels should focus on their domestic market – and even then, not simply the whole of the country, but specifically the potential guests within driving distance or your property.
Jessica highlighted Disney as a company who do this kind of targeting very well, for example by offering special Florida residents' packages for Walt Disney World Resort. Effectively, you should "draw a 100 mile radius around your hotel and focus on these customers, because they're going to become very important."
Respond: short-term actions you can take
Where you can, it's vital to mitigate losses. If you have a restaurant, shift your F&B offering to takeout and deliveries. If you're paying for services that you no longer use or need, talk to the providers and see if you can cancel or pause your payments.
It may be that you find yourself with some free time over the coming weeks, especially if your property is shut for the time being. This time can be a blessing. Use it to research and understand who to target when you do reopen. For instance, a Google survey revealed that of those who will travel in the next three months, 31% would only travel 20 miles from their home. Therefore, why not make a point of how convenient a location your property is – whether through updating your website or in a customer communication – and make it clear that you have space to park?
It's difficult to predict what will change in customer attitudes and expectations over the coming months, but one of the most likely areas is an increased awareness of cleanliness and safe distancing. One of the things you can do is ensure your guest contact points are as contact-free as possible. Online check-in and check-out can both remove the need for any kind of paper exchange, and restaurants could consider going cashless.
Now is the best time to implement any operational changes, simply because the logistics will be easier. Jos Schaap, CEO and Co-founder of Roomdex: "It's really important right now that hotels look at their service and how they operate. Now that they're closed they have a small crew, so when they reopen, applying new operational procedures that are more effective, automated and focused on safety and cleanliness are easier to implement now than they are a year or two down the road."
Assess your tech stack
If you do have the time, one of the best ways to use it is to take a proper look at the technology your hotel is using. Shannan Knapp stressed the importance of exploring what your property management system can do: "There are probably features and functionality in your booking engine and in your PMS that you might not have used in the past. There's probably just a functionality or licence that just needs to be turned on – maybe it's something you haven't used before but you need to now."
Jos Schaap continued this theme: "Look at your technology stack. A lot of hotels probably still have their technology solutions installed in a basement in their hotel, most likely not accessible now that they have to work from home. Now there's this beautiful thing called the cloud when you can have lots of servers available at your fingertips, basically at any given time. Use this opportunity to find something that's new and better to use.
One of the good things about cloud services is that they're usually inexpensive to acquire, because they have subscription fees in place of servers to buy and install – you don't need to spend thousands of dollars to get a new property management system or a new CRM or whatever it is you need to improve your operations. Also, vendors are also going through the same things as the rest of the industry, so they'll be very willing to work with hotels and give them free trial periods, or get some discounts for the coming months."
Recover: long-term actions and attitudes
One thing we do know is that as soon as travel restrictions are lifted, occupancy isn't going to magically return to what it was before the pandemic. Given this lower occupancy, it's important to look for tools and automation that will help you with maximizing the income from guests you do attract. In particular, explore tools and automation that help with upselling, like Oaky, or increasing ADR and revPAR.
You'll also need to think more carefully about who your guests are and what their expectations might be. Jessica points out that one way to do this is to take advantage of the personal relationships that you can develop with guest communications. Social media is a particularly powerful tool that can truly connect with guests to encourage loyalty and engagement.
Some outside of the box thinking could also put you in a good position to recover more quickly. This means finding and inventing new segments of customers that we haven't considered before, which allows you to market your hotel more effectively to these specific groups. Part of this marketing will need to reflect how you approach the reframing of hospitality in guests' minds: the ability to convey a real sense of hospitality while still promoting responsible distancing and safety measures.
If you're an independent or smaller hotel chain, the likelihood is that you really know your customers, much more than a huge chain ever could. Have confidence in your expertise and how to talk to them.
Finally, recovery can't just be about competing on price. In that game, no hotel wins. Instead, you need to create compelling offers that enhance your guest experience rather than undermine the integrity of it. It's easy to get trapped in the mindset of desperately trying to get back to the time of before the coronavirus, whatever the costs, but then you miss the opportunity to improve. Don't think about how to get back to how we were before: think about it as if you're starting from new. You may even come out of this with a stronger, more modern business.
Keep up to date with all the COVID-19 updates from Mews, including webinars and data dashboards, at our COVID-19 hub.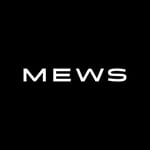 Hospitality hot takes straight to your inbox
Sign up to our monthly newsletter for industry insights, product news, partner updates and more.