The Mews Blog > Why hotels are so wasteful (and how they can stop)
From plastic straws to disposable coffee cups, the environmental concerns of the hospitality industry have made headlines in recent months, and for all the wrong reasons. Hotels continue to damage the environment courtesy of the usual culprits such as unnecessary packaging and energy usage as well as the waste that comes from the endless paper receipts, registration cards and invoices that reception desks keep churning out. With an abundance of technology available to help reduce waste, why don't more establishments explore biodegradable alternatives and more environmentally friendly digital processes?
If you'd like to make your property more eco-friendly, do yourself a favor and download the Green Hotel of the Future, our guide to sustainably hospitality.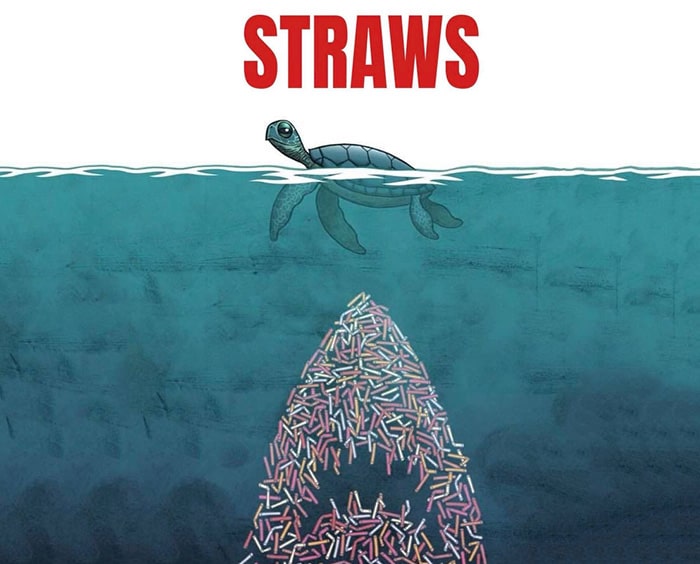 According to Deloitte's '2018 travel and hospitality industry outlook',
"Global travel industry gross bookings reached $1.6 trillion in 2017, making it one of the largest and fastest growing sectors in the world...travel and tourism now accounts for a staggering 10.2 percent of global GDP."

These numbers suggest travel-related companies, including hotels, are in an ideal position to take advantage of the emerging technologies that can make their operations not only less damaging to the environment, but also run with greater efficiency and offer a new level of convenience for their customers. Ultimately, many of the solutions only become possible for hoteliers if they operate with a PMS that can harness the innovation scattered across the world. That means using those property management platforms that are truly open (API) and cloud-based and that can easily plug in third party technologies with that all important ability to share hotel data two ways.
Packaging
Small changes in hotel operations can have a huge impact on the environment. Few guests would use freshly washed and dried towels and bed linen on a daily basis if they were at home, nor would they consume a tiny plastic bottle of shower gel on a daily basis – yet this is what many hotels still feel they must provide. Those miniature plastic bottles found in most hotel rooms often end up on a landfill site, or washed up on a beach.
Why are hotel owners and managers reluctant to make simple changes to their bathrooms that could significantly benefit the environment? Instead they hold on to traditional expressions of hospitality. This is likely due to a fear of their guests' needs and expectations being unmet. When it comes to toiletries, many customers have long associated hotels with luxury, indulgence and the accumulation of more than what is necessary. Series 9 episode 19 of the US TV comedy 'Friends' portrayed this commonly held attitude hilariously as character Ross Geller ensured he got his money's worth on a hotel stay:
"Hi, this is Ross Geller in suite 206, erm, I seem to have forgotten a couple of things, could you have some complimentary toiletries sent up to my room?"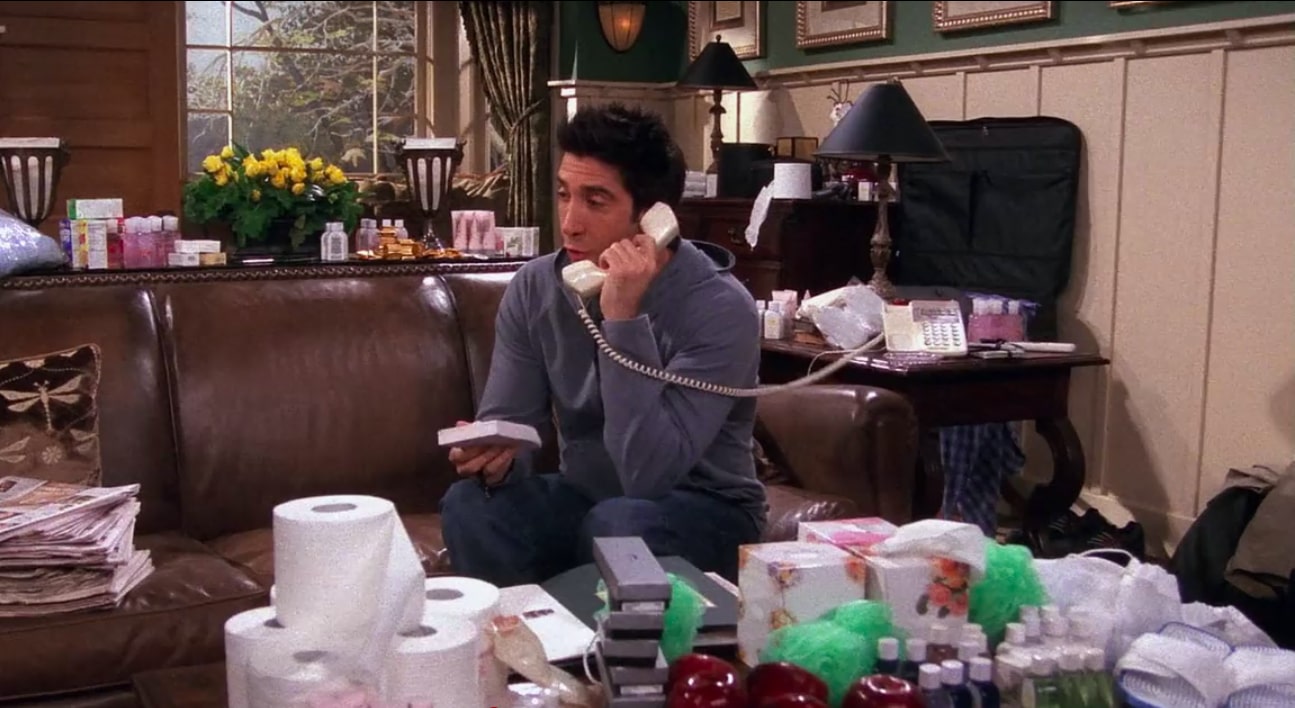 This was in the 1990s and few would have batted an eyelid at Ross' mountain of unnecessary toiletry bottles, tissue boxes and puff sponges, amongst other things. But times have changed, more of us travel now, and the environment suffers as a result.
Some progress has been made by hotels in their approach to plastics. Hilton Hotels recently promised a ban on plastic straws in its 650 managed properties by the end of 2018, as well as the removal of plastic water bottles from meetings and events in hotels across the EMEA region. Single-use toiletries are another faux pas - the wastage is shocking when you consider one can easily switch to decanting the finest lotions and soaps into handsome reusable containers in each room. Companies like Clean the World are leading the charge in hotel toiletry social responsibility and help behemoths like Hilton, Disney and IHG recycle wasted soaps by charging £1 per room per month. Whilst biodegradable straws on request and glass water bottles are a great start, hotels have many other opportunities to play their part in protecting the environment from continued harm, and it's here that technology can play a leading part.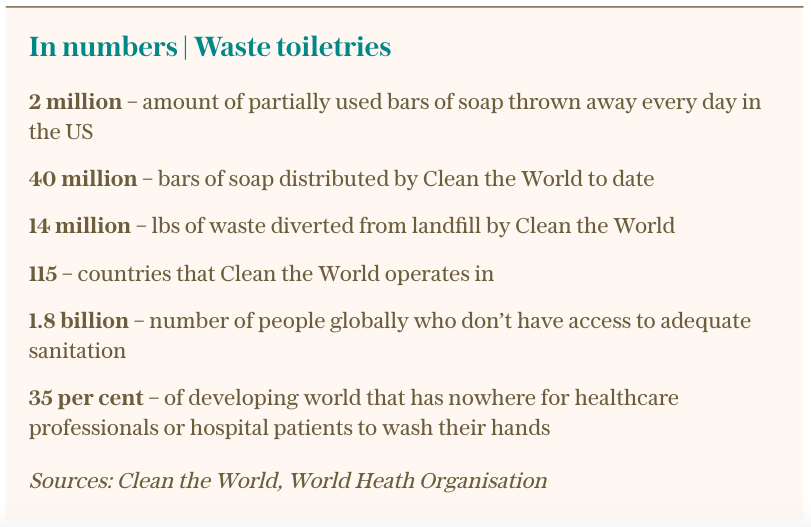 Energy
Laundry and housekeeping are huge energy sinks and outdated traditions about unnecessarily cleaning everything all the time may not be appropriate in an age of climate change and social responsibility. Some hoteliers have shown themselves to be particularly creative: the Teleport Hotel Amsterdam teamed up with innovative hotel upselling platform Oaky to reward tidy guests that stayed for more than 2 nights and didn't need their room cleaned with free pizza.
Smart technologies can more directly save energy by, for example, only switching on the AC once a room has been checked into. Or using smart algorithms that allocate rooms so that they are grouped on a single floor to save on under floor heating bills. All these become a reality with an open platform and cloud-based PMS that can easily plug into third party technologies.
For example, integrating your property management system with cloud controlled WiFi solution Cisco Meraki gives you the ability to intelligently track exactly where people are in your hotel using their MAC address. So, if a guest is by the pool, you can set a rule so that all lights are turned off in their room and even alert housekeeping to go in. Or when a guest is walking back to the room, you can turn their AC and lights back on. Those energy bills will start dropping immediately.
Zero waste
Many hotels now aim for zero waste, which is defined by the International Alliance for Zero Waste, a US Zero Waste Business Council, as:
"Zero Waste means designing and managing products and processes to systematically avoid and eliminate the volume and toxicity of waste and materials, conserve and recover all resources and not burn or bury them. Implementing Zero Waste will eliminate all discharges to land, water or air that are a threat to planetary, human, animal or plant health."

Circle D Corral in Disneyland Park ensures 99 percent of its waste is repurposed, composted and recycled. Through recycling paper, cardboard, plastics and metal, as well as composting animal waste, hand towels, laundry lint and coffee grounds from the resort and restaurants, as well as Disneyland Hotel, it has become the first location in a theme park to achieve zero waste.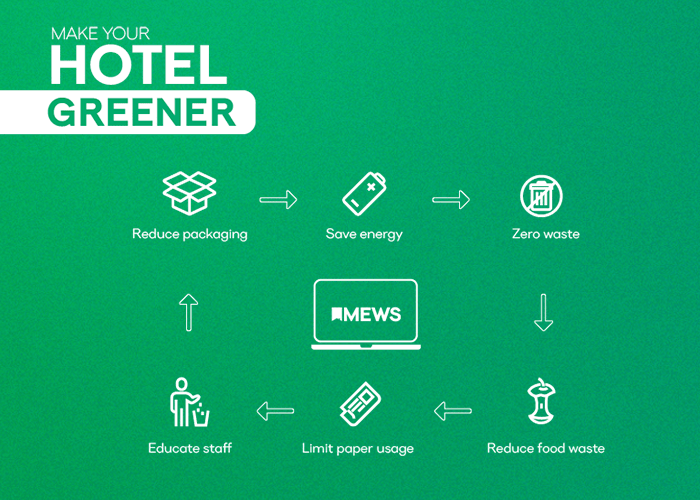 Food Waste
Food waste makes up over 50 percent of waste in the hospitality industry and in the U.S., more than $218 billion is spent on growing, processing, moving and discarding food that is never eaten. Many hotels have found innovative ways to deal with food waste. Fairmont Hotels and Resorts' Fairmont Jasper Park Lodge works with Twin Meadows Organics Farm, a sustainable and organic family farm that delivers local produce, to reduce its food waste. Fairmont staff send used vegetable oil back to the farm to fuel the delivery truck and on-farm generator, and other hotels have adopted practices such as planting food and producing animal feed from their food waste.
Paper waste
As recently as 2015 25% of hoteliers were still using pen and paper to manage their properties in the US. The waste this creates is staggering – the Radisson SAS Group averages just over three kilograms of unsorted waste per guest, per night, whereas the Scandic Hotels chain's average is just over half a kilogram of unsorted waste per guest, per night. Paper receipts, registration cards and invoices are the main offenders and they are ancient practices that are ripe for digitalization.
Yet, a white paper by SiteMinder and IDeaS Revenue Solutions found that hoteliers still fear a future where their properties are overrun by robots. Too many still believe their jobs will be taken over by AI and that their hard-earned hospitality skills will become completely redundant. Coupled with managing the expectations of their guests this can be a huge barrier to the adoption of more streamlined digital processes.

Those worries are misplaced - particularly as hospitality, by its nature, will always remain a most human of industries. Instead, quite the opposite is happening as the advances in technology are serving to allow hoteliers to focus on spending even more time with their guests and increasingly use those real hospitality skills, while only the menial and repetitive manual tasks get automated in the background by tech solutions like Mews.

Furthermore, different types of automation can be deployed to satisfy different types of guests with different anxieties. Business travellers might be more open to new technologies such as digital hotel locks, that give them a speedy check-in and check-out with little to no interaction with staff, but holidaymakers might be more likely to want bespoke tips and suggestions for things to do. Could less paper and more digital solutions accommodate both kinds of traveller? If hoteliers can put their fear of change aside, they will not only reduce waste through the use of digital documents, payment processes and receipts instead of everything being on paper, they can also save time and resources. Online check-in and fully automating online payments can drastically slash paper wastage while saving serious amounts of time and manpower. Forward thinking properties like Hotel2Stay in Amsterdam are a case in point.
Leveraging apps, tools and services that can easily plug into your PMS can also make a dent. Apps like Receipt Bank and Oaky can transform internal business processes with functions such as automated smart invoicing and instant mobile receipt scanning. Online check-in and out halts the need for paper registration cards and printed invoices that quickly make their way towards landfill sights.

That means using a 100% mobile and innovative cloud PMS solution that offers hotels the freedom to serve their guests from anywhere on their premises. Wherever you are, you should be able to manage your hotel's operations seamlessly, from any device, without the need to print anything for internal use and minimising the pieces of paper handed over to guests.
Training staff
Training can be another issue for hotels who want to adopt new technologies, not to mention all the waste that goes into compendiums and physical instruction manuals and staff education packs. Managers fear they lack the time and resources to get employees up to speed on how to effectively use new tools. And without the correct training tools and procedures, hoteliers risk damaging the guest relationship with insufficient staff knowledge and communications.
The Mews University presents a simple, easy way for every staff member to become masters of cutting-edge digital hotel management technology. The online platform is home to our one-day curriculum that can be completed at a time and pace convenient for the hotel employee. All courses only become available once staff have completed and passed a short exam, so managers have full insight into the training results and progress of their team members. Any gaps in knowledge can be caught and worked through before potential issues arise.
Looking Ahead
Many hotels take pride in luxury and tradition, they desire to meet expectations and fulfil the status quo, they could fear disappointing or confusing their customers, or even making their jobs obsolete, and they might worry about how well their staff will use digital tools to manage important processes and information.
All these concerns are reasonable and easy to understand, but with more and more people travelling year on year, something must give to cease the unnecessary destruction of our planet. Digital alternatives to printed customer documents and hotel admin, as well as more sustainable approaches to hospitality and the provision of a seemingly luxurious experience, must be sought out and put into practice. In the end, automation and technology will free hoteliers to focus even more on what matters - the guest experience.
Your guide to going green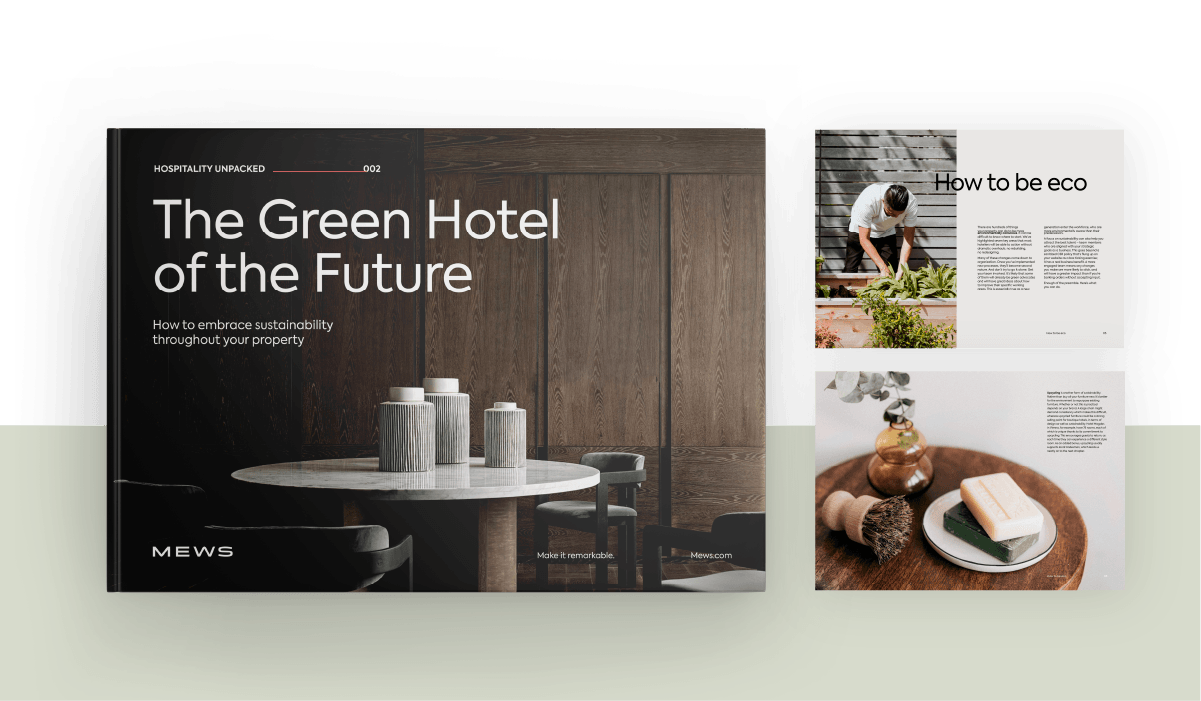 Sustainability should be at the heart of your property's operations, but it can be hard to know where to start. The Green Hotel of the Future will tell you how. Our guide will help you become more eco-conscious with practical advice and inspiration, which in turn should also help you cut costs.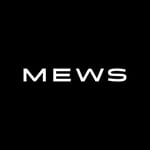 Hospitality hot takes straight to your inbox
Sign up to our monthly newsletter for industry insights, product news, partner updates and more.