The Mews Blog > How can hotel waste management be made more efficient?
Hotel waste management is an important topic, as handling resources effectively can positively influence revenue, and at the same time improve brand perception. Effectively managing waste is both good for time, money and for your hotel's resources. Plus, it's important that hotels live up to the legislation surrounding this topic, working with licensed contractors in order to ensure they are up to code.
In this article we'll look more closely at hotel waste management, what it is, why it's important and some best practices so that you can more effectively handle waste both economically-speaking and environmentally. Let's dive in.
What is hotel waste management?
Waste management in a hotel is the collection, transport, treatment and disposal of waste. Some of the techniques to get rid of waste are to put it into landfill, incinerate it, compact it, compost it and vermicompost. It is key for hotels to reduce and reuse waste as much as possible, and recycle what is possible to recycle. Hotels generate a large amount of waste and for that reason they must have a way to get rid of it efficiently and find a way to reduce costs as it can be expensive. Find out 12 ways for hotels to go green.
It is an important part of being environmentally responsible, and that hotels are taking care of waste without polluting the atmosphere, soil or water. Trash must be hygienically, efficiently and properly collected, transported and treated in order for hotels to live up to their social responsibility. With the Covid-19 pandemic, some of the best practices have been forgone in order to ensure safety and protection from the virus so coming out of the pandemic, it's important for hotels to re-address how they can best get rid of waste while keeping guests safe.
Why is hotel waste management important?
"Global travel industry gross bookings reached $1.6 trillion in 2017, making it one of the largest and fastest growing sectors in the world...travel and tourism now accounts for a staggering 10.2 percent of global GDP."
These numbers suggest travel-related companies, including hotels, are in an ideal position to take advantage of the emerging technologies that can make their operations not only less damaging to the environment, but also run with greater efficiency and offer a new level of convenience for their customers. This is why it's so important for hotels to have an action place in place to better manage their waste.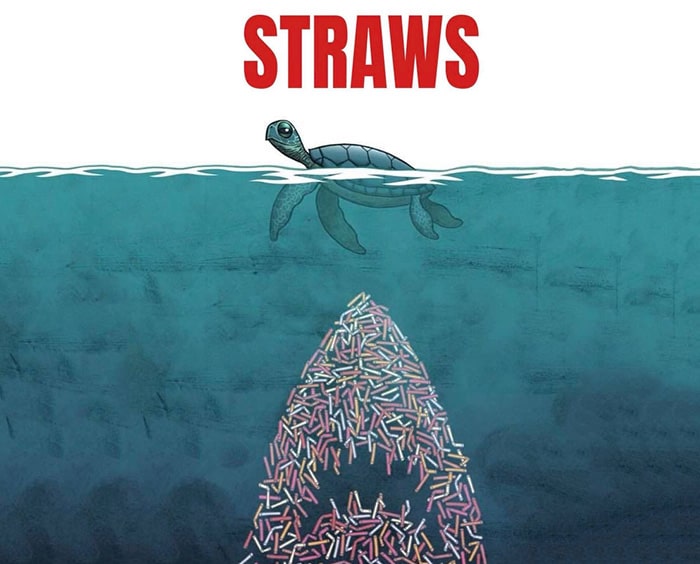 The 6 best practices for hotel waste management
Hotels continue to damage the environment courtesy of the usual culprits, including disposable coffee cups, plastic straws, individually wrapped amenities, endless paper receipts, registration cards and invoices that reception desks keep churning out. Hotels without a doubt generate a lot of waste, in addition to wasting water and electricity so it's important to have it under control with a plan of action and best practices in mind. Let 's take a look.
1. Packaging
Hotels generate a huge amount of packaging, from single-use plastic amenities that are thrown out regularly, to cleaning and washing supplies, to plastic water bottles, all of which easily end up in a landfill site. When it comes to toiletries, many customers have long associated hotels with luxury, indulgence and the accumulation of more than what is necessary. Small changes in hotel operations can have a huge impact on the environment.
Some simple ways to reduce packaging are eliminating plastic straws, single-use toiletries, and offering refillable branded water bottles. Not only are refillable water bottles a great way to indirectly promote your brand, but it also sends a positive message to your guests that you care about the environment. Find out more sustainability practices in hotels.
2. Energy
Laundry and housekeeping are huge energy sinks, and outdated traditions about unnecessarily cleaning everything all the time may not be appropriate in an age of climate change and social responsibility. Smart technologies can more directly save energy by, for example, only switching on the AC once a room has been checked into. Or using smart algorithms that allocate rooms so that they are grouped on a single floor to save on under floor heating bills. All these become a reality with an open platform and cloud-based PMS that can easily plug into third party technologies.
3. Zero waste
There is something about going away from one's habitual environment that tends to make people less environmentally aware. Would you really wash your towels and bed linens daily if you were home, or throw out a tiny bottle of shampoo after one use? This is why it's a modern hotelier's job to work towards zero waste, only washing linens and towels when fully necessary, and replacing individual amenities with refillable bottles.
Implementing composting in the kitchen and recycling paper, cardboard, plastic and metal, as well as composting hand towels, coffee grounds and using compostable cups is key to becoming zero waste at your facilities.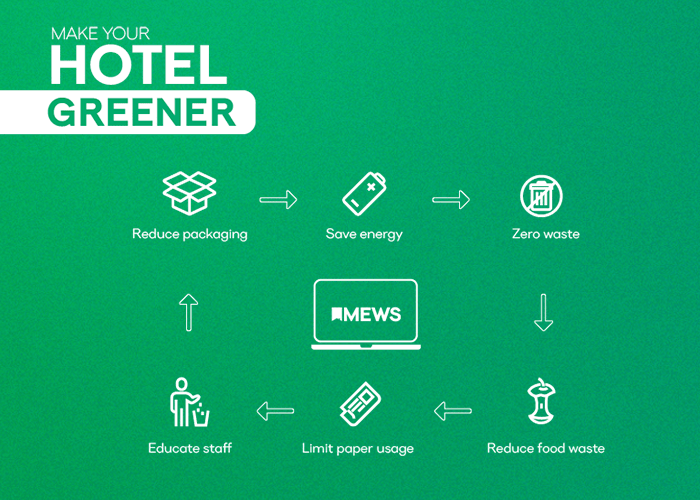 4. Food waste
Food waste makes up over 50 percent of waste in the hospitality industry and in the U.S., more than $218 billion is spent on growing, processing, moving and discarding food that is never eaten. Many hotels have found innovative ways to deal with food waste. Fairmont Hotels and Resorts' Fairmont Jasper Park Lodge works with Twin Meadows Organics Farm, a sustainable and organic family farm that delivers local produce, to reduce its food waste. Fairmont staff send used vegetable oil back to the farm to fuel the delivery truck and on-farm generator, and other hotels have adopted practices such as planting food and producing animal feed from their food waste.
5. Paper waste
As recently as 2015 25% of hoteliers were still using pen and paper to manage their properties in the US. Paper receipts, registration cards and invoices are the main offenders, and they are ancient practices that are ripe for digitalization. Advances in technology can allow hoteliers to focus on spending even more time with their guests and increasingly use those real hospitality skills, while only the menial and repetitive manual tasks get automated in the background by tech solutions like Mews. This means cutting down on unnecessary paper use, and going digital whenever possible.
6. Training staff
Training staff is key to better being able to communicate and understand the best practices surrounding waste. With tools like the Mews University, hoteliers have access to a simple, easy way for every staff member to become masters of cutting-edge digital hotel management technology that will ultimately help automate energy-saving features with the help of a range of integrations, so you can manage things like turning off electricity when people are not using certain areas of your facilities, and at the same time help cut down on paper by digitizing processes.
Conclusion
Proper waste management in hotels is an important part of being more sustainable, reducing costs and living up to a hotel's moral responsibility to respect the environment. This is why sustainability must be at the core of your property's operations. With more and more people traveling year after year, something must be done to cease the unnecessary destruction of our planet.
Digital alternatives to printed customer documents and hotel admin, as well as more sustainable approaches to hospitality and the provision of a seemingly luxurious experience, must be sought out and put into practice. In the end, automation and technology will free hoteliers to focus even more on what matters - the guest experience.
Your guide to going green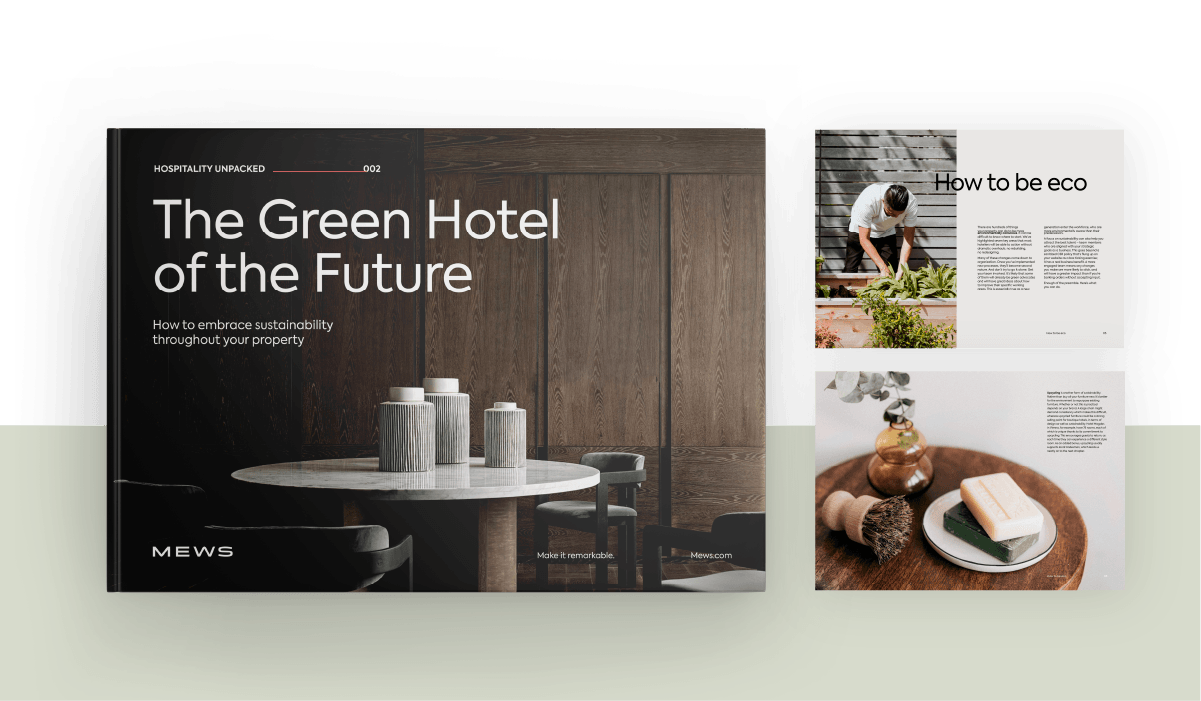 Sustainability should be at the heart of your property's operations, but it can be hard to know where to start. The Green Hotel of the Future will tell you how. Our guide will help you become more eco-conscious with practical advice and inspiration, which in turn should also help you cut costs.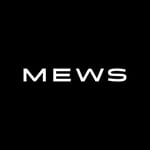 Hospitality hot takes straight to your inbox
Sign up to our monthly newsletter for industry insights, product news, partner updates and more.