The Mews Blog > Hospitality Trends to Watch in 2019
2019 is upon us and trend reports are saying that a personalised experience is no longer enough. Today's hotel guests want a hyper-personalised experience. In terms of innovation, noticeable emphasis will be placed on the "T" word (technology) this year, with a real drive towards immersion and employee-focused technology.
Guest experience and automation remain the name of the game. Expect to see hoteliers using even more immersive and interactive technology solutions, as they strive to bring increased value to their businesses and differentiate themselves from competitors by offering guests more memorable and frictionless (the evolution of "personalised") experiences than ever before.
So, allow us to serve up an overview of the tastiest trends looking set to influence and shape the hospitality industry this year...
---
TECH
Robots and physical bots
The IoT made sizeable waves in the hospitality industry last year, and in 2019 robotics is going to steal the show in an ever bigger way. Botlers (robotic butlers) are already being used to perform simple jobs (e.g. greeting arriving guests, storing luggage, taking guest selfies, delivering food and laundry to rooms), and in doing so are freeing up hotel staff to carry out more complex tasks, offering more on-site guest interaction, and creating a futuristic "wow factor".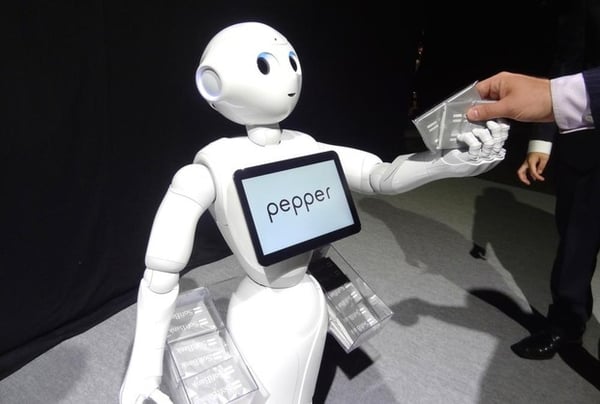 Service robots use radar technology to move through crowds of people in busy lobbies, and a combination of sensors and WiFi-4G connectivity to communicate with the hotel and elevator software. Although they can't actually talk they're undeniably great conversation starters, and most can communicate with guests in a variety of languages and dialects via an interactive touchscreen.
If you're wondering where bots come from, a KONE-Savioke collaboration and companies such as Alibaba A.I. Labs have taken the lead in making them a reality. Hotel Andromeda in Ostend has Pepper the robot on duty to perform concierge duties in a variety of languages, Marriott has one named Mario, Hilton has Connie the concierge, and InterContinental uses Dash to transport items between guests and staff. The YOTEL group and Autograph Collection's Hotel EMC2 are also big robot users.
More hotels are generating revenue from robots by charging a delivery fee for items they never would have delivered before.
Hefty criticism that robots are being used to replace human employees has been counterbalanced by praise for the significant labour efficiencies, improved social rankings and revolutionised customer service experience noticed in robot-staffed properties. They can be worked harder than humans (no chance of your robot falling ill or suffering from exhaustion and having to take time off), and increase a hotel's brand visibility in a fun and unique way.
Alibaba's robo-porter, Space Egg, is designed to ferry items around hotels
Such technical genius comes at a price though, and the cost is a huge barrier for many hoteliers. At the end of the day robots are machines (albeit very clever ones!), and there is also a risk of technical hitches occurring and data being hacked.
---
Biometrics
In 2018 it became totally normal (and let's be honest, pretty cool) to unlock one's phone using facial recognition tech. This year, expect to see biometric technologies carving out a firm niche for themselves in the hotel industry, in a bid to take personalisation to new heights, automate billing processes and improve staff management.
Biometric identifiers (e.g. retina scanning and facial or fingerprint recognition) are already proving to be key players in the creation of a more frictionless guest experience, by reducing wait times at check-in and improving operational efficiencies. Think: slick room access using fingerprints, seamless check-in via facial recognition using the Mews Passport Scanner (Northern Lights Village in Lapland is one of the many hotels already using and loving it), and automated payments using the Mews Merchant (Hotel2Stay in Amsterdam loves how much time and manpower they've saved since switching).
High-quality face recognition can also detect emotion, allowing hotels to identify and monitor guests who aren't happy with their stay experience, and take the appropriate measures to rectify problems.
It's not just about guest data though. Such technology can be used on hotel staff too, as demonstrated by UK hotel group Yotel, in the form of biometric clocking-in systems. Expect to see old fashioned paper time-sheets being replaced by fingerprint terminals which provide accurate real-time staff attendance data for HR and payroll teams, eliminate the risk of manual entry errors, and make it easy to generate meaningful management reports.
---
Open APIs
It's safe to say that open-source technology is here to stay, and in 2019 savvy hoteliers will be busy future-proofing themselves by embracing the concept of an open-source backbone as they bring on board new tech.
An API (Application Programming Interface) is the digital equivalent to glue, which connects different technologies so that they can work together. The beauty of an open API is that it allows for synchronisation with multiple technologies (all at the same time) from within the ever-expanding range of systems used within the hospitality industry.
Open API cloud-based property management systems such as Mews offer huge potential, allowing hotels to have lots of tech partners via which to explore limitless customisation possibilities involving multiple integrations. They also make it much easier to roll out targeted marketing initiatives and deliver highly-personalised guest experiences.
Holistic property management is what it's all about at the moment, and integrations such as those available in the Mews Marketplace are even hotter news than ever before. Unsurprisingly, the utility of open systems is therefore expected to soar this year!
---
Augmented reality (AR) and virtual reality (VR)
These two are quite literally going to be everywhere we look in 2019! Firstly, what's the difference? AR enhances our physical world surroundings by adding layers of digital or graphical components into reality (typically accessed via mobile apps) whereas VR replaces the real-world environment with a virtual one (accessed via wearable technology such as a VR headset).
Expect to see both being used in 2019 to add value, engage guests, and enhance every aspect of the stay experience...with limitless potential. AR and VR technologies will help make far-flung or unusual destinations less daunting, by allowing travellers to go on virtual tours and apply a try-before-you-buy approach.
Brands are betting that VR taste tests will translate into actually spending on R & R.
AR (often touted as the practical sister of VR) is the more accessible of the two, and is predicted to make the headlines this year as a powerful new marketing and personalisation tool. Examples already being tested by some of the big hotel chains include:
> integrating AR features into their existing native app, to boost the app's usage before a guest even arrives
> AR-compatible wall maps in rooms, where guests can point their phone at the map and find out information about specific locations near the hotel
> using AR to enhance printed marketing materials and turn brochures into interactive and immersive experiences
Hoteliers adventurous enough to adopt VR technology will be able to transport prospective (and existing) guests directly to a digitally created virtual environment, offering them the possibility to view and explore 3D models of individual rooms or take an immersive 360° virtual tour to better visualise the layout of the hotel, or explore amenities such as restaurants, pools and spas.
The sheer versatility of VR means that it can be used everywhere, from the booking stage of the customer journey through to the stay itself, and word has it that when used during both stages, VR experiences can increase brand loyalty and generate more repeat customers.
Marriott International was an early embracer of VR technology, launching "VRoom Service" (a first-of-its-kind guest service that allows guests to order inspiring virtual reality experiences to their rooms) and an equally futuristic virtual travel content platform, "VR Postcards", all the way back in 2015. We look forward to seeing more of this level of innovation in 2019!
---
Smart(er) rooms
With the IoT having made smart hotel rooms a global reality in 2018, the pressure is already on the hospitality industry to propose even smarter rooms! Travellers now take the option of being able to check in online and make mobile payments for granted, and expect to find Alexa waiting for them in their hotel room when they arrive.
The trend is therefore this year looking likely to shift rapidly towards the "norm" being for in-room technology to have already prepared the environment according to pre-set preferences for the lights, music, temperature and TV settings.
Streaming products such as STAYCAST powered by Google Chromecast are also going to be on every hotelier's wishlist, to help satisfy guests' ever-increasing desire to consume video via their in-room TV in the same way that they do in their own home.
The industry also predicts that the use of voice assistance technology and AI will be ramped up in 2019, so as to offer guests AI-powered concierge services which are infinitely more personable than chatbots, and propose options such as texting the reception (rather than calling), taxing booking and itinerary planning. This discreet approach sits nicely in-line with the growing preference for a less intrusive guest experience.
As well as boasting a certain cool-factor, AI-powered bots offer the dual benefit of being able to lighten the workload of hotel staff, whilst simultaneously offering guests the kind of private and personalised service that is going to become a requirement in 2019. Win win…!
---
And because it's not just about the T-word…
GUEST EXPERIENCE
24/7 communication
The new wave of chatbots and messaging tech that we're going to see sweeping into hospitality in 2019 is looking set to push communication to dizzying new heights of efficiency. The emphasis is already on "fast, easy and convenient", and that's only going to intensify as the year rolls on. Constant contact is what it's all about. You read it here first!
Robotic concierges will be communicating with guests in their mother tongue, and SMS messaging will become the favoured (and most practical) channel for quick two-way exchanges of information at any time or place. Expect to see round-the-clock interaction between guests and hotels, with increasing guest expectations for instant replies to their requests as the messaging landscape changes.
Slick and efficient chatbots can send guests instant answers 24/7 (and in doing so, lighten the reception's workload), and such proactive communication services create brand loyalty and improve guest satisfaction. Messages from chatbots are also much less invasive than traditional email marketing (which is often ignored), and are proving to be valuable tools for generating accurate guest data that can be used to further customise the stay experience.
As well as being accurate, guest data must today be monitored and protected by hotels with more precision than ever before. Data breaches such as the Marriott incident in November 2018 (during which the personal information and credit card details of as more than 300 million guests worldwide were accessed by an unauthorised party) highlight how crucial it is for hotels to devote the resources necessary to put in place rock solid cyber-security measures.
With this in mind, Mews has partnered with Microsoft Azure (a highly secure, flexible, open cloud-based computing platform), to offer our users the latest security, privacy and compliance features, and help them move away from antiquated on-promise solutions which are much easier to hack. In this era of GDPR, our savvy virtual concierge is a strong example of a guest-facing platform which gives them full control over the information that they choose to share, and allows them to directly manage their own profiles.
Credit card tokenisation (which replaces sensitive payment data with a unique token generated by complex algorithms which cannot be decoded or copied) has emerged as one of the strongest solutions for hoteliers keen to protect their guests and avoid data breaches.
So what does this mean? Simply put: secure online payments via the cloud are the future! This is why Mews has partnered with hotel payment processing platforms Adyen and Stripe, so as to avoid handling guests' credit cards (something which almost every other PMS does) and bypass the ever-present threat of hacks and data theft.
---
Social media
The social media landscape will (unsurprisingly) continue to be a hotbed for new trends and tools this year, and we can expect to see digitally-engaged hoteliers leveraging their social media channels with even more energy and precision than ever before. This kind of communication is perceived to be more natural than email or website-based messaging.
"Instagrammability" has become a key factor for travellers when choosing their next destination, and in 2019 we'll notice more and more hotels physically creating eye-catching Instagrammable scenes around their property to encourage guests to take Insta-worthy photos or videos.
Indicators suggest that both hotels and travellers will increase their use of social media channels as search engines over the coming months; hotels to check out the competition and see what guests are saying about them, and travellers to look for desirable hotels in their chosen destination.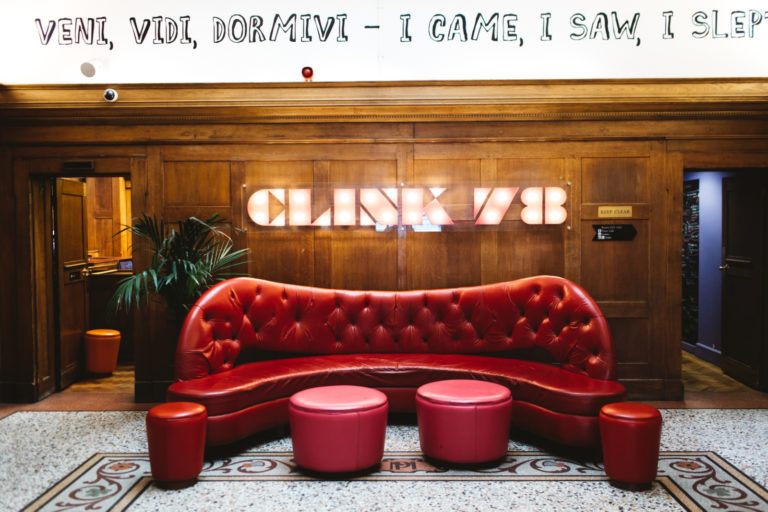 The emphasis this year will also be on storytelling, with another interesting new trend amongst hotel resorts being to organise cultural excursions to nearby places of interest. The aim? To interact with guests in a natural way, and offer them a variety of original, story-based, social media content opportunities which they can instantly publish and share with the world via their mobile devices.
These kind of initiatives are sure-fire ways in which hotels can engage influential millennial travellers, boost their online presence, create vital SEO content and reinforce strong relationships with loyal guests. Snap, tag, post, like and repeat..!
---
AI-driven direct bookings
Good news: the impact of all of the above trends on direct bookings in 2019 is going to be a positive one!
Mobile-friendly websites with integrated chat platforms are rapidly becoming a must-have tool for all hotels. They're vital for enhancing guest engagement and make it both easy and financially advantageous to book directly through the hotel website.
Increased use of AI and mobile is already driving a positive shift in booking habits and guest behaviour, and in 2019 we're also going to see social media being used to drive direct bookings. By enabling direct bookings within their social media environment hotels can respond to the growing desire for seamless experiences and make it possible for guests to book effortlessly, without even having to go onto the hotel's website! This approach also allows hotels to reach a wider audience.
As the intensity with which hotels run campaigns designed to drive direct bookings increases, they're going to have to be savvier about how they reach the guests they specifically want to attract. With this in mind, in 2018 Mews partnered with Microsoft and rolled out PowerBI, a groundbreaking business analytics solution. It's designed to offer hoteliers deeper insights in booking trends, guests' ages, sex, preferences, etc. Once they've got such hotel data analytics at their fingertips they can use it to create super-specific, targeted campaigns which will generate a better return on investment. Powerful stuff!
Loyalty programs are going to play more and more of an integral role in driving repeat and direct bookings for independent hotels this year. They'll be going about it in creative ways too, mixing experiential (VIP event access, money-can't-buy experiences, concert tickets etc.) and transactional (points, special member rates, cash-back etc.) benefits, so as to capture a maximum share of direct bookings.
---
FOMO?
If you're serious about being one step ahead of the game in 2019, here's what to get your teeth into:
Drones
They're not new, but they're not yet regularly making headlines within the hospitality industry. This is going to change though...and probably sooner than we think! A few of the early adopters have set the tone with some very cool usage:
Lifeguard drone
Seadust Cancun last year became the first resort in Cancun to purchase and establish a lifeguard drone so as to offer emergency floating services to swimmers in need. Their choice? A self-propelled, remote-controlled U SAFE® drone from innovative Portuguese company NORAS Performance. It has its own navigation system, can work in any position (in even the toughest of weather conditions), and saves lives without endangering the lives of those who save. A great use of technology!
Aerial photography / videography
A less 'extreme' type of usage, but equally as valuable. Drones are proving to be incredibly useful tools for creating innovative (they can fit into small spaces and get valuable close-up shots from unusual angles) and affordable (much cheaper than the cost of using helicopters!) aerial and video content which makes great marketing material.
Drone videos are a new arsenal that travel marketers should be looking at seriously now, while the novelty wow factor lasts.
Video content is today considered to be the most compelling and engaging visual medium, and drones have huge potential to take hospitality videos to new heights in 2019. Quite literally!
---
Infrared scanners
In line with the emphasis being placed on frictionless experiences this year, 'Do Not Disturb' signs are going to be given something of a makeover.
Gone are the days of unexpected interruptions by housekeeping. Hallelujah! For enhanced guest privacy, infrared scanners are being used to detect body heat within a room, and show whether it's vacant or not.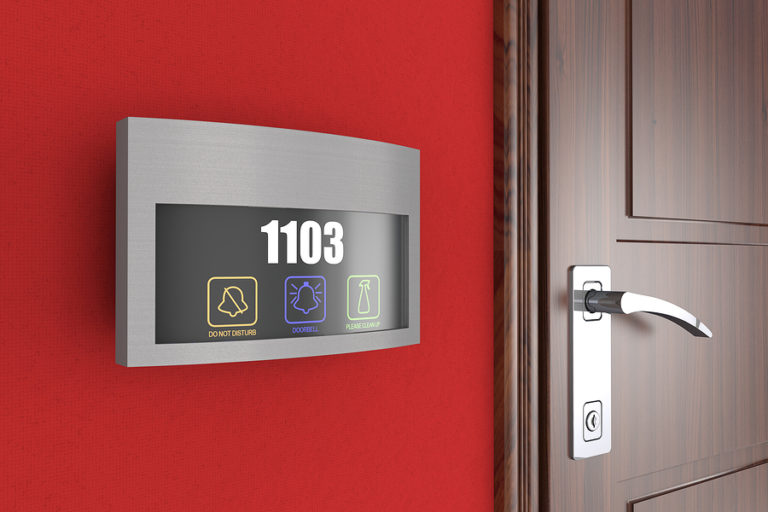 Hotel 1000 in Seattle is one of the major trendsetters in such advanced technology, calling their version a "silent electric doorbell". If unsure whether a room is occupied, staff can press a silent doorbell which triggers an in-room infrared signal to scan the room. If it detects movement, an electronic "Do Not Disturb" sign appears on a door panel.
With more and more hotels today investing in smart rooms, this is the next logical step in using tech to create a round-the-clock seamless guest experience.
---
IS IT A BIRD? IS IT A PLANE?
No. It's a hotel suite housed within a self-driving vehicle. Yes, you did just read that right!
Mews is all about driving innovation into the future and colouring outside the lines, so we'd like to share with you this cutting edge idea which integrates hospitality and transportation in a never-seen-before way.
This impressively futuristic travel suite is the creation of Toronto-based design studio aprilli, and provides both a new way of travelling and an extension of the conventional hotel experience as we know it.
The concept integrates transportation and hospitality though a driver-less, mobile suite which acts as both a personal rental vehicle and a hotel room, and offers door-to-door transportation service. Inside are double beds, shower rooms, and working units which let guests use their travel time more efficiently and productively. Oh and it also boasts a retractable roof allowing room service to be dropped off by drone.
It's a platform hosting new technologies and hospitality services that can make travel more convenient and meaningful.
Unsurprisingly, The Autonomous Travel Suite was the winner of the Radical Innovation Award 2018. Physical beauty aside, the fusion of future technologies including artificial intelligence, robotics and drones is very much intentional. Flexibility and mobility are the end goal. The all-in-one convenience is designed to save travellers time and money (compared to the separate costs of taking a flight, hiring a car and paying for a hotel).
Radical? Yes. Unrealistic? Absolutely not. In our opinion it's a case of "watch this space…"!
---

Hospitality hot takes straight to your inbox
Sign up to our monthly newsletter for industry insights, product news, partner updates and more.