The Mews Blog > Our 2020 in numbers | Mews year in review
2020 isn't likely to go down as one of our favourite numbers. It's been a difficult year for everyone in hospitality, but despite the hardships we've still had a busy 12 months. We delved into our own data from across the business and spoke to some of our leadership team to take stock and review what's been a transformative year for Mews.
Despite the impact of COVID-19, there were plenty of forward-thinking hoteliers who made the move to Mews. Some deals were already planned, while others saw closures and low occupancy as the ideal time to change their property management system. In total, we welcomed over 600 new properties to Mews, an average of 50 per month.
Even more impressive is that 85% of 2020's implementations were performed entirely online. From March onwards, the number rises to 100% – that's over 500 properties all successfully onboarded remotely. The aim is to get properties live within just 30 days, and the fastest onboarding took only 14 days from when the property gained access to the Mews system to the moment they went live. Massive kudos to our Implementations Team – here's how our online implementation works.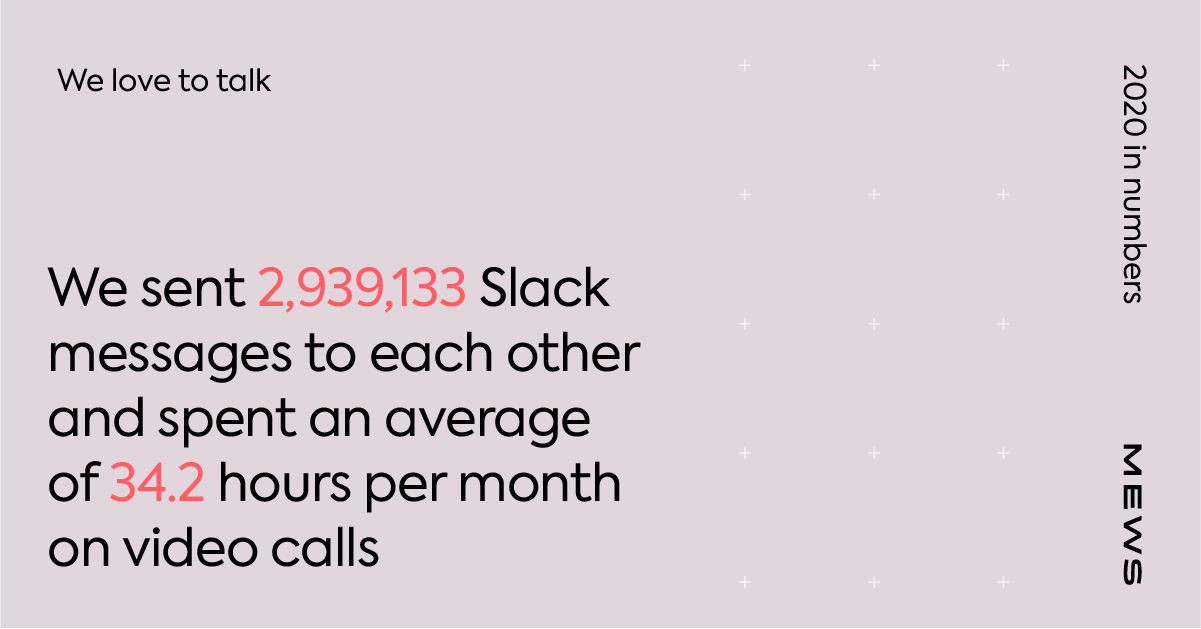 We're a very sociable bunch at Mews. Slack is our number one channel for internal communication, and we sent a staggering 2,939,133 messages to each other over the last 12 months. Thankfully we don't yet have a way of tracking what percentage of these were gifs and memes.
The number is undoubtedly higher because we've spent much of the year working from home, which also explains the huge rise in video calls. Every Mews employee spends an average of 34.2 hours per month talking face to face online. If you add up all of those hours, it makes a total of 4,400 days of back-to-back calls, or just over 12 years.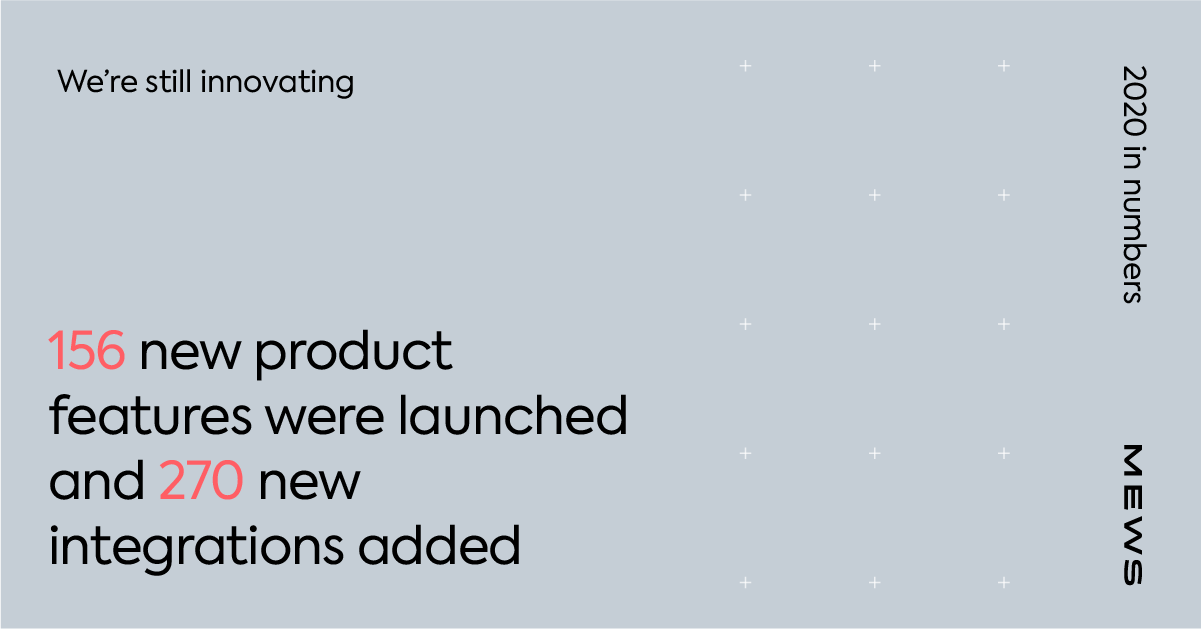 One of the great benefits of open, cloud-based hospitality systems is that you can make improvements without the need to install new hardware or software on-premises. This means that the impressive list of 156 new product features developed by our product teams could be enjoyed by Mews hoteliers around the world as soon as we released them.
As well as improving our own product, we also welcomed more and more hospitality tech integration partners to Mews Marketplace. We more than doubled the available integrations on our app store, adding 270 new solutions to increase our total to over 450 of the industry's best tools.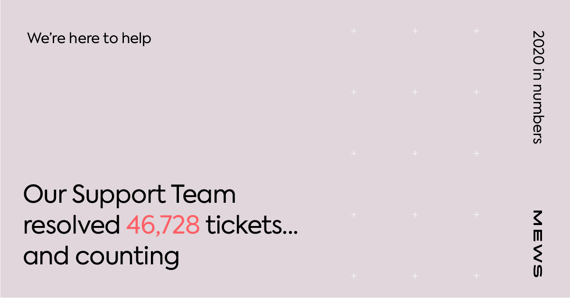 We've always been proud of the support we provide, and our Customer Support team hit it out of the park this year, resolving in excess of 46,728 support tickets. This was at the same time as implementing new tools, introducing new support packages, and adapting to the challenges of problem solving from home.
The team also expanded our Help Center so that it now holds a remarkable 619 articles – more than 200 of which were added this year. This knowledge base is an invaluable resource for all Mews users as it provides the information to learn and understand how the Mews ecosystem works.
Bonus numbers
1: acquisition made this year, with the purchase of Base7booking
1: rebrand, so we're looking better than ever
3: awards won (no big deal), winning Best PMS at the 2020 HotelTechAwards
22: nationalities represented by the Mews team
24: public talks given by the Tech team
62: countries with Mews properties
75: pets part of the Mews family (and the number is always rising)
18,137: unique page views on the Mews Developers blog
81,382: views on the Mews blog
350,000: files saved in the Mews MS Office environment
556,125: emails sent
Our year in words
As well as looking into our data, we also asked some of the Mews leadership team for three words that sum up 2020. One of the strongest recurring themes was resilience, which is a tribute to the entire Mews team – employees, partners and hoteliers – for their determination to keep transforming hospitality for the better.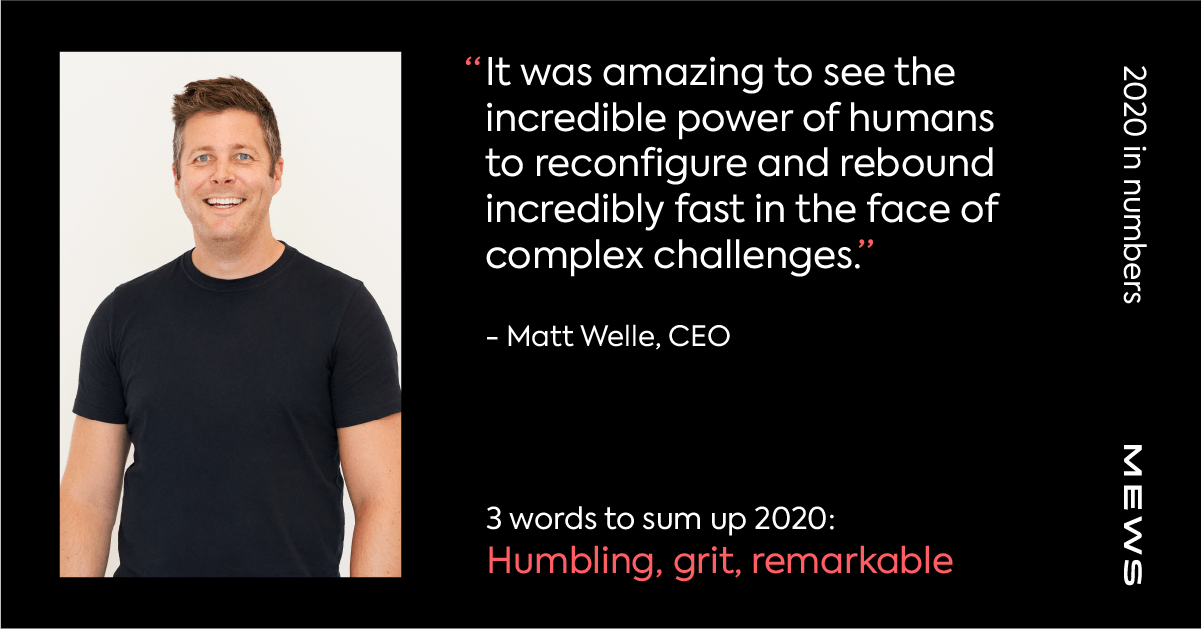 Pavla Munzarova, Mews CFO, chose a similar three words: unpredictability, transformation, resilience. Resilience was definitely required for Pavla and her team this year, spending over 600 cumulative hours on financial planning to ensure Mews remains in a strong position, whatever the surprises and unpredictable transformations of the coming months and years.
Honza Široký, CTO, captured the feeling of 2020 for many of us with his more poetic answer, riding the storm, while Jirka Helmich, CPO, was more literal with his three words: tons of releases. An understandable answer when you're leading the product teams and overseeing the launch of 156 feature releases.
Pace, process and prioritize were the three words that CCO Greg Naidoo chose. "Everyone's pace for 2020 may have been stumbled by COVID, but we learned how to prioritize and rebuild quickly to maintain whatever success still remains, staying level-headed and focusing on what's important now."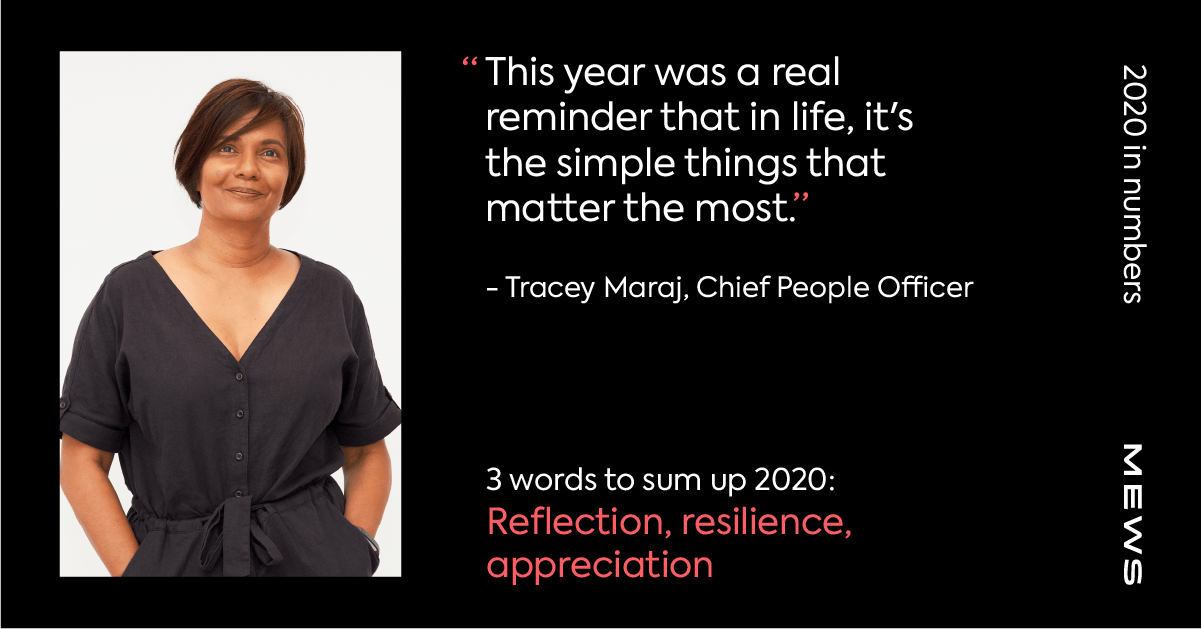 Tracy's final thought is a good place to leave the year, a reminder to appreciate the things that matter most to us – well she is head of the People Team, after all. Whether these simple things are the smile of a happy guest, conversations over coffee with your colleagues, or extra time at home with your family, we hope you all managed to find some time for them in a year like no other.
Here's to making 2021 remarkable.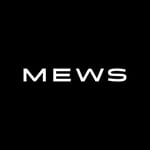 Hospitality hot takes straight to your inbox
Sign up to our monthly newsletter for industry insights, product news, partner updates and more.