It was the same when timeshares and boutique hotels came up… First, barely anyone paid attention, then they got more popular and hoteliers started joking and complaining about them. As Airbnb's growth went through the roof, the industry's sentiments towards the home rental site went through similar stages.
As it looks now, Airbnb is here to stay, so griping about it and waiting for it to go away isn't the answer.
But why exactly do many travellers prefer the home sharing provider over traditional hotels? Let's consider what there is to learn from Airbnb's comet-like growth...
Let's start with a look at Airbnb's evolution…
---
The emergence of AirBnB
Everything started in 2008 when three friends Brian Chesky, Joe Gebbia and Nathan Blecharczyk rented out sofa beds in their San Francisco apartment for some extra cash. The simple idea soon turned into a home sharing business which let people rent out a spare room in their house or even their entire home while they were away.
The concept's popularity quickly grew since travellers loved the idea of staying in a local neighbourhood, connecting with their hosts and feeling like part of the community they were visiting.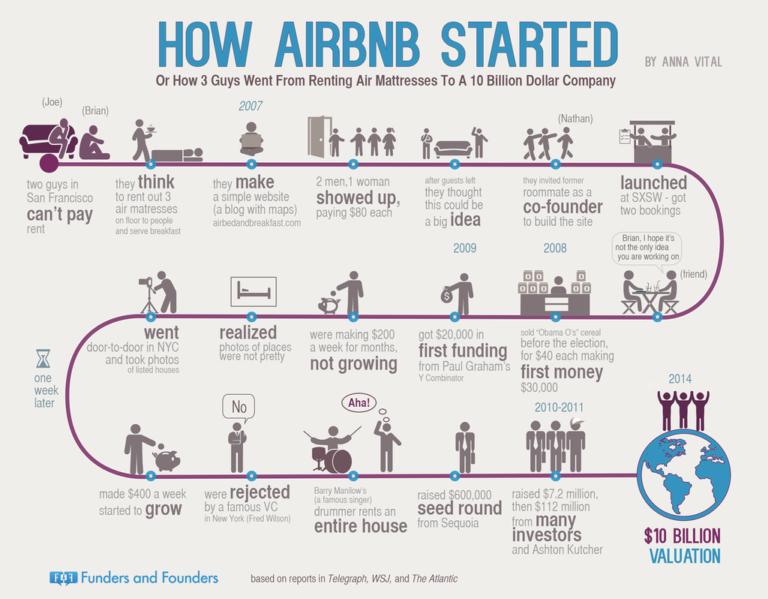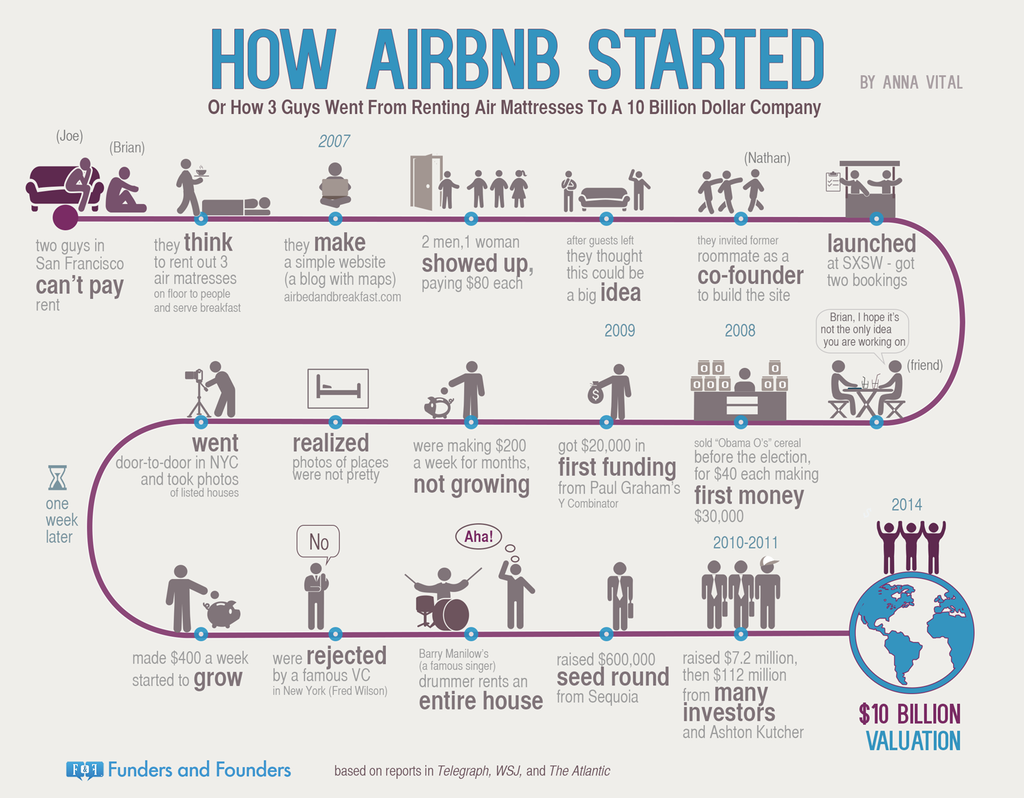 In only eleven years Airbnb went from being a living room project to a global business valued at $30 billion and set to go public this year or next. Today it's present in 65,000 cities in 191 countries and has over 3,000,000 + listings. This means it offers more beds than the top three international hotel chains combined. While Airbnb began as a disruptor to the hotel industry, its recent acquisition of HotelsTonight and Luxury Retreats brings it closer to traditional players and cements its spot in the industry. This inspired Expedia to acquire HomeAway to both get a piece of the home rental pie and better compete with Airbnb.
On top of that, the company is steadily expanding its service offering. First came the option to book experiences, now Airbnb Plus highlights properties whose quality has been verified by Airbnb staff and Airbnb for Work has started catering to the lucrative business travel segment. With more add-on services in the pipeline, their goal of becoming an end-to-end travel provider which offers everything from room bookings and tours to local guides and other travel agent services seems well within reach.
---
What hotels can learn from AirBnB
A Phocuswright study found that Airbnb gets 3x more repeat bookings than hotels and 5x more than major OTAs. If that sounds enviable, that's because it is.
Also, 60% of people who have booked with Airbnb or similar sites in the past prefer home rentals over hotels for future bookings. To get results like that, Airbnb must be doing something right.
Here it is in a nutshell: Airbnb focuses on offering value in every destination. Hotels on the other hand mostly harp on rates and discounts which is not the way to get people to buy today.
So then, what is?
Let's have a look.
---
1. Ditch generic for different
Many people stay at home rentals because they want something unique instead of a cookie-cutter hotel room. Airbnb can offer that because every apartment and home on the site is different. This gives the platform the advantage of reaching and appealing to a very wide target market.
This doesn't mean hotels need to undergo a complete renovation to make every room different to appeal to every type of traveller (although it could be an interesting idea). Instead, hotels need to focus on and advertise their key value offering.
What sets the property apart? Is it the style, the location, the cool dining venues or the wellness offering? A great example is IHG's new Even Hotels brand. Targeted at travellers wanting to stay fit and healthy while on the road, every room at an Even Hotel has its own training zone, group workouts and ergonomic desks.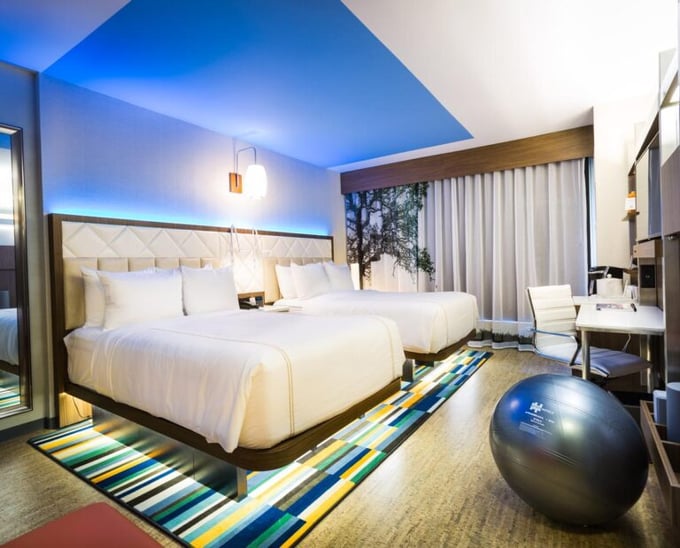 If you have a clear USP, shine the spotlight on it every chance you get. That way, the target market's interest will be piqued, and you'll attract the guests who want exactly what you offer.
---
2. Do what AirBnBs can't (yet)
Today more and more people use Airbnb as either a lucrative side gig or even to make a full-time living by managing several listings. This has pros and cons. The good thing is that the increased number of listings gives guests access to the Airbnb experience in more places and satisfies the growing demand.
On the other hand, some profit-oriented management companies put up mass listings with cheap furnishing and amenities which no longer exude the comfort, connection and community of a lovingly prepared room in someone's home.
Some travellers have also learned the hard way that renting from homeowners looking to make a few extra bucks is not the same as staying in a hotel with trained hospitality professionals. Waiting for the host at check-in, slow internet or a poor F&B offering in the home rental are just a few examples of things not going as smoothly in an Airbnb as they would in a hotel.
Hoteliers can use this to their advantage, especially in the quickly growing 'aparthotel' sector which combines the comforts of an apartment with hotel services. Employing trained staff and sticking to brand standards ensures guests can enjoy a consistent level of service. Hotels' large selection of amenities can also be a deciding factor for guests. For example, the option to get a crib for families with small children or to upgrade to an unlimited high-speed internet package for business travellers is something hotels can offer easily but a private Airbnb host can't compete with.
---
3. Become a local expert
Providing engaging information on attractions and activities nearby is also a must. And yes, this must go beyond the crumpled flyers in a hotel room's desk drawer. Instead, this information should be right on the website to help generate traffic and draw in room shoppers planning their stay. Once they've landed on your website, use your interactive content to show that by booking your hotel, they'll have an authentic experience and get amazing service and amenities. Check out how the Jazz Corner Hotel in Melbourne does it and be inspired!
Pre-arrival communication is another chance to share your local expertise and give guests the chance to book tours and excursions in advance. Did you notice how sharing your insider knowledge turned into a chance to cross-sell and generate some extra revenue?
The Airbnb host is like that insider friend you wish you had in every city who can tell you about cool, happening places and fun things to do. Once a guest arrives at the hotel, especially front office staff need to take on this role and help guests make the most of their time at your property.
Travellers want to experience a destination by becoming part of the local community during their stay. That's why Airbnb started offering experiences hosted by locals in addition to their accommodation rentals. Hotels can do the same by partnering with local photographers, chefs, tour guides, yoga teachers or artists to create fun experiences for guests.
---
4.
Make it feel like home
Another reason Airbnb became popular is that staying in an apartment makes travellers feel more at home than a hotel room. To remedy this, it's important for hotels to create an offering which makes guests feel less like they're in an unfamiliar place and more like they're coming home to something cosy and inviting.
Customisable services with complimentary and paid options guests can choose from before or on arrival are a good approach. This is another good way to improve the guest experience and generate ancillary revenue at the same time.
Setting up community areas which encourage guests to relax, mingle and get to know each other is another option. Cosy lounges with 24/7 snack counters and functional co-working facilities are a great example of that and many new hotels now feature such spaces. Like modern co-working space at 25 hours hotel Frankfurt: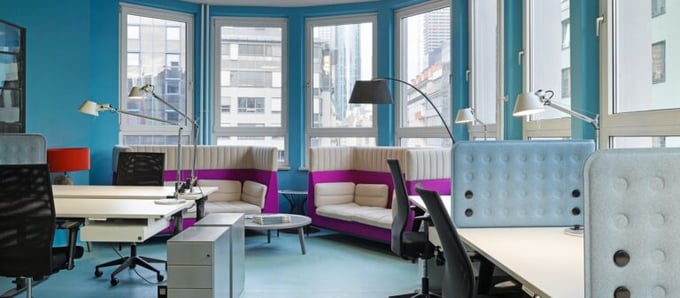 ---
5. Effective, hassle-free communication
With the tech tools available today, communication with guests can be easy and efficient. Airbnb sets a great example for this. Its chat-e-mail hybrid makes communication between hosts and bookers quick and personal. Guests feel they can reach out to their host anytime.
Hotels on the other hand have a website which often works more like a barrier than an invitation to connect. Since we obviously don't want to do away with hotel websites, direct chat apps and pre-arrival messaging systems are the key to making it easy and efficient for hotels to contact guests, provide information and empower them to manage their booking. Apart from establishing a connection and building anticipating for the upcoming stay, this is a great chance to push personalised add-ons and generate ancillary revenue.
Quicktext, BookBoost and KeezApp are three examples of apps you can use to communicate directly with guests before they arrive. Instead of sending a long e-mail, guests can use the chat to get their questions answered and make their booking. Hyatt Hotels already does this by using a Facebook messenger bot, and Marriott's Aloft brand has its custom "ChatBotlr" which lets in-house guests order amenities or ask questions about the property and its services and get an immediate response.
---
6. Product presentation
When it comes to presenting their product, Airbnb and hotels go about it very differently. It starts with the photos, where hotels often show a picture of the outside first, then the lobby and then finally the guest room. On Airbnb, the first thing bookers see is the living room or bedroom.
Why does Airbnb's approach work better? Because guests want to see the place they'll be spending the most time in. An image of a cosy couch or beautiful dining room has room shoppers picturing themselves sitting there enjoying a lazy breakfast or relaxing after a long day. A beautifully made bed evokes restful sleep and a fresh start to the day. Vizzly's data found that 86% of visitors browse at least 10 images when they're booking an experience and the most sought after image, by some distance, is that of the guest rooms. Make sure to include captivating descriptions as well.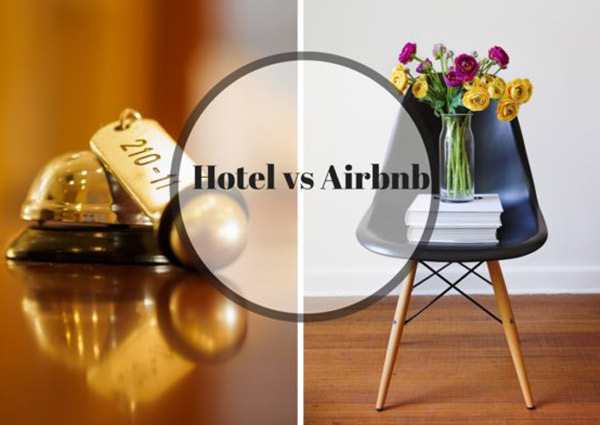 On the contrary, most hotels' images of beautiful facades or an imposing hotel tower might create interest but often do little to set the property apart from the competition.
Airbnb doesn't let the photos do all the work though. They encourage their hosts to write enticing descriptions which help room shoppers paint a picture of what it will be like to stay there make people wish they were arriving that same night. In the meantime, many hotels go on about boring details like square footage. We hopefully don't have to tell you why that's not a seller.
Over the past eleven years Airbnb has kept making waves in the hospitality industry and the way things are looking, the waters won't calm down anytime soon.
Sure, there has been some backlash with certain cities like New York, Los Angeles, Paris and Berlin cracking down on the service and making it more difficult to list properties there, but overall, Airbnb is growing quickly.
New regulations might slow growth in some areas, but Airbnb is already looking to new markets to further expand. With the company now breaking into luxury rentals and expanding ever more into China and India, two of the world's fastest growing hospitality markets, Airbnb shows that it's only just getting started.
Whatever you may think of Airbnb as a company or a competitor, you'll want to keep an eye on them because even in the future there will be plenty more to learn from them.
---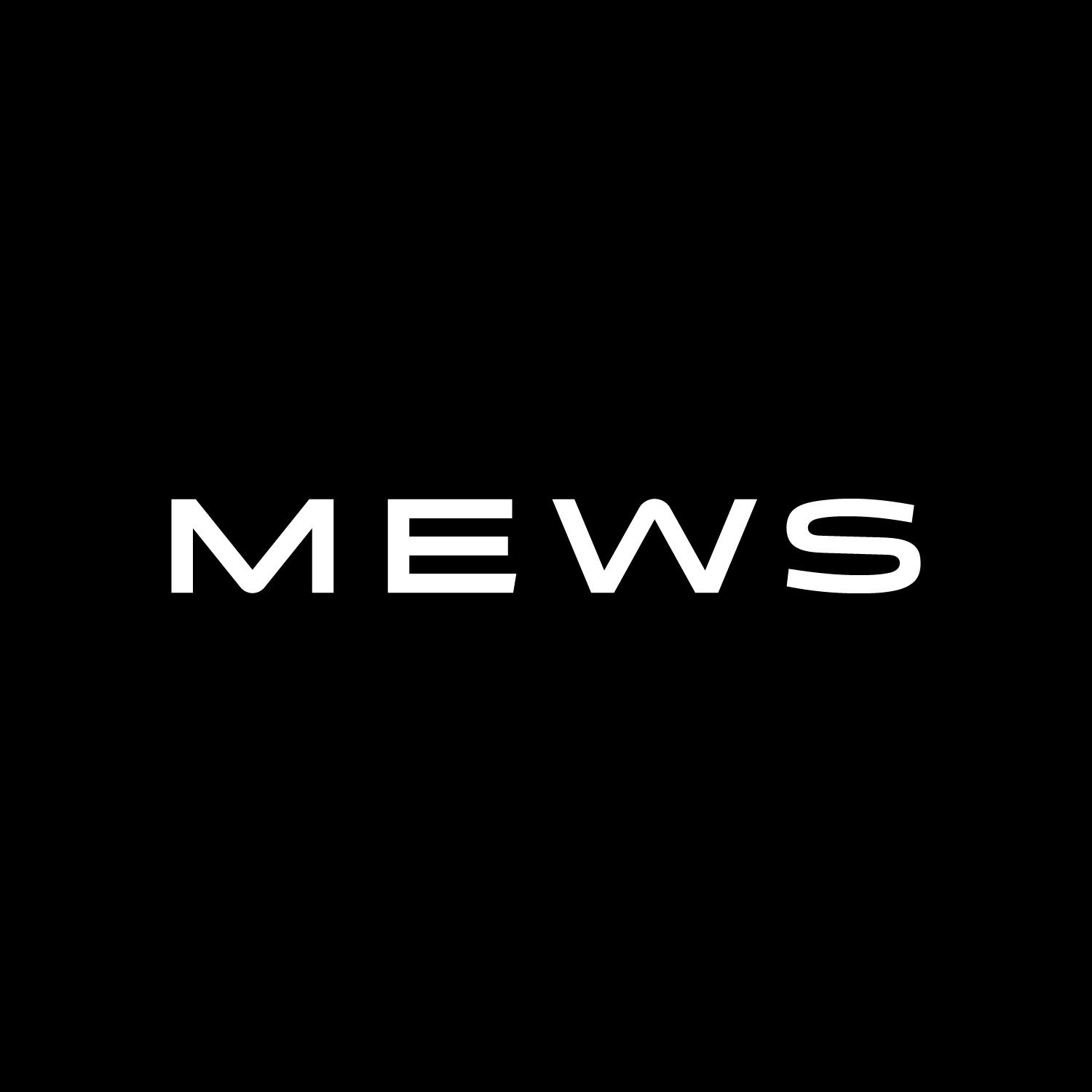 Check in with the latest in hospitality
Sign up to our monthly newsletter for industry insights, product news, partner offers and more.