The Mews Blog > How long can a guest stay at a hotel and what's the minimum stay?
How long can you stay at a hotel depends on the legislation from country to country, but one thing is the same across countries, there is no minimum stay, as long as clients pay. In the case of the United States, hotel stay length is governed on a state level, where hotels are obliged to grant certain rights to long-stay clients such as tax reductions and other tenant rights depending on the length of occupancy. On the other hand, in the UK, length of stay depends on rules set by local authorities in each region.

Understanding minimum and maximum lengths of stay is especially important when trying to get a grasp of the changing trends in the market, and in order for hotels to adapt their services and amenities to meet the evolving needs of today's travelers.

In this article we'll discuss how long hotels can host guests, both long-term and short-term, and their respective limitations. We will also look at how hoteliers can adapt hotel rooms to meet these different lengths of stay and the evolution of guests' stays as a result of the pandemic.
How long can a guest stay at a hotel?
There's a range of accommodations available to meet different travelers' needs, and how long guests can lodge at each type of accommodation will depend on whether your structure is a hotel, a touristic apartment, or an extended stay hotel. Nowadays, even Airbnb allows extended visits. The rule of thumb is generally: a guest can stay as long as they want.
However, understanding the clients' needs is important in order to adapt accommodations and implement marketing tactics accordingly. For example, those who are traveling on business or on a short-term work assignment might decide to book an extended hotel visit, whereas a family traveling on vacation might choose to stay at a traditional hotel for several weeks.
Depending on the length of the stay, hoteliers can adapt their amenities to make long-term accommodations more comfortable. Keep in mind that for long-term stays, guests will need services such as laundry, a kitchen, outdoor space and a washer/dryer. Hotels can offer suites and small apartments (if they have them at their disposition) to allow the possibility for guests to stay indefinitely.
With less demand due to Covid-19 travel restrictions, hotels seek to meet the traveler's needs and the needs of the changing market. Normal check-out may be at noon to allow for rooms to be cleaned, but with less demand, and more rooms available, hotels may consider the possibility of allowing guests to stay hourly after the regular check-out time as a way to generate extra revenue from a stay.
Many guests might want to take advantage of this offer in order to avoid lingering in the airport in an enclosed space with a mask on many hours before their departure. Hotels can charge either an extra hourly fee for staying beyond check-in or charge directly for a half-day.
Can guests live in a hotel as their normal residence?
Whether guests can live at your hotel as their normal residence will depend on the type of property you have and the local legislation. In the US for example, some hotels have a maximum number of days they can allow guests to stay due to local laws and regulations. You may even have to ask guests make two bookings and reimburse them for hotel taxes that they are not responsible for if they stay beyond a certain amount of time.
Another thing to consider is that in some states in the US, if guests stay beyond a certain amount of time they may be considered tenants instead of guests, in which case you might have to charge them extra fees that temporary guests would not have to pay.
In order to attract those guests looking for long-term lodging, standard hotels might consider setting aside some rooms for long-term lodging, which if possible should include a kitchen or a washing machine inside the room. Normally, it's ideal for these rooms to have special monthly or yearly prices.
What about the shortest hotel stay?
The absolute shortest hotel stay that your hotel could offer would be if someone booked a room, paid for it and then never checked in, but of course this is rare. However, if you're looking to capitalize on short-term clients, as in less than 24 hours, there are several options.
Capsules are essentially little pods that were initially targeted at businessmen who missed the last train or that needed a cheap place to stay for a few hours since Japanese cities can be vast. This trend has spread to different clientele and to other countries. Even New York City now has pods that you can book by the hour.
If you're not a bare-bones capsule accommodation, like the above-mentioned capsules, first introduced in Osaka in the 1970s, then you may not be set up per se to offer extra short term accommodation. But did you ever think of the possibility of putting your unrented rooms up for hourly rent? To make it worthwhile you would need to have a high hourly fee or charge for a minimum number of hours, but it could be a good strategy to boost occupancy or daily rate.
Another short-stay option is to offer day use. Day use is essentially when hotels rent their unused rooms during the day. When you offer a hotel room for day use, guests check in and check out the same date. It's useful for guests who have a late flight or who simply want to take advantage of a hotel's amenities such as the pool, bar, spa, sauna, get a massage or just relax for the day with room service.
Day usage represents a good source of revenue for hotels, especially during the low season. It's also a way to maximize occupancy rate, encourage relaxation and represents a good opportunity to connect with the local community. By connecting with the local community and encouraging the use of the hotel's facilities, pool, bar, rooftop terrace and restaurant, hotels can take advantage of a demographic that is not seasonal but instead year-round.
Changes in length of stay and client needs due to the pandemic
We've looked at some of the ways guests' needs have changed due to the pandemic and how this has impacted length of stay, but now let's delve into further details.
Post-pandemic, there was a shift away from the frenetic-pace of life, where at one time, capsules and short-term stay hotel rooms could give you a respite from a busy day of meetings on a business trip.

This trend shifted towards experiential travel, working holidays, and long-stay apartments that give the illusion of being at home, while allowing clients to have more space and escape their everyday routines enforced by the pandemic. Furthermore, guests started to seek out independent or small apartment-style stays, moving towards monthly or several week stays.
Long-term stays have become more frequent
Prior to the pandemic, in Europe, long-term stays were not so frequent. Now, with many Europeans not being able to travel outside their country, let alone within Europe, many destinations, such as the Canary Islands, have started offering their hotels as working holiday locations. Guests in this case, take several weeks to several months staying at a hotel and work from there instead of working from their own homes.
Since customers can book these long-term stays with a hotel booking engine on their own, you may want to mitigate the risk that having guests book on their own may present. Encourage guests to book several months in advance and plan ahead as far as possible to ensure that the whole period they want to book is available; if it's indefinitely, make sure to check the different local policies.
A hotel as a "home away from home"
Beyond legislation, hotels must also keep in mind the services that are necessary in order to make these extended stays possible. For example, they can incentivize guests to book long stays by highlighting the facilities, such as free Wi-Fi in the rooms and all public areas, comfortable desks and office chairs, by setting up a co-working area in your lobby, where they can also capitalize on business travelers who need a place to work for a few hours.
Because of the difficulty of travel these days, short-term stays are no longer as frequent. Many guests don't want to go through the hassle of doing a Covid-19 test to travel just for a few days, instead they prefer staying for several weeks and making the hotel a "home away from home."
The Rise of "Staycations"
Those opting to have short stays, tend to be locals. Hotels have for this reason chosen to cater short term stays post-Covid towards local tourists looking to get away from their everyday routine, and are looking for special services such as spa, massage, all-inclusive stays with meals included, so they don't have to go outside the hotel as many restaurants are now closed.
Due to strict, and ever-changing Covid-19- induced restrictions, one of the strategies hotels have implored in cities like Barcelona and Milan was to offer experiences for locals. In essence, there has been a revival of the "staycation."

Since hotels could only offer their restaurant services to paying guests, hotels decided to take advantage of the local market, offering packages that included a dinner at the restaurant and a night's stay. It was a great way for locals to feel like they went on vacation in their own city, while at the same time allowing hotel rooms that would otherwise go unoccupied, and restaurants which would have remained closed, to make some extra revenue.
How to adapt hotel rooms and services to meet the client's different lengths of stay?
We've looked at the different lengths of stay, now let's look at how to adapt hotel rooms and services to meet client's different lengths of stay. Adapting the room goes beyond just the in-room amenities and furniture. It can include the different services the hotel offers, packages, special prices for long-term stay and other perks that make the guests feel at home.
Turn Work from home into work from the hotel
The pandemic has given way to a new concept of hotel that wants to go more towards mimicking home rather than a place to get away. Many of those guests are choosing to have a change of scenery and turn "work from home" into "work from the hotel."
For those guests looking for a working holiday, keep in mind the characteristics that make them feel more at home and recreate it in a suite or a hotel room. Make it feel less like a hotel and more like home.
Keeping this in mind, you can offer all the little details and perks that you might find in your house, such as a cozy throw blanket, tv on demand for free, a kitchen so that hotels can become an option for short-term rentals, from one to even three weeks.
Recreate the concept of a hotel as a second home through the senses
At the marketing level, hotels can play with the senses, offering aromatherapy and other "feel at home" marketing strategies that give the client a sense of having a second home. They can even offer experiential packages or packages that include the services necessary to work from home with extra perks such as a massage or room service included in order to make it feel like home but then go above and beyond.
Make guests feel pampered
Someone looking for a home stay, needs some extra services and perks to make them want to go through the extra step of leaving their home office to work from the hotel. Guests want to feel pampered after all they've been through with the pandemic. They think more about the amenities and the added plus of staying at a hotel rather than their own home.
Conclusion
When it comes to how long guests can stay at a hotel it will depend on the type of accommodation you offer. Generally speaking, there are no rules set in stone for how long you can stay at a hotel. It will depend on the infrastructure as well as the legislation for the particular place where you are offering extended stays.
Regardless of the type of hotel, day use represents an interesting opportunity to capitalize on revenue that would otherwise be lost by having unsold rooms. For those hotels looking to move towards long-stay accommodations, it's important to think of the amenities your hotel should offer, and how to set your hotel apart from other structures. Offering packages and special long-term rental rates, as well as services that allow guests to feel at home is a great incentive for guests to book your accommodations over another.
In a changing global economy, hotels must be agile to meet the changing trends of the market, whether that be renting rooms by the hour, by the month, or setting themselves up to be equipped for new kinds of travelers such as digital nomads. By adapting to the market, hotels can most definitely withstand the pandemic and come out even stronger.
Understanding the modern guest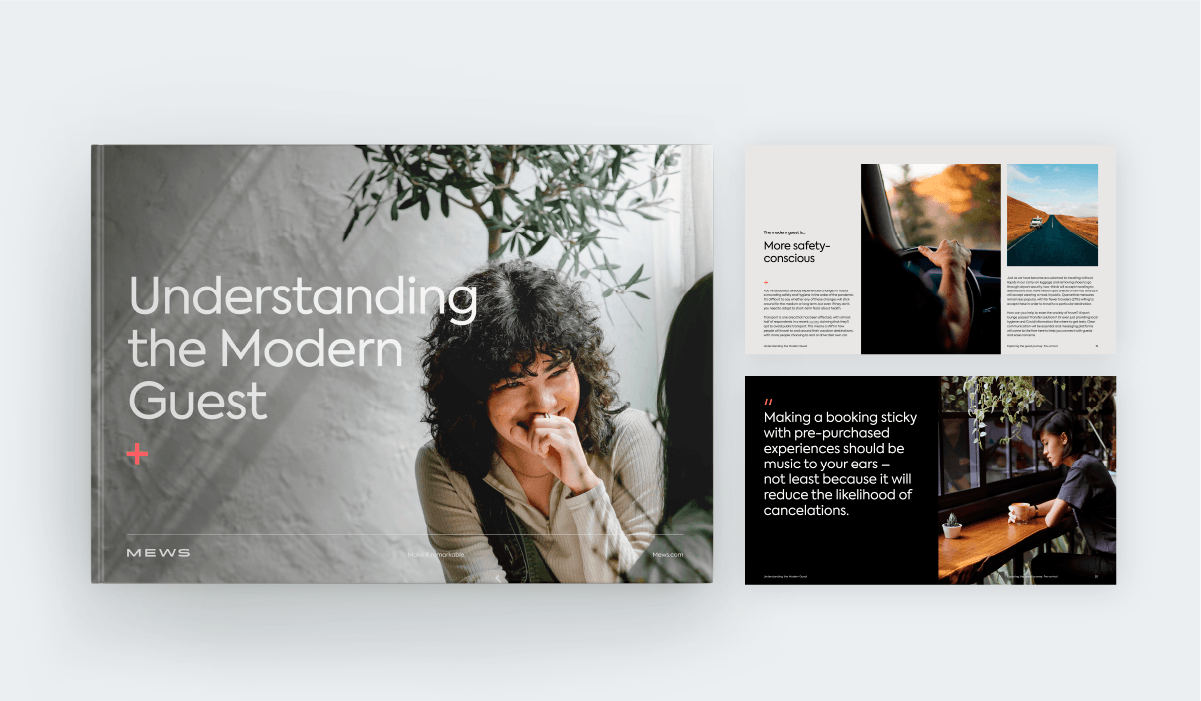 Guests' motives and expectations are changing all the time. The more you understand their habits and needs, the happier they'll be and the more likely to spend more and become repeat bookers.
Understanding the Modern Guest takes you through the key guest expectations at every step of their journey, from pre-booking to post-stay.
Hospitality hot takes straight to your inbox
Sign up to our monthly newsletter for industry insights, product news, partner updates and more.