The Mews Blog > The cost of a POS system for hotels and its advantages
The cost of a POS system for hotels varies based on the hotel's size, needs and preferred features. For hoteliers looking to optimize various areas of hotel management, a POS system is a powerful tool for handling multi-channel and different points of sale, inventory management and providing data.
We'll explore the advantages and costs of buying a POS system while also discussing the benefits of the Mews POS system. Regardless of costs, a point-of-sale system allows hotels to drive more efficiency by unlocking essential information to make data-driven decisions.
What are the advantages of a POS System for hotels?
Improved operations, streamlined communication, reporting, and analytics – these are just some of the advantages of a point-of-sale system for hotels. The right system will help you to increase staff productivity and provide guests with a convenient way of making payments throughout your hotel's facilities.
Improved operations
A POS system makes the payment process flexible, helping your hotel provide more efficient guest services. With a cloud-based system, payments can be made anywhere in the hotel, removing any barriers to sales. Simply swipe and go to keep track of guest spending – settling bills at the end of the trip becomes a piece of cake.
Learn more about why hotels should offer flexible payment options.
Streamlined communication
Streamlined communication enables better coordination between departments, avoiding costly errors that can damage your hotel's reputation and bottom line through double or missing charges. A POS system ensures staff across departments are on the same page, resulting in a smoother guest journey.
Reporting & analytics
With a POS system, you can generate reports that identify the most popular upsells, profit margins, and other valuable sales data that will give you a better idea of your hotel's performance. From there, you can optimize the sales process and find ways to promote ancillary revenue.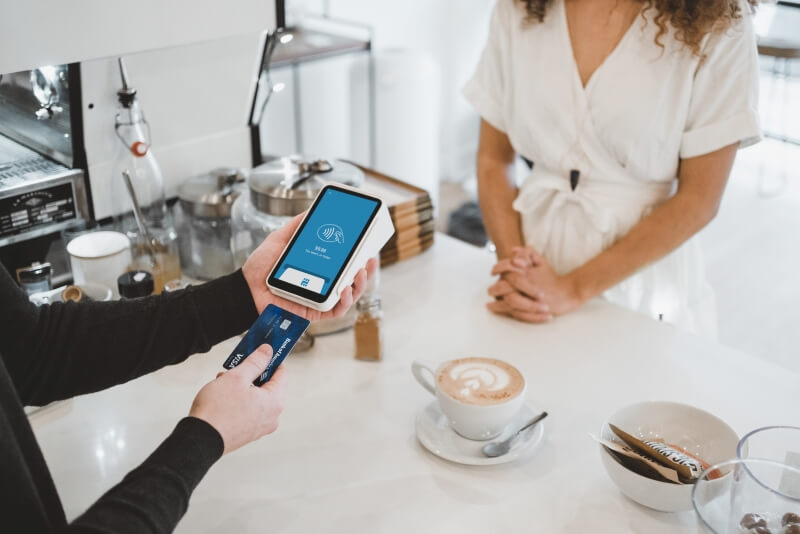 What are the costs of a POS system for hotels?
Want to understand all the costs associated with implementing and having a POS system in a hotel? Many variables go into pricing – the number of users, the level of personalization, and the existing equipment (tablet or wireless devices used to process the payments).
Learn more about the benefits of an ePOS.
Starting costs
Many POS providers offer monthly and yearly pricing, usually with a discount if you choose an annual subscription. Expect to pay a base price (depending on the number of terminals you need), one-time fees, and add-on fees if you require any special features.
Usually, the priciest part is implementing the POS system. After the initial set-up, you'll have to pay maintenance and transaction fees, as well as any add-ons you had chosen.
Overall hotel POS costs
If you're looking at installing a complete system from zero, you should expect to pay around $1000-2000 for each terminal and the set-up. From then onwards, costs will be around $1000 per year/device. There may also be some monthly or yearly processing and add-on fees.
Why Mews POS?
Choosing a hotel POS is no easy task. Let's break down the advantages and costs of the Mews POS.
Focus on what matters
Mews POS is a mobile-optimized, all-in-one platform for streamlining your food and beverage operations so your staff can focus on providing remarkable service. Real-time reporting lets you create custom dashboards and track the most relevant KPIs from the F&B department.
Optimize costs
With Mews POS, you can better control inventory to optimize costs. Connecting it with your ePOS unlocks key data to help you make better purchasing decisions and maximize revenue. Digital ordering also means guests can order from anywhere in the hotel using a QR code, making orders and payments incredibly easy.
Remove complexities
Mews removes complexities around managing sales across different touchpoints. Whether guests place a room order, add on services while checking in, or dine at your hotel's restaurant, billing is centralized to each guest's account through an integration with your hotel's PMS. Real-time sync, flexibility, and streamlined payments make Mews POS ideal for modern hotels.
Costs of Mews POS
Mews POS pricing starts with one-time fees to set up a POS (€899 per property) and digital ordering (€399 per property). A base price is €69 per device monthly or €645 annually. As you add more terminals to your property, the price goes down.
These prices give you access to menu management, promotions and discounts, price books, revenue centers, table management, reporting, and basic inventory management. You may also have to pay a payment processing fee of € 0.04 per transaction and a payment method fee. Optional add-ons include digital ordering, inventory management, and a kitchen display system.
Conclusion
We've looked at the advantages and cost of POS system for hotels, and what makes Mews POS the best choice for modern hoteliers. A point-of-sale system helps your hotel improve operations, streamline communication and make better, data-driven sales decisions. Without having to deal with tedious admin, your staff can focus on providing excellent service.
Download our guide 5 Things to Consider When Choosing Your Next POS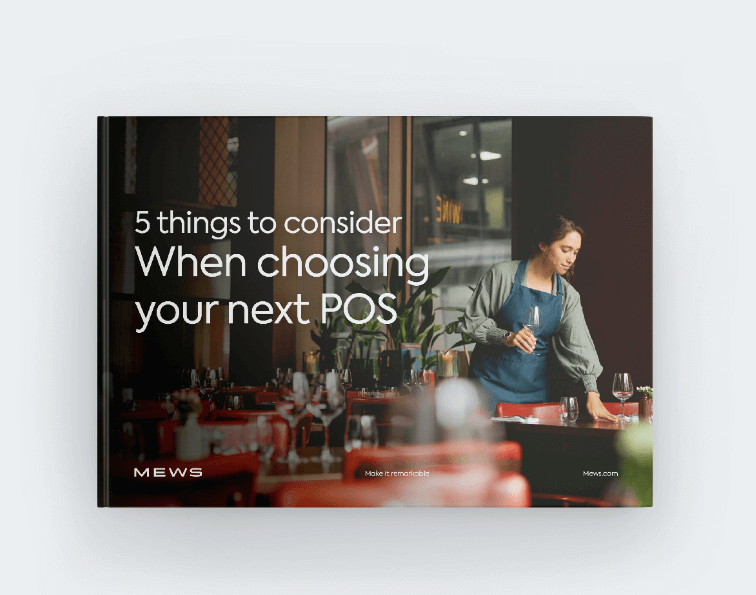 Author
Eva has over a decade of international experience in marketing, communication, events and digital marketing. When she's not at work, she's probably surfing, dancing, or exploring the world.
Hospitality hot takes straight to your inbox
Sign up to our monthly newsletter for industry insights, product news, partner updates and more.