The Mews Blog > The typical organizational structure of a hotel
The organizational structure of a hotel is an important part of making sure your property runs smoothly. No matter the size, the hotel structure typically stays the same. Hoteliers just might need to compensate with more staff if it's a big property, and fewer staff per department in a smaller one. This system helps define roles and responsibilities and enables your team to do the best job they can do.
In this article, we'll look at hotel organizational structure in more detail so that you can better understand how it should be set up to carry out daily operations and service to the best degree possible.
What is hotel organizational structure?
Hotel organizational structure is a plan or high-level overview devised by a hotelier to help clearly define the responsibilities and activities of each department, creating order across all areas of the hotel. Effectively establishing this kind of structure can help increase productivity and efficiency because tasks are designated in such a way that staff know exactly what they need to do and who to report to when there's a problem.
A hotel structure helps to lay out the role of each person working at the property, so everyone knows who is responsible should something go wrong, while at the same time directing organizational activities and helping with decision-making. With the help of an organization chart, hoteliers can more clearly illustrate the role of each department and their interdependencies, and more easily plan the proper allocation of resources depending on clearly defined goals.
Learn more about managing hotel staff.
Why is hotel structure important?
Hotel structure is important because it creates accountability, with each person having a clear idea of their daily tasks and how those contribute to your overarching goals. While the operational staff may not have a direct say in the goals, their role is crucial in order to execute the daily tasks and make sure the property is running smoothly.
Management figures should help ensure that each department is carrying out their goals to the best ability possible, and handle any roadblocks that may stand in the way of top performance. Having an org chart (or organogram) in place will help you make better strategic decisions relating to resources, and will make it easier to scale up as your property grows.
Hierarchical organizational structure
This kind of structure is one of the most common types of organization in hotels, regardless of their size. This means that each department is clearly laid out with a clear list of responsibilities. Usually a general manager sits at the top of this hierarchy ensuring that each department is performing well, and working closely with department heads to understand if everything is running smoothly and help execute any improvements if necessary.
Usually, department heads or managers report to the general manager to help supervise operations, manage employees' day to day activities, and make sure all their tasks are being carried out satisfactorily. The number of departments and employees will vary depending on the size and services offered. Below, we'll take a look at each figure and how they play a role in a property's overall success.
Organizational structure of a hotel
Now that you have a better idea of what hotel organizational structure is, let's take a look at what this looks like practically speaking.
General Manager and owner
When talking about the hierarchical organization, the person who is sitting on top is either the owner or the General Manager, or both. In the case of a small property, the role of General Manager and owner is usually exercised by one person whereas in a larger hotel, there are usually both of these figures. The owner is in charge of laying out standards and policies, and the general manager ensures that these are executed successfully.
This means that the General Manager oversees the overall operations on a daily basis and ensures that each department is performing well. They are also in charge of ensuring that the strategic goals are being reached through the proper functioning of each department as a whole. Discover the best way to improve hotel operations processes.
Assistant managers
Assistant managers report into the General Manager, helping to support the proper functioning of each department. They are in charge of managing department heads and ensuring that they are handling any operational issues that may arise that could compromise the performance. In smaller hotels, there may just be one assistant manager, but in bigger properties there may be several on staff to overlook the different departments.
Department managers
Department managers are overseen by the assistant managers, and are usually responsible for overseeing the daily aspects of a specific department whether that be food and beverage, front desk, housekeeping, finances, human resources, or marketing. Each department manager is in charge of ensuring that their operational staff carries out their daily tasks to their best ability possible.
They are also the ones that will be accountable should a problem arise. The problem will be escalated to the assistant manager should the department manager not be able to reach a resolution. Nonetheless, there is some overlap between assistant managers and department managers when it comes to work schedules, events and taking care of complaints.
Operations staff
Your operations staff are the eyes and ears of your hotel. Seeing as they are guest-facing, they are the ones that have the best take on the general pulse of guest satisfaction, and are also the ones who can increase guest satisfaction. Find out simple ways to improve the guest experience. They are in charge of ensuring that operations are running smoothly and that the everyday tasks are carried out to the best of their ability.
Operational staff can be anyone from the bellboy to the concierge, front desk staff, waiters, cooks and housekeeping staff. All of these people are fundamental to creating the best guest experience possible and ensuring that your hotel is running like a well-oiled machine.
Conclusion
In this article, we've looked at the organizational structure of a hotel and why it's important. By better understanding how a hotel is set up on a higher level, each staff member can be accountable for their roles and responsibilities and work together to reach strategic goals and provide the best service possible. This is key to operational efficiency and the proper running of a hotel.
Empower Your Teams
After seeing what is the typical organizational structure of a hotel, it's time to read how you can empower your team thanks to our guide. Discover the secrets and benefits of smarter working, including improved operations, happier staff, and a better guest experience.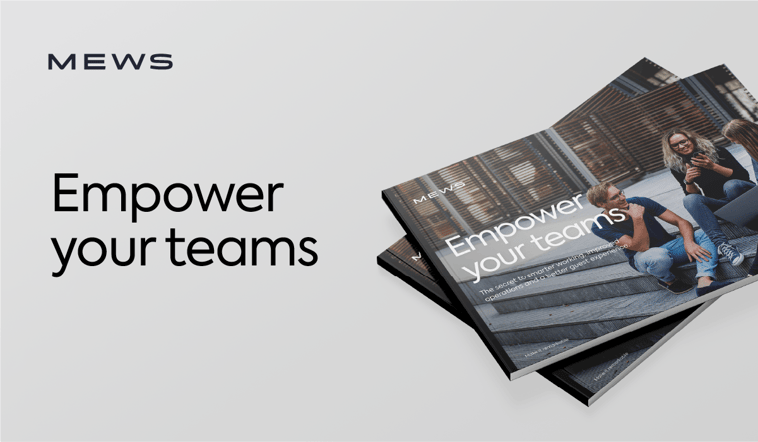 Author
Eva has over a decade of international experience in marketing, communication, events and digital marketing. When she's not at work, she's probably surfing, dancing, or exploring the world.
Hospitality hot takes straight to your inbox
Sign up to our monthly newsletter for industry insights, product news, partner updates and more.