The Mews Blog > Best 7 technologies for serviced apartments
Powered by innovative technology, serviced apartments can streamline processes, provide a better guest experience and offer an easy check-in and check-out. Great hospitality tech not only enhances the operational efficiency of your serviced apartment but can also improve your bottom line, saving you money on additional costs.
We'll explore the most popular technologies for serviced apartments and how different systems can ensure the best results. The goal is a smoother guest journey and not just implementing technology for the sake of it.
What are the main technologies for serviced apartments?
There are many diverse types of technologies for serviced apartments – let's discover the most relevant ones.
Temperature control
Arriving at a freezing apartment is not a welcoming experience. Unlike hotels with a centralized system, serviced apartments usually have temperature control systems in every apartment – sometimes in each room.
Running smart room technology from an app is ideal. You can control the temperature when the apartment is vacant or when housekeeping forgets to turn it off, all while saving money. Don't forget to turn on the air conditioning or heating before the guests arrive to create a welcoming ambiance.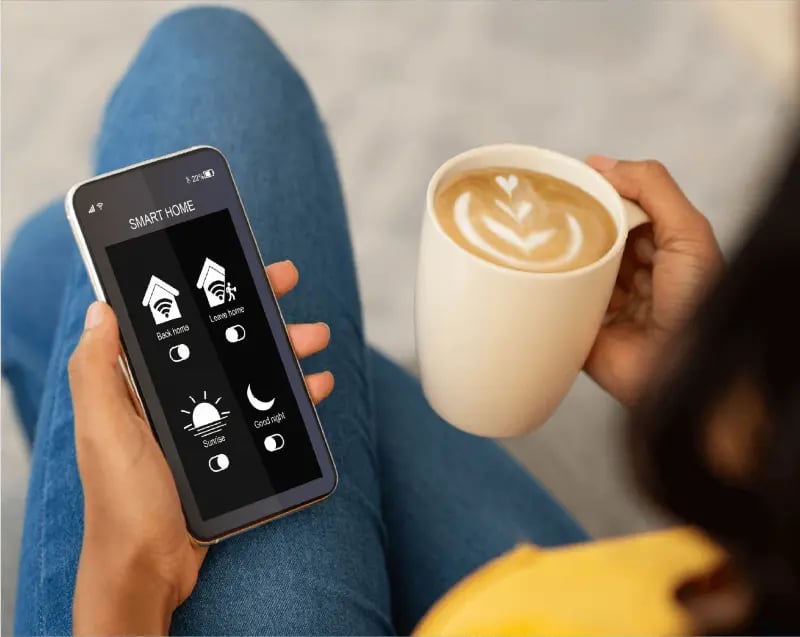 An agile and flexible PMS
Having a hospitality management system is crucial to your serviced apartment's success. It unlocks smoother operations, more efficiency and a more connected experience. You can say goodbye to tedious tasks while better managing and maximizing revenue through data-driven decisions.
The more control you have over your systems and guest data, the more you can streamline processes to create an unforgettable guest. You can also use the PMS to create more efficient marketing and guest communication.
Smart locks and keyless entry
Smart door locks and keyless entry have made check-in easier and more efficient. Whether it's a mobile app, Bluetooth door locks, or a virtual key, keyless technology is a convenient and secure way for guests to enter their apartment, especially when checking in early or late.
Keyless entry can do wonders for guest satisfaction. Not only does it allow guests to skip the lines at reception, but it's easy and safe. Smart locks are good for the environment, too – no more plastic keycards that get easily lost or misplaced. You can also reduce staff because there's no longer a need for a 24-hour reception.
Mobile check-in
Mobile check-in may be one of the easiest and most effective services to implement. Your guests receive a link to check in online via an app or email, type in their payment information and register their documents in advance. Combined with keyless entry, they can go straight to their apartment upon arrival.
Automated payments
To remove friction in the guest experience, switch to automated payments. They remove the manual steps from the payment process, enabling guests to pay for their room and any additional services without presenting their physical card.
Automated payments are safer and can be processed directly through your PMS or once the booking has been confirmed. Payment flexibility can boost guest satisfaction and keep them returning to your serviced apartments.
Smart intercoms
A smart intercom boosts the security of your guests and the apartment building. Because these smart devices are connected to the internet, they work regardless of whether your reception is open. Some can even verify the guest's identity via a standard or a video call.

Through smart intercoms, you can also give voice instructions to guests to help them find their apartment while monitoring the situation from your smartphone.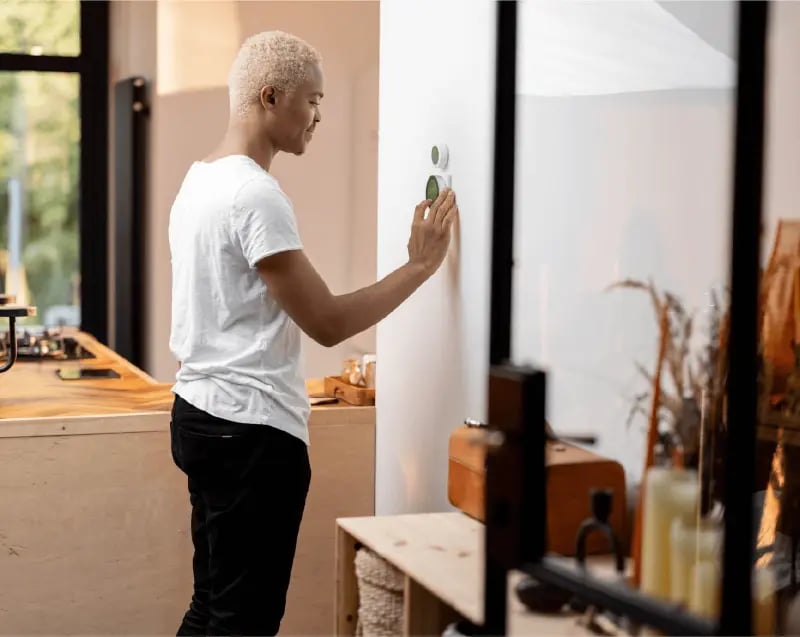 Smart lighting control systems
Electricity can be one of the most burdensome operating costs when running a serviced apartment, so why not reduce it with the help of modern lighting control systems? They automatically sense movement and can be controlled remotely or through voice commands. Smart lighting works for the environment and your bottom line.
You can also create a pleasant ambiance by dimming the lights ahead of the guest's arrival using the app or via accessories.
Conclusion
You're now familiar with the seven must-have technologies for serviced apartments. We've covered smart intercoms, hospitality management software, automated payments, mobile check-in, keyless entry, lighting control systems, and temperature control. Implement them to improve guest experience, save on human resources and achieve more efficiency in your operations.
Download our guide The New Standard of Serviced Apartments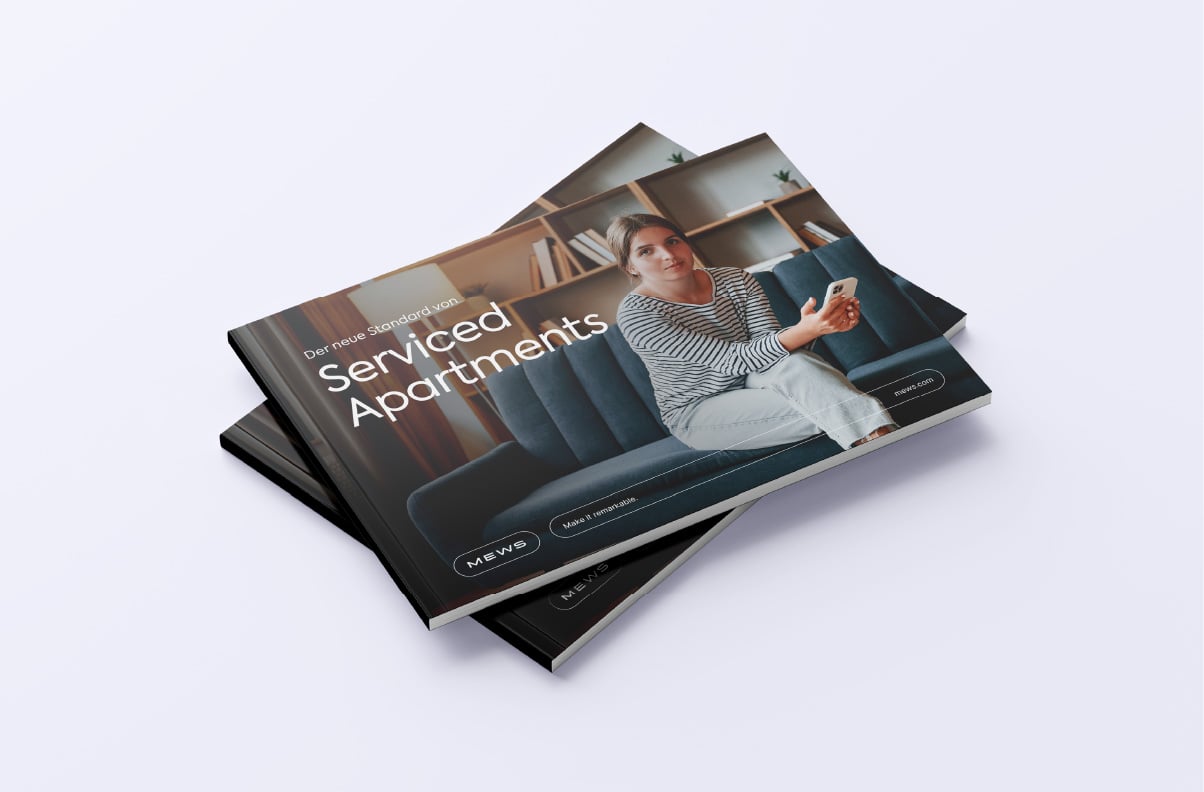 Discover the innovative ways that top serviced apartments use technology to provide exceptional hospitality and stand out in the competitive landscape against traditional hotels.


Author
Eva has over a decade of international experience in marketing, communication, events and digital marketing. When she's not at work, she's probably surfing, dancing, or exploring the world.
Hospitality hot takes straight to your inbox
Sign up to our monthly newsletter for industry insights, product news, partner updates and more.