The Mews Blog > What are the real hotel housekeeping cleaning costs per room?
Hotel housekeeping costs per room must be considered when discussing profitability. As you know, labor costs make up a large chunk of a hotel's operating fees. Being able to determine what the cost of labor is per room will help you optimize revenue per available room and maximize profitability.
Understanding the actual price of housekeeping helps you decide when to raise the average daily rate and remain profitable despite fluctuating demand. So, what is the actual price of housekeeping, and is there anything you can do to reduce the cost of housekeeping per room? Is there a way to calculate cleaning costs per room? Keep reading to find out.
What are the hotel housekeeping costs per room?
One of the biggest costs associated with a hotel room is labor, which may make up to 40% of overall room cleaning. Other essentials include laundering, energy, the price of amenities, any damage done to the room, cleaning products, and the overall wear and tear. On average, hotels will spend between $10 and $16 to clean a hotel room.
How to calculate your cleaning cost per room?
The average cost for housekeeping is a ratio of the time to clean a hotel room divided by the number of rooms in a property. To calculate your costs per room, multiply the total number of rooms a housekeeper can clean daily by your hotel's hourly rate. For example, if a housekeeper cleans 15 rooms in an 8-hour shift and earns $15 per hour, it would be equivalent to $225.
Consider other factors too. Taxes, recruiting fees, benefits, vacation, sick leave, turnover and training can bump up the cost of cleaning rooms by 30%. Using the same example as above would get you closer to $300. The sum increases in larger hotels with more labor costs.
How can you reduce the cost of housekeeping per room?
It is possible to reduce the cost of housekeeping per room without overlooking the importance of this essential department. Here are the best ways to reduce the price of housekeeping.
Work as a team
Working as a team is fundamental for all departments. For housekeeping, however, it has the added benefit of reducing costs. Teamwork can increase the number of rooms cleaned per hour by making cleaning more time- and cost-efficient. Working together will also increase team satisfaction and boost productivity.
Find out how to build and manage your housekeeping team.
Implement environmentally friendly practices
Did you know that being sustainable can improve your brand reputation while helping you save money? Forgoing daily towel washing is not just more environmentally efficient, but it also reduces the use of resources like water, energy, soap, and laundry. In addition, your towels will last longer.
You can also draw inspiration from the Starwood chain team, who persuade guests to opt out of room cleaning using incentives. Whether you go for food and beverage credits, loyalty program points, or other creative ways to skip room cleaning, this is a great way to boost your hotel's bottom line.
Rely on hospitality technology
Hotel housekeeping software is one of the best ways to reduce housekeeping costs by making the department more productive and efficient. Mews housekeeping software improves communication and task management. It drives efficiency with real-time status updates, provides workload overview and helps with task management. Employee messaging keeps all parties in the loop of daily tasks. Real-time reporting that tracks live room status is another great benefit.
The better your housekeeping department collaborates, the faster they'll clean the rooms and the less you'll spend. Read more about the importance of employee satisfaction.
Hire seasonal workers when need be
You can reduce fixed costs by having fewer people on your payroll. This translates to hiring temporary or seasonal workers when occupancy is high. Contracting them via an external agency will further reduce the price of labor – including overtime, paid vacation and benefits.
Yes, you will still have to pay agency fees. But the overall price is lower than hiring someone full-time, especially with fluctuating demand and hotel occupancy. There's another side to this coin, however: seasonal workers may not perform as well because there is less incentive to be productive. So, while it can save you money, this option may not always be the best solution.
Conclusion
We looked at the real hotel housekeeping costs and how to calculate them per room. You also learned how to save money on housekeeping. The secret to profitability lies in understanding all your operating expenses, which will lead you to optimize fixed costs.
Remaining profitable despite demand fluctuations is simple: ensure efficiency through smart hotel tech and cost-saving practices that will grow your brand's reputation instead of compromising it.
Download 10 Tips to Improve Your Housekeeping Operation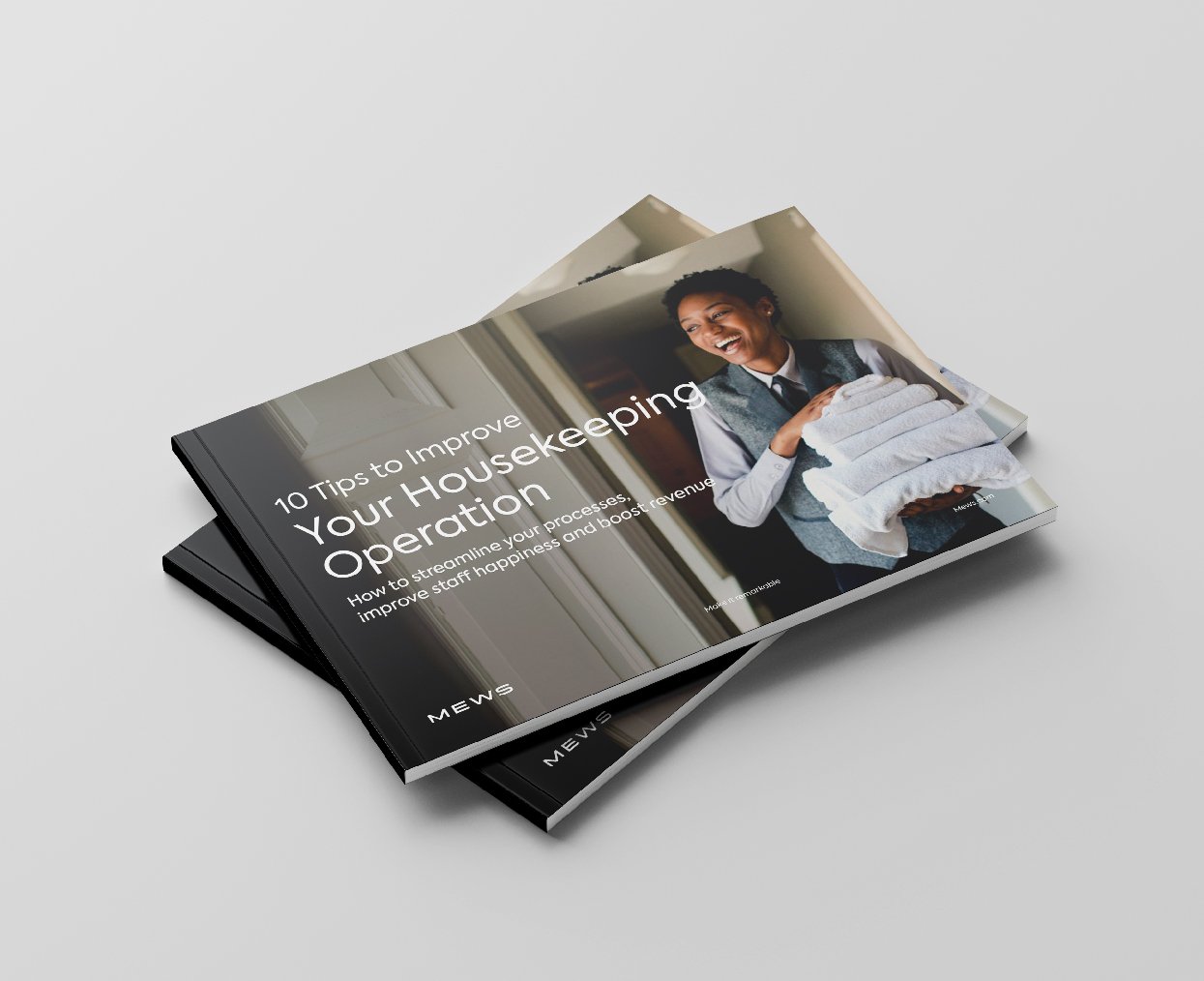 An efficient and organized housekeeping operation can improve the experience of your guests, save you money by reducing unnecessary expenses, generate additional revenue through upselling opportunities, and relieve pressure on other departments. Access our guide for expert tips on how to enhance your performance in this area.

Author
Eva has over a decade of international experience in marketing, communication, events and digital marketing. When she's not at work, she's probably surfing, dancing, or exploring the world.
Hospitality hot takes straight to your inbox
Sign up to our monthly newsletter for industry insights, product news, partner updates and more.