Warning: this article contains details of some of the most incredible examples of fresh tech and design ideas currently breathing new life into the world of hospitality, and may shock anyone who is afraid of innovation, automation and inspirational hoteliers.
---
CityHub
In a nutshell…
This self-branded "urban hotel for digital natives" is an ingenious champion of tech-infused hospitality. Think: part hotel, part hostel, part tech heaven. As the name suggests, at CityHub guests sleep in futuristic, app-connected, private hubs inspired by Japanese capsule hotels. In 2016, CityHub received the award for Best Innovation in Hotel Concept at the Worldwide Hospitality Awards, and it's easy to see why!
We have 24/7 hosts. They're locals and they can tell you the cool places to go, also through the app. The city is basically our lobby." Sem Schuurkes, Co-Founder of CityHub
Why the hype?
Check-in is a self-service affair, which can be performed 24/7 via touchscreen kiosks in the lobby.
In-hub amenities include built-in speakers, and app-controllable mood lighting, alarms and playlists.
The hotel has its own multi-functional app which acts as a local area guide, a virtual concierge, an instant messaging platform and a means of contacting the property's 'CityHosts' for tips and advice whilst guests are out exploring.
Guests are given multi-function RFID wristbands which are not only hassle-free hub access keys, but can also be used to pay for drinks and snacks at the hotel's self-service bar, as well as to access private guest lockers available at the property.
Their CityHub app offers guests access to their very own MiFi hotspot mobile route when out and about in Amsterdam or Rotterdam.
---
Life House
In a nutshell…
It may be "the first Silicon Valley-backed hotel company in the U.S. with a tech first approach", but that's only one side of the story. Behind Life House's Instagrammable, design-led facade lies experience-driven, locally-rooted, lifestyle hotels aiming to attract mature millennials.
There are currently two Life Houses open, both in Miami, but they are on a chunky mission to have over 20 hotels under development by the end of 2019.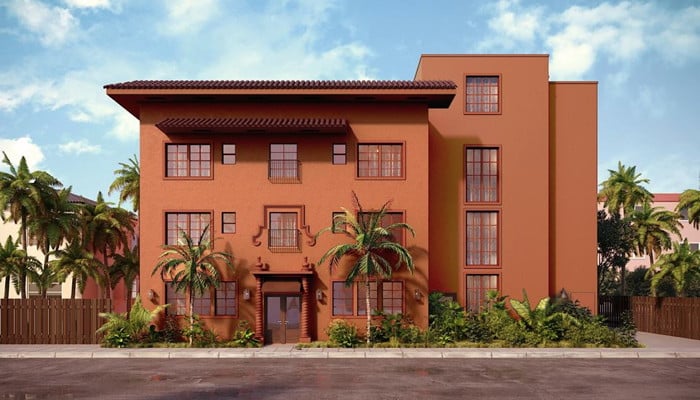 Our goal is to reset consumer expectations around what a hotel experience can be. One where people do not have to choose between the experience they want and what they can afford. One where they can have it all." Rami Zeidan, Co-Founder of Life House
Why the hype?
Keen to avoid being seen as a 'brand', Life House positions itself as "a new category of hotel – rooted in quality and experience and built for people."
The company is big on using guest-facing tech to enhance human connection, and has its very own social networking app for guests.
Life House's founders are ambitious, and believe they are "uniquely positioned to be the fastest growing hotel company in the world that's built for the modern traveller."
Their Little Havana property is described as "an enchanting, culturally curated, tropical mansion with a courtyard terrace."
---
25hours Hotels
In a nutshell…
This German boutique chain has been flying the flag for unconventional hospitality since 2005, already has 13 hotels in four different countries, and aims to "surprise, and ultimately thrill" its guests. CEO Christoph Hoffmann is passionate about creating experiences, and to make this happen the group has its very own in-house, multidisciplinary think tank.
The "Extra Hour Lab" is an innovation incubator, whose team carries out "off-the-wall experiments and designs new, exciting creations that are detached from its day-to-day business, and unconventional for the industry." As they put it, "We use technology to simplify, not to complicate life."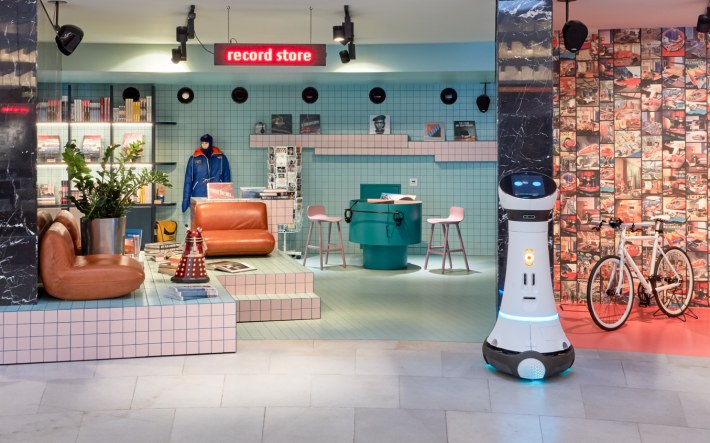 While others focus more on the latest technology, we value deceleration and analogue products such as Polaroid cameras, typewriters and vinyl records." 25Hours Hotels
Why the hype?
When it opens next year, the group's Dubai hotel will boast its very own drive-in desert cinema.
In 25hours' Cologne property, Robi the lobby robot greets guests, takes selfies, leads guided tours and can even explain the different room categories available.
Each hotel has its own shop which sells carefully selected items that match the brand.
The group also has its very own web shop.
Typical in-house features at 25hours properties include vinyl record collections, rooftop saunas and retro concept stores...just to prove that innovation doesn't have to mean the latest tech.
---
Wyndham Grand
In a nutshell…
Wyndham Grand offers a 5% discount to guests willing to go on a tech detox during their stay! Their "Reconnected" programme is both ironic and super savvy. Using what's essentially a reverse psychology approach to innovation, the experience "encourages parents and children to put their phones away and enjoy creative in-room activities."
The thinking behind this? Guests who aren't distracted by their devices will be more tuned into their physical surroundings, and more likely to spend quality time together, using the hotel's facilities and services to enjoy a more fulfilling family stay experience.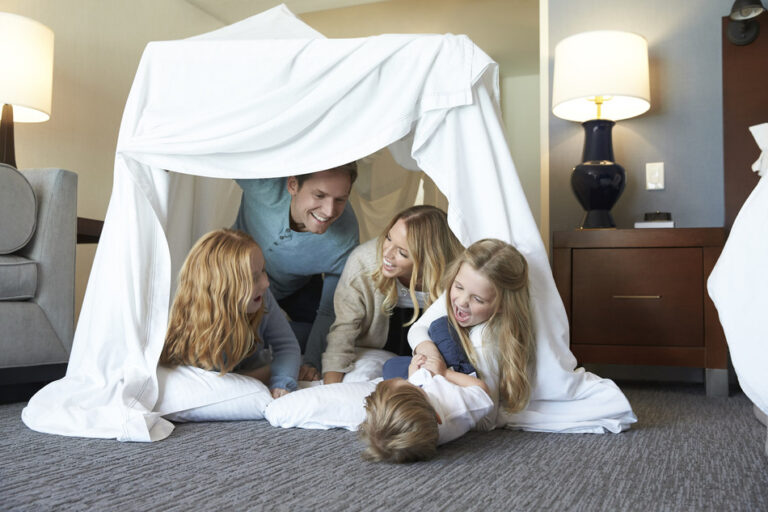 Reconnected is an escape from the pull of technology and everyday distractions, a chance to press pause on the moment and simply celebrate being together." Wyndham Grand
Why the hype?
Upon check-in guests are given a timed lock-box to put away their smartphones and other devices for the duration of their stay.
In the absence of their camera phones, detoxing guests are provided with Instax® instant cameras to take photos which can be printed out in real time.
Other 'incentives' include a late night Bedtime Brigade family room service menu, shadow puppet books, activity backpacks and toolkits for building in-room blanket dens.
Many hotels offer adult-only activities or separate kids clubs, but very few run initiatives designed to encourage parents to spend more time with their children.
---
JO&JOE
In a nutshell…
AccorHotel's achingly cool new brand has this year upped its coolness factor, in the form of a second JO&JOE property. Like the first, in Hossegor, its Parisian sibling is described as "an 'Open House' living space that's surprising and innovative." JO&JOE is the result of AccorHotel's Marketing Innovation Lab, and built on a model that deliberately isn't predefined to cater for a particular market.
More than just an accommodation solution, Jo&Joe has been conceived as an experience enhancer thanks notably to its offbeat design, innovative digital ecosystem and catering offerings." AccorHotels
Why the hype?
> Thanks to JO&JOE's ground-breaking geo-social app, all payments are contactless...and there's even a bar with a self-service beer wall where guests can pay with a prepaid card.
> JO&JOE is a game-changing hospitality brand which is proving to be disruptive because it blends the originality of private rental spaces (think: Airbnb) with the social experience of hostels, and the comfort and security of hotels.
> Their hybrid concept offers a variety of affordable accommodation types (including an 'out of the ordinary' category which includes unexpected options such as yurts, buses and treehouses!), social spaces, laundry rooms, lockers and collaborative kitchens where guests can show off their culinary skills.
---
ProPILOT Park Ryokan
In a nutshell…
This seemingly traditional Japanese inn takes innovation to vertigo-inducing new heights. Not content with being a futuristic smart hotel, ProPILOT Park Ryokan combines the ultimate traditional Japanese hospitality offering with Nissan's ProPILOT Park autonomous driving technology! The result? Intelligent hotel furniture and insanely smart features which simultaneously entertain guests and reduce staff workload.
The real aim of the ProPilot Park Ryokan campaign is to reach out to people who might not ordinarily be interested in automotive technologies." Nissan spokesperson
Why the hype?
---
Hotel Jakarta
In a nutshell…
The most sustainable hotel in the Netherlands! Hotel Jakarta is also one of the first energy-neutral properties, and the architectural team behind the project banned the use of any material with a short life cycle. The property oozes design cool, and all of the elements used will be dismantled and reused at some point. Green is definitely the name of the game.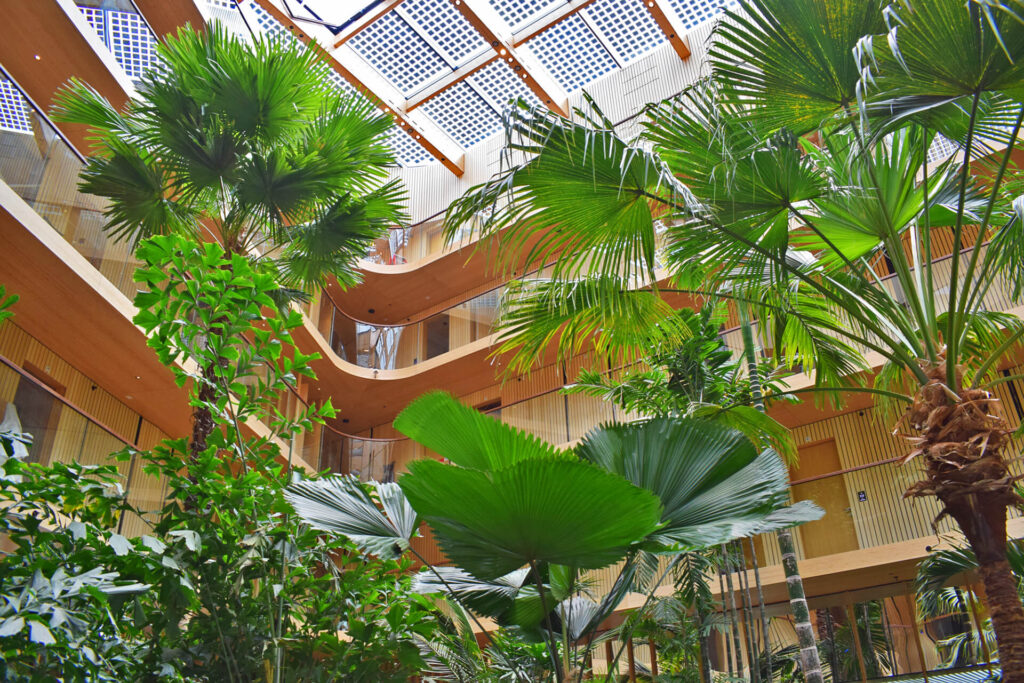 The city council wanted a unique hotel concept, not only in its architecture, but also in its public programming and sustainability." archdaily.com
Why the hype?
A subtropical garden in the central atrium of the hotel acts as a temperature regulator and plays home to 10 metre long palm trees and other indigenous plants from Asia.
176 of the hotel's 200 rooms were prefabricated and delivered by land.
PV panels on the facade and on the roof of the atrium collect solar energy that is converted into electricity which heats the water in the bathroom showers.
The staff even wear sustainably made uniforms from a collaborative collection by HACKED BY__ AND BY ROCKLAND.
Built on Java Island in the centre of Amsterdam, the hotel symbolically represents the historical maritime connection with Java.
---
Kameha Grand
In a nutshell…
This reception-less pinnacle of design innovation is often referred to as "the hottest design hotel in Zürich". Best described as a one-of-a-kind homage to Swiss culture, the space-age Kameha Grand Zurich is a tech playground, with Bluetooth-enabled rooms and automated "do not disturb" signs being amongst the more 'normal' features.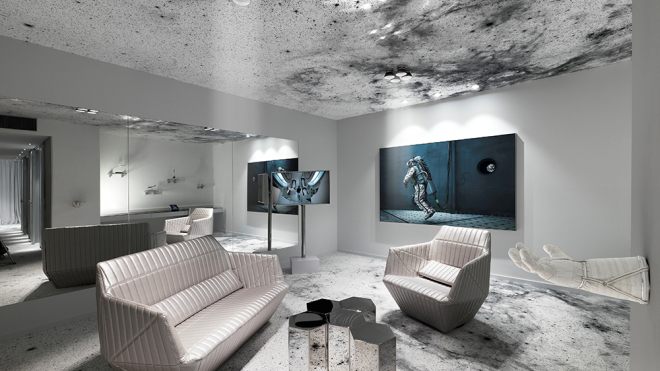 All our activities are focused on our motto: 'What does my guest gain from it?'" Kameha Grand Zurich Team
Why the hype?
There's no reception. Guests are instead greeted by smiling agents who operate from personable mobile stations.
The hotel's out-of-this-world Space Suite was designed by a member of the Virgin Galactic Pioneer Astronaut team and includes a live link to NASA's mission control, a floating bed, a space glove that doubles as a valet tray, rocket models, and books and movies all related to outer space.
The Fitness Suite has a fully functioning treadmill, free weights and, instead of carpeting, a rubberised floor marked like an indoor track.
Other design highlights include Swiss-inspired chocolate-patterned wall panelling, mini-bars fashioned as bank vaults, and Toblerone-shaped sofas.
---
The Good Hotel
In a nutshell…
An award-winning (a 2016 REBEL award for greatest innovation / disruption in the industry), innovative, disruptive, hospitality unicorn! As the name suggests, this former Dutch prison-turned-floating-boutique hotel in London combines premium hospitality with a charitable mission: to help the local community, by hiring long-term unemployed people in the area.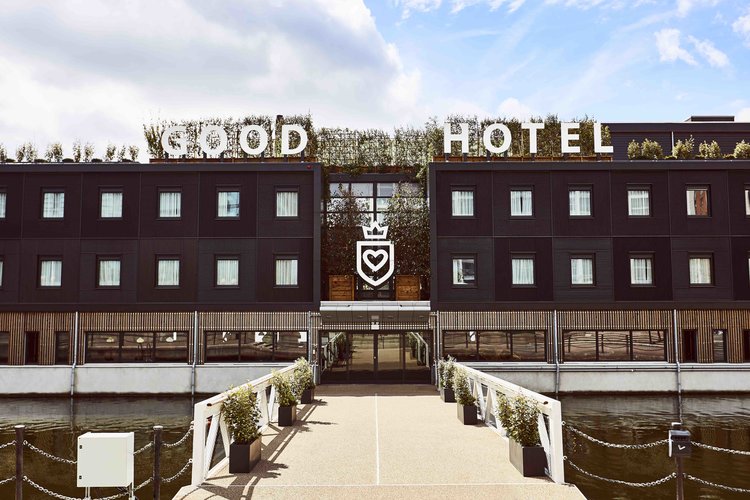 We call it social business: everything we do is oriented towards creating human value, for the long term." Marten Dresen, Founder and CEO of The Good Hotel
Why the hype?
---
Nordic Choice Hotels
In a nutshell…
Innovation is this group's middle name! Nordic Choice made the top 10 of Norway's most innovative companies in 2017, launched the first full-fledged hotel app in the Nordics, and have been serving organic food in all of their hotels since 2008.
Future plans include F&B, co-working, and retail projects, and their vision is to eventually make all of the apartments they own "part of the world's best digital guest journey", and provide owners with a hotel experience in their own home.
We base our hotel operations on three equal bottom lines: People, Planet, Profit. We want to be evaluated on all three levels. Completely transparent." Nordic Choice Hotels
Why the hype?
They take sustainable food very seriously. Their hotel restaurants conducted tests and found that smaller plates lead to less food waste, so they decreased the size of their plates by a few centimeters. The result? Food waste was reduced by 20%. They are also EAT's largest business partner.
One of their properties, the Comfort Hotel Bergen Airport, has revolutionised the airport hotel concept with organic burgers, a barception, 24/7 gym and free WiFi. All that and only a two minute walk from the airport!
They've met with NASA to discuss space tourism and to find out how the world of hospitality can become a big player in space.
They've also been experimenting with blockchain as a way of increasing direct bookings.
---
Hilton's Connected Room
In a nutshell…
The big hospitality players are all at it...but Hilton was one of the first to begin riding the IoT wave, and is busy driving innovation by harnessing new technology to empower its guests with unprecedented levels of control over their own stay experience.
The group's ultra intuitive HHonors app gives guests access to Connected Room controls (to set their preferred room temperature, control the lighting and curtains, pre-set their favourite viewing channels for quicker access, etc.) and other technology conveniences from their mobile device.
Inspired by 100 years of innovation, we continue to find new ways to meet the constantly evolving needs of our guests." Noelle Eder, Executive Vice President and Chief Information and Digital Officer for Hilton
Why the hype?
The app allows guests to check in digitally before arrival, select their room from a digital map, and open their hotel room's door with their mobile phone thanks to its Digital Key function.
The environmental benefits are huge. Hilton is applying AI and machine learning to reduce energy consumption by powering down devices when guests physically aren't in their rooms (around 70% of the time).
Hilton's recent collaboration with Netflix allows guests staying in Connected Rooms to access their Netflix accounts by logging in with a remote control or the keyboard on the Hilton Honors app.
It's expected that, as technology evolves, the app will remember guests' preferences for future trips to other Hilton properties.
---
Svart
In a nutshell…
A world first and a hospitality first! When it opens just above the Arctic Circle in Norway in 2021, this low-impact, circular masterpiece will take design and sustainability innovation to new heights.
The world's first energy-positive hotel has been approved by Powerhouse, the initiative responsible for "buildings that generate more energy than they consume throughout their lifespan".
Svart's roof will be clad with Norwegian solar panels (produced with clean hydro energy to further reduce the carbon footprint), and its rooms, restaurants and terraces will be strategically placed so as to exploit the sun's energy.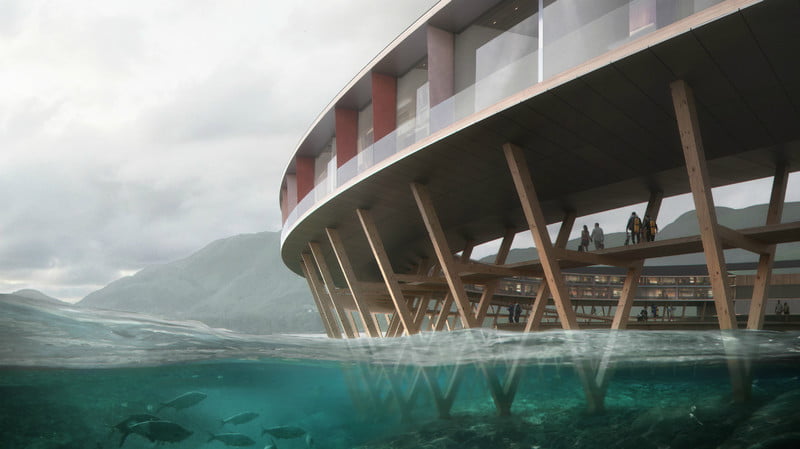 The luxury statement at Svart is about experiencing nature as it is." uberpanache.com
Why the hype?
Svart will be the first hotel in the world to generate its own energy, and will "harvest enough solar energy to cover both the hotel operations and the energy needed to construct the building." By around 2080 the hotel will have produced more energy than it cost to create and operate.
Activities on offer to guests will include practising yoga in the midnight sun, glacier hikes, ice climbing, night fishing, Northern Lights expeditions, diving, and foraging.
The structure will be suspended above the water on wooden stilts at the foot of a glacier, and reachable from the Norwegian city of Bodø by an energy neutral boat shuttle service.
The environmental goals of the project were conceived in partnership with the Arctic Adventure of Norway, and its designers believe it could save the planet.

Author:
Jessica Weldhen
2 May 2019
Check in with the latest in hospitality
Sign up to our monthly newsletter for industry insights, product news, partner offers and more.