The Mews Blog > What went wrong at Club Tropicana?
Club Tropicana was written in 1981, before Wham! were properly established as a band and a long time before the property management system revolution of the 2010s. But that doesn't mean we can't learn from their experience at the Club Tropicana resort.
Yes, welcome to the third in the What went wrong series. We've already explored the questionable practices at the Hotel California and tried our best to suggest improvements at The Shining's Overlook Hotel. Now it's time to delve into Andrew Ridgeley and George Michael's take on package holidays – to create a more sensory experience, I highly recommend hitting play on this banger.
Let me take you to the place
Where membership's a smiling face
Brush shoulders with the stars
Where strangers take you by the hand
And welcome you to wonderland
From beneath their panamas
Let me start by saying I'm already enjoying the vibes here. I've always been slightly sceptical of resorts, but the boys of Wham! are selling it well. Admittedly, I'm not 100% sure what they mean by 'membership's a smiling face' – although it sounds good, it's probably a nightmare for the marketing and revenue team to track membership this way. Club Tropicana would probably be better off creating a proper hotel loyalty program so they can convert these smiling faces into repeat bookings.
The staff at Club Tropicana are obviously very welcoming, which is good as we all know the importance of first impressions. However, it is possible to be too friendly. Taking your guests by the hand might have been alright in the 80s, but times have changed. Not to mention there's still a pandemic going on right now. The resort desperately needs to invest in contact-free solutions, like online check-in and check-in kiosks.
Club Tropicana, drinks are free
Fun and sunshine, there's enough for everyone
All that's missing is the sea
But don't worry, you can suntan
Free drinks are a great selling point, although it does risk attracting a certain type of clientele (I'm thinking Brits abroad, LADS LADS LADS). If they were smart about it, they could have only offered free drinks to guests who book direct, ensuring they cut out the OTA middlemen and enjoy better profit margins, even with all the free drinks handed out.
Otherwise, there's not much else to criticize here. Fun? Tick. Sunshine? Tick. There's a slight question mark over the sea – does the fact that they're bringing it up mean that somewhere on the website or in the marketing material the resort was advertised as sea-adjacent? If so, that's a big worry; there are few things more frustrating for a guest than being lied to (also known as marketing).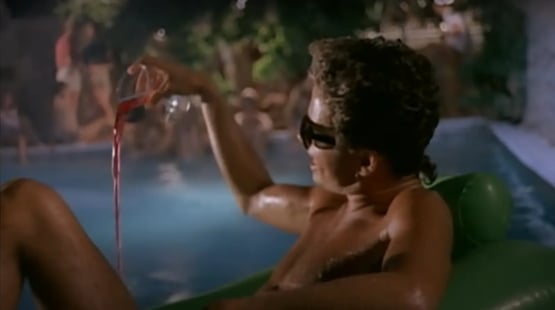 A free drinks policy can lead to hedonous misuse.
Castaways and lovers meet
Then kiss in Tropicana's heat
Watch the waves break on the bay
Oh soft white sands, a blue lagoon
Cocktail time, a summer's tune
A whole night's holiday
Hang on a second: I thought Club Tropicana wasn't by the sea? Where are these waves breaking on the bay coming from? AND a lagoon? If Wham! were working for Club Tropicana's marketing team, I hope they were given a stern telling off for their confused messaging. Maybe they should read some tips on how to create the best hotel marketing emails. But I digress.
Anyway, this bay/lagoon/soft white sands are a game changer. There's going to be high demand for the best spots at the beach (or the pool), and that means an opportunity for Club Tropicana's owners to monetize. For instance, Solay is an app that lets you book sun loungers or spaces in advance. That means guests don't have the stress of waking up early to ensure they get a spot, and it's an added revenue stream for hoteliers. I doubt George Michael ever had this problem, but for the mere mortals at the hotel, it could be a big boost to their happiness.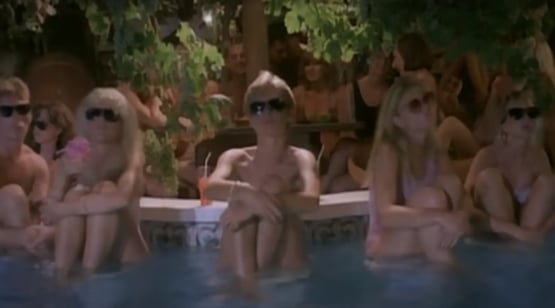 As shown in this grainy archive footage, pool-side seating is at a premium.
There's an app for that.
Pack your bags
And leave tonight
Don't take your time
Gotta move your feet, don't you miss the flight
Despite all the relaxation of the stay, check-out seems to be a pretty stressful experience. There's a lot of urgency around getting guests out of their room, perhaps because there are long check-out queues at reception. Nothing like a last-minute rush to the airport to kill the good vibes of the previous few days.
Online check-out would go a long way to solving this problem. Instead of rushing on the day of departure, George and Andrew could have checked out the night before on their phones. Then all they need to do is leave their key at reception or in the room and wham! Out the door without any waiting around.
Another good option would be providing an airport shuttle service. A more luxury property might consider offering this for free, but given the losses Club Tropicana are incurring giving away all those drinks, they'd be wise to make it a bookable extra and bring in some additional revenue...
And so ends our brief stay at Club Tropicana. Upon further analysis, it seems that the title of this article is a little unfair. There's a lot that Club Tropicana got right and their guests seem happy. But there's always room for improvement, and I'm confident that if they're thinking about changing their PMS, Mews would be able to make their guest experience even more remarkable.
Hospitality hot takes straight to your inbox
Sign up to our monthly newsletter for industry insights, product news, partner updates and more.