The Mews Blog > How to create the best hotel pre-arrival emails
It's easy to dismiss the hotel pre-arrival email as a nice to have. After all, you've already emailed these guests with their booking confirmation, so why bother with more emails? For many hoteliers, these important comms remain at the bottom of the priority list. Here's why that's wrong.
The ROI for email marketing is massive. For every dollar spent on email marketing, you can expect a return of up to $41 in revenue. To put it into perspective, that's better than social media, direct mail, search engines and television marketing. You don't have to spend huge amounts on email marketing to reap big rewards – all you need to do is give a little time and affection to your guests' email journey.
How many hotel pre-arrival emails should you send?
There's a balance between keeping your guests well informed and bombarding them with information. The sweet spot for hotel pre-arrival emails is usually two. Any more than that and open rates will start to drop as guests feel pestered. Any less, and you're missing opportunities to not only improve the hotel guest experience but to bring in more revenue too.
The booking confirmation email is an absolute must. It's an email that offers both peace of mind and a go-to source of information for your guests. If you haven't already, check out our article on how to create the best hotel booking confirmation email for specific advice on the first email in the guest journey.
Then there are the pre-arrival emails, your opportunity to gather guest preferences, to upsell your property's services, and to provide additional information to help your guest have a smooth stay. If you want to keep communication light, you can pack all of this into a single email, or you can separate it into two, which is what we'd recommend for most properties. There's also a welcome email, which you can send as soon as guests check in. The purpose is similar to pre-arrival emails, with more emphasis on providing reassurance ('tap this link to chat with us at any time') as well as upselling/making the most of your facilities.
How to create an effective hotel pre-arrival email
Although pre-arrival emails don't have quite the same open rate as a booking confirmation email, they still drive high engagement. They have an average open rate of 60.5%, and actually see a higher click-through rate than confirmation emails, with an average of 30.6%. Translation: this is an amazing opportunity for you to increase your revenue and guest happiness.
These tips are with guest pre-arrival emails in mind, but much of this will apply to all of your marketing emails in general, as well as your arrival or welcome email.
Timing isn't everything – but it counts
The most important thing in your email is the content itself. That will never change. But you can make gains by sending emails at the right time. However, there's no ultimate source of truth. Some reports that say Tuesday is best, while others claim that Tuesday actually has the lowest click rates and that Fridays are best. What they all seem to agree on is that weekends see a much lower open rate, so avoid sending emails then – the exception being the confirmation email, which should be immediate, and a welcome email if the guest is due to arrive on the Saturday or Sunday.
There's a bit more consensus on what time of day it's best to send emails. The peak open time comes at around 3pm on weekdays, so scheduling your send for after lunch could bring you most success.
Analyze your reservation data to inform how close to arrival you send your hotel pre-arrival emails. Segment your sends, depending on how far in advance someone booked. For example, if a guest booked six months in advance of their stay, they're probably the type of person who doesn't do things last minute – so send their pre-arrival email with plenty of time before their booking.
Craft your subject lines
As any copywriter will tell you, the shorter the copy, the harder it is to get right. Subject lines are a perfect case in point. You have something in the region of just 50 characters before your copy cuts out (depending on the email client and device), and in this tiny space you need to make a compelling argument for your customer to click and read on. It's a bit of an art form, but some tips that have proven to increase open rates include:
Creating a sense of urgency: "You've got 48 hours to get your upgrade offer"
Personalizing the content: "Tom, it's a long way to Kyoto – book a spa day to unwind"
Using numbers: "80% of our guests dine with us on their first night – here's why"
Asking questions: "Is there anything you'd like to tell us before your stay?"
There are plenty of really helpful articles about creating excellent subject lines, so we won't go on and on here. This one's a great place to start.
Nailing the upsell
The pre-arrival email is the time to upsell. According to a Revinate report, a massive 98% of upsell revenue is made through pre-arrival emails. Time to pay attention, then.
So what should you be promoting? In GuestJoy's hospitality upselling report, wellness had the biggest revenue share, with 26.7% of total upsell revenue. Room upgrades came in second, generating 23.8%, and restaurants were third with 17.5%. No real surprises here: these are three areas that most hotels can take advantage of, where there's a high intent for guest engagement. Therefore, make sure you have these three bases covered before you attempt the less popular upsell.
Analyse your data to see what you should be leading with. Usually, you can make more money from room upgrades and restaurant offers during the summer months, but your hotel might have its own distinctive patterns. If a guest has booked to stay in the cold winter months, it might be that they're less likely to want to leave the hotel and venture into the cold streets. In which case, be sure to highlight your in-house spa and swimming pool, or any other amenities that play into the comfort-factor.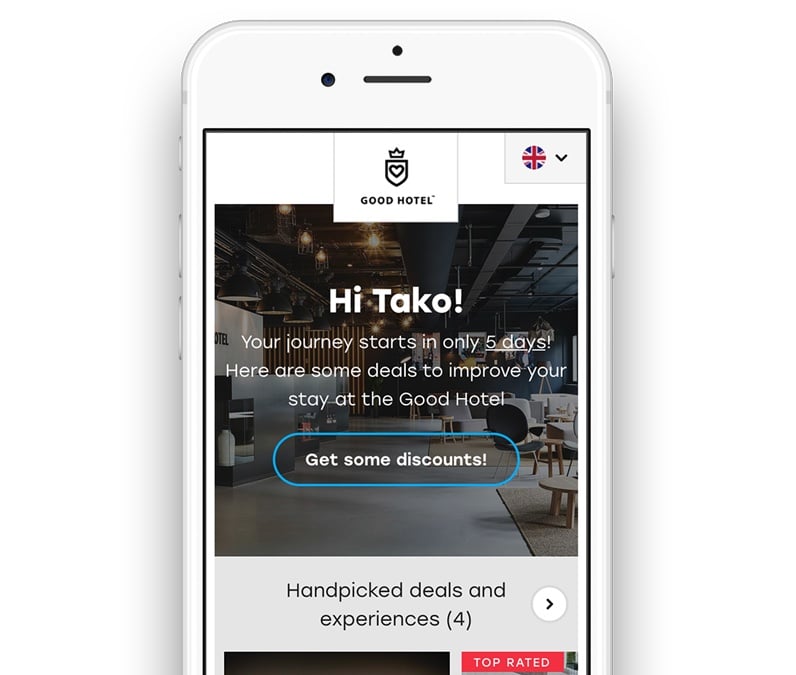 Tantalize with imagery
Remember how in the booking confirmation email piece we told you to be careful with your imagery? If someone's booked an economy room, you don't want to mess with their expectations by showing them your premium suite. Well, the pre-arrival emails are a little different.
When you're upselling products or services, the best way to do so is usually by showing your guest what they're missing. Do you have a restaurant with amazing views overlooking the sea? Use an image to persuade your guests to make a reservation in advance. Got some higher-rate rooms that you still haven't sold yet? Now it's okay to include a picture that shows off the extra space or the special free-standing bathtub; as your guests have already bought in to your hotel, they're now more likely to shell out a little more cash if it means an upgrade.
Be a local expert
Guests value your expertise. Most likely, they'll be coming from a different city or country, and they may not know about some of the best things to do in your area. So tell them. And don't just name the same famous restaurants and landmarks that everybody goes to – if you're a hotel in Paris and you suggest a trip to the Louvre, what value are you really adding for guests? They could find that in over a thousand lazy travel blogs.
If you can, focus on unique experiences. Check what's going on during their stay suggest some live music or sports matches they could attend. This is where developing relationships with local venues and sellers also pays off, as you should be able to make a commission on these sales – as well as offering guests great experiences.
Give your recommendations a personal touch; it will not only add value to what you're saying, but you'll appear more knowledgeable. For example, here are two different ways of recommending the same restaurant:
The boring way: We recommend Franco's Pizzeria, just a short walk from the hotel.
The engaging way: Love pizza? Franco's Pizzeria is our favourite pizza joint. Try the quattro stagioni for a taste of heaven, and if you have any room left afterwards, their homemade tiramisu is the real deal.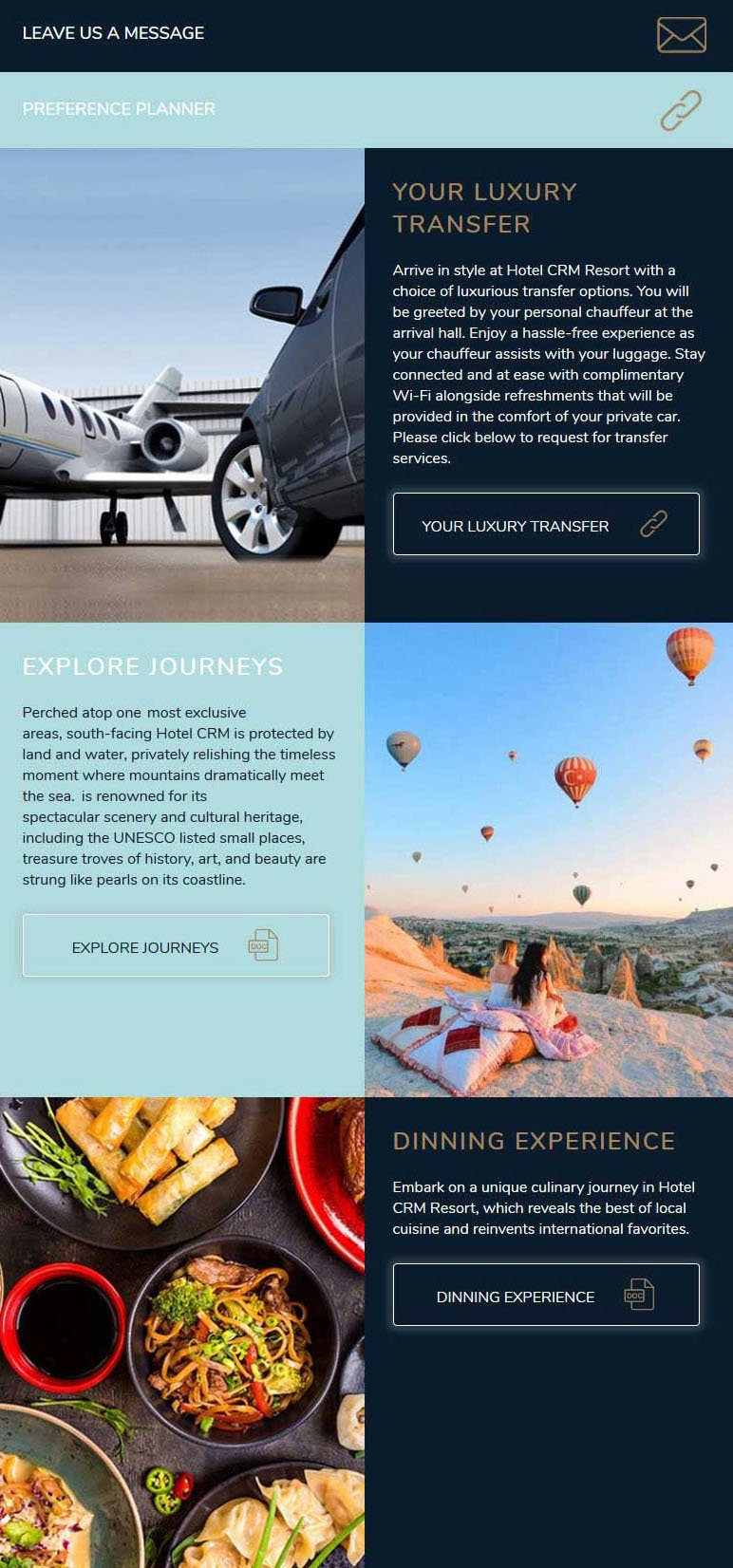 Let guests know you're prepared
If your guests have already made special requests, it's a good idea to reiterate them here to set their mind at ease. Email automation that pulls in specific data is a huge time saver, meaning you don't have to manually go into specific emails – there are a few customer management integrations that can help. For example, if a guest has already requested a cot in their room for a baby and a taxi from the airport, you should be able to pull this information from your property management system into your email. It might look like this:
As a reminder, we've already got the following prepared for you:
A taxi from the airport

An infant's cot in your room

Hypo-allergenic bedding

An 8pm reservation at our restaurant on 14/06/2021
As well as reminding guests what they've already requested, give them an easy way to tell you about anything they forgot to mention. This could be your final touchpoint before they arrive, so include a live chat button or other easy way for them to get in contact. Being always available is key to great guest experience, and a simple 'Forgotten something? Let us know' can make a big difference.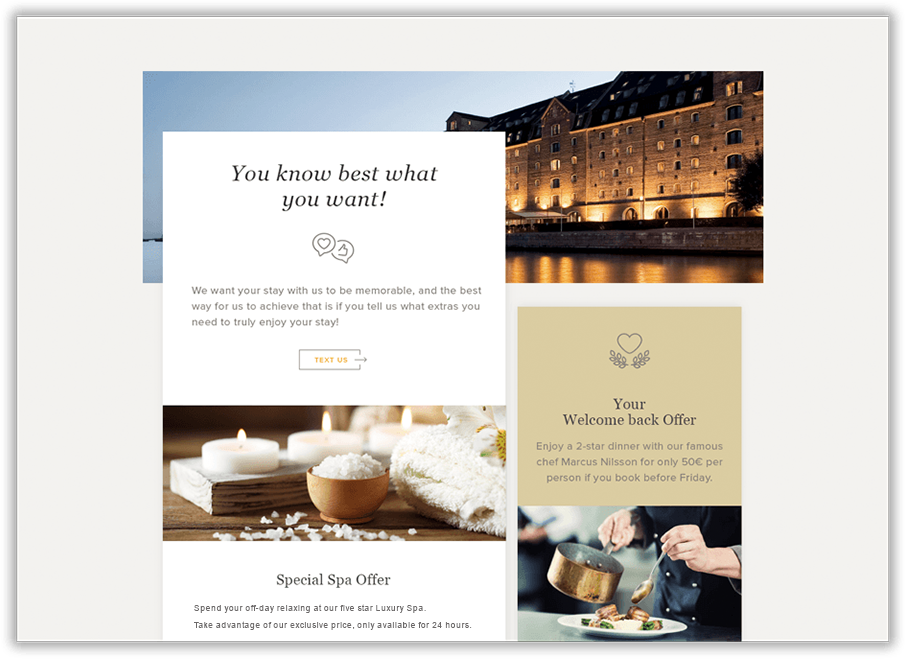 There you have it. Follow these bits of advice and you should see an increase in guest engagement as well as upsell revenue. Even more importantly, you'll give guests a smooth, more remarkable experience at your property.
Hospitality hot takes straight to your inbox
Sign up to our monthly newsletter for industry insights, product news, partner updates and more.