The Mews Blog > How to create the best hotel booking confirmation email for guests
Sometimes it's the little things that elevate a good guest experience to a great one. Emails are the perfect example. Every hotelier sends emails to every hotel guest who books with them, and the first – some would say most important – touchpoint once a booking is made is the hotel booking confirmation email.
We don't need to explain what a hotel booking confirmation email is. The clue is in the name. But what is worth highlighting is its importance in the guest journey. In most cases, it's the first time you're messaging a guest directly, so it's important you get things right. Here's how.
Why focus on your hotel booking confirmation email?
First things first: the booking confirmation email is an absolute must. If you buy something online and you don't get email confirmation within a minute, you start to panic. It's true for any purchase, from a pair of socks to a week in a 5-star hotel. Perhaps more than anything else, this email offers peace of mind.
For a hotelier, the booking confirmation email is an invaluable touchpoint with customers. According to Revinate's Hotel Email Marketing 2019 Benchmark Report, hotel confirmation emails have a massive 72% open rate and 25% click-to-open rate. Compare this to the industry average of 17.7% for open rates and 11.5% for click-to-open rates across all emails and it becomes clear that hoteliers shouldn't waste this precious step of guest interaction. In short: this is the one email we know that guests will read.
There's another compelling reason to spend some time on your booking confirmation emails: online check-in. Hear us out. Encourage guests to check in online in your confirmation email, and you'll dramatically improve your online check-in conversion. Why is this a good thing? More online check-ins mean less stress on your front desk team. It means more time for personable conversations and a smoother guest journey for those who want it. But for online check-in adoption to improve, you need to tell your guests about it, and the booking confirmation email is the ideal place.
How to create an effective hotel booking confirmation email
Now that you know (if you didn't already) that booking confirmation emails are important, let's get stuck into some details about to make them outstanding.
Don't overwhelm your guests
Email marketing is a powerful tool for generating extra revenue for upselling – but that doesn't mean you should bombard your guests with every product or service you offer. People spend about 14 seconds reading a confirmation email, and at this first point of contact you should focus on the essentials. The most important information should always be 'above the fold'. Translation: it should be visible without needing to scroll down to read.
There are some non-negotiables that you must include:
Reservation number / booking ID
Room type
Dates of stay
Address, with a handy link to a Google Map (this could also be a good place to suggest a taxi/shuttle/limo service with a link to book it)
Rate for total stay
Check-in / check-out times
Online check-in details (if you offer it, which you should)
Contact information – ideally, include a 'Chat with us' button that opens a live chat directly with your property, which is the most seamless way for the guest to get answers
It sounds like a lot of information but as long as you format it so the details are clear and easy to read, guests will appreciate the breakdown. For many guests, this email will be the document that they refer back to if they need a reminder of any of the details of their stay. Don't bury this important info in paragraphs of text: set it out line by line so it can be found instantly.
Airbnb do this really well: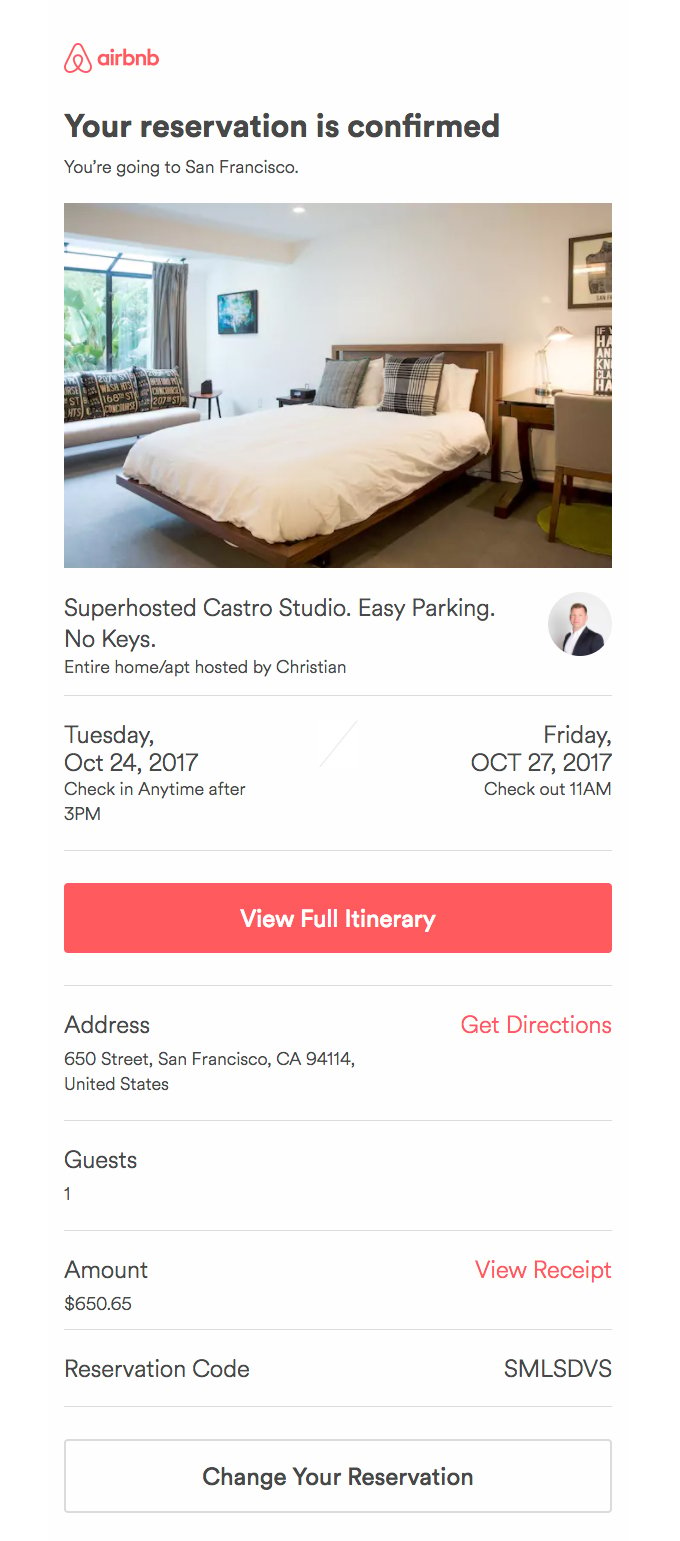 There's absolutely room to upsell a couple of your services, but don't overwhelm guests with a huge list. Remember, this is not (or shouldn't be) the only email your guests receive before they arrive. There will be other opportunities to generate more income. For now, some sort of 'Upgrade your stay' section is a good idea, with a couple of your most popular add-ons, such as breakfasts or taxi services.
Like Dolly Parton, your hotel booking confirmation email should be short but sweet.
Subject lines and CTAs
Although subject lines are important, there's no need for anything fancy with a confirmation email. Marketing and prospecting emails are the time to get creative with subject lines, but your confirmation email should mention your hotel name and booking confirmation number. This makes is much easier for guests to search for and find their booking details when they need them. There's still room to be personable, but don't go overboard. For example:
Boring: Booking confirmation – Ocean View #BR1234
Welcoming: Put it in your diary! Your stay at Ocean View is booked – #BR1234
A call to action (CTA) is usually a button, though it can be a hyperlink within text. Buttons are more eye catching, however, and typically drive higher clicks. So if you have an action that you want guests to perform, such as online check-in, make sure the button stands out from the rest of the email. If you have a white background, don't make your button white as well. Contrasting colors (ideally still within your brand guidelines) will help improve conversion.
As for the text on the button itself, create a sense of urgency and make it obvious what your guest has to do. If the button links to online check-in, don't just say 'Click here'. Say 'Check in online now'. There are mountains of research that's been done about CTAs and customer behavior, and if you want to dive into more detail, this article is a good place to start.
Automate email sends
Fast is good. As soon as a guest makes a booking, this should automatically trigger an email send. If anyone's still doing manual sends for this, even if it's just clicking a button, you're doing unnecessary work. Automated emails mean fewer mistakes (they pull data that guests have already entered themselves) and it cuts the wait time for customers.
At the moment of booking, excitement levels for the guest are high. A confirmation email appearing immediately in their inbox is more likely to be opened and they're more likely to click because they're still riding that buzz.
Optimize for mobile
This may or may not shock you, depending on your own age and habits, but the majority of people use their phones to read emails. In travel and hospitality, 55.6% read emails on mobile, compared to 28% on webmail and just 16.4% on desktop clients. Your email may look smart on your work laptop, but have you checked how it will open on your phone?
Hospitality emails have a 12% higher open rate on mobiles than desktops, and better click-to-open rates too. You shouldn't need any more convincing by now that it's time to work on optimizing your emails for mobile.
Here's how an email appears in Outlook and how it could be optimized to read better on mobile:
Be on brand
Language is important. Let's say you've just booked a stay at a cool, boutique hotel – somewhere hipster like Williamsburg or Shoreditch. You were drawn in by the laid-back, casual tone of the website, which spoke to you like an old friend. Then your confirmation email arrives:
Dear Mr Brown,
This email is to confirm your booking at our hotel on 21/05/21 – 28/05/21. Payment via credit card will be taken 10 days in advance.
Contact 01234 567890 for any questions.
Suddenly you're wondering whether you booked the right place. A disjointed user experience like this is a big turn off for a guest, so spend some time customizing these emails to hit the tone of voice and feeling that's appropriate for your property. For example, the above copy could become:
Hey Tom,
Just wanted to let you know that your stay at Hipster Hotel is booked and we're already making the towels extra fluffy, ready for your arrival.
Everything you need to know for now is here in this email – check it out and drop us a line if you want to chat. We can't wait to meet you.
Choose images that inspire
There's plenty of truth to the old saying: a picture says a thousand words. But the way pictures work best is in tandem with words. In your hotel booking confirmation email, words perform the more functional role of giving guests the key information they need for their stay. Pictures, on the other hand, are there to evoke emotions.
As much as it pains me to say this as a copywriter, a gorgeous image of a swanky hotel room looking out onto a sunset is going to inspire a guest much more than a beautifully crafted paragraph – unless you've got someone like John Steinbeck writing your emails.
Use imagery that highlights your onsite amenities, whether that's a pool, bar, restaurant, or anything else that might get your guest excited. Unless you're segmenting your confirmation emails based on room type booked (that's a great idea, by the way), you should steer clear of using imagery of the rooms themselves. If a guest has booked an economy room and you send them imagery of your stunning penthouse suite, you're not only setting the wrong expectations but you're probably annoying them too.
This is the top of the confirmation booking email by The Scott Resort & Spa. The image shows you the pool, and bar, and exactly what you could be doing soon. I'm not even going there but I'm excited.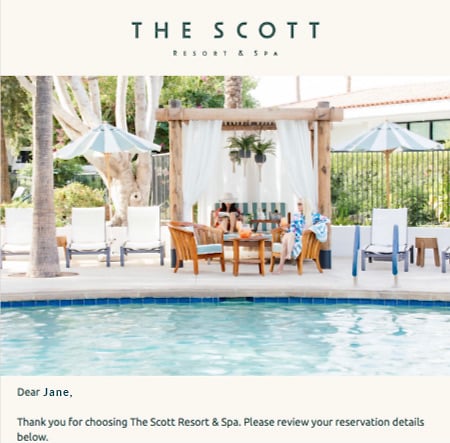 Speak your guests' language
In an ideal world, you'd communicate with every guest in their own language. Unfortunately, there are over 7,000 languages around the globe, so this isn't a realistic possibility. How you handle this largely depends on what budget and capabilities your property has.
If you're lucky enough to have a CRM tool, it should let you automate the email based on location or language preference of the guest. FYI there are plenty of customer management integrations on Mews Marketplace.
Use your own data to prioritize language translations. Run a report that shows you your property's nationality breakdown; if a the majority of your guests come from France and Italy, then make sure you translate the email into French and Italian. Because English is such a common second language – and the global language of business – you should definitely always have an English option too, regardless of how many of your guests actually come from native English-speaking countries.
Address the Covid elephant in the room
In case you didn't notice, we're in the midst of a pandemic right now. In all likelihood, we'll be living with the presence of Covid-19 for a decent while longer. There's a fine line to tread here. On the one hand, people are fed up of the virus and many will be booking holidays to give themselves a few blissful days where they can forget about everything. On the other hand, most people will want to know that they'll be safe during their stay.
A good compromise is a simple line of copy, something along the lines of 'How we're keeping you safe during your stay' with a link to a page on your website where guests can find more details if they want to. For example, something like this, as a clickable image, is a good solution: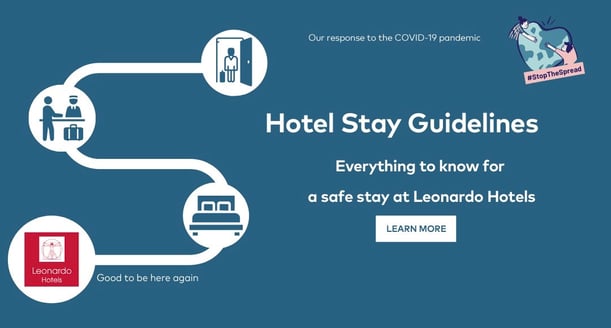 Keep testing your emails
Implementing all of these changes will see a positive impact on open rates and click rates, which ultimately means you'll have more informed, better engaged guests. In turn, this increases happiness and trust, boosting the likelihood of boosting revenue through ancillary sales.
But if you see a boost in your numbers, don't stop there. It's relatively easy to perform email tests, whether it's for subject line lengths or content ordering. It costs much less marketing spend to retain a customer than to acquire a new one, so it's worth investing time and effort into creating an engaging and exciting guest journey. Your booking confirmation emails are the perfect place to start.
Perfecting guest communication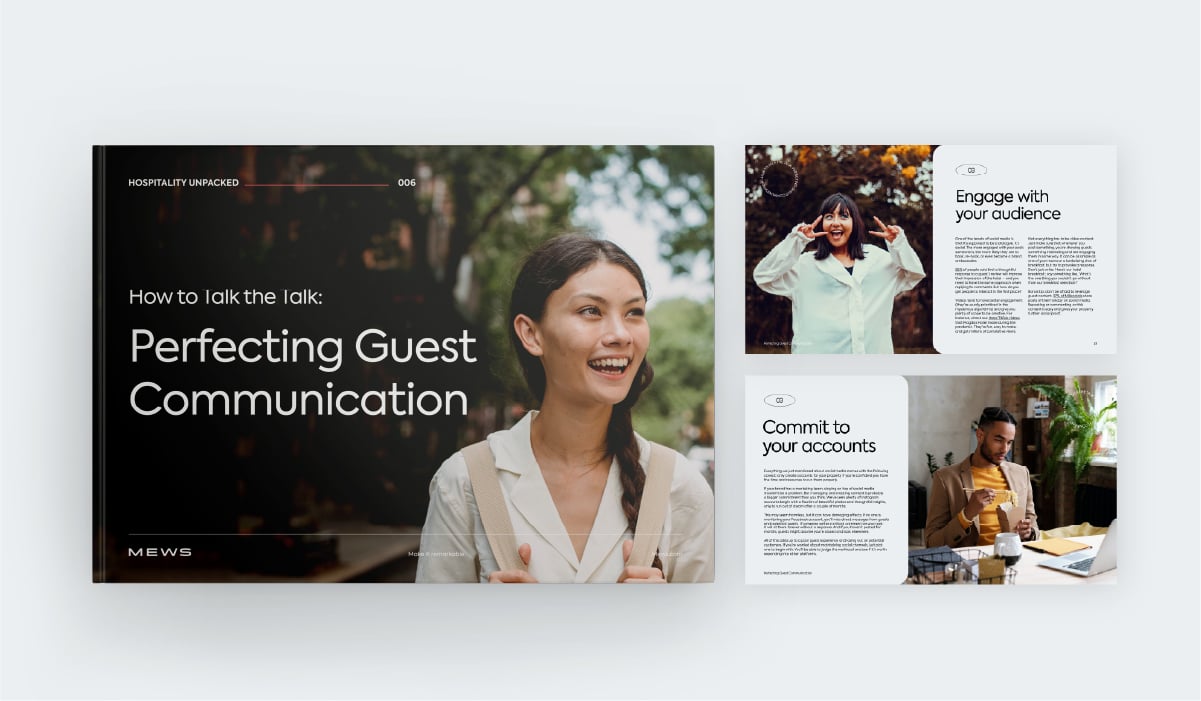 Your booking confirmation email is only a small (but important) part of your marketing and comms program, and it will be all the more effective if you think of it as part of this bigger whole.
Our guide to Perfecting Guest Communication walks you through important guidance and tips around communicating through emails, social media, your website and more.
Hospitality hot takes straight to your inbox
Sign up to our monthly newsletter for industry insights, product news, partner updates and more.