The Mews Blog > Transform your property with Mews Payments
Payments. They're kind of important.
They used to be simple. Cash, a bank transfer, or even traveler's cheques – remember those? No longer. Now, there are more ways to pay than ever, with digital payments and FinTech dramatically changing the landscape. To benefit from the extra sales and revenue that new payment channels can provide, you need a forward-thinking solution that can securely process every transaction. In short, you need Mews Payments.
What is Mews Payments?
Mews Payments is part of our technology ecosystem. It isn't a standalone add-on that we built as an after-thought – it's an integrated, integral part of the Mews tech stack that weaves into other Mews products, from reservation management for hoteliers to guest services like online check-in and self-service kiosks.
Payment automation is at the heart of Mews Payments. Traditional clunky, transactional experiences that add little value to the guest are transformed into invisible, frictionless experiences for your customers, with no heavy lifting required on your side. Here's a snapshot of what you're able to do:
Take effortless payments at any point across different guest journeys
Automate processes and avoid manual input errors
Manage refunds and chargebacks directly from the guest bill
Hold high security standards for handling payment details
The big benefits? You'll save loads of time for your staff and your guests, you'll improve security, and you'll see revenue uplifts through the ease of upselling and cross-selling.
Seamless payments for your guests
Before we look in more detail about what Mews Payments can do for you and your staff, let's talk about why it's great for your guests. After all, Mews is a guest-centric platform and you're in the business of providing remarkable guest experiences.
Think of Mews Payments as a sleek yacht, resplendent in the sparkling ocean. The guest experiences what happens above the surface: all they need to do is point the boat in the direction they want to go in, and it's plain sailing. The reason they can do this is because of all the complicated technology going on beneath the surface – they can't see any of it, and frankly, they don't even have to understand how it works. Mews Payments is your unseen engine room, doing the heavy lifting so that your guests can enjoy their trip without boredom or complications.
What does this mean for your guests in practical terms?
Convenience of payment choice
People like different things. Some are into classical music, others love thrash metal. And when it comes to payments, some people prefer debit cards, some prefer digital wallets, and some prefer alternative payment methods. There's no right or wrong way for a customer to pay – the important thing is that they can do so stress-free and easily.
With Mews Payments, your guests can choose whichever payment method is most comfortable for them. No stress about whether they can use American Express or if the property is modern enough to accept Apple Pay. Every option can be processed securely and so that's one less thing for your guest to worry about.
No payment admin required
Because Mews Payments stores the guest's tokenized payment details, there's no need for the guest to rummage through their wallet or purse when they want to make additional purchases. Once again, the work going on unseen in the backend results in a smoother experience above the surface.
Let's look at a real-world example. You're staying at a hotel without Mews Payments. In your hotel room, you're flicking through a brochure you were handed about what's going on in the hotel over the coming weeks. You notice a wine tasting experience the next day and you fancy booking it. In the old world, this would involve calling up or walking down to reception, asking to book a place and then inserting your card into a terminal. A couple of minutes of awkward waiting and conversation later, and you're all booked. In the grand scheme of things, it's not a huge amount of time, but it's enough to deter some people from making the effort, and so that wine would go untasted.
Now imagine you're in a Mews hotel. You're in your room, scrolling through the virtual concierge to see what's happening. You see the wine tasting, click the 'Book now' button, and that's it. The payment is automated and taken immediately or added onto the final bill on the guest's profile. Zero hassle, all the wine.
More time for helpful conversation
No added value ever came from the question: 'And how will you be paying?' Automating payments not only saves time for your guests, but it gives them the space to ask more important and interesting questions.
They'll also get much better service from your staff, who won't be distracted by navigating clunky software, filing receipts, or folding invoices in an exacting manner (if you've ever worked on a front desk, you'll know exactly how this works). All a receptionist needs to do is click a button to process the payment and that's that. There's no physical receipt either – it gets automatically sent to the guest's email address. The result? More time to give the guests personal insights about the area or let them know about upcoming events and experiences that they might enjoy. Your guests will appreciate the attention and feel all the more valued for it.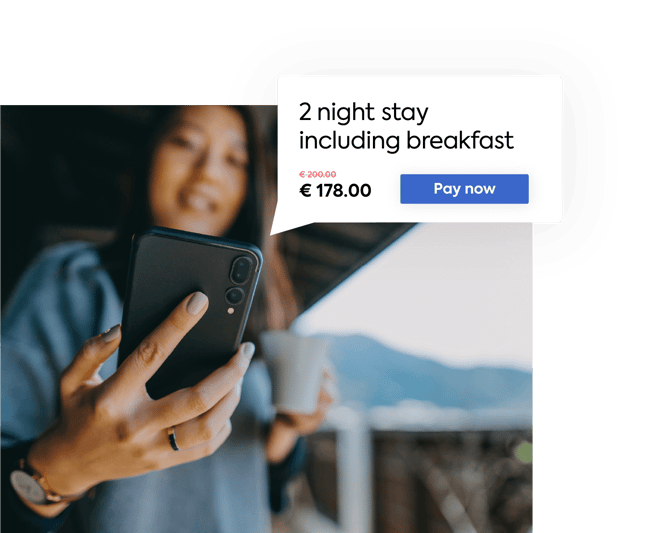 Streamlined payments for your property
So Mews Payments is great for your guests, but what about for you? Well, the good news keeps on coming. Streamlined operations, smoother reporting, fewer errors and chargebacks, and improved security are your rewards for embracing a modern, integrated payment solution.
Become more efficient through automation
'Payment automation' is one of those phrases that's thrown around a lot. Sometimes it's hard to know what it actually means. When it comes to Mews, it means the ability to create settlement rules so that you always capture payments, whatever the guest journey. It means preauthorizing cards and rate management, where you can cover extra charges with more than 100% preauthorization if you choose. It means connected task management and easy cancellation policy setup that will automatically apply to relevant bookings.
One of the other big wins for your team is that Mews Payments eliminates the manual work around central reconciliation. Forget about printing papers and scrabbling for lost receipts. Everything is digital, with full transparency of what's paid and what's outstanding. Not only is this a huge time saver that eliminates manual errors, it's also a boon for security – more on that later.
Capture payments, anytime, anywhere
In ye olden days, payments were almost always captured on arrival or departure. It works for some guests and some properties, but it's no longer the only way of doing things. With Mews Payments, you can capture payments at multiple points throughout the guest journey: booking engine, booking confirmation, terminals at front desk, kiosk check-ins, or payment requests sent via email at any time.
That's on top of the multiple payment methods we've already covered in the guest benefits. Claudia van den Berg, Managing Director at Boutique Hotel STAATS Haarlem had this to say: "What's great about Mews Payments is that you hardly even notice it's there. We check our reservations, our incoming reservations every day in early mornings, and let's say 95% of the incoming reservations are done, settled, charged."
This also has a positive impact on cash flow. You're no longer waiting until check-out for every payment, effectively operating in arrears – varied payment capture means you can take control of incomings and charge when is most convenient for you. Also, because it's so much easier for guests to make purchasing decisions, they're more likely to spend more, creating an increased and a steadier stream for your incoming payments.
Use data to understand your guests
Finally, you can enjoy a real-time 360˚ overview of your guests' payments. How? All payments are immediately posted against the corresponding guest profile, so at any given time you can click into their profile and see what's owed, what's paid for and when.
It isn't just that single stay that you can see their data from. You'll be able to see any transaction from any past stays at your property, or from trips to other properties in your group. Use this data to understand their spending habits and calculate their lifetime value, one of the key metrics modern hoteliers should be focussed on. You can then customize offerings per guest habit, increasing average spend. For instance, if you notice a guest booked a spa package on their previous stay, you can make sure to promote a similar package for their current trip.
Reduce risks with added security
Mews Payments has been built to incorporate the industry's highest security standards. Property and guest data is always stored and processed safely, with automated processes reducing the risk of fraud, theft or manual errors. Want to get specific? No problem.
We're Level 1 PCI-DSS Certified, which means that thanks to tokenization and end-to-end encryption, actual card details never actually touch the Mews ecosystem. PSD2 compliance includes 3DSecure as fraud prevention, which means that the first time a guest makes a payment, they need to verify using one of:
Something owned, such as a code sent to a phone
Something known, such as a pre-existing password or security question answer
Something you are, such as a fingerprint or facial recognition
This added security doesn't mean you have to compromise on conversions, as we've optimized the direct booking flow to capture payments. You can read much more detail about Mews and PSD2 here.
Fewer chargebacks, more support
We could write a whole article about why Mews is great for handling chargebacks. In fact, we already have, and you can read about hotel chargebacks here. One of the most important things to know is that thanks to the added security measures we just spoke about, your chances of receiving a chargeback are much lower. If it does happen, you'll get an automatic notification, guidelines about how to proceed, and support with submitting evidence.
Here's what Liutauras Vaitkevicius, General Manager at Good Hotel, London, said: "Since we switched to Mews Payments, we've seen the number of credit card fraud cases go down by 60%. Whenever a stolen or fraudulent credit card is used, the system bounces the transaction back, which is amazing – it means that we don't have to deal with it, and at the same time we're protecting our paying customers."

The benefits of Mews Payments
You've made it all the way through more than 1,600 words about Mews payments, and there's been a lot to take in. Let's recap the benefits:
For your property and team:
Significant time savings
Less boring administration leading to fewer manual errors
Greater flexibility with when to take payments
Better understanding of your guests
Clean, simple reporting
Increased security and fewer chargebacks
Better for the environment thanks to zero receipt printing
More revenue through easier upselling
For your guests:
Convenient, instant payments with zero hassle
Choice of payment methods that they trust
Flexibility of when they can pay
More meaningful conversations with your team
If there's one thing to take away from this article, it's that Mews Payments will help transform your property from hands-on payment processes to a set and forget philosophy. Transactions should never be the focal point of your guest journey or of any conversation. They should be out of sight, reliable and secure, actionable in a single click. If it sounds fanciful, you obviously aren't using Mews Payments yet.
Hospitality hot takes straight to your inbox
Sign up to our monthly newsletter for industry insights, product news, partner updates and more.