The Mews Blog > What is a hostel, and how does it compare to Airbnbs and hotels?
You may be wondering what is a hostel and how does it compare to Airbnbs and hotels. While hostels and hotels are run and operated by professionals from the hotel industry, Airbnb is part of the sharing economy, a way of renting out your own space to like-minded travelers looking for a local experience. However, what most people don't realize is that it was actually the hosteliers that were doing the sharing economy way before the kids in San Francisco ever decided to rent out rooms with airbeds (aka Airbnb).
Hosteliers were putting in bunk beds for grown men and women to sleep on and selling couches when they could skirt the regulation around rentable spaces. They were the true innovators of the hotel industry, and are arguably the most future-ready solution. In this article we will look at what are hostels in more detail, how they work and the differences between hostels, Airbnb and hotels.
What is a hostel?
Anyone who's ever done a backpacking trip knows what a hostel is, especially those who backpacked through Europe, where the concept of the hostel first started. It is about lower-priced shared accommodations with a large dorm room containing bunk beds and shared bathroom facilities. They generally appeal to a younger audience on a shoestring budget who is willing to forgo privacy to spend less.
While some hostels offer private accommodations, your cheapest bet is always the shared dorm room. They usually have a shared lounge area, a communal kitchen, and it is not uncommon for them to be managed by travelers working to pay their stay to continue traveling. Hostels have a communal feel to them, with many cultural interchanges happening through shared meals and experiences.
Find out how to start your own hostel.
How do hostels work?
Hostels are able to keep prices down by offering basic services and amenities. In some hostels, you even need to pay extra for sheets. A hostel works the same way as a hotel in the fact that you can book ahead of time. You can either book directly from the hostel's website or there are usually specific OTAs dedicated to distributing hostels, but you can often find them on popular booking sites as well.
Hostels: the Marriage of Airbnb and Hotels?
Now that you have a better idea of hostels and how they work, let's take a look at how they differ from Airbnb and hotels.
Flexibility and availability
Hostels are a great option for backpackers because they're flexible: if you don't want to book anywhere too far in advance because you might decide to go to a completely different place, or change route all together, at a hostel it's usually easy to find a spot, even at the last minute. Similarly, the best thing about hostels is that you can usually find a bed (oftentimes hostels even reserve some beds for walk-ins).
In terms of Airbnb and Hotels, this may not always be the case because some Airbnb hosts don't have immediate reservations available, so you have to wait for your reservation to be confirmed. Hotels, while sometimes have last minute availability, they usually have stricter cancellation policies and non-refundable rates.
The traveler's experience
One of the appeals of Airbnb and hostels is the local experience. Whether you stay in an off-the-beaten-track destination in a local's apartment or you stay at a hostel sleeping next to like-minded travelers, you are getting a one-of-a-kind experience. Even if you don't know the area where the hostel is, you can usually bump into a few people – locals or fellow travelers – who can tell you where to go, what to do, what to watch out for, etc. (and to outsmart the guide books by having more up-to-date, local info).
This desire for personal connection and living like a local is where hostels and Airbnb may come out ahead, but that's not to say a hotel can't compete. By offering one of a kind experiences, with personalization at the forefront, hotels have the chance to reimagine the future of guest experiences.
The future of hospitality
While hostels and Airbnb started with the same model in mind of appealing to a budget traveler looking for a local experience, both continue to evolve. And for this reason, with today's pace of technological change, it's vital for hotels to be plugged into an ecosystem of products that are constantly evolving and adapting in order to stay relevant in the competitive landscape. Mews and its team are actually disrupting the hotel tech industry with its PMS, and finding that the travel landscape is beginning to resemble that of the backpacking world, and travel habits and schedules are becoming as flexible as we described above.
When Mews started building the system, they thought of a future where a hotel brand wouldn't just have one location, but many distributed addresses around the city. They got lucky in that some of the first people that they spoke to about the concept of a 21st Century PMS, were hosteliers. It meant that they didn't just think of guests in rooms; they built out buildings that could be apartments, made up of individual rooms, and made up of individual beds.
Mews understands that the future of Hotels is a future that encompasses all accommodation and gives the flexibility of choice to the customer. The sharing economy brings the ideas, but it still needs to become reliable. They see the wave of professionalization of Airbnbs upon us, and while these would-be micro-hoteliers looking to get their heads around the complexities of brand-building and local regulation, Mews looks to hosteliers as those who will ultimately provide the world with brands that offer a full breadth of management – cooperation with local landlords, Airbnbs, dorms, rooms, apartments, beds, and also (in the future) co-working spaces and unorthodox meeting rooms.
Adapting to the market
You can look at some of the leading lights of the hostel industry – Wombats, Clink, Generator, Equity Point, K's House—and some strong regional brands – Soul Kitchen in St Petersburg, Mosaic House in Prague, etc. – and you see people who know that today's traveler wants the following: a great location, a social space to meet fellow travelers and a diverse offering depending on what he or she is looking for (usually a well-designed space, a comfy bed, and an ability to book a private room).
These hosteliers yield in terms of sellable space per m2, and they are unbound by their immediate geography – only by what their housekeeping can clean (in order to offer that reliability of service that professional travelers are looking for).
Conclusion
So are hostels the marriage between Airbnb and hotels? Depends on how you look at it. If you're talking about offering a local experience but backed up by friendly staff who want to help you make the most of your travel experience, then that most definitely is the case. Hostels are businesses run by professionals from the industry, but with a low-budget, experience-forward mindset that hotels can without a doubt get inspiration from.
Richard Valtr – Founder Mews Systems
T
he
New Standard of Serviced Apartments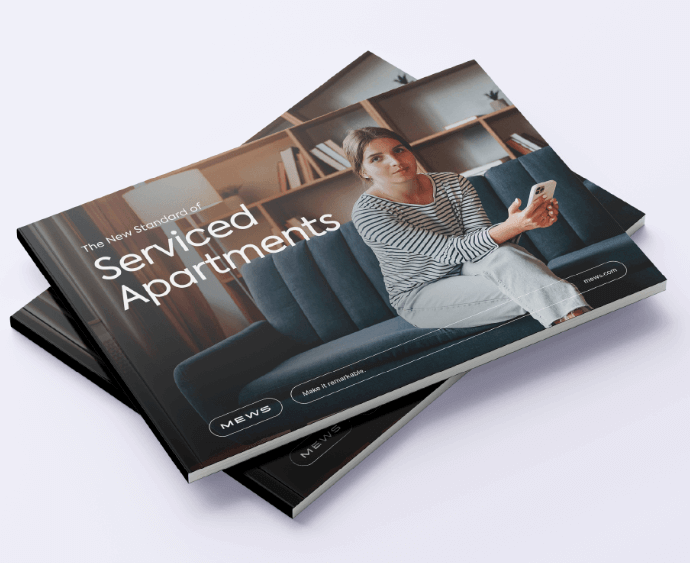 We examine how some of the world's leading serviced apartments are using technology to deliver remarkable hospitality and compete with hotels in our guide to The New Standard of Serviced Apartments.
Hospitality hot takes straight to your inbox
Sign up to our monthly newsletter for industry insights, product news, partner updates and more.