The Mews Blog > 6 advantages of using a central reservation system (CRS)
The advantages of central reservation systems (CRS) in the hospitality industry go beyond efficiency in booking and reservation. The data distribution software aids central hotel management by relaying data from property management software (PMS) to various distribution channels. In turn, when customers make bookings from third-party sources, the information goes through the CRS to the PMS for synchronization.
Nowadays, two-thirds of hotel bookings are made through online travel agents (OTAs) and travel websites. Some internet users will also visit the hotel's website for direct bookings. That means you need many distribution channels to hit the maximum occupancy levels. Managing the distribution channels offline is hectic. Besides, the hotel's management must control the flow of information across all departments to avoid double booking and ensure guests have fantastic experiences.
Specifically for chain hotels, it allows you to create reservations on a chain level and funnel them to a centralized booking engine that you can then connect to a customer relationship management tool (CRM). A CRS gives you maximum control of the booking process by synchronizing data and automating some processes.
What are the advantages of using a central reservation system?
There are plenty of advantages to using a CRS that a hotelier can benefit from. The CRS essentially acts like a global distribution center, storing hotel rates and availability so that it's more accessible to online channels such as OTAs and travel agents.
So what are the benefits of a central reservation system beyond booking? We'll look at how a CRS helps build better customer relationships, synchronizes information, increases flexibility and efficiency, saves time and money, keeps track of reservations and streamlines payment. Let's dive in.
1. Better customer relationship
Hospitality flourishes through the provision of quality services and building meaningful relationships with customers. It's good to wish your customers a happy birthday or remember them during the holidays. A happy customer will bring in referrals and more business. A CRS helps you build sustainable relationships by identifying customers' buying patterns and recording relevant information to understand them better.
This information allows you to provide personalized services and improve guest experiences. Some of the customized services include seasonal prices and discounts for regular customers, and a cancellation policy. You can also adjust children's rates and meal plans to suit their preferences. Alternatively, you can make their booking process seamless by pre-filling their preferred room types and personal information. Customers appreciate even small gestures, making them more likely to recommend your hotel to their friends.
2. Synchronization of information
In the past, hotels had to manage reservations and bookings manually. When a guest checks in or leaves, the front office and sales staff need to update the available rooms and regularly update the bookings list. Setting room rates, determining availability and managing bookings manually often leads to overbooking or double booking due to human error. It also leads to guest inconvenience, especially if customers fully book the hotel.
You can avoid all those errors and inconveniences by embracing automation software like central reservation systems. One of the major selling points of a CRS is that it collects hotel data, including available rooms, rates and inventory, making it accessible on a global level.
Hotel management can access the information from any computer, tablet or phone in the building, and make the necessary adjustments. Moreover, information on occupancy levels and room rates are available in real time. For example, if a customer reserves a room, the system will update the status, ensuring it is not available to other visitors. Synchronized data also gives the customer a time-saving search tool to refine their preference according to dates, location and room type.
Besides, the online booking system allows visitors to take advantage of special offers and extras like meal deals and airport transfers. Furthermore, this synchronization takes place on a global level via the global distribution system interface, meaning that OTAs and travel agents around the world can access this information.
3. Increases flexibility and efficiency
As market trends change, hoteliers must adapt by adjusting their pricing strategies and policies. A central reservation system increases your flexibility by adopting new rates and policies according to the corresponding marketing condition, which can also be adapted on a chain level. The global market is not uniform, so you can change the rates for various rooms, and the latest prices will be reflected on the booking website. Apart from occupancy rates, you can also adjust the commission and cost of distribution resources depending on market fluctuations.
A CRS also allows the implementation of multi-channel marketing strategies, boosting your online presence and increasing bookings. All the traffic from third-party distribution channels and online travel agents will come to your booking engine. Therefore, if you link the CRS with your website, you can provide relevant information like available rooms, price comparisons and helpful resources to persuade visitors to book a room. That means you can reach worldwide guests without adjusting hotel data for every location. Besides, central reservation systems have an intuitive interface that makes the reservation process smooth and stress-free for your guests.
4. Saves time and money
Before hotel booking system software became a standard, hoteliers required additional front office staff to handle bookings and data entry. During peak season, you had to find extra reception staff to check-in guests and take care of booking requests. The introduction of reservation systems that work with all distribution systems eases the burden on hotel management.
Hoteliers need fewer reception staff, reducing the operational costs. Not only that, but your staff will have time to tend to other customer needs without data entry tasks. You also don't need sales agents to advertise your hotel, and you can keep commissions at a minimum with online travel agents. Integrating the booking engine with a CRS will also promote direct bookings and reduce the distribution channels' costs.
If you want to save money further, pair your CRS with the Mews cloud-based property management system. You can access your information from any part of the world without worrying about maintaining servers or subscription plans. A central reservation system will streamline your revenue and grow your bottom-line.
5. Keeping track of reservations
Sometimes, visitors reserve rooms months ahead, especially when they have a holiday planned out during the peak seasons. Manually managing such reservations can lead to errors. The sales agents may misplace the booking details, inconveniencing the customer or causing overbooking. Fortunately, a central reservation system can solve your booking problems.
You can reserve tables and rooms for guests months ahead without worrying about losing track of the reservation. The system will display the booked days, preventing chances of double or overbooking. You can also note down guest's special requests during reservations like food allergies and favorite rooms.
Even better, you can use the reservations to make projections on the peak and low seasons and make preparations. If you have hotels in various countries, you can still access reservation information from the online booking system. Chains can even create reservations on a chain level and steer to a centralized booking engine. Furthermore, you can monitor the occupancy rates in all your hotels, allocate resources and increase marketing efforts in low-performing hotels.
6. Ease of use and secure payment
A central reservation system is compatible with various distribution systems and property management systems, allowing the easy streamlining of information. Therefore, hotels do not need to find new distribution systems. It's also a user-friendly interface for guests and hotel staff. Guests can easily navigate the booking process while staff can access or update information with a few clicks. If you have multiple hotels with separate reservation systems, you can integrate them into a central system and monitor your businesses.
Furthermore, visitors booking via the CRS enjoy data security, and their payment information remains confidential. Guests have no reason to worry about sharing their credit card details since they can access other secure payment options.
Conclusion
A central reservation system is an investment that will pay off by improving efficiency and boosting your hotel's productivity. You'll enjoy automatically updated rates and availability and an easy way to make bookings and reservations. With the information gathered, you can improve your guest experiences and keep track of reservations. You'll also avoid all the booking mistakes that occur with manual booking, and rectifying such mistakes will make your visitors happy, and they'll likely recommend their friends.
Finally, and perhaps the most advantageous of all these benefits, there's the ability to reach a wide audience on a global scale. Once you've used a CRS, there's no way you'll ever go back.
Track the right metrics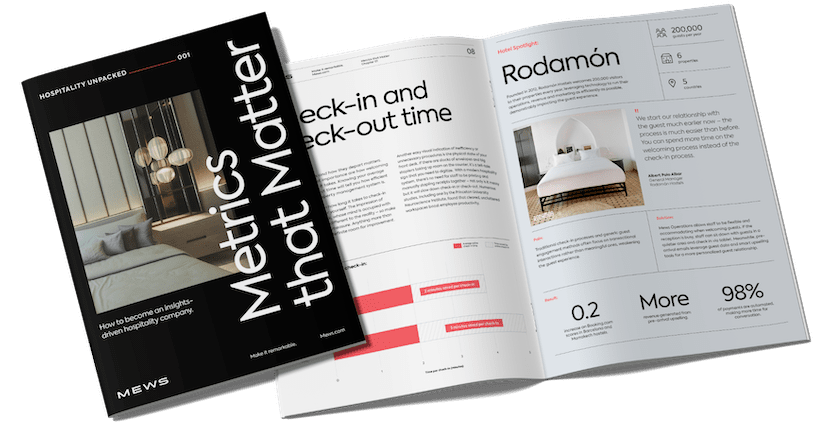 How does your property measure performance? With an almost endless amount of data available, tracking the right metrics is key for success – and we're here to guide you.
Your first port of call is our Metrics that Matter report. It features case studies and key stats on how hotels are benefitting from data across different departments in their hotels, ultimately helping you to shape operational, financial and marketing decisions.

Author
Eva has over a decade of international experience in marketing, communication, events and digital marketing. When she's not at work, she's probably surfing, dancing, or exploring the world.
Hospitality hot takes straight to your inbox
Sign up to our monthly newsletter for industry insights, product news, partner updates and more.