The Mews Blog > What are the advantages and disadvantages of yield management in hotels?
Yield management is one of the key hotel pricing strategies for the hotel industry, involving strategic control of inventory through dynamic prices. One of the main advantages of yield management is that it allows hotels to optimize revenue.
That being said, as any revenue manager knows, the key to optimizing revenue is understanding, influencing and anticipating consumer behaviour.
Essentially, it's all about timing – it's about selling the right product to the right customer at the right time. Since beyond happy guests, occupancy is one of the main concerns of hoteliers, it's important to understand how to use yield management to your favor.
In this way, hotels can unlock the power of automatization, changing the way hoteliers think about hospitality. Being connected and open to integrations allows hotels to ensure an optimal guest experience while at the same time controlling revenue streams.
In this article we'll explore the advantages and disadvantages of this revenue management strategy in the hotel industry.
What are the advantages of yield management in hotels?
From increased revenue to understanding booking patterns, decreased errors and an increased value perception, there are many advantages to using yield management in hotels. Let's look at the advantages in more detail.
Increase revenue
Yield management has evolved over the years thanks to machine learning and advanced analytics, changing the way people think about hospitality. Since arguably the main concern of hoteliers is revenue, it's important to note the main advantage of yield management is that it allows hotels to increase revenue even if the hotel is not at 100% occupancy. Essentially, as revenue managers and hotel owners, you can take advantage of the demand forecast, maximizing the average revenue per available room, per night (known as RevPAR).
Since costs do not fluctuate in the same way as demand, hotels can raise the price of the room during peak season, and sell the same number of rooms at a higher price, hence maximizing revenue.
All these factors can be reduced to supply and demand: with higher demand, people are willing to pay higher prices. In fact, studies have shown that hotels using this type of revenue management system have noted improvement in average daily rate, occupancy and specifically shoulder night revenue (dates that are very close to high demand dates).
Understand booking patterns
Not all customers are built the same. Some book on short notice and others book months in advance. If hoteliers have a clear understanding of booking patterns, with this type of management system, they can adapt the prices to booking behavior. For example, you can penalize last minute bookers with high prices and in exchange, set lower prices for those booking well in advance, and be sure to cover fixed costs. Hotels already offer discounted prices in low season, and higher prices during high season, but using this system of variable prices, you can adjust those prices according to when the client books.
Increase your value perception
Perceived value is what consumers think the product is worth to them and in essence, they are willing to pay more for scarce goods. This same concept applies to the hotel industry: consumers are willing to pay more during peak season because the perceived value is greater. Employing a variable pricing scheme, you can build this perceived value in the mind of the customers, incentivizing them to book further in advance, and thereby use marketing strategies to help boost this perceived value.
Eliminate pricing errors
Using an innovative hotel revenue management program, revenue managers and hoteliers can assure that there's no chance for human error because prices are chosen based on demand forecasting, instead of expected booking behaviors. This kind of management program allows you to bring hotel management into the future by automating processes through technology. With a clear set of data from software integrations you can choose the best room rates for the time period based on clear data.
Effectively segment your customers
Market segmentation is key to any business strategy, and an effective forecast can help capture the subtleties of this market segmentation. Some of those nuances can be identified by booking trends and patterns as well as intentions to book and guest preferences.
Throughout the year, hotels benefit from a variety of different guests from solo-travelers to family groups to corporate guests, among others. Using this strategy, hotels can identify the segments that they may be missing out on and adapt their marketing strategy accordingly.
Furthermore, since different types of guests have different requirements, another advantage of this type of integration is the ability to set a variable price rate for different segments based on different factors.
For example, hotels can offer lower prices to leisure family groups who tend to book in advance, spend more, and tend to look for better amenities and services. On the other hand, you can offer higher prices to corporate guests who tend to book last minute, stay for a shorter period of time, and are less likely to compare prices.
What are the disadvantages of yield management in the hotel industry?
We've looked at the advantages, now let's look at the disadvantages of this revenue management system. One of the disadvantages is that since the decisions are driven by numbers and forecasts, there is no preferential treatment for regular customers. Another disadvantage is that if the system doesn't forecast well, it won't help to maximize revenue because there's no way to predict unexpected events such as pandemics and natural disasters.
Regular customers receive no preferential treatment
Since prices are based on predictions of booking trends, one of the disadvantages of yield management is that it doesn't take into consideration different prices for different people. For example, if a hotel has a regular customer, they may be paying the same (or higher price) as someone who booked at the right time for the right price and therefore you run the risk of penalizing the "regulars" with indifferential prices.
Doesn't take into consideration customer expectations
Because yield management is based on supply and demand, guests will pay higher prices during peak season. However, those guests paying prices through the roof will consider everything in terms of how much the room cost them. If there is an element of the guest's experience that fails, it puts the hotel at risk for bad reviews if the level of service doesn't meet the high expectations.
Possibility for not forecasting well
In order to properly forecast, hotels must gather data, organize it and coordinate with those in charge in order to implement it into a pricing system. However, no forecast is 100% accurate. Since there are a great number of factors that influence demand, one of the disadvantages is that the revenue forecasts might not hold up well against the actual market trends and thereby jeopardize revenue.
Conclusion
The advantages of yield management far outweigh the disadvantages. Of course, it is not a perfect system, because when you rely on machines and forecasting, there is room for error. Hotels, as far as we can tell, can't yet predict the future, but with the right tools, it's definitely getting easier. By implementing yield management techniques, hotels can see revenue increase with little investment.
Furthermore, this pricing strategy helps to better reach different segments of the market, achieving the highest price guests are willing to pay according to their booking preferences. This allows hoteliers to focus on the profitable bookings instead of those that just cover costs. Therefore, an effective yield management strategy can help hotels maintain a steady revenue stream throughout the year.
KPIs for the modern hotelier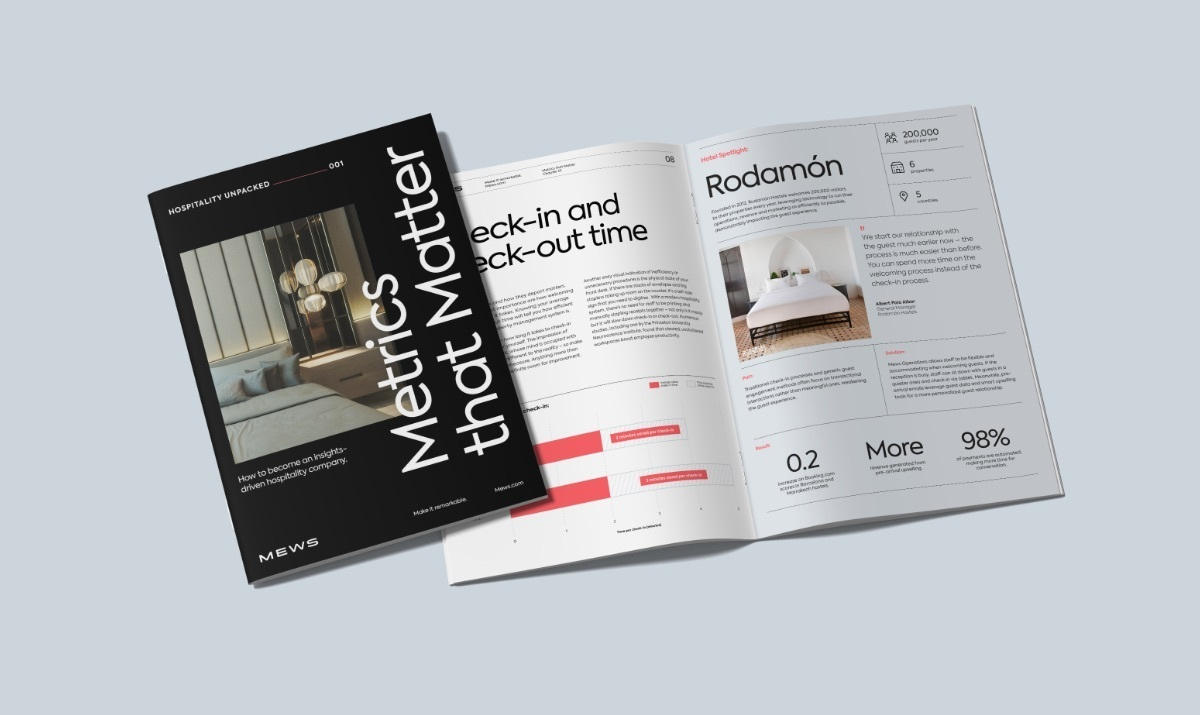 The metrics we've just explored are among the most common in hospitality, but that doesn't mean they're the best. We've put together a report, Metrics that Matter, that will help you to maximize revenue and boost the guest experience, all by tracking the right data. Click the button below to find out how you can be more efficient across operations, revenue and marketing:
Hospitality hot takes straight to your inbox
Sign up to our monthly newsletter for industry insights, product news, partner updates and more.