The Mews Blog > Workflow automation: the best uses of Zapier in hotels
There are hundreds of hospitality tools available on Mews Marketplace, and we're not supposed to play favorites. That being said, I don't think anyone would begrudge us a special blog post about the genius that is Zapier.
One in five Mews customers use Zapier. In fact, we even wrote about how to automate your property with Zapier back in 2018. So what's new? Well, when Matt posted about the tool on LinkedIn recently, there was an overwhelming response. But this one stood out: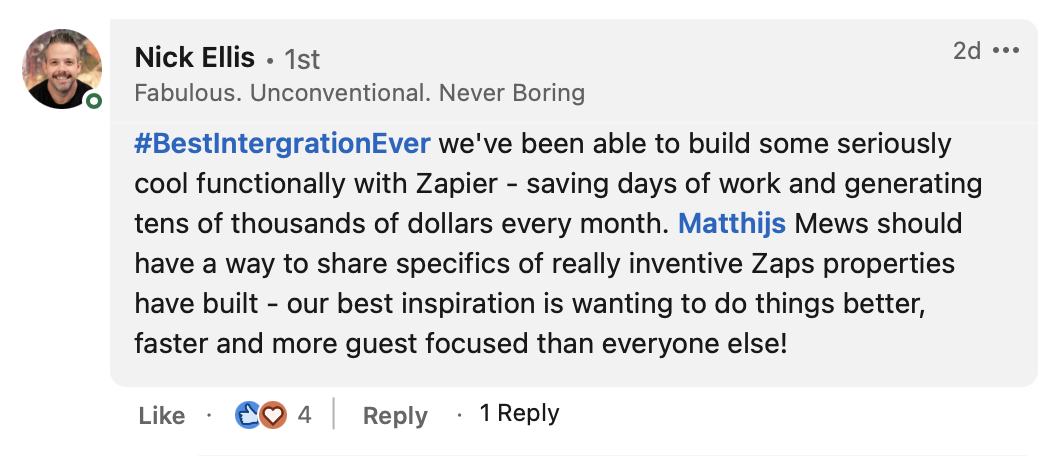 Thanks, Nick, that's a great idea. Here's a quick roundup of how some of our customers use Zapier.
Who are Zapier and what do they do?
Before we get to the use cases, let's have a quick recap about what Zapier is. Essentially, Zapier is a virtual assistant that automates tasks using custom workflows – called Zaps. It can connect to more than 1,000 apps to create a series of automated actions across multiple software, eliminating the repetitive part of processes where manual work was previously required.
Why is automation so useful for hotels?
In truth, there isn't a single industry that wouldn't benefit from automated workflows. But because of the complicated nature of hospitality, automation for hotels can be particularly transformative.
The day to day of a hotels is loaded with daily tasks across multiple departments using various apps and tools, many of which amount to little more than data entry and button pushing for employees. Automating these tasks saves buckets of time, streamlines your operations, reduces errors and boosts job satisfaction.
For instance, you can connect your CRM to your hospitality cloud and automatically transfer data between the two. Or think of tasks like room assignments, managing your housekeeping rota and staff scheduling, and upselling rooms. If you're with the right hospitality cloud, you should be able to automate much of this already. But even the exact workflow functionality you require isn't there, as long as you have Zapier you'll be able to streamline.
At Mews, we've used Zapier to automate a staggering 1.3 million tasks in the last 12 months alone. I don't know where to begin when it comes to estimating the time savings.
Popular Zaps with Mews hotels
Do you sometimes read about what another hotelier is doing and say to yourself: 'Why didn't I think of that?'. There's no shame in doing so. With any luck, these Zapier automation examples will give you some inspiration for how you can work even more efficiently.
Arrival date adjustment
Surprise, surprise: our list begins with the always innovative The Social Hub. Their Zap automatically adjusts the reservation arrival date in order to manage charges, which is particularly important for student no shows. Here's how it works.
Students usually book for fixed periods of time, for example a semester starting on September 1st. However, it's not uncommon for a student to arrive a few days later. As TSH are required to keep an accurate record of in-house guests, the students who have not arrived will have their reservation arrival date automatically postponed to the next day (and the next and the next) until they arrive, while posting the correct nightly accommodation charges.
Pin code delivery
Cabiner is a unique Dutch wilderness brand with cabins dotted around beautiful National Parks, only accessible by foot. They provide a fully staffless journey for their guests, which means that they need to make good use of smart tech.
The doors for each cabin they visit (which could be a number of them in a single stay) require a pin code to unlock them. They have a Zap set up that automatically sends the pin code for the relevant day(s) to the guest's email prior to their arrival.
Housekeeping tasks in Asana
Asana is one of the vital cogs that keeps Mews moving. It's our own task management tool and every department uses it – albeit some more rigorously than others... Northern Lights Village created a Zap that organizes their housekeeping tasks in Asana, saving the hassle of one of their team manually creating dozens of tasks every day.
Direct API calls to Mews
What Zapier does so well is remove the requirement to write code. In fact, you don't even need to understand it. By using Zapier's Webhooks, you can instantly receive data from any service or send requests to any URL. This is exactly what Generator and SACO do to make API calls directly to Mews. You can read more about Webhooks here.
Moving guest data for marketing
We touched upon this earlier, but it's a popular Zap so it bears repeating. If you're using a CRM tool, you'll need to get all of your guests' data from your hospitality cloud. Typing it all in manually is a huge waste of time. If your hospitality cloud doesn't connect directly with your CRM, Zapier can be the bridge. Ostello Bello connect to Pipedrive in this very way.
VIP arrival experiences
If certain guests require the VIP treatment, there's a Zap for that. Categorize a guest as a VIP in their guest profile. Then, the moment they check in, Mews automatically triggers an SMS to the GM or owner so they can meet them in the lobby and provide that personal touch. The same event (a VIP checking in) can also trigger other actions, such as a Slack message to the housekeeping team that now's the time to deliver some champagne on ice to the room.
Post-stay deliveries
Repeat bookings are one of hospitality's holy grails. One of the best ways to lure guests back is by showing them you still care once their stay has ended. Set up a Zap based on your guest data. It could be as simple as on their birthday, you automatically trigger a happy birthday email with a special offer. Or you could create a Zap that triggers a few days before their birthday that orders flowers, chocolates or a physical gift to be sent to their home address via a service like Florist One or Bloom & Wild.
The future is automated
We have 590 integrations to Zapier across 443 properties. As well as all of the examples above, the likes of Mercure MOA Berlin, Spicers Retreat and Bloc Hotels all have Zaps in place. In short, hoteliers around the world are getting smart to how they can make their day-to-day simpler.
Want to know exactly how to set up a Zap through Mews? It's easier than you'd think. Check out this video from our B2C Product Manager and tech-enthusiast, Adam, and have a think about how workflow automation could transform your property. Oh, and excuse the retro Mews branding.
Integrate with Zapier through Mews Marketplace
Your Guide to Switching PMS
Have these examples inspired you to automate more of your processes? You'll need a hospitality cloud that seamlessly connects with Zapier – and we know just the one.
If you're not already with Mews and you're thinking of moving to a new provider, The Guide to Switching your PMS is a must-read guide filled with the essential questions to ask any new PMS provider.
Hospitality hot takes straight to your inbox
Sign up to our monthly newsletter for industry insights, product news, partner updates and more.