The Mews Blog > 10 super simple ways to improve guest experience
Meeting and exceeding your guests' expectations is the gold standard of the hospitality industry. The problem is, hoteliers are constantly engaging in guest experience one-upmanship, raising customer expectations with every feature that goes from a novelty to a given.
To make sure you're exceeding these expectations, it's a good idea to continuously evaluate and improve the guest experience. You might start by looking at your hotel's reviews for ideas, but there you might find a host of suggestions to renovate the lobby, re-decorate the bedrooms and redo the plumbing. In short, not easy fixes.
But despite misconceptions, making changes to significantly boost the value of your customers' stay doesn't need to be timely or costly. Here are some quick, easy and inexpensive tips to improve the hotel guest experience.
---
1. Touch base with guests pre-arrival
A detailed pre-arrival email to all guests can make their arrival and check-in process much smoother. Not all your guests will read the email beforehand, but those who tend to ask a lot of questions are likely to. You can consider adapting the pre-arrival email to different types of guests or to different times of the year for a more personalized experience. Repeat guests, for example, will be more interested in what's new and won't want to receive the same email every time they stay with you.
2. A smile goes a long way
First impressions make a big difference in this business. Kicking off the arrival and check-in experience on the right foot will not only make your guests feel appreciated, but also establish the tone for the rest of their stay.
When you check the arrivals each day, take the time to review the names and reservation details and be sure to greet everyone by name and with a welcoming smile. Often, guests will have travelled far and could be tired and irritable – to go one step further add a welcome refreshment, such as a local drink or snack. Even a cool drink of water can make a huge difference after a series of plane, train and taxi rides.
3. Make it easy for your guests to get in touch
How you execute this tip depends on your clientele and the size of your hotel. If you have an older, more traditional customer base, they may prefer to use a phone system in the hotel to get in touch with reception. This method also works if your hotel is quite large – it's easier simply to walk to reception in smaller hotels – and doesn't have great Wi-Fi.
If your clientele is younger and more tech-savvy, consider investing in a simple app or online communication service for your property. This ensures guests can directly message staff from their smartphones wherever they are in the hotel. It's also perfect for guests who have mobility issues, and those would like to make a discreet request. Modern Property Management Systems can offer this functionality, connecting with various services that allow guests to make requests and get responses in record time.
Making communication as streamlined as possible will always impress customers.
4. Be an insider of your local area
When your guests arrive in their room, there should be a welcome book waiting for them. While historically this has contained all the whats and how-tos of the property and services, it should also include tips on what to see in the area, as well as recommendations on the best time to go and hidden gems that only the locals know about.
It doesn't have to be a welcome book in a traditional sense – this is the 21st century after all. Why not go digital? Mews Marketplace is home to some great apps that help you to curate the guest experience, providing specialized tips per location and lots of upselling and cross-selling opportunities.
If guests then go downstairs to ask the front of house staff about what they've read, they should be clued up, too. If your staff don't know the area particularly well, encourage them to try out what's recommended so they can become experts.
5. Build partnerships with local vendors and attractions
Building partnerships with local attractions and vendors is a win-win for both sides. You'll bring more people to their business while offering your guest an inside track they will appreciate. If you promise to send many guests through the doors of the restaurant or attraction you're partnering with, they may even be able to provide your guests with a special discount. Again, you can do this the traditional way by reaching out to individual establishments, or you can partner with upselling gurus like Oaky who can help to automate the whole process.
6. Provide free and fast Wi-Fi
Charging guests for Wi-Fi should be a thing of the past. Andrew Zobler, CEO of the Sydell Group agrees, stating in an interview with CNNtraveler: "To charge for Wi-Fi is just terrible – it's like charging for water, something you just don't do," he says. "Having really good Wi-Fi and having it be free is critical."
Should you not be able to provide free Wi-Fi in every room or hotel area due to technical limitations or the size of your property, make it as easy as possible for your guests to connect to the Wi-Fi where it is available. You could provide instructions on how to connect to the Wi-Fi in several places, such as Wi-Fi code on each room key, within the welcome book or on a board within the lobby. Ensure you also tell guests about the Wi-Fi situation as they check-in, so they don't have to ask. Everyone will appreciate the opportunity to connect.
7. Celebrate special occasions
Are your guests celebrating a special occasion like an anniversary or a birthday while staying with you and are happy for the occasion to be recognised? Guests will usually let you know prior to their stay if they are – in fact, they're often angling for a freebee of some sort., Either way, it's always worth asking whether there will be a special celebration during their stay – you can do so in the guest's booking confirmation email prior to arrival.
Setting up the room to contain a small token of celebration as they enter is such a nice touch and usually very easy to do. Likewise, if the celebration is occurring while they're in the hotel, it's easy to arrange something special through housekeeping, or through the restaurant if they're dining with you for the occasion. Depending on the celebration – such as a birthday, an anniversary, engagement, honeymoon or christening – the most widely accepted complimentary gifts are a bottle of wine or bubbly, a cake, balloons, petals on the bed, chocolates, a fruit basket or a voucher to spend at the in-house spa, restaurant or a nearby establishment.
Depending on your in-house capabilities, you may have to outsource certain items from a caterer, so keep this in mind. We would recommend presenting one or a couple of the gifts, but not all – there is such a thing as going overboard.
A handwritten card from the front desk should also accompany the gift, giving the guest best wishes from your in-house team.
8. Track your guests' preferences
Does your guest have a gluten intolerance or a favourite room? Sending an email prior to their arrival asking if there are any special requests or allergies within the party will ensure that the guest feels truly catered for. If you opt for an app, you can collect these basic details through this technology from either a box-ticking survey or question and answer box when confirming the booking. In Mews Commander, there's a helpful 'notes' section, where your front of house staff (or any user) can add anything specific about the reservation.
9. Give guests the option to refuse housekeeping – and reward them for doing so
More and more guests are becoming environmentally conscious when they travel. Many are abandoning the mindset that sheets and towels need to be changed every day, which is good for the environment and also good for you as it cuts laundry costs.
Leave a note in the room that tells guests what their options are. For example, some hotels provide a small bag that guests can hang on the door, and housekeeping will leave a small treat inside instead of changing their towels and sheets. Alternatively, you could offer things like a free drink from the minibar or a free slice of pizza or beer from your bar/restaurant.
10. Offer clear directions around the property
Put yourself in the shoes of a new guest and evaluate the signage around the property, especially in the lift. Could you be giving more information? Writing in another language or adding easy-to-understand symbols can make getting around much easier. Your guests will appreciate being able to find where they need to go at all times.
Listen to your staff
These ten ideas are easy enough to implement, and the chances are you're already doing at least a few of them. There's plenty more you can do, of course, but not all the ideas have to come from you.
Your hotel staff is likely to pick up on potential areas of improvement based on the guests' comments come check-out. Be sure to let all staff know that their suggestions are welcome – you can have regular team catch-ups to discuss and maybe even run a monthly competition for the best idea. Just remember: keep listening to feedback and don't be afraid to try new things, and your guests are sure to benefit.
Understanding the modern guest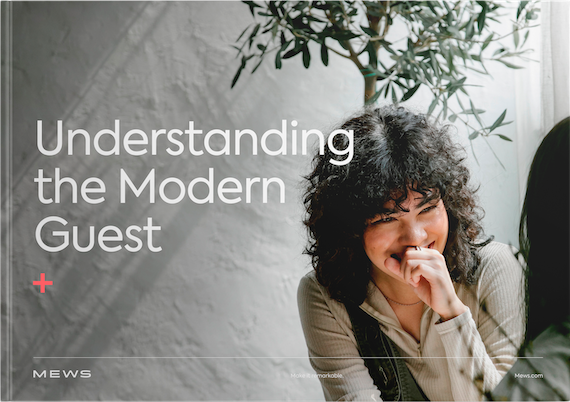 We touched upon this briefly in point eight – tracking your guests' preferences – but the more you know about your guest, the more you'll understand what remarkable means to them.
Our guide to Understanding the Modern Guest takes a look at how expectations have changed and what your property can do to keep guests coming back.
Hospitality hot takes straight to your inbox
Sign up to our monthly newsletter for industry insights, product news, partner updates and more.