An insider's guide to picking the best hotel management software
Picking the best and most relevant technology for your hotel is too often an anxiety inducing process with a seemingly endless choice of providers that all suspiciously promise to solve every single headache.
But where does one even begin? It all starts with the central nervous system of your property - the PMS - and we spoke with an expert at choosing hotel software about what to look for when upgrading your system.
Jordan Hollander is the co-founder of Hotel Tech Report - the premier global research platform for hotel technology. The site helps buyers save time identifying the best technology products for their properties by easily comparing vendors based on unbiased reviews from verified users. Their impressive global community consists of hoteliers spanning 40+ countries, including every major hotel brand and thousands of independents.
With a distinguished industry background that includes working with the likes of Starwood hotels, who else could be better qualified to give an unbiased guide to picking a PMS?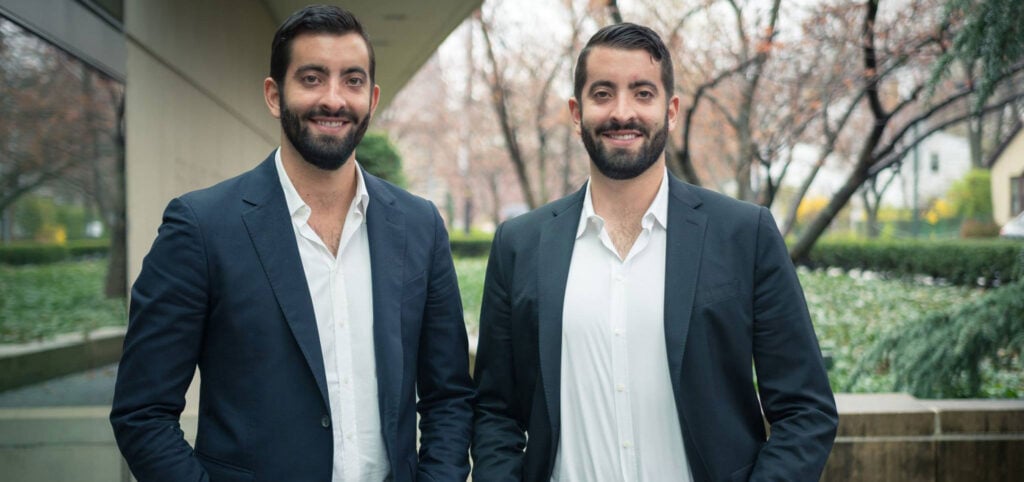 Adam and Jordan Hollander - Founders of Hotel Tech Report
If you had to build a hotel operating system today how would you go about it?
A hotel's OS should be easy enough for a toddler to learn and should be lightning fast. We hear complaints about laggy systems all the time at Hotel Tech Report - slow systems are frustrating for staff and guests alike. The lower efficiency and decreased satisfaction scores end up costing hotels real money, so speed and intuitive UX are most important, followed by integrations.
Furthermore, the hospitality business has some of the highest employee turnover of any industry so I'd use a design thinking approach. Too many systems blindly copy the features of market incumbents without questioning their importance, which creates feature bloat and makes it particularly difficult to train new staff to use.
Finally, I would want the ability to evolve my operation over time and a closed architecture (no open API) doesn't allow for rapid iteration.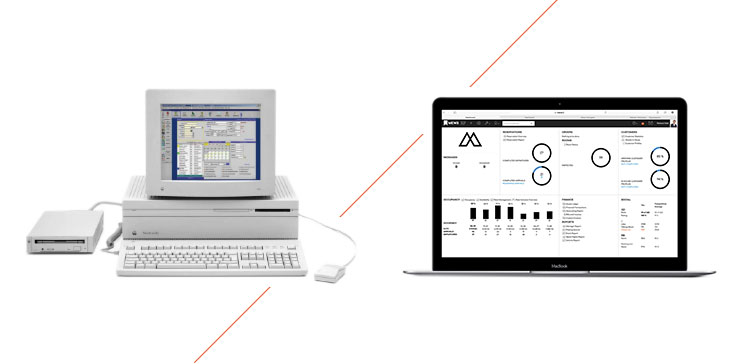 A standard PMS vs a dynamic cloud-based solution
What is the biggest frustration your readers express about their current PMS? Are there some recurring themes?
Our users constantly describe suffering with laggy systems and they want a cloud PMS that can temporarily work offline as some properties have inconsistent internet connectivity. When we ran a full semantic analysis on the hundreds of PMS reviews that we have, the lack of integrations was frequently mentioned as a bugbear. GMs need to be able to integrate with mission critical systems like business intelligence or staff task management.
We also hear plenty about the shortcomings of mobile options. Most providers have mobile apps now (definitely stay away from the ones who don't - that's a big red flag) but we have yet to see the PMS market design systems as mobile-first. Hoteliers want to be able to access their PMS on any device as their businesses are constantly running 24/7.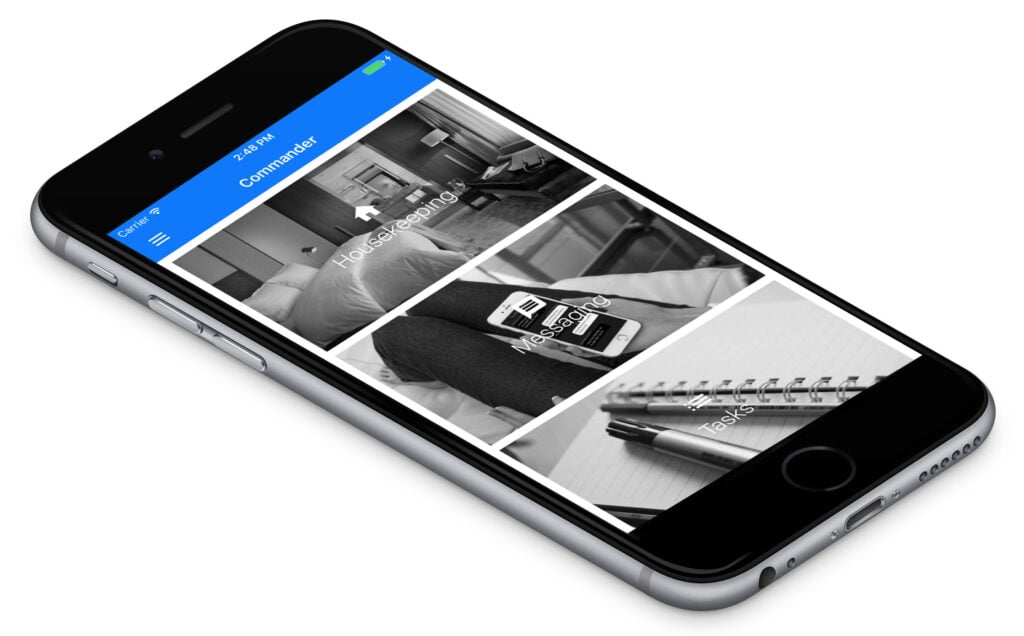 Could you explain your scoring system? How many reviews do you need before getting ranked?
Our scoring system is based on review quality and quantity (full scoring methodology here). Review quality is how well each provider is reviewed by their customers based on several variables like UX, customer support, ROI, etc. Review quantity is the total number of reviews. Total reviews helps hoteliers see who's real and who's not. Understandably, companies in our space infrequently list their customer base volumes and the ones who do tend to fabricate or amalgamate between different product lines. By scoring for number of reviews we help hoteliers answer a critical question - 'how long do you think this company will be around'? The total number of customers has a high correlation with revenue and companies with more revenue (all else being equal) have a higher probability of longevity and more profit to invest in R&D, product development and customer support.
We are continuously evolving our algorithm to make technology research easier for our users. For example, we are currently building a scoring system that factors in geographical latitude/longitude variance to weigh up the credibility of a review. In other words, a review from a hotelier that is 100 km from the headquarters of a company will carry more weight than one from a hotel down the street from that business. The idea being that reviews from hotels farther away tend to be less biased than local ones that, for example, a software founder could have used to beta test their first install.
Your platform rates software providers across four criteria: 1) likelihood to recommend, 2) return on investment (ROI), 3) customer service and 4) ease of use. Why did you choose these criteria?
Selling hotel technology is about making promises and representations about what a given software can do. Things like 24/7 support or a 32 percent ROI are quantitative metrics that help hoteliers determine which vendors to select. They are incredibly important and are often marketed through case studies and testimonials. Our review system is a supplement to that - we think of it as a credibility check. These variables are the ones that vendors make promises about during the sales process so we ask hoteliers how well each vendor delivered on those throughout the customer lifetime.
'Ease of use' is critical because we don't want to be constantly bringing in new trainers for every incremental employee. Hoteliers have some of the most stressful jobs in the world and easy-to-use products are critical to ensure that they are happier and more effective at work.
'Likelihood to recommend' is our Net Promoter Score proxy and helps users quickly see what their peers think about a given company/product.
ROI is more subjective but helps our users gauge whether this is really a product that they should invest in. In the end, business technology acquisition is all about ROI, directly and or indirectly, as purchases must make business sense.
Quality support is also what makes a product and company different. We wanted hoteliers to be able to get the real scoop on how customer centric organizations were to prevent frustrations down the line because, let's face it, no salesperson is going to tell you that they have terrible support during their pitch. I lose all loyalty for a brand after a bad customer support experience, even if I love the product.
Can technology companies pay you for improved ranking or advertising? How do you make money?
We do not allow companies to buy ranking changes - those will always be based on our scoring methodology.
We currently generate revenue through website sponsorships (more info here), which have been exclusively rolled out to winners of the Hotel Tech Awards. As of March 1st, those will become available to all companies on the platform. We also have opportunities to sponsor content campaigns that are developed using data from the reviews. For example, we are currently producing a report entitled "2018 Ultimate Hoteliers Tech Stack" that will be distributed to thousands of hoteliers leading up to budget season. Although I can't reveal too much yet, we are just about to launch an exciting new revenue stream next month so stay tuned!
TripAdvisor is currently facing a backlash due to fake reviews. How are you preventing fake reviews?
We have a sophisticated review verification process that balances social media authentication with crowdsourcing. For example, our team can verify each review in our system using a LinkedIn login that hoteliers have the option to use on our site. Once the review is published, vendors receive notifications and can contest any review they deem to be fake. When a review is contested, we require that the user sends either a screenshot with proof they are a user of the software or an invoice from the company. Our full process can be found here.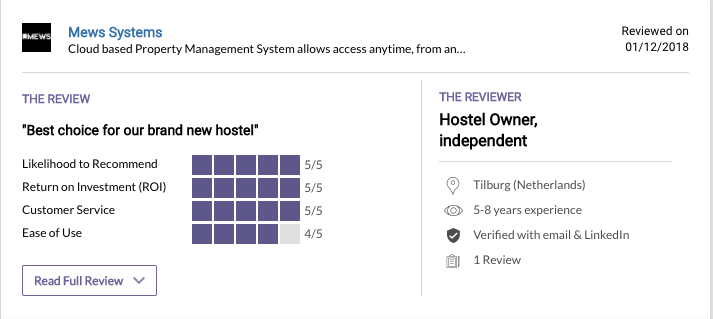 What is your view on software providers having an open API? When it comes to a hotel PMS - is the Apple or Android approach better?
I should start by prefacing that I'm an Apple user but don't believe in the Apple philosophy. Apple is an anomaly to the rule and has built an insanely intuitive ecosystem that derives value based on the convenience of it's platform. That means I can get everything from iMessages on my desktop computer to Facetime calls on my phone and, generally, synchronise all of my media. They are able to pull this off because they have both an incredible R&D/design track record and possess seemingly unlimited resources.
In the hotel tech space, there is no one in the same mould so creating an open ecosystem - like the Salesforce or Google Android approach - is critical. In such a fragmented global industry and with so many great technologists working on solving hospitality problems in different ways, adopting an open API is essential to making sure any innovations can actually scale. So we love what Mews is doing with their open ecosystem and we are 'joining the revolution' ourselves.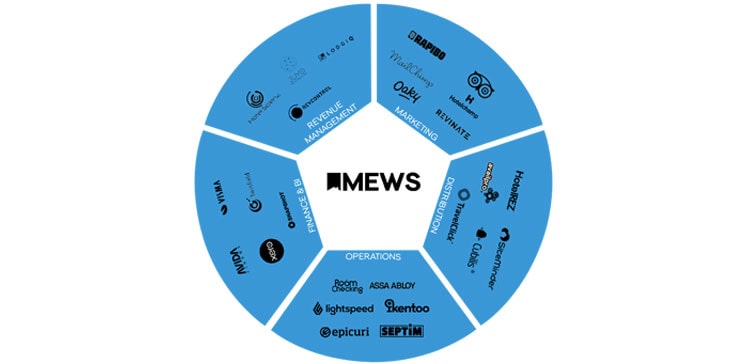 An ecosystem of disruptive solutions exists to plug into your hotel via Mews
What do you think stops hotel GMs from adopting new technology in general?
There are 3 main issues:
1) education
2) authority
3) risk aversion.
GMs are usually not tech people so they don't always have the confidence to make technological buying decisions. So that's one of the areas we think Hotel Tech Report can really help - with our platform, GMs don't need to be tech experts and can quickly read what peers think about a given company. In the end, they become more confident to make better and faster decisions. Although there are tons of articles, podcasts and press releases across the web that could help, the reality is that most GMs don't have time to sift through the sea of content. Instead, we provide them the practical information exactly at the moment when they need it.
"the reality is that most GMs don't have time to sift through the sea of content."
Authority is another problem. Tech suppliers could be pitching a hotel in December but the hotel may have already budgeted for the year and, in many cases, the GM simply doesn't have authority to break any previous commitments. Furthermore, their organizational structure often makes it hard to find the real capex decision makers.
The third problem is risk aversion. A GM is unlikely to win a promotion for signing on a new technology vendor and, if that vendor is a poor fit, there is also the chance that their career could suffer. Although frustrating for suppliers, it's a rational response by the hotelier and it's another area where we can help. By putting your company's Hotel Tech Report profile in front of a GM, we empower them to have the confidence to recommend your product internally and they can even point to third party verification of the solution. The ultimate decision can then be easily made by the powers that be, which mitigates the personal/career risk that often holds GMs back.
How are the incumbent tech companies responding to the new wave of cloud-based software options now available? Why are the likes of Oracle struggling to launch their own cloud PMS?
I think a lot of incumbents are playing a 'wait and see' game. Big companies have no interest in buying startups until they have proven they are an existential threat so, when the cloud based players get big enough, I think we will see them become more acquisitive. I also think the rule of large numbers applies - when you have a small install base it's easy to be nimble and pivot but when you have 5 thousand or 20 thousand customers then launching a cloud PMS becomes a massive undertaking. Such major investments can pose a risk to their legacy cash cows.
What other startups in the hospitality industry are you really excited about?
We're really bullish on two areas in particular: alternative distribution and upselling. Why? Because not only can these businesses be quickly implemented but they also offer very favourable risk/rewards for hoteliers.
Upselling
We're super excited about Oaky - they have created an incredible brand, have a clear value proposition to hoteliers and it's no surprise they are taking Europe by storm. Impulsify is another startup we love - they help hotels monetize their lobby gift shops and grab-and-gos.
Alternative Distribution
Suiteness is doing a great job at helping hotels more effectively market their unique rooms to get higher occupancy and ADR, particularly at a time when AirBnB is eating this segment's lunch. It's an elegant solution to a serious problem. Bizly out of New York is also interesting and doing something similar with meeting spaces by selling them to their corporate clientele.
---