Some would say he's unmissable. Infectious. Irresistible. The embodiment of Mews France. But is he French? Maybe. It's hard to tell.
Since January 2018, one man has been on a mission: to pump life into Mews France and make it the beating heart of the French-speaking PMS market. But who is this man often seen making his way up the Champs Elysées in a Mews T-shirt, coattails flapping in the wind?
Meet Nicolas Horvath, MD of Mews France!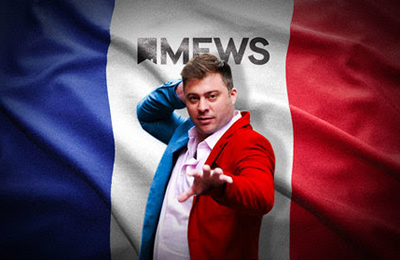 ---
Age: on the right side of 40
Nationality: believe it or not, French!
Current location: Paris
---
You're visibly a colourful character Nicolas, but what's your professional background?
Here's the boring stuff…
I am a hotelier by trade and studied at EHL (the greatest hospitality management school on the planet) before working for Four Seasons, Regent, and The Crillon. All three were very valuable experiences and I worked my way up to Hotel Director level, as well as being GM for an F&B group.
I got into hospitality because I love to serve people and create beautiful experiences. Not many people know that I also used to organise electronic music festivals in Switzerland and Cambodia. What a thrill!!!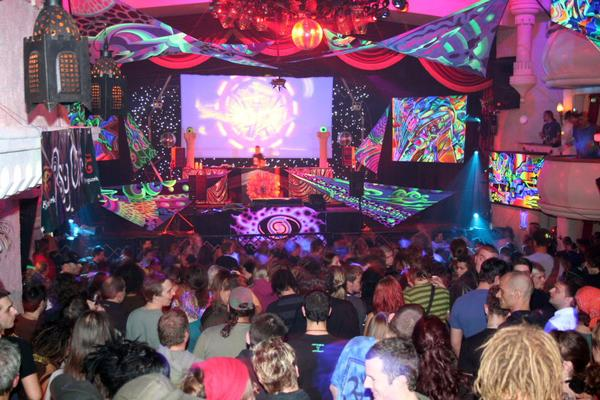 I eventually moved away from hotel operations because I felt like the industry was regressing and we were not using tools properly. The number of visionaries were few and far between, and it was sad to see uninspired leaders, and workers clocking in for nothing more than a pay cheque :-(
So I geeked out and became a modern hotelier! It was a painful process to reinvent myself. To build on my expertise I learned coding from Treehouse (to understand structured logic), Design Thinking from MIT (to learn structured creativity), Gamification from Wharton (for structured engagement), and recently received an Executive MBA from Smartly (the best education as a service out there).
What or who first attracted you to Mews? And why?
Our CEO, Matt, was my first focal point in Mews. What a voice! What an inspiration! (Although he went to the second best hospitality management school...)
Jokes aside, I was following Matt and the company from afar for one or two years and really liked their positioning. I was charmed by their vision, and when I interviewed with Matt and Greg (our CCO), instantly fell in love with the Mews culture. I tried to turn my back on this but there is something way too special happening here to ignore!
Our values are fully embodied by our PMS: playful, grit, ambitious, agile, kind.
What have you done so far to "frenchify" Mews?
When I arrived in France about a year ago, there was already strong interest in Mews. People were curious.
At the time we had less than 10 clients live, and today we have almost 100, with more joining the revolution every week. France is the fastest growing country for Mews and there is something palpable in the air! For a lot of French hoteliers, Mews is the solution they have been waiting for years: cloud, secure, open, sexy, user-focused and full of back office automation. Finally they can treat their business as e-commerce.
The most common observation amongst new Mews users is that their staff now spend far more time serving guests than doing donkey work behind a desk. To the extent that I'm now challenging hoteliers to stop having reception desks altogether! That is counter-hospitality to me.
The "frenchification" of Mews is ongoing...we will continue to revolutionise this old system and challenge the status quo.
Why do you believe that Mews has the potential to disrupt the French hospitality tech industry?
We only have one competitor in my humble opinion: uninspired hoteliers.
In 2019 French hoteliers are still buying their PMS from the same old providers, so it is our duty to inspire and finally help them escape the limitations and dullness of legacy systems. (Don't get me started on sellers of unsecure "cloud" solutions...)
More seriously, I see four major ways in which Mews is shaking up the PMS scene in France:
Logic
We are on a new innovation curve. Whereas all other PMS use room-based logic, we apply user-based logic (think Facebook, Uber, Amazon, Apple, Google).
Strategy
The industry's progress has been limited by a system architecture which did not permit the execution of differentiating strategies. So we were stuck. With Mews, it is easy to be more agile thanks to an IT architecture worthy of giants. Our open APIs are in line with this way of thinking.
Leadership
I've lived and worked all over the world, but have never met such an inspired leadership team. If you met Richard, Matt, Greg, Scott, Honza, Jirka or the exceptional Pavla you would know exactly where I am coming from. Wow.
Values
The values are strong at Mews: playful, grit, ambitious, agile, and kind. How seriously we take these is what separates us from the rest, and makes us turn heads here in France.
Which other French-speaking countries do you feel are economically and culturally hungry and ready to embrace the power of Mews?
All of them, in my opinion. (You know the French - always up for a revolution!) We are getting organic demand from lots of French-speaking countries, including Morocco, Tunisia, Côte d'Ivoire and Switzerland.
Worry not French hoteliers, we are on our way to liberate you from the oppressing systems of mass regression!
What are the toughest and most enjoyable aspects of your job?
I see challenges as opportunities to find new gems and learn new principles (a great book by Ray Dalio by the way). Without challenges, we will not progress. Without progress, what's the point?
The most enjoyable? Service. Mews wants to serve every one of our clients as best we can. I often ask myself whether it is really serving people to hold their hands for everything, or whether the greater service is actually to help them figure things out on their own? A thin line...
Which of our 2019 hospitality trend predictions are you the most excited about?
I am a bit of geek and credit card tokenization is my one love. Why? Secure frictionless experiences for ALL! Stripe is a blessing for me - offering anything less to your guests as a payment gateway should simply be abolished. It makes me shiver just thinking about how we cut corners on this issue, and with regards to the security of guest data.
And finally, what would your last meal be?
Forget the meal, I would go straight into a Twin Heart Meditation or Meditation on the Higher Soul by Grandmaster Choa Kok Sui. That nourishes beyond any meal.
---