The Mews Blog > How to benefit from Google Hotel Search with Mews
The latest shake up in the world of online bookings comes from a little-known tech company called (let me check my notes...) Google. You might have heard of them. So what's the story?
Last month, they introduced functionality that lets hotels advertise their rates for free in a Google search listing. This is great news for hoteliers, as with only a minimum amount of effort you can encourage more direct bookings – assuming, of course, you're connected to a fully connected hospitality cloud like Mews.
How does Google Hotel Search work?
When someone searches for a hotel (or any property type) in Google, Google Hotel Search generates a list of booking options for each property, with the price and a link to book via each channel website. Previously, you had to pay to appear in this list, and hotels were forced to take out ads to compete directly against their own listings on online travel agency (OTA) websites.
Now, however, Google allow hotels to list their own website for free. This means that a property's direct booking option is displayed alongside all the other prices, with an 'Official Site' button that inspires trust in the customer. Here's how it looks: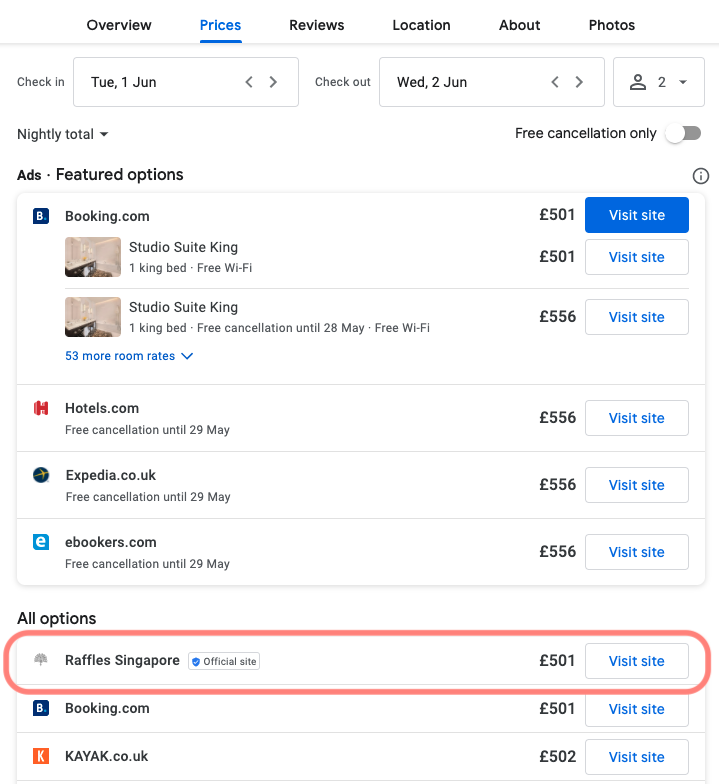 Via an API, Google can connect to the Mews property management system so that it pulls through live availability data into Google Hotel Search. As you can see in the image above, four ads still feature above the direct booking engine, and if you want to pay for ads for direct bookings then you can continue to do so. However, it shouldn't be necessary. Importantly, the 'Official site' option appears above the fold on the page, i.e. you don't have to scroll down or click to see it. This will help with click rates, although if your rooms are considerably cheaper elsewhere then customers will likely follow those rates.
What are the benefits of Google Hotel Search changes?
If a customer is looking at your hotel on Google, there's already a pretty strong intent to book. Typically, the customer would then click on the cheapest ad listing (or even just the first one) and then go on to book via booking.com or whichever OTA came out cheapest. It's a simple user journey that doesn't give the customer any reason to leave that narrow path. Most people don't think of checking the hotel's own website to see if the prices are better or if there are other benefits to booking direct. Attention spans are short, after all.
Having your hotel's website appear visibly on this initial list is a game changer. It doesn't add any additional steps to the user journey – it just ensures you're a part of it. Clicking 'Visit site' next to your property listing will open the corresponding dates directly in your own booking engine. This feature comes at the perfect time, with the need for hoteliers to make the most margin from every booking, combining with an increased awareness among the general public of the importance and value of booking direct.
It's tempting to view Google's move as a swipe across the bows of OTAs. Sites likes booking.com and Expedia currently dominate the online booking market, and the move to give hoteliers free ad space won't be popular with these agency giants. Crucially, however, it will be popular with guests, and ultimately it's users that Google cares most about. Their goal is to create the most comprehensive, streamlined user experience for users of their product, and for that it makes sense to have the direct booking channel as an option.
Here's what Richard Holden, Google's vice president of product management for travel, said about the decision: "We are about trying to create comprehensive user experiences and giving users the most information to make them confident in the decisions that they make, so we've been looking at how can we improve the product, how can we make users feel that they have the full range of information that exists out there. And we felt that organic links would be the way to do that."
How do you get your hotel listed?
The good news keeps coming, because getting your property to show for free on Google Hotel Search is easy. These are the steps you'll need to follow:
Make sure your

Google My Business profile

is verified and up to date – if you'd like more tips about updating your profile, check out our article about

how to optimize for Google's hotel map

Add the Google integration in Mews Marketplace
Update your mapping codes for rates and space category IDs and map Mews Booking Engine to the Google integration – here's our help article on

how to connect to Google Hotels
You can check your property's status in your Google My Business account. Once a day, Google pulls all newly created integrations from Mews, and it will automatically create a profile for your property in Google Hotels, if it doesn't already exist. That means you'll be up and running in no time.
Hospitality hot takes straight to your inbox
Sign up to our monthly newsletter for industry insights, product news, partner updates and more.